Specs Ops Proven: Ronin Tactics Senshi Belt Review
October 12th, 2022
5 minute read
"Battle Belts" have been gaining more popularity in recent years as they become more streamlined and mainstream for civilian use. They allow for easy expansion past your "first line gear", which is the gear you have on your body such as clothing, boots, belt, hat, etc. A "battle belt" can allow for carrying additional pistol/rifle mags, a torniquet, tools, IFAK, knife, comms and a pistol.
In the past, a battle belt was generally affixed to you by a combination of some grippy material and the force of the belt squeezing your hips. They were also around 4" tall and a bit bulky. Newer designs have taken a page out of the competitive shooter world, utilizing an inner/outer design that is rigid and around 2" tall.
The inner belt loops through your pants and has soft loop Velcro on the outside. The outer belt, made of a much more rigid material, then uses hook Velcro to attach to the inner belt and buckles into place. This design is extremely tough and stable, and it stays in place without being too cumbersome or heavy.
The Source
One of the finest examples of this type of belt is the Ronin Tactics Senshi Belt, designed by Tu Lam. If you are unfamiliar with Tu Lam of Ronin Tactics, he's got an amazing and inspiring story (you can read our full interview of Tu Lam). Tu Lam spent more than two decades with the U.S. Army, with 20 of those years as a Green Beret.
Tu Lam now travels the country, training first responders and civilians to equip them with the means to protect their communities and themselves. He also served as the inspiration for the character "Ronin" in Call of Duty's Modern Warfare video game.
The Senshi Belt is a special edition belt used by Team Ronin. If you are wondering what the difference is between the Senshi Belt and the company's Task Force Belt, it's the black trim cosmetic and multicam color. Everything that makes the Task Force Belt so good is there in the Senshi belt.
Battle-Proven
The word Senshi is Japanese for soldier, or warrior. The Ronin Senshi belt is used by Special Operations Forces around the world, living up to its namesake. The Senshi Belt is combat-tested and proven, giving you the confidence that it will hold up to hard use. While you will likely never push it to the limits Tu Lam would, it's good to know it can handle it.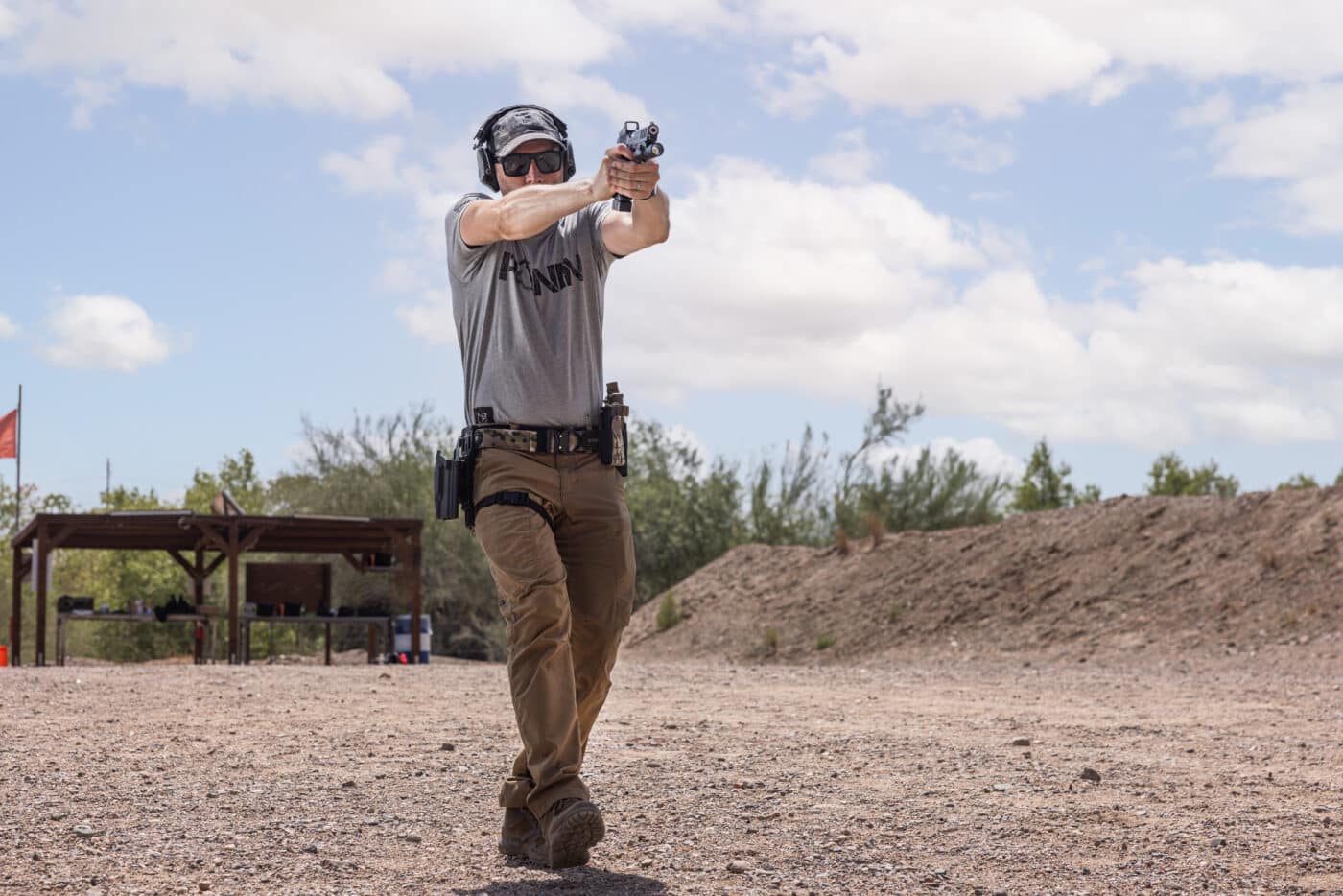 The nylon weave Senshi tactical load outer layer allows for two layers of ½" webbing on the top and bottom of the belt. This allows the shooter to configure their belt with a variety of pouch/accessory mounting solutions. The buckle is a newly designed 2" Cobra Buckle with an attached D-ring. The 2" inner belt is made from lightweight nylon and loop Velcro. A thickness of 2" is the standard option with the Senshi's inner belt, but a 1.5" version is also available for standard civilian-sized belt loops.
I've used several battle belts over the years, most of them very similar to the Senshi. I can say without a doubt this style of belt is my favorite for range training sessions or competitive shooting. The rigid yet minimalist approach allows you to load the belt up with pouches and accessories, yet not feel overly encumbered.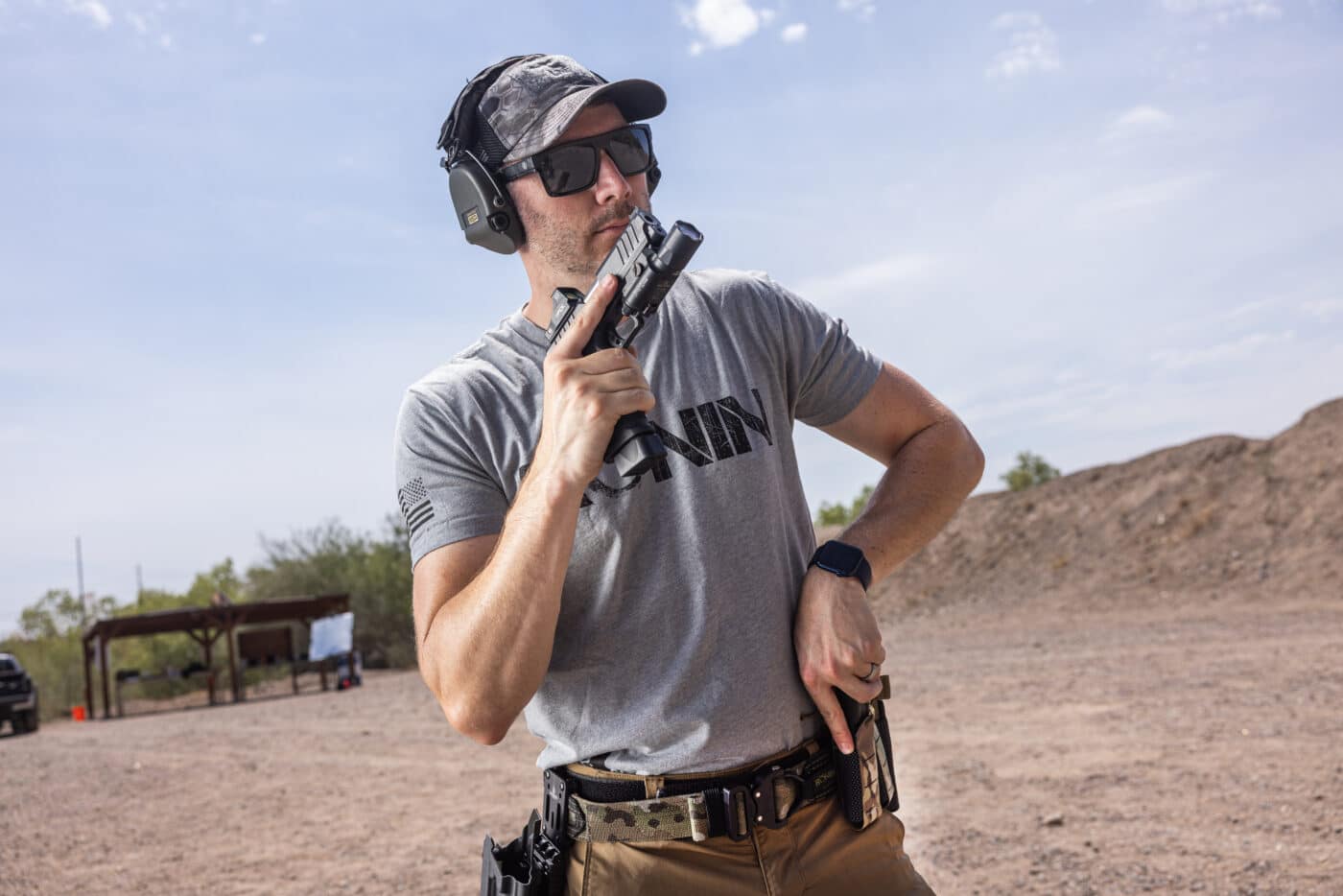 Outfitting the belt is easy since you have options of either using devices that clamp to the belt, or weaving MOLLE-style attachments on. The benefit of using MOLLE on the PALS webbing is that it's not going anywhere, so it's going to be your most secure way of attachment.
My Setup
For my pouches, I picked up some of the Ronin Tactics Universal Pistol/Rifle Pouches as well as a Small GP Pouch for a flashlight. Mounting them to the belt was easy and rock solid. The pouches are made from advanced next-generation laser-cut thermoplastic, which is extremely high-strength and flexible material.
I really like the retention method of securing the mags into the pouches. The interior of the pouches has a tough woven plastic-like piece that is sandwiched between durable yet flexible material to the sides. This allows them to be collapsed flat, or to accept a wide range of magazine sizes. They also come with a removable bungee for extra retention. Because of the laser-cut thermoplastic, removing and re-inserting your magazines is effortless and intuitive.
I used the Senshi Belt with my 4.25" 1911 DS Prodigy with a True North Concepts drop leg and a Tier 1 Concealed Optio Holster. The pouches fit the DS 1911 mags perfectly, and the belt was comfortable and secure. Nothing was digging into my hips or feeling cumbersome. I really liked the black trim with the multicam pattern, and I think it helps match with other non-multicam colors or patterns.
Ed. note: Be sure to also read "How to Set Up Your Battle Belt".
Conclusion
For the inner/outer belt styles available out there, the price ranges usually from about $100 all the way up to $200. You can find the Ronin Tactics Senshi on their website for around $190.00. For a made-in-the-USA belt that is backed by Special Operations veterans and used worldwide, it's a very reasonable price to pay for that level of confidence in the quality of your belt.
Editor's Note: Be sure to check out The Armory Life Forum, where you can comment about our daily articles, as well as just talk guns and gear. Click the "Go To Forum Thread" link below to jump in!
Join the Discussion
Featured in this article
Continue Reading
Did you enjoy this article?
64