Springfield Armory SAINT 5.56
AR-15
December 8th, 2019
5 minute read
Editor's Note: This article shows an earlier version of the SAINT 5.56 with KeyMod slots in the forend. Current models feature M-LOK.
An icon of the American firearms industry — Springfield Armory — has just joined the ranks of AR manufacturers with its new SAINT 5.56 AR-15. Until now, Springfield Armory has made only the legendary M1A rifle, 1911-style pistols, and XD Series pistols in a host of different styles and models…but never an AR-style rifle.
The SAINT 5.56 is a direct gas impingement operated, 16-inch barreled AR chambered only in 5.56 NATO (.223 Rem.). There's only one model and no options, so it will be real easy to pick out the SAINT 5.56 you want…luckily, it's a really good option. It also will be real easy to pay for, with its modest MSRP and likely even lower street price.
Springfield Armory has been building nothing but superior firearms since it opened its doors in 1974, so they weren't about to turn out a sub-standard AR just to hit a low price point. Despite its comparatively low cost, the SAINT 5.56 is a top-quality AR with some novel features even. In the "nothing revolutionary, but high-quality compentry catergory", the upper and lower receivers are machined from Aircraft Grade 7075 T6 aluminum, Type III hard coat anodized in matte black. The flat-top upper receiver sports a numbered, 13-slot Picatinny top rail and is fitted with a Mil-Spec charging handle, forward assist and flip-down ejection port dust cover. Sights consist of an elevation adjustable A2 front post, while a steel Springfield Armory, flip-up rear sight mounted at the rear of the top rail has two apertures and is adjustable for windage.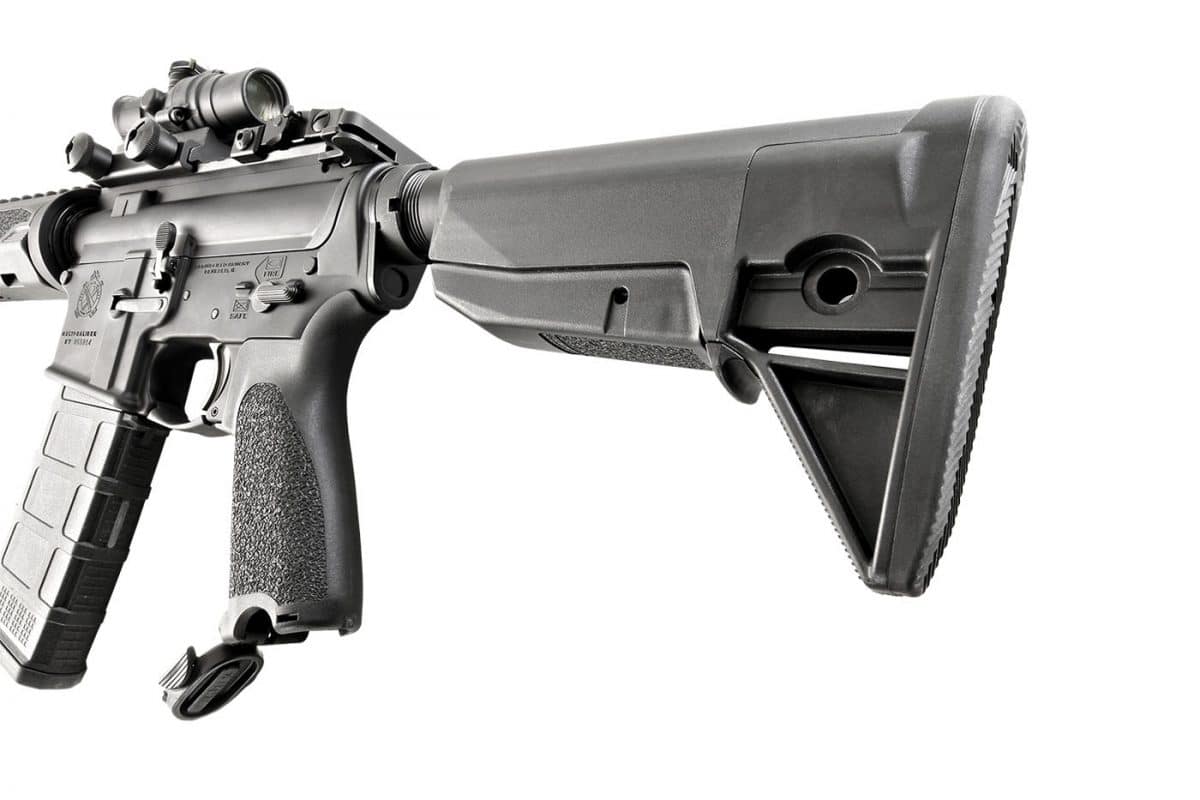 The lower receiver has the usual Mil-Spec controls found in their usual places, and incorporates an Accu-Tite Tension System that makes the two receiver halves fit tight and wobble free. The M16 bolt carrier group has a bolt made from Carpenter 158 steel, and is shot-peened and magnetic particle inspected. Other notable features include a carbine "H" heavy tungsten buffer and a Bravo Company BCM Gunfighter trigger guard. The lower is marked "multi-caliber," which suggests that other AR-15 compatible chamberings like .300 Blackout or 6.8 SPC may be in the works.
The single-stage Springfield Armory proprietary trigger and trigger components are nickel boron coated to reduce friction, increase lubricity and prevent corrosion. Following about an eighth of an inch of take-up, the trigger broke crisply at an average pull weight of 5 lbs. 10 oz.
The 16-inch barrel is made from chrome moly vanadium steel, rifled at 1:8" RH twist rate to perform well with a wide range of bullet weights. We consider this the ideal twist-rate for a defensive carbine. I'd call the barrel profile "medium heavy" with a 0.750" diameter gas block and mid length gas system. The barrel is Melonite finished, has M4 feed ramps and is tipped with an A2 birdcage flash hider. For those of you who like to fight with knives — especially long ones — there's even a bayonet lug incorporated into the A2 front sight post (along with a rotating sling loop).
The black furniture is all from Bravo Company. The 9-inch long PKMR polymer handguard has no Picatinny top rail, but does include three rows of six KeyMod slots, one each at the one, six and 11 o'clock positions. The sides are nicely textured for a no-slip grip, and a hand stop is molded into the front end on the bottom side. The Pistol grip is a deeply textured and ergonomically shaped BCM Gunfighter Mod 3, with a hinged trap door to provide access to items stored in its hollow interior. The BCM Gunfighter 6-position collapsible stock features a "no-snag" design, smooth check weld, thin textured rubber butt pad, modular VBOST ("Vehicle Borne Operations Sling Tab") to secure the sling to the stock when not in use and two different types of ambidextrous sling mounting options, including QD swivel sockets.
The SAINT 5.56 has an empty weight of 6 lbs. 11 oz., and measures 35.5 inches long with the buttstock fully extended and 32.5 inches with it fully collapsed. It comes a lockable hard-plastic case, one 30-round Magpul PMAG Gen M3 and Springfield's original-purchaser limited lifetime warranty.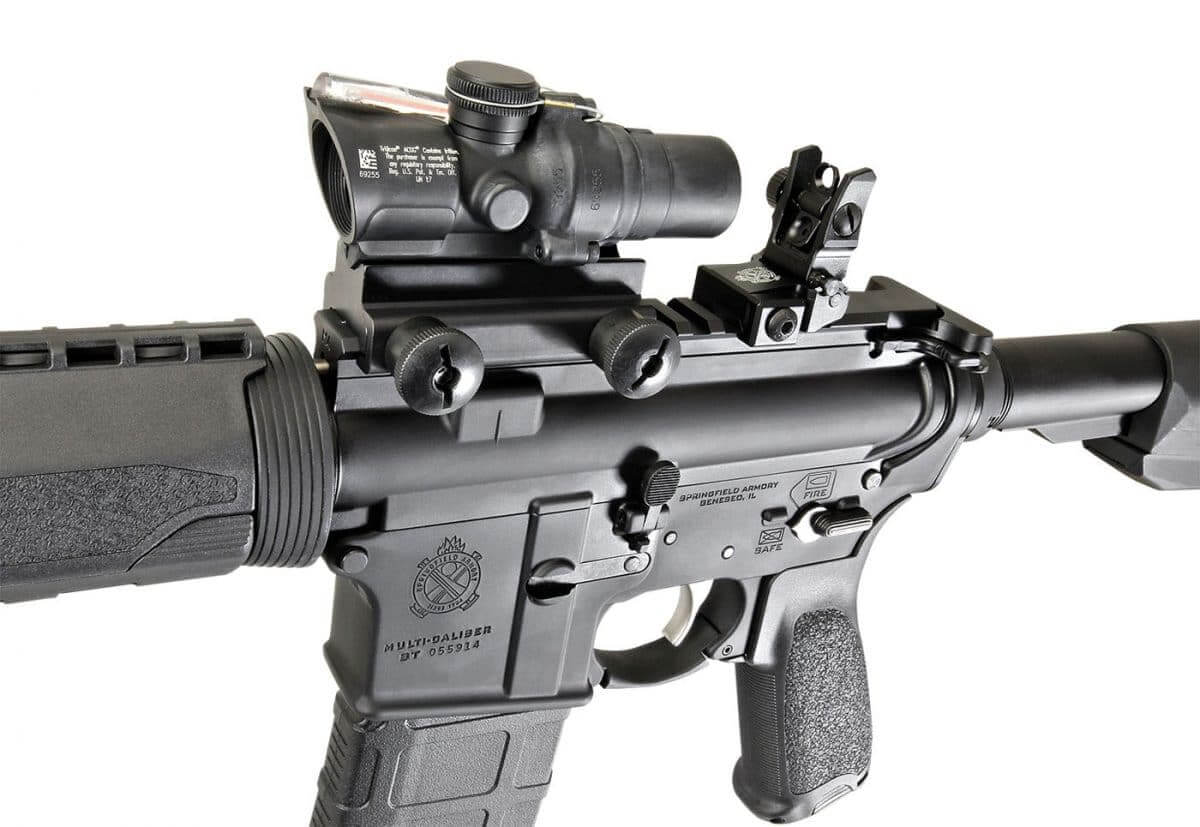 "Bench-testing our SAINT at 100-yards produced favorable results. Using a Trijicon 4-16x50mm AccuPower scope mounted in an A.D.M. Q.D. one-piece mount atop the SAINT's receiver, our test rifle proved capable of 1 to 1.5-inch, five-shot groups with with the majority of Federal, Hornady, and Black Hills top-shelf ammo we tested it with. The load it seemed to prefer, however, was the 69-gr. OTM 5.56mm from Black Hills — printing a best group of 0.78-inches. That's outstanding performance from a 16-inch defensive-carbine…especially from one as affordable as this. As of writing this, we've put around 300-rounds through our SAINT without a single malfunction, surprise, or one single aspect of the gun to give us a reason to gripe."
The SAINT 5.56 checks off all the major AR defensive carbine needs, and at a price most shooters can afford. Well done Springfield.
Editor's Note: This article was written by Bill Battles and shared with us by On Target Magazine.
Join the Discussion
Firearms in this article
Continue Reading
Did you enjoy this article?
55