So I am an unrepentant 10mm fanboy. I have not been very interested in the XDM platform until they came out with one in 10mm. I almost got one of the 5.25" guns last year, but decided to wait a bit and see if an optics ready version would become available. Low and behold, my patience paid off! I snagged this one for a great price ($550), and am very happy with it overall.
Out of the Box:
So the pistol comes in a nice hard plastic case evocative of the Pelican line, but obviously without those features. It is head and shoulders better than the cardboard box most price point competitors ship in though. It comes with two mags, 2 additional grip plates, several optics mounting plates and screws, wrenches, lock, paperwork, etc.
I am always pleased when a company thinks to add extra screws and the proper Allen wrenches for their take on an optics mounting system. Sure I have my own, but a lot of newer shooters don't have a shoe box full of optics related wrenches from over the years. All told, a very solid presentation.
Initial Impressions:
The gun came with a plate cover and the smallest grip panel installed. It is a big, hefty gun as one would expect. The gun is well finished, with good surface treatment and a quality feel. The magazine release is stiff. Like a lot. I am assuming it will break in, but it was early CZ P10C levels of stiff, and still was after 200 rounds of 10mm fun.
I really don't like the color. For me, this is the biggest complaint on the gun. I know right? 1st world gun problems. But still, its not really FDE. Or any of the 50 related shades of FDE used by FN. Its brown. Poop brown, with some green thrown in. It is not an attractive color. And they are not all like this. An odd thing I have noticed is that some FDE XD series guns look great, and some look like this. I guess they have to melt down some off brand crayons to get the frames during lean times at the HS factory? Still, for the initial presentation and the quality of the case, I give it an A.
Trigger:
I am a trigger snob. Like a lot. I bought a CZ Customs Bull Shadow and immediately had to do a trigger job on it. Same with a TSO. So like a high society, pinky extended, monocle inserted trigger snob. With that said, the trigger is... OK for a striker gun. The pull is a little long but its smooth. The weight is mid-high 5 pounds, and the break is reasonably clean. It does break very far back. Several MM past where it "should" in my mind.
Its not great, but it is very good compared with the gun of a certain E tool designer turned pistol manufacturer for example. I am sure I will end up changing the sear geometry a bit and tapping a screw for over-travel myself, or buying a sear and trigger from Powder River and then hand fitting it. But I don't need to. Its a not bad trigger. Really. Its OK... Ish. I give it a B for striker triggers.
Sights:
If you are buying this gun, you are buying it to drop an RDS on it. And that's good, cause these sights are not great for a combat gun. Let me clarify, the SIGHTS are great, but they are just flat black suppressor-ish height sights. No dots, no tritium, no fiber optic light pipe. But they are good sights. The rear is squared and hooked a bit so that it is easy to rack the slide (ok, its only easy in theory, but more on the recoil spring later) on a belt or other object.
Both the front and the back are ridged for your pleasure, and they are easy to acquire with just a little daylight between the rear and the front blade on each side. Pretty much exactly what I like in a sight. I will probably end up drilling the front blade and either dropping a gold bead or tritium bulb in there. I am just a smidge disappointed it was not done at the factory, but then again at the price point, its not unreasonable at all for what you get. I mean at least they are made out of metal. Unlike that other gun... I give the sights a C+.
Dotting the I's, stripping the T's:
So I ended up mounting a green reticle Holosun 507 I had laying around on this. This was not the sight I wanted to put on this gun. I wanted to put a Delta Point Pro on it but sadly discovered that it would not fit and still cowitnesss. The DPP is a tall sight, but this is the first time I have seen an optics cut and plate now allow it to cowitness with SHS. It also stuck out to each side of the gun in an almost comical way. It looked like my gun had Mickey ears. Given how much force it takes to run the slide, its hard to get a grip on as well.
The plates are metal, and secure very well to the top of the slide. The attach via a post on the slide, and 3 screw holes. This gives it a really solid base, and seems like you are not going to knock the sight off despite having a shallow screw depth. I think the screw hole depth and slide overhand is just a side effect of being an updated design from the early 2000's. It was never envisioned to have an optics plate, so concessions had to be made. Its a clever and solid system, but the design can only be updated so much. FN has the whole dot mounting thing figured out. Everyone should just license their system, Its that good. All told, I would give it a C+.
Doubles as a strength training tool:
OMG the recoil spring is nuts. Have no worries about shooting the hottest Underwood or Double Tap loads out of this puppy. The spring in this gun is HEAVY. I think they are using shock springs out of left over Trabanz or GAZ vehicles. You can get a good workout just running this slide a few minutes. My Desert Eagle slide is easier to run. If you plan on shooting light loads, get a different spring. For that matter, if you feel like grinding the rim off some 41 magnum cases and running them, get a lighter spring.
Bring the 10mm Thunder Already:
This is a gun that shoots well. I zeroed the dot with little effort and was soon slapping steel. It is an accurate and controllable gun, for a 10mm. Maybe due to that heavy spring, it was pretty easy to shoot well, and fairly quick to get back on target. You have no doubt that you are shooting a 10mm, but it is not punishing in the least.
Performance was flawless with both my light handloads (I was worried they would not run the spring but they did) and two kinds of factory ammo. Sig 180grn HP and Armscor 180grn FMJ ran flawlessly and with good. While I was only shooting falling/swinging steel on this outing, accuracy seemed very good. As long as I did my job at 20 yards the gun hit the target.
Pros:
There is a lot to like in this gun. It does everything at least competently and most things very well.
*Cost is a hands down win. This is a good value in any caliber, but a smoken deal in 10mm tactical guns.
*Plate mounting is good and comes with plates for a wide array of options.
*From the case to the magazines, everything is solid quality. No real corner cutting in evidence.
*Enough variation in grips and sight plates from the factory that you can find your Goldilocks hunting or HD gun in one box.
*Good after market support from Springer, Powder River, etc.
Cons:
As for cons, there are just a few. Besides the color. Buy better Crayons to melt down HS folks! Er, where was I? Oh yeah.
*The slide is so heavily sprung and the slide so much more narrow than the optics that it will catch you and draw blood
if you are not careful
*You are limited in the dots you can run and still cowitness.
*Not a lot of holsters for this 5.3 inch threaded barrel.
*Thread protector could use an O ring. It loosened and fell off during shooting, despite being hand tight.
*Thread pitch is and oddball choice for 40/10mm. You would expect 9/16X24 but nope, its a .578x28, which I only know
as a .45 thread.
So how does it stack up to that "other" polymer framed 10mm:
There are not a lot of polymer guns out there in 10mm, so much respect and thanks to SA for keeping the breed alive and well. Comparing it to the Tanfoglio and Sig guns just does not seem fair. That pretty much only leaves the Glock 20 MOS. In that contest, I would say that the SA wins in almost every category. Better grip and texture, better mounting system, better factory sights, better factory trigger, better looks despite the poop brown. All told it will be the 10mm I unreservedly recommend to folks. Between it and the G20, its a solid win for the XDM from me.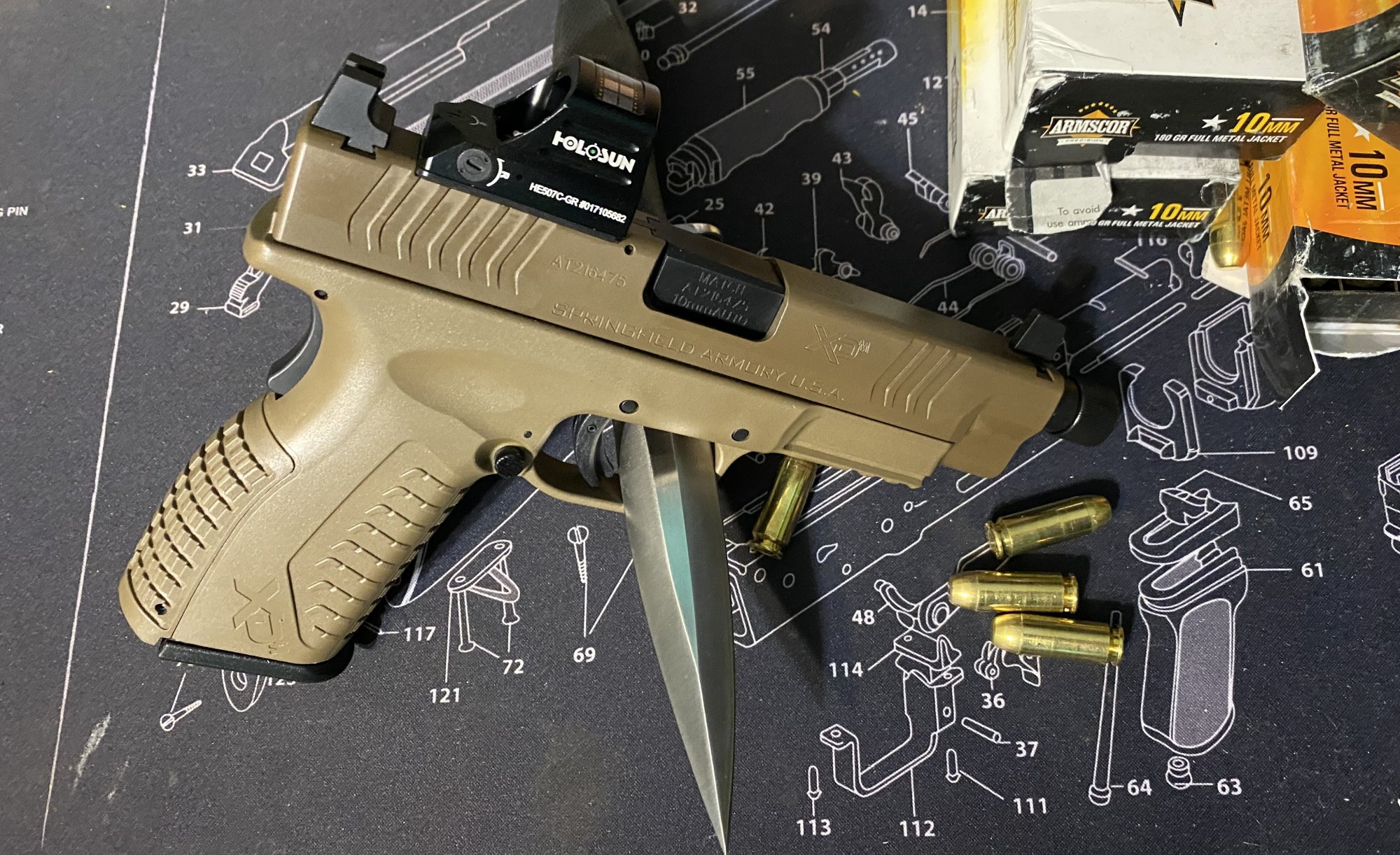 Last edited: