I have three plate carrier rigs, because there's your SHTF rig for the end of the world and then there's your EDC rig...
First up, my RTS Tactical 10"x12" Level 4 end of the world rig. I have a black general-purpose pouch for my phone up top, and below I have an HSGI X2R Taco shingle for 6 rifle mags, and a couple of pistol pouches for my sidearm.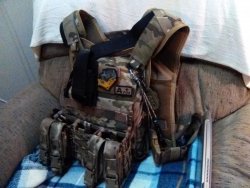 Then I have a Tactical Scorpion Gear Bobcat 11"x14" concealment carrier, running Level III+ plates.
And even though it's in transit and a couple days away, I have an AR500 Testudo 10"x12" Level III package inbound.
Armor for every occasion. You carry a firearm for defense, you carry an IFAK for traumatic injuries. But do you protect your vitals?? Let me hear your thoughts and what kind of rig do you run?