A Close Look at Black Arch Holsters
November 20th, 2022
5 minute read
Selecting an EDC holster is a very personal choice. You've got to find one that fits just right, as after all you should be wearing it all day, every day. We all have different body types and shapes and, let's face it, it's impossible for one holster to fit everyone.
Besides preferring ones made in America, my second biggest preference for holsters is having choices. From carry position, color, style, to light bearing options, the more offered the better. If that's the case, I can find exactly what I want and need.
Personally, I am a fan of Kydex holsters or other forms of plastic material. You get a very nice retention system with a lot of durability. The other thing I love about Kydex holsters is the positive "click" sound when your pistol is perfectly set inside your holster. It's a quick way to know your firearm is safely inside the holster and it's not coming out until you decide.
Top Tier
A company holster company that recently caught my attention is Black Arch Holsters. I stopped by their booth at SHOT Show and they gave me a Nerf Jolt holster as well as a hand sanitizer holster. Now that's creative.
Another aspect I value about a holster manufacture is how quickly they embrace new pistols on the market. Black Arch happened to be one of the first to the market with their Hellcat Pro holsters. Therefore, I wanted to test some of these out since I am very familiar with carrying the Hellcat as my EDC.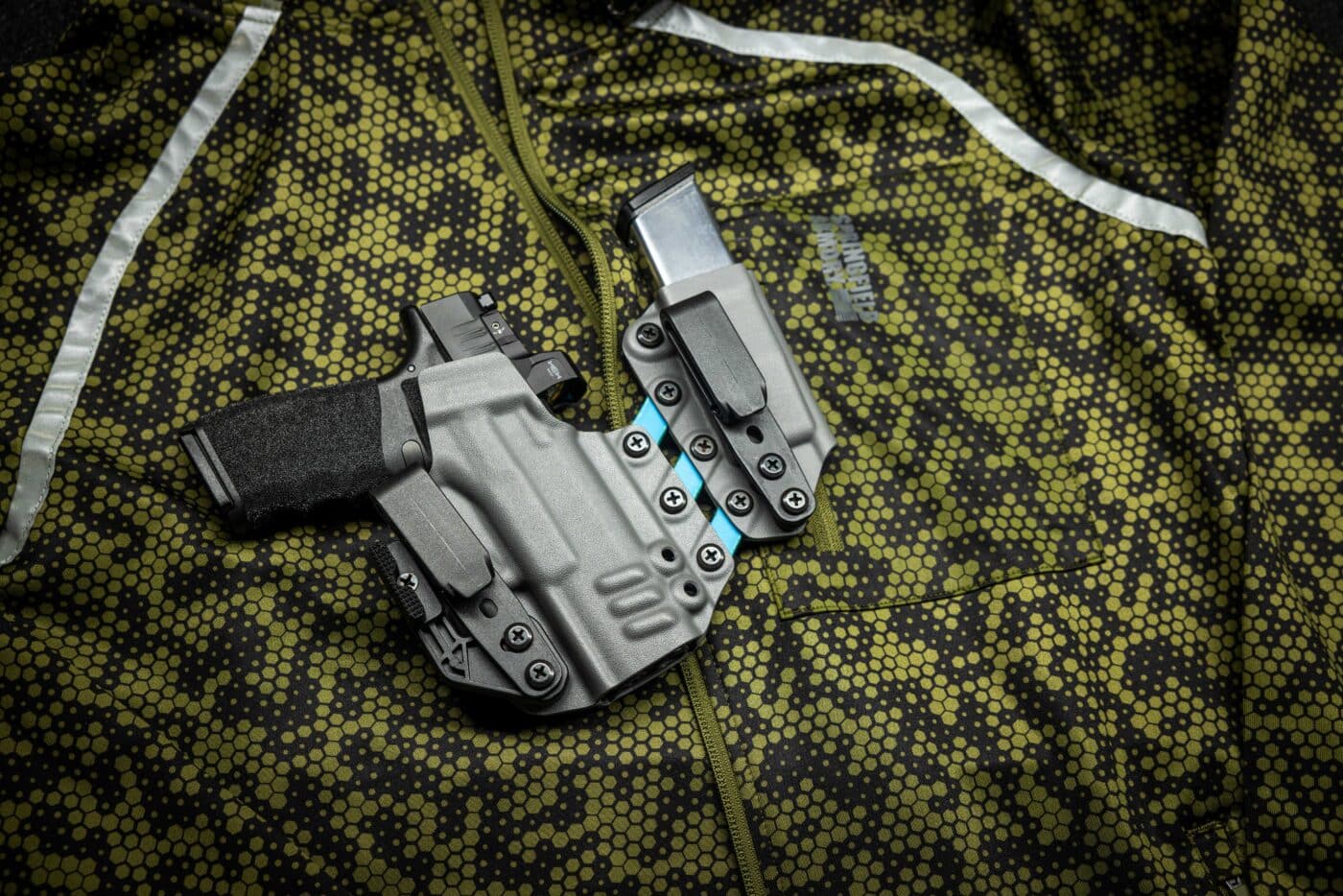 Black Arch makes three main types of holsters: the Entrada, Protos-M, and Rev-Con.
The Entrada holster is your sidecar-type holster made for AIWB (appendix inside the waistband) carry. The Entrada has two clips, a wing and a flexible attachment for an extra mag. The ride height is adjustable, and they have three clip options: Mod 4 Universal, Utiliclip 3+ and Griphook. The Entrada is compatible with most optics as well as suppressor height sights.
The Protos-M has a unique design where they mate a Kydex front to a leather backer, which has dry-matrix mesh on the side that faces your body. You may be hard-pressed to find a more comfortable holster than this. Black Arch created the Protos-M with ¾ Kydex to make sure you have constant retention rather than relying on the pressure of the leather backer alone. The Protos-M comes set up with IWB (inside the waistband) or AIWB with single or dual clips that are adjustable.
Finally, the Rev-Con is a reversible holster for IWB or OWB (outside the waistband) carry for left- or right-handed shooters. It features adjustable cant and adjustable retention. Black Arch designed the Rev-Con with a flared opening for easier re-holstering as well as making them compatible with most optics as well as suppressor-height sights. And a threaded barrel pass-through is also incorporated. The Rev-Con has the choice of three different clips: Black Arch Logo Foamy Clip, Monoblock Clip, and a Utilituck. They also offer a wing attachment for the Rev-Con.
For color options, most are available in Black, Carbide Grey, Flat Dark Earth, OD Green or Multicam Black, and they also do a "Holster of the Month" design. If there is one thing, I would implore them to get to sooner than later is to add the Hellcat + Streamlight TLR7 light-bearing combo.
Hands On
I've been testing their Hellcat Pro Entrada for a little over a week now and it's making me a believer in AIWB. For years, I've been carrying at the 3:30 position because I never found AIWB to be comfortable. The issue with me being a 6', 160-lb. guy is that it's very easy to print when carrying 3:30 and I need to use a micro compact to try to be as concealed as possible.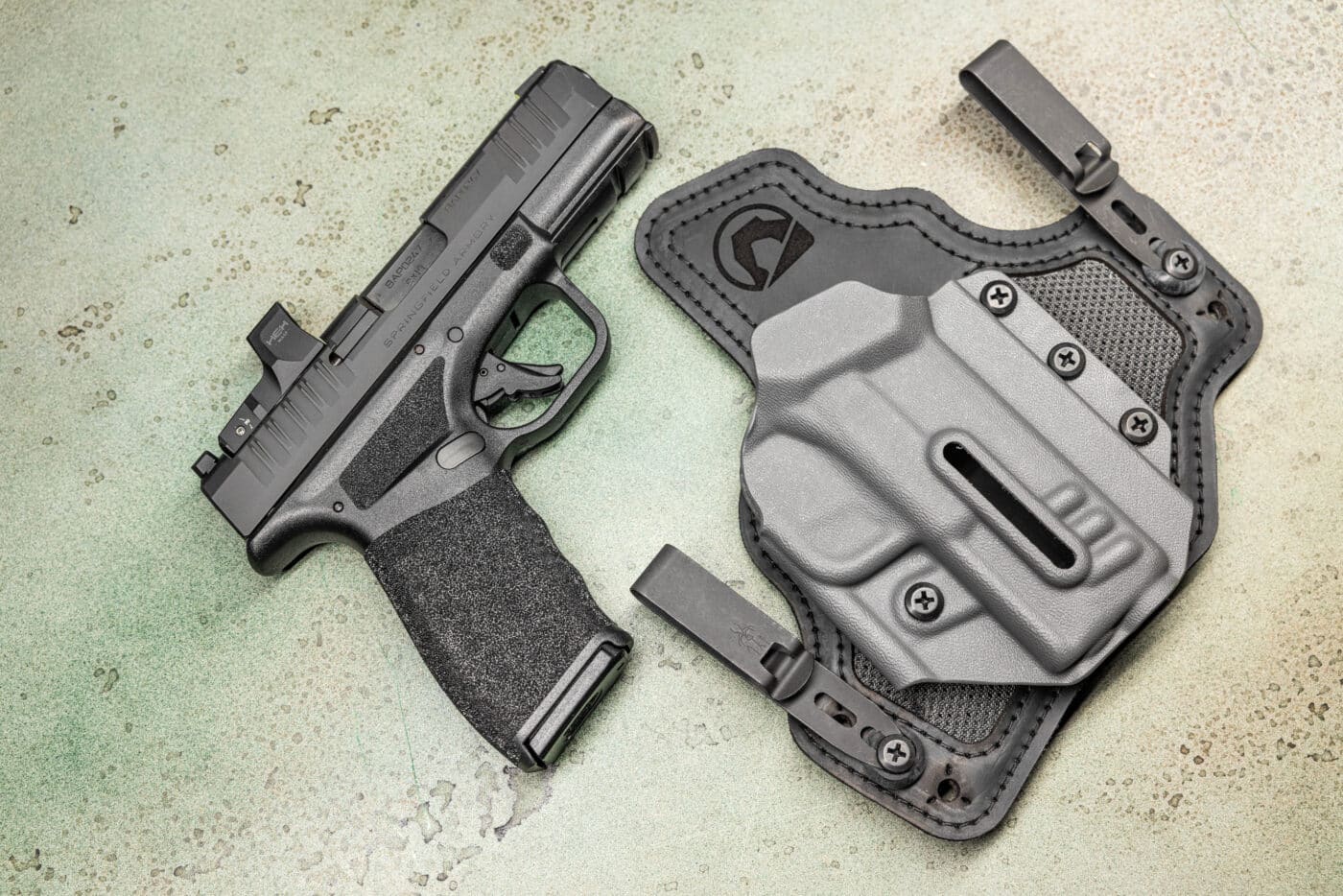 With the Entrada, carrying the Hellcat Pro with an extra mag is very comfortable and I feel a lot more confident with a more controllable, higher-capacity pistol on me. AIWB also allows me to retain more awareness and control over my EDC. The Entrada is sturdy yet flexible where it needs to be. The ride height is set perfect for being able to get a good grip on the pistol for my draw stroke and the wing keeps the butt of the pistol very concealed.
I think my second favorite holster is the Rev-Con, as I can switch up AIWB, IWB 3:30 or OWB for the range. If you'd ask me my favorite color, it's, of course, going to be the Multicam Black. I am a sucker for MCB.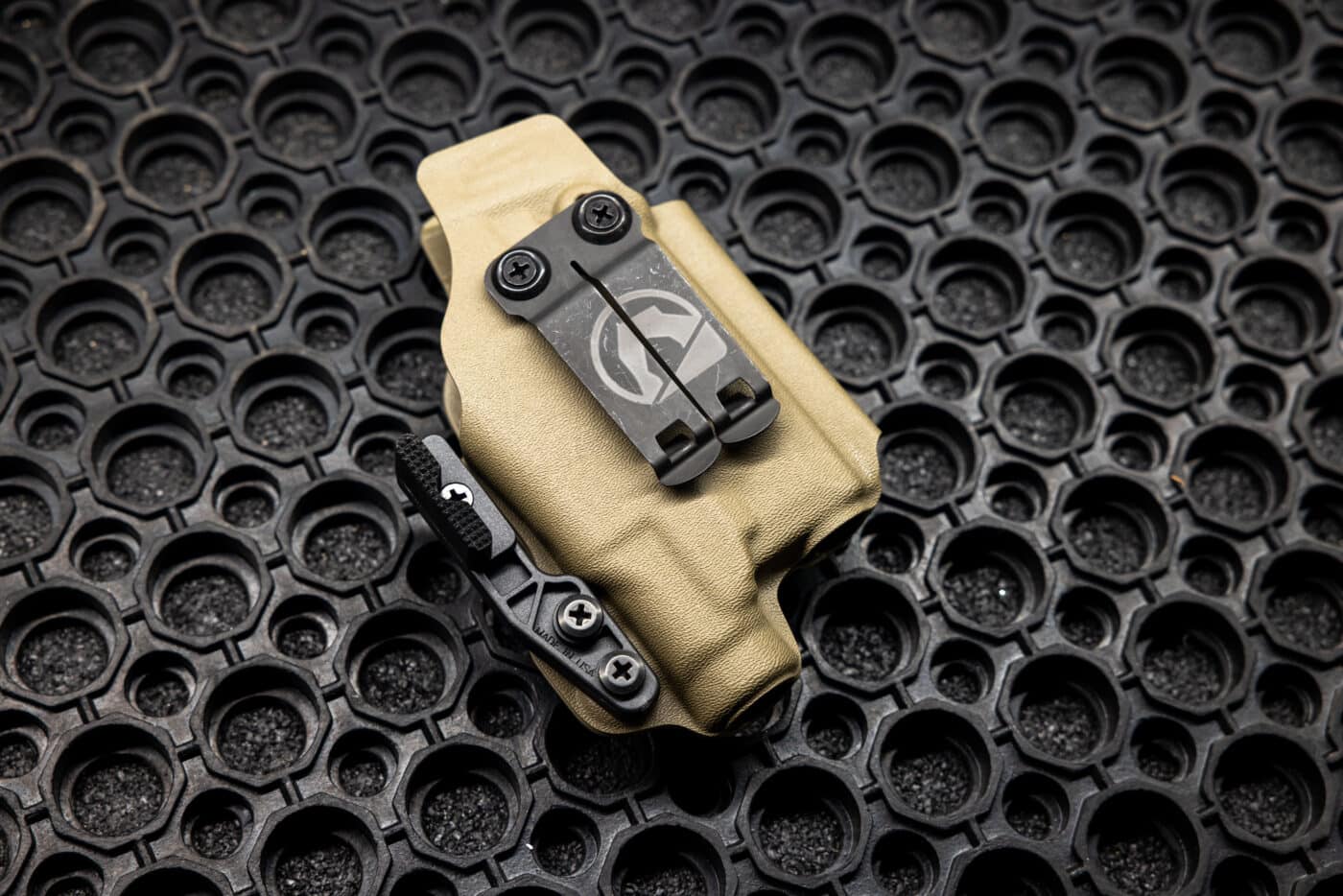 Black Arch also offers a neat-looking belt for EDC, but I don't have any experience with it yet. Maybe I'll do a review on one down the road?
Do yourself a favor if you are rocking a Hellcat Pro. Make sure and check out what Black Arch Holsters have to offer. The price and quality will keep you coming back for more.
Editor's Note: Please be sure to check out The Armory Life Forum, where you can comment about our daily articles, as well as just talk guns and gear. Click the "Go To Forum Thread" link below to jump in and discuss this article and much more!
Join the Discussion
Featured in this article
Continue Reading
Did you enjoy this article?
62