The Chinese Type 56 AK
November 8th, 2022
6 minute read
In the late 1970's, Kalashnikov rifles were the most common firearms on the planet. Despite tens of millions of copies in service, they yet remained vanishingly rare on our side of the pond. Vietnam bring-backs were an option, but they were and always have been both rare and expensive. Even if you could find a gun, the 7.62x39mm ammo it fired was comparably scarce.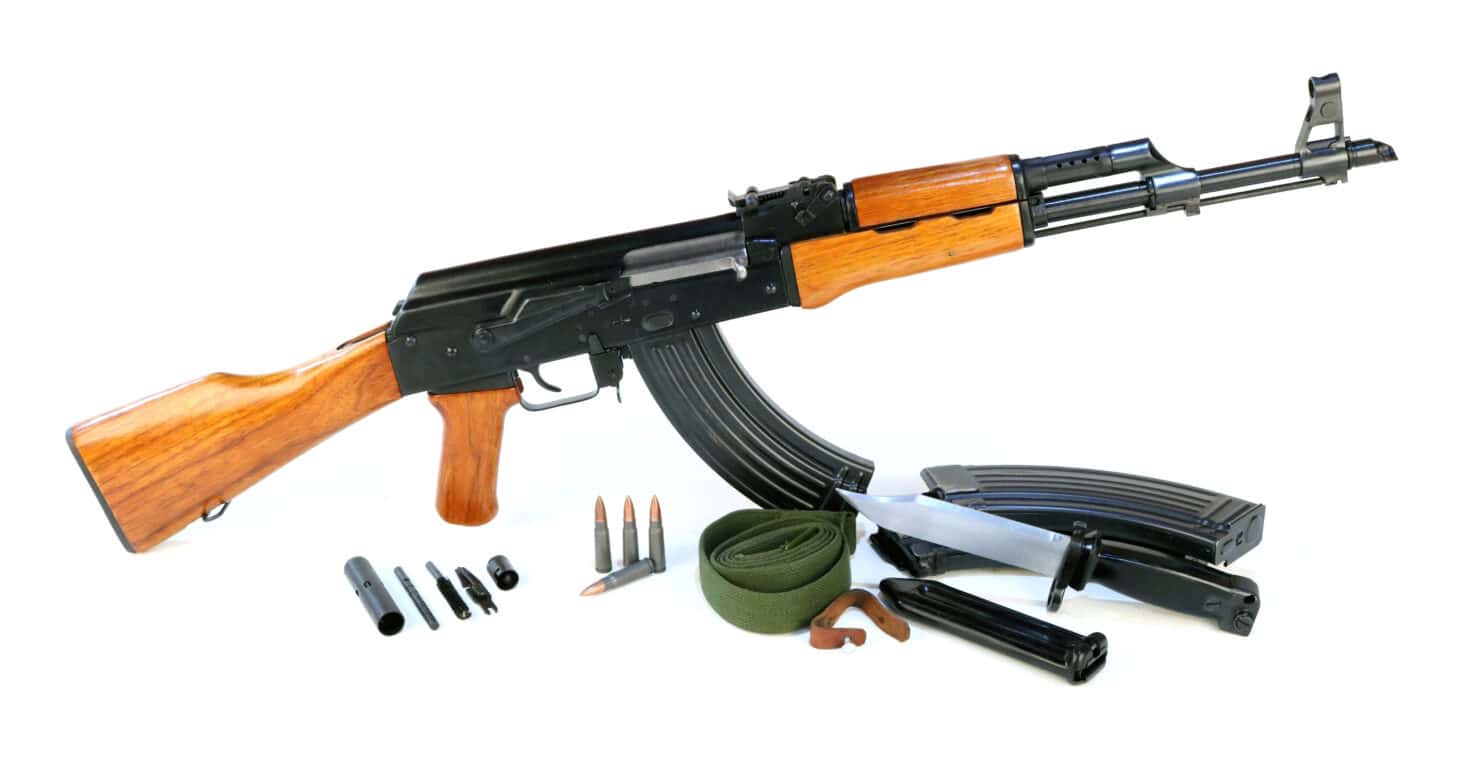 One slightly more accessible option was the Egyptian Maadi AK, a superb semi-auto rendition of the AKM service rifle. But, I seem to recall they cost $1,000 apiece even back in the early 1980's. That would be about $4,400 today. Prior to that time, Finnish Valmets stood in for Kalashnikovs in movies like Stripes, The Dogs of War and Firefox. Once the Egyptians began exporting Maadis, they appeared in such classics as Heartbreak Ridge, Commando and Red Dawn. It was simply that most normal folk couldn't afford them.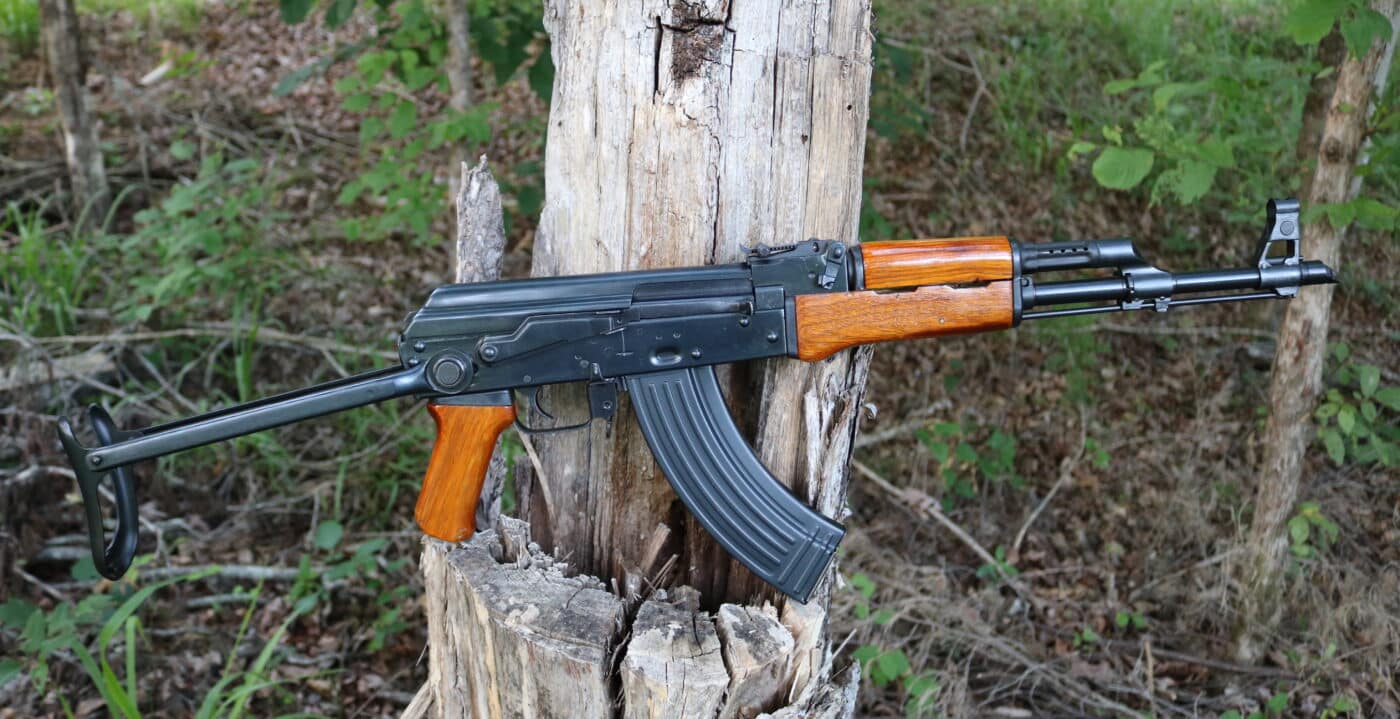 Everybody likes money, and around 1983 the Chinese figured they could get some if they started building semi-auto versions of Kalashnikov rifles for the U.S. market. The first of the genre was imported by Clayco. These guns were made by the Chinese company Norinco. They were superb rifles, but they featured polymer furniture. American consumers were looking for something that hearkened back to the Vietnam War that was still fresh on everybody's minds, so these versions sold poorly. Clayco shut down in 1987.
California was not the gun owner's wasteland it is today, so Golden State Arms Distributors sprang up in Manhattan Beach, California. Their first shipment of wood-stocked Norinco Kalashnikovs consisted of 2,000 rifles that retailed for $259.95 apiece. That would be about $730 today. This relationship ultimately precipitated a tsunami of business.
I bought my folding stock Chinese Norinco Type 56 AK from a pile of NIB versions at a gun show for $325 in 1985. Each rifle was beautifully executed and came with three magazines, a bayonet, a sling and a cleaning kit. These Chinese guns flowed into the country in various forms and in profound numbers until the 1989 import ban under Bush the First turned off the tap.
Type 56 Origin Story
1956 was a big year for the Chinese. Back in the 1950's and 60's, China's forte rested mostly in copying others' designs. As they designated their weapons based upon the year of introduction, several mass-produced guns got saddled with the nomenclature Type 56. This included a Chinese SKS, an RPD and lots and lots of AKs.
Mikhail Timofeyevich Kalashnikov birthed the original AK rifle in the years immediately following World War II. This simple but effective combat implement went through several iterations to become the most produced firearm in human history. Those earliest Type 56 Chinese AKs were the forged receiver sort, just as the earliest (after a failed attempt at an early stamped receiver) Russian AKs were. This was the variant most frequently encountered by our troops serving in Vietnam.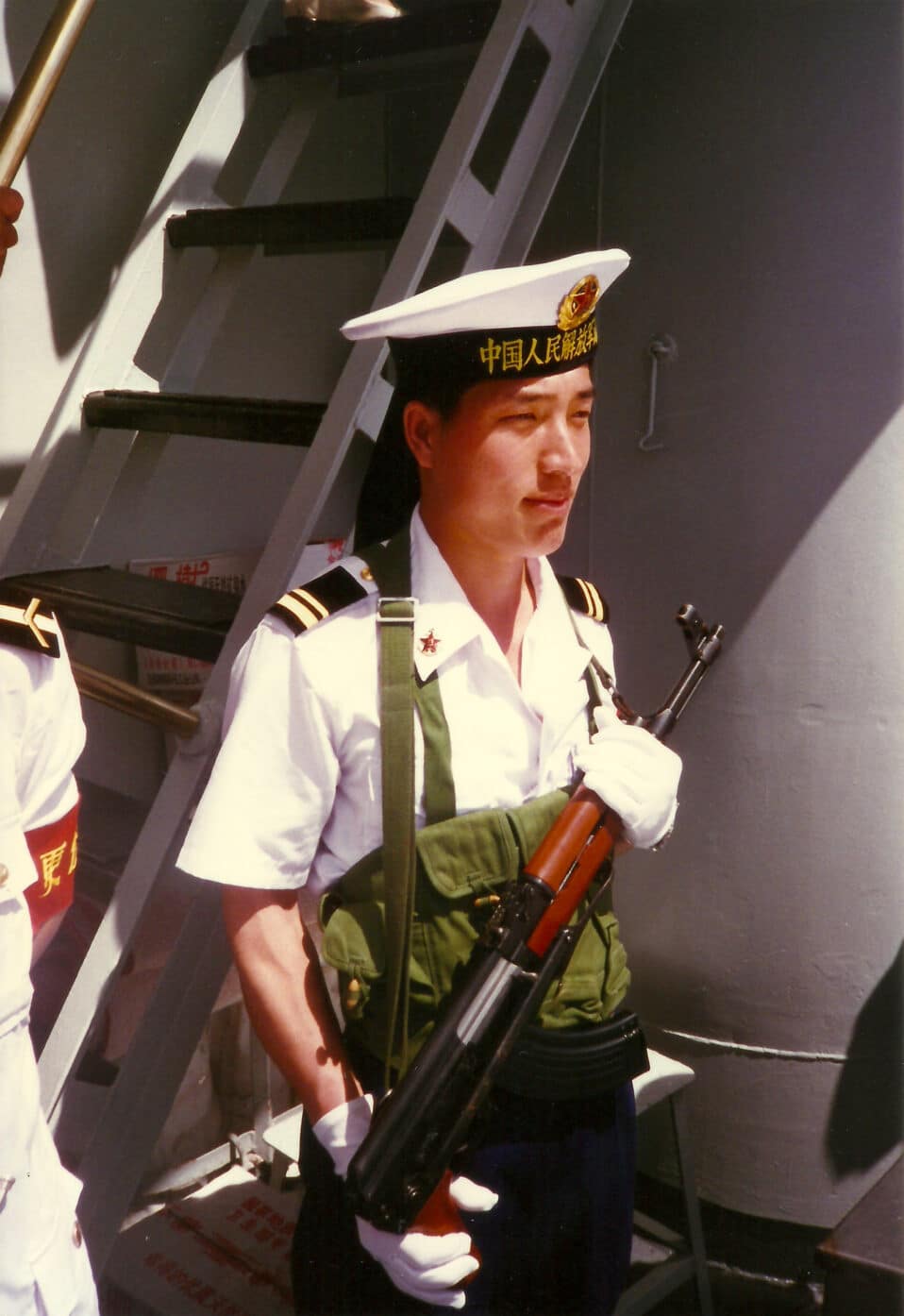 Production of the Type 56 AK began at State Factory 66, and then moved to Norinco and Polytech. Military versions were widely exported across the world. Many to most of the Kalashnikovs that saw Iranian service during the Iran/Iraq War, as an example, originated in China.
Chinese Type 56 rifles littered Afghanistan during the 1980's. These guns were smuggled in by China, Pakistan and the U.S. for use by the Mujahidin back when radical Afghan jihadists were actually viewed as being on our side. Infantry rifles like these are essentially immortal if properly maintained, so Chinese Type 56 rifles are commonly found throughout the Middle East today.
The civilian-legal semiauto version of the Type 56 differs only in its fire control system and bolt carrier from the GI-issue sort.
Details
The stamped receiver Chinese Type 56 is a decent approximation of the stamped receiver Russian AKM, but it does differ in some critical respects. The front sight hood on the Type 56 is enclosed, while that of the Russian AKM is open on top. The Type 56 also uses a 1.5mm-thick receiver blank rather than the more common Russian 1mm sort. This makes the Chinese guns theoretically stronger. Bayonets can either be detachable or integral and folding.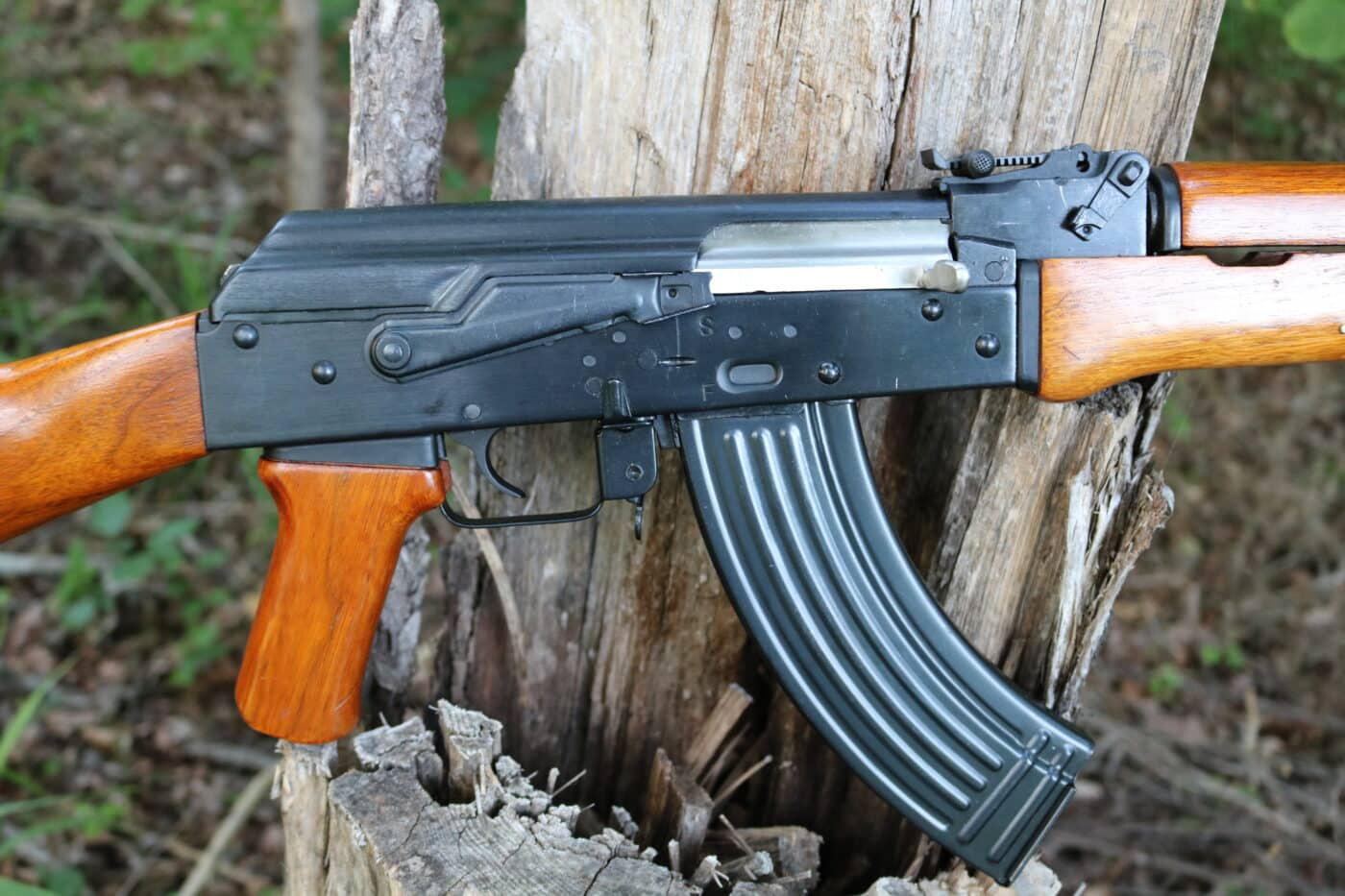 The forearm on the Type 56 is slab-sided like that of the earlier AK-47 (and not "bulged" like those of the AKM), and wood is solid rather than laminated as also seen on the AKM. In addition, the receiver cover is smooth rather than being ribbed like on the AKM.
Soviet AK rifles are finished in a black oxide or parkerized finish, while the Type 56 features a deep, sultry blue. Type 56 sights are graduated to 800 meters, while Soviet AK sights are calibrated to a thousand. Chinese bolts and most of their bolt carriers were hard chromed for durability and wear resistance. There are some other little differences, but only obsessive fans will notice.
The Chinese can make some absolutely gorgeous firearms, and my Type 56 semi-auto is no exception.
Range Testing of Type 56 Rifle
| Ammunition | Velocity | Group Size |
| --- | --- | --- |
| Red Army Standard 123 gr FMJ | 2,316 fps | 2.25″ |
| Russian Steel Case (Mil-Surp) 123 gr HP | 2,385 fps | 4.25″ |
| Wolf Performance Ammo 123 gr FMJ | 2,399 fps | 2.25″ |
Group size is best four of five shots measured center to center fired at 100 meters over open sights from a simple rest. Velocity is the average of three shots fired across a Caldwell Ballistic Chronograph oriented ten feet from the muzzle.
Technical Specifications
| | |
| --- | --- |
| Caliber | 7.62x39mm M43 Combloc |
| Action | Gas-operated semiautomatic |
| Magazine Capacity | 30 |
| Sights | Rear sliding tangent/front post |
| Overall Length | 34.6 inches |
| Barrel Length | 16.3 inches |
| Weight | 6.83 pounds |
| Original U.S. Price (1985) | $325 |
Ruminations
In 1997, I was an Army officer deployed for Operation Tandem Thrust, a massive joint exercise that brought together Allied forces from all around the Pacific for excellent training and military cross-pollination. Part of my piece unfolded in rural Australia, while the rest was in Hawaii. While in the vicinity of Pearl Harbor, I availed myself of the opportunity to tour a Chinese destroyer that was on a port call.
Boarding an active warship is a unique experience, even during peacetime in a friendly port. As I trotted up the gangplank I was greeted by a serious-looking young Chinese Marine. You can imagine my surprise when I realized he was packing a folding-stock Type 56 rifle that had inspired the semi-auto model I had purchased at that Memphis, Tennessee, gun show more than a decade earlier.
I didn't strain international relations by asking him to let me hold it, but I did give the gun a proper once over. It was indeed a Norinco AK that originated from the same factory as my own. As they say, it may indeed be a small world, but you wouldn't want to paint it.
Editor's Note: Please be sure to check out The Armory Life Forum, where you can comment about our daily articles, as well as just talk guns and gear. Click the "Go To Forum Thread" link below to jump in and discuss this article and much more!
Join the Discussion
Continue Reading
Did you enjoy this article?
255