Review: DeSantis Speed Scabbard for the Echelon 9mm
October 26th, 2023
6 minute read
Handgun evolution in my lifetime has been remarkable. While polymer-framed pistols were virtually unknown when I first became interested in shooting, today they are the kings of the self-defense and law enforcement realms.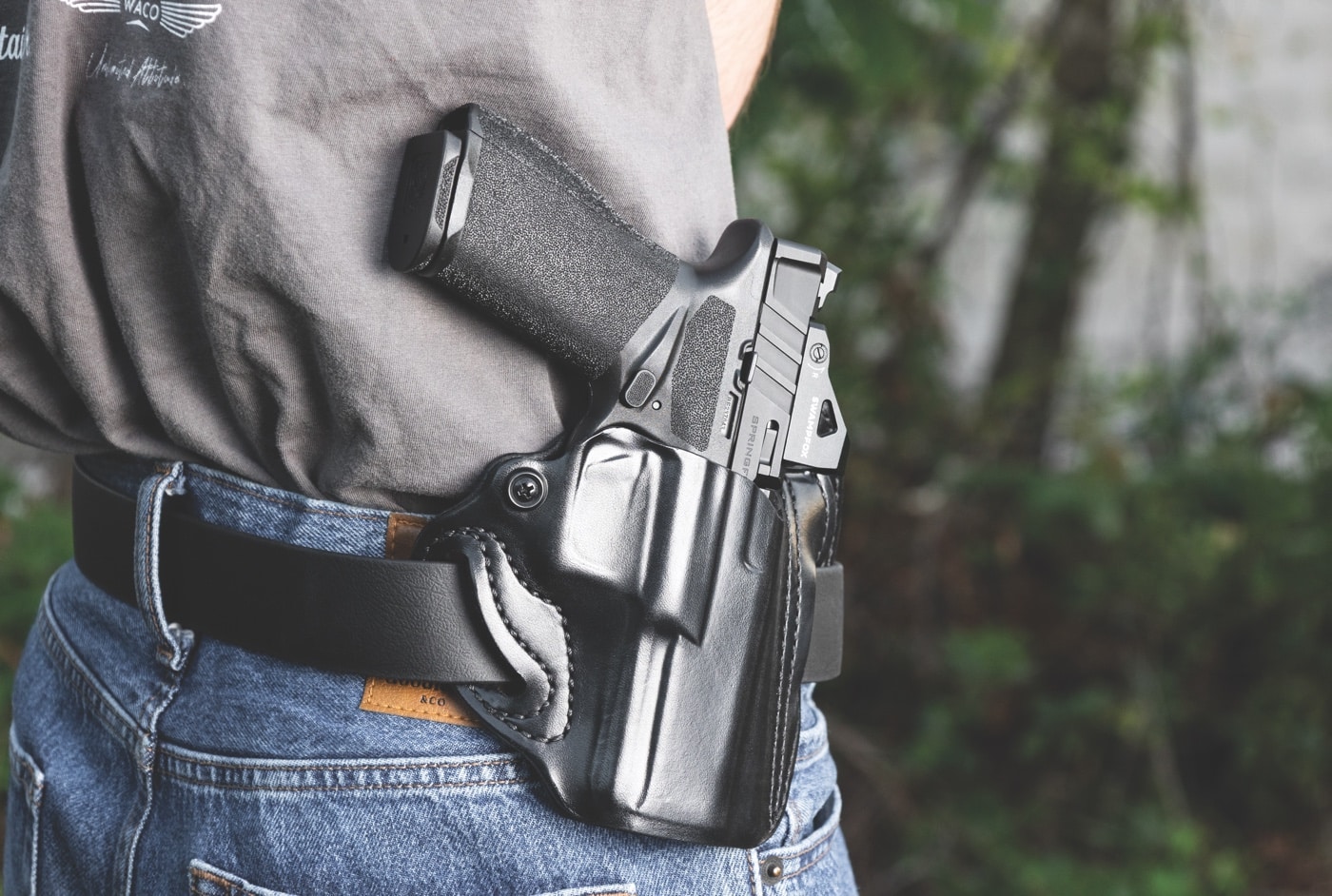 As one might expect, holsters have undergone similar changes in recent decades. Once the domain of leather craftsmen, the holster market exploded with Kydex and other synthetic materials that now offer an unprecedented number of carry options.
What then, does it say about a holster company that was successful "back in the day" before polymer-framed guns were common yet still continues to thrive in the modern handgun market? I'd argue that the company is making exceptional designs that resonate with shooters and backs them up with excellent customer service. How else would they navigate such revolutionary changes in the industry?
DeSantis Gunhide is almost as old as I am, which is to say they've been making quality rigs for more than half-a-century. I was familiar with their goods while growing up and have used many of the company's holsters as both an armed citizen and uniformed cop. I can't tell you how many times I slipped a pistol in my pocket sheathed in a DeSantis Nemesis pocket holster or strapped one of the company's ankle rigs to the top of my boot when putting on the uniform. The company's gear always delivered. And they have offerings ranging from classic leather to modern synthetic materials.
One of the classic DeSantis designs is the Speed Scabbard. When I received my Springfield Armory Echelon I knew I needed a solid outside-the-waistband (OWB) holster, so I was quite pleased to see on the Springfield Armory Store that DeSantis supported the new gun at launch with a Speed Scabbard variant for it. I ordered one of the $88.99 holsters immediately.
Design and Features
At its most fundamental, the Speed Scabbard is an open-top OWB leather holster designed for carry. It is a classic three-slot rig that allows you to carry it with a neutral or forward tilt.
DeSantis uses precisely molded leather with an adjustable retention screw located near the trigger guard. This allows you to dial in how much friction must be overcome to remove the gun from the scabbard. A fast draw is great, but you must balance that against security considerations.
My rig showed perfect stitching that was doubled in some areas for added strength. The edges of the leather were smooth and rounded as if the company spent extra time to buff the edges. This is common on a custom rig, but it is less common on a more affordable holster like the Speed Scabbard.
One of the key features of the Springfield Echelon is its game-changing optics Variable Interface Systems (VIS) mount. The Echelon can directly mount more than 30 of the most popular pistol red dots currently on the market without needing an adaptor plate. This makes for a ruggedly simple low-mounting option for a wide range of optics.
I hoped that holster manufacturers would produce models that could accommodate all of the varied optics the Echelon could mount. DeSantis seems to have done just that with the Speed Scabbard. I tested mine with a range of optics on the pistol, and every one fit the holster with plenty of clearance.
In general, I find OWB holsters more comfortable to wear than inside-the-waistband (IWB) rigs. I suspect I am not alone. Even so, there are still some OWB rigs that are more comfortable than others, and the Speed Scabbard definitely falls into the "more comfortable" category.
Rigging It Up
Quality belts can make a major impact on how a gun carries. With a high-quality belt, even a mediocre holster can perform well. Think what a solid holster like the Speed Scabbard can do with one. Thin belts bought at the local clothing store rarely provide enough stability to carry a gun. While fashionable, these belts can make a top-notch holster uncomfortable or even impractical to use. For this reason, I always encourage people to buy good quality belts designed specifically for CCW.
While ordering my holster from the Springfield Armory Store, I saw that they also carried a Boxer Outdoors Apogee Tactical Belt marked with the Springfield Amory logo priced at $99.99. Offered in a choice of black, gray or coyote brown, I went for the basic black.
This belt is an interesting mix of materials and features that blend into a sound platform for gun carrying. The strap portion of the belt is made of webbing similar to many rigger belts. However, the company coats the belt in a black polymer that gives it the appearance of something more akin to leather. I found this appearance suitable for many clothing styles for which a standard web belt would be inappropriate.
More important than the style was the performance of the belt. Frankly, I was pleased at how well it worked. The belt is 1.5" wide, which worked well with the Speed Scabbard. Most significant, though, was the buckle system. It uses a ratchet-type system to allow for your preferred amount of tightness to match whatever you might be carrying. The rugged buckle also has a quick-release function.
Throughout my evaluation, the Boxer Outdoors belt performed admirably, solidly anchoring the Speed Scabbard while carrying the Echelon.
Durability and Retention
Testing the durability of a holster can be a difficult thing. In general, writers work on a deadline and testing a rig for two years simply isn't realistic. Luckily, I own several Speed Scabbard holsters for other handguns. I have owned those rigs for several years, so I can speak to the general durability of the design and craftsmanship.
Put simply, the Speed Scabbard is a tough rig. My existing rigs have been through some rough times, and every single one bears the scars of hard use. Yet every single one remains in service. All of the leather, stitching and tension screws remain perfectly serviceable. My new Echelon rig appears to be of the exact same quality.
Retention is good with this rig. Any open-topped holster needs to have some sort of internal retention to prevent the gun from popping or falling out during regular activities. DeSantis designed the Speed Scabbard to retain the Echelon using friction. Close molding mates well to the pistol. As mentioned earlier, an adjustable retention screw allows you to increase or decrease the friction to match your needs.
I find the system to be superior to other leather, open-top rigs, but I understand if you prefer to have a thumb break for added security. If so, check out the Thumb Break Scabbard — also available on the Springfield Amory Store for $89.99. Also designed by DeSantis, the rig is nearly identical to the Speed Scabbard, but with the addition of a reinforced thumb break for additional retention.
Final Thoughts
As should be evident by now, I appreciate the quality of the DeSantis Gunleather designs, with the Speed Scabbard being one of my favorites. The company uses good quality components and designs that simply work for me.
The Speed Scabbard proved to be a solid carry partner for the Springfield Echelon. It carried well, offering a solid anchor for the gun while remaining comfortable for long-term wear. My other Speed Scabbard holsters suggest this one will provide valuable service for a long time to come.
Editor's Note: Please be sure to check out The Armory Life Forum, where you can comment about our daily articles, as well as just talk guns and gear. Click the "Go To Forum Thread" link below to jump in and discuss this article and much more!
Join the Discussion
Featured in this article
Continue Reading
Did you enjoy this article?
39