Diamond D Custom Leather Chest Rigs
July 12th, 2021
5 minute read
I hunt almost exclusively with handguns. These outdoor pursuits incur a variety of hunting methods, terrain, environments and weather. It seems I'm always searching for the absolute best, most comfortable and safest way to carry my handgun.
There are a lot of things to consider when packing a pistol. Will I be climbing on and off a horse, getting in and out of vehicles, hiking for miles in inclement weather, needing to access the firearm quickly, are among just a few considerations needing to be addressed when choosing a carry method.
Additionally, the overall size and weight of the handgun may determine which holster to be most suitable and comfortable as well.
My Story
This past deer season, I had been carrying one of Springfield Armory's older TRP Operator variants, a longslide in 10mm. The TRP longslide tips the scales at 45 oz. Top the magazine off with a few 10mm rounds, and you have a fairly hefty pistol. For me, I just couldn't carry this pistol on the hip, with it being too heavy there for the long haul hikes.
Fortunately, I discovered Diamond D Custom Leather – a holster maker based in Alaska. These folks are serious outdoorsmen and women who roam about frequently in Alaska's backcountry where bears are present. Their Guide's Choice Chest Holster is a great option for packing a handgun whether you're hunting the back 40 or fishing a salmon stream with bears nearby.
Priced at $185, I have found the Guide's Choice holster to be extremely comfortable. What I really like about this holster is that it's super easy to put on and take off. Adjustments can be made quickly depending on your clothing requirements. In the early mornings, a coat and vest were worn. Then in the afternoons when the temperature rose, I painlessly adjusted the holster for lighter clothing. One strap rides over your shoulder, taking the weight of the pistol. The second strap wraps around your body, securing the pistol from flopping around.
Unlike conventional shoulder holsters where the handgun is riding under your armpit, the Guide's Choice unit places the pistol across your chest. You can access the gun expeditiously if necessary. More importantly, the pistol rides safe and protected and it doesn't bounce around when properly adjusted. The Guide's Choice Chest rig utilizes a retention strap for semi-autos which keeps the pistol safe and secure. This leather holster is made from top quality leather and is stitched professionally. A magazine pouch is available, and I definitely carry a spare mag for peace of mind and additional insurance.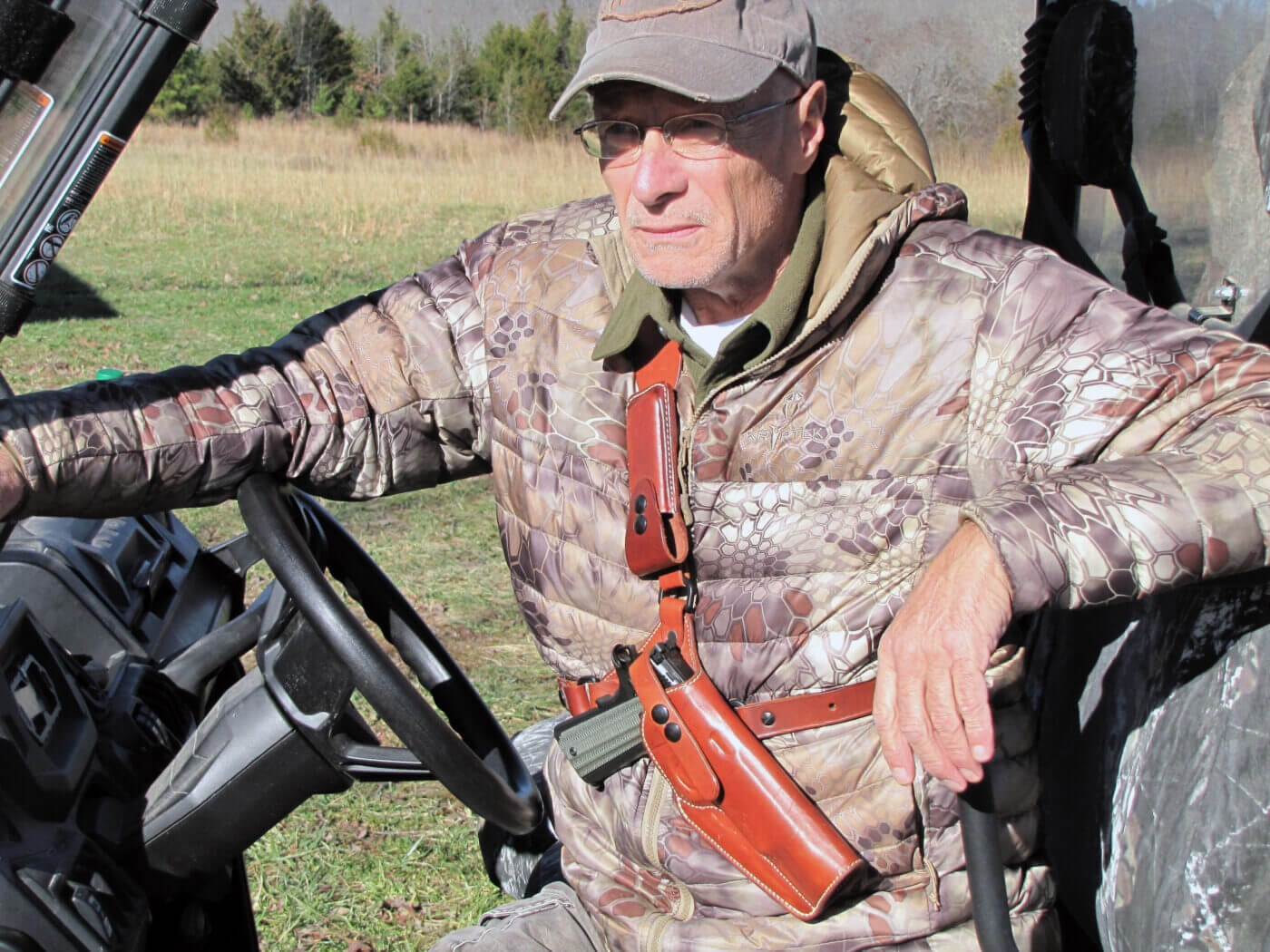 In the past, I've worn the Guide's Choice holster when hunting wild hogs. On one particular hunt, we were trying to keep up with the dogs in hot pursuit of a big, ugly boar. I found myself running through the brush in an effort to keep up. Thanks to the Guide's Choice Chest holster, I didn't have to worry about the gun falling out. The holster also kept the pistol from flopping around on my body. There wasn't any discomfort after a long day of hunting.
Another attribute to the chest holster is getting in and out of vehicles without interference. My wife and I climb in our side-by-side almost every day, riding around our farm checking fences, cutting brush, looking for wildlife, checking trail cameras and other assorted property chores. We're in and out of the side-by-side constantly. With the pistol riding across my chest, this carrying method doesn't impede getting in and out of the machine. It's also comforting knowing the 10mm can spring into action quickly if needed.
I've lived here in south Missouri all of my life. If someone told me 30 years ago we would have wild hogs and black bear running around these parts, I wouldn't have believed it. But it's true! So, when meandering around our farm every day, having the TRP resting comfortably in Diamond D Custom Leather's Guide's Choice holster is most reassuring.
Another Option
While many handgun enthusiasts enjoy and appreciate a fine leather holster, some prefer a less-expensive option. Well, there's a more affordable but equally comfortable ballistic-coated nylon chest holster available. Thanks to Diamond D Outdoors, a spinoff from the parent company, the Denali Chest Holster is available and enjoys all the capabilities of the Guide's Choice rig.
Named after North America's tallest mountain, the Denali Chest Holster is made with super strong, durable and tear-resistant 1050 ballistic nylon. This is an ultra-light holster. The average weight of the Denali Chest Holster is a mere 13 ounces. You will hardly know you are carrying a pistol.
Just like the Guide's Choice, this is an ideal holster for backcountry hiking, fishing along streams with bears present, or on all day hunting excursions. The pistol can be carried comfortably for long periods with quick access if necessary. The holster can be worn center of your chest or slide under your arm if you're carrying binos. It also fits while wearing a pack. The price-point of just under $100 is most attractive and won't deplete your wallet, either.
Conclusion
Both the Guide's Choice and Denali Chest Holsters are designed and tested from years of experience in Alaska's backcountry. The company stands behind its products with a 100% satisfaction guarantee. It doesn't get much better!
Editor's Note: Please be sure to check out The Armory Life Forum, where you can comment about our daily articles, as well as just talk guns and gear. Click the "Go To Forum Thread" link below to jump in and discuss this article and much more!
Join the Discussion
Featured in this article
Continue Reading
Did you enjoy this article?
73