The Armory Life Interviews: DC Project's Dianna Muller
November 21st, 2022
7 minute read
The Armory Life is honored to recently have had the opportunity to conduct an interview with Dianna Muller, former law enforcement officer, professional 3-Gun shooter, and founder of the DC Project, a women-oriented gun rights movement.
If you don't know who Dianne Mueller is, know this: She is a competitor as well as being extremely determined. As a teenager, she was a barrel racer and would drive the country to ride for about 16 seconds. She was then introduced to hunting and competitive shooting by her dad and there was no going back. She is a two-time USPSA Ladies Open National Champion, and the 2015 NRA World Ladies Champion. She's also a two-time IPSC World Shotgun silver medalist and took gold on the ladies' team in 2015 and 2018. In addition, she has competed for the United States in two Pan-American Shotgun matches. Plus, she is a two-time national 3-Gun champion.
Dianna was also a cop. For 22 years she worked for the Tulsa Police Department serving assignments in Narcotics, Gangs, Street Crimes and Patrol. While most of us are happy to have one career path, Dianna has had several. Her second career is as a professional shooter after retiring from law enforcement, but she did not stop there.
"God has a way of pointing you in a direction," she is fond of saying and she parlayed her law enforcement and pro-shooting experiences into the DC Project. This non-profit, non-partisan advocacy group raises awareness that firearms safety and violence prevention are achieved through education, not legislation. The DC Project encourages the preservation of America's gun culture, as well as highlights the diversity and rising demographic of female gun owners, because gun rights are women's rights.
She recently returned from DC along with DC Project regional director from every state after having 138 meetings with legislators and holding a rally in front of the Supreme Court. The rally set the tenor and made a great impression on legislators and everyday people in DC by showing gun owners from a female perspective.
The Armory Life (TAL): What should our readers know about you and your background to understand who you are, what you have done, and why take up the 2A cause?
Dianna Muller (DM): I am a retired police officer from Tulsa, Oklahoma. I retired early, after 22 years instead of the 25 years I had anticipated, to pursue a second career as a professional shooter. About a year into the professional shooting, God put it on my heart to start the DC Project. Now, I am hyper-focused on saving our country by further concentrating my efforts on protecting the Second Amendment.
TAL: How did your time in law enforcement help set the stage for your advocacy work?
DM: Being a police officer helped me gain real-life experiences, so when I speak to being your own first responder I know a thing or two about it. For instance, when a police officer says you are your own first responder, it means something different than someone saying no one needs a gun. I believe I have some legitimacy when it comes to speaking to dealing with crime and violence.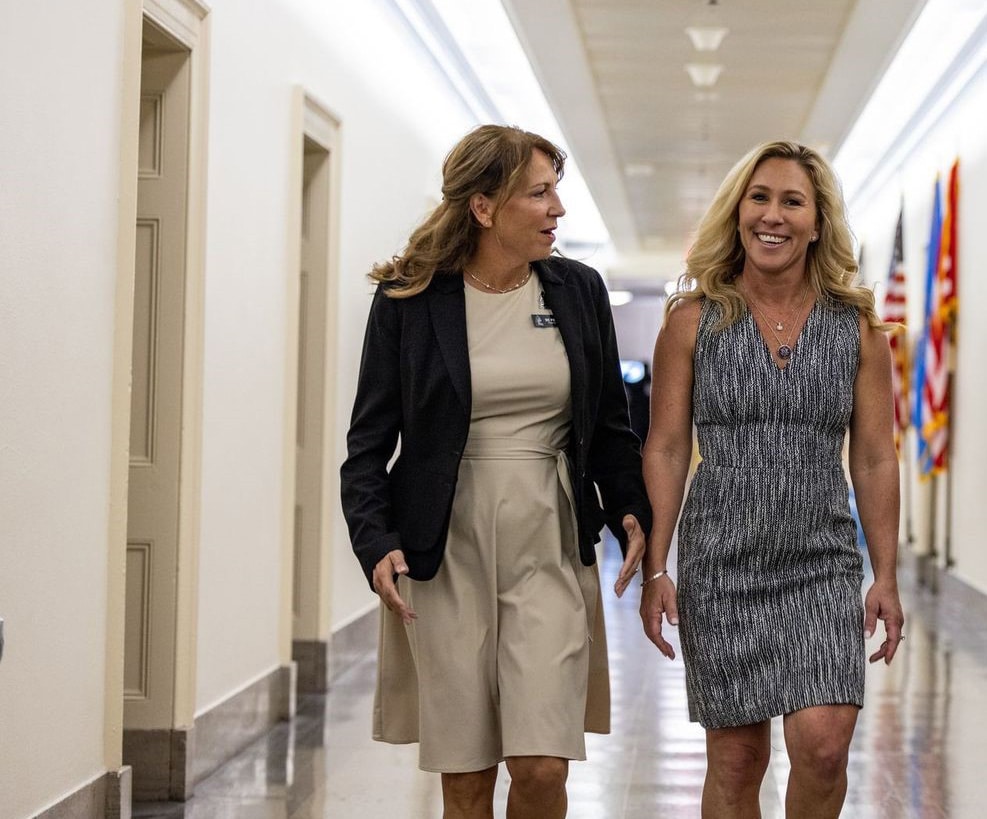 TAL: How did you become involved in competitive shooting?
DM: My dad was a big influence. We always had firearms at home when I was growing up, and we knew how to shoot and hunt, and knew firearms safety. While I was in high school, my dad turned my attention to shooting competitively, took me to matches and introduced me to USPSA shooting. Fast forward to 2008 and 2009, and I persuaded myself to go to an early 3-Gun match, more because I thought it would help me in my job as an LE officer.
TAL: What is it about 3-Gun competition that drove you to turn pro?
DM: I love 3-Gun since it incorporates all three platforms that I used as an LE officer. I also fell in love with the people of 3-Gun. I really think it was God turning my heart in a new direction and that was my evolution to becoming a full-time professional competitor.
TAL: Your career seems to be divided into three diverse segments with the common thread of firearms throughout all of them. Was there a defining moment when you became an advocate?
DM: There was a very definitive "ah-ha" moment. It was September, 2015. My husband and I as well as the Miculeks (Jerry, Kay and Lena) were on the east coast attending 3-Gun competitions and we had time in between matches so we decided to do some tourist stuff. We were close to DC and drove there to spend a day there. I have a friend in DC who advocates for fallen military families. She lost her husband who was killed in action. She asked me if I wanted to meet my congressman.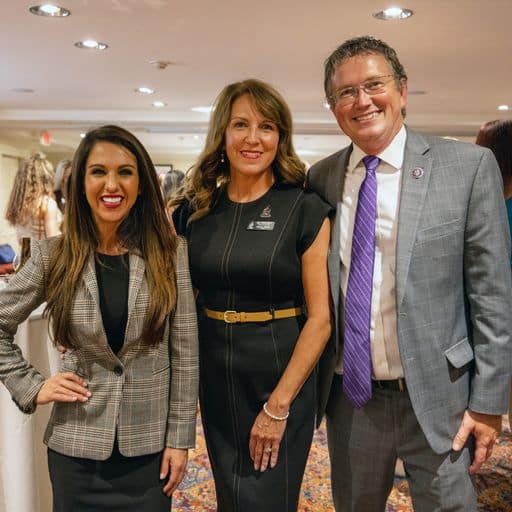 During the meeting I had a question: Is there something we should be doing as professional shooters to help educate the people in this building who seem to be making some horrendous decisions based on misinformation, dis-information or just plain ignorance? Plus, I was amazed that I could visit my congressman's office. It was from there that the DC Project and my advocacy effort was born.
TAL: Initially it was just you with an idea. How did you grow the DC Project?
DM: Realizing I could only speak to my legislators, I knew I would need people from every state. I also realized women can have a stronger voice when taking about the 2nd Amendment because we break the stereotypes.
I'll admit, at first, I operated by the seat of my pants, because as a cop and shooter you have to make decisions quickly and keep moving. I rallied my team saying, "Let's go do this. Let's stop talking about it and do something."
I have no special talent or education to set me up as an advocate, but I have passion. I found it was simple to get people on board. All you have to do is reach out and put forth the effort. Originally it was only one person from each state, and we represented the diversity of the 2nd Amendment. It started at that grassroots level, and the DC Project now has regional directors that organize supporters in their state.
TAL: What separates the DC Project from other women's groups?
DM: As the DC Project evolved, we became the counter-voice to Moms Demand Action, who demand our 2nd Amendment rights be restricted as a solution. The DC Project maintains that education is the key to safety and violence prevention, and that we want to be able to protect ourselves and our families. We don't want to feel safe, we want to actually be safe.
TAL: If education is the key, how do we start? I'm sure many 2A people would like to help, but they don't know how.
DM: I see education as a two-part perspective. First is the "external" education of people who are not in our gun community, like legislators who are not from a gun culture. These people need to be educated in the simple fact that gun owners have solutions, and expose them to gun owners in a positive light.
The flip side is the "internal" education of gun owners. Only about six percent of gun owners are active in 2nd Amendment organizations. Gun owners are a huge group of people, they are in a sense our choir, but the majority don't know the words to our song. When it comes time to effectively influence their friends, family, community or legislators, they can't articulate the message. So, the gun culture needs to educate themselves on why to oppose universal background checks or why red flag laws are bad, for example.
One of the things the DC Project has done is create a one-page document on our website (dcproject.info) that people can download and use as a reference for talking points about the major 2A topics that are relevant to having an effective conversation.
TAL: Downloading the talking points is one step, but what is the next step?
DM: Our audience is super hungry to better understand what can I do, what can we do, what are we doing. When people sign up, they are plugging into their state region where issues specifically pertaining to your state are addressed. We attend rallies and festivals, so we want to have a visual presence and part of that visual is our teal-colored t-shirts with our Teal for 2A campaign.
TAL: Thank you so much for your time, and for your efforts to protect our Second Amendment rights.
DM: Thank you for the opportunity.
Editor's Note: Please be sure to check out The Armory Life Forum, where you can comment about our daily articles, as well as just talk guns and gear. Click the "Go To Forum Thread" link below to jump in and discuss this article and much more!
Join the Discussion
Featured in this article
Continue Reading
Did you enjoy this article?
67