First Look! B5 Systems SAINTs
May 27th, 2020
5 minute read
Springfield Armory has taken their staple SAINT line of AR-15 rifles and pistols and given them some new top-end hardware! The devil is often in the details, so Springfield looked to give shooters another unique offering of their coveted rifles and pistols by adding in some B5 Systems hand guards, trigger guards, pistol grips and stocks depending on the specific SAINT model (just as an FYI, Springfield is still offering all its BCM-equipped SAINTs as well).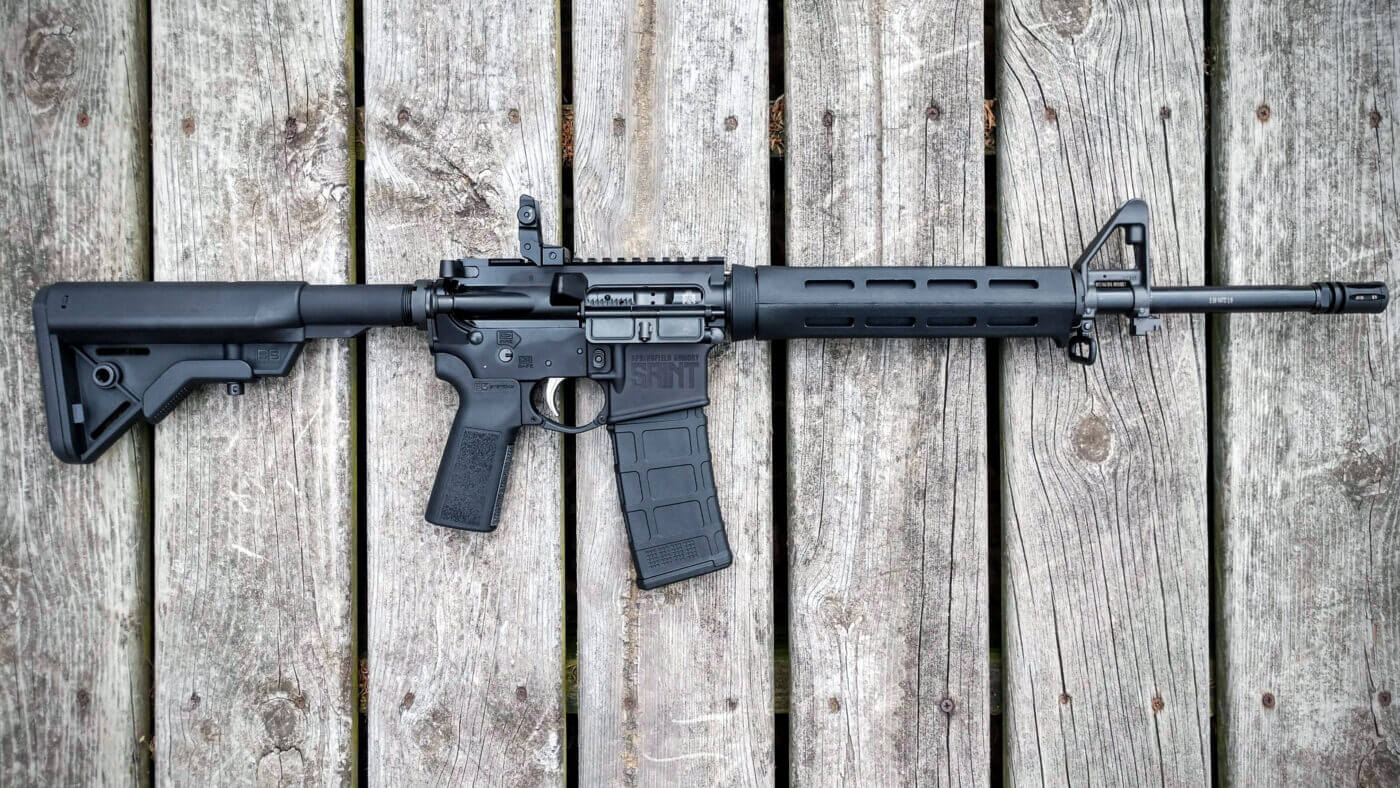 B5 Systems is a highly respected producer of military-grade gear and supplier for U.S. military contracts, and the B5 Systems furniture is featured on select SAINT and SAINT Victor firearms. In the SAINT Victor line, both the 5.56mm SAINT Victor Pistol and 5.56mm SAINT Victor Rifle are now being offered with B5 Systems gear. Both models feature B5 Systems' enhanced Type 23 P-Grip pistol grip and enlarged polymer trigger guard, and the SAINT Victor Rifle in 5.56mm features the B5 Systems Enhanced SOPMOD Stock.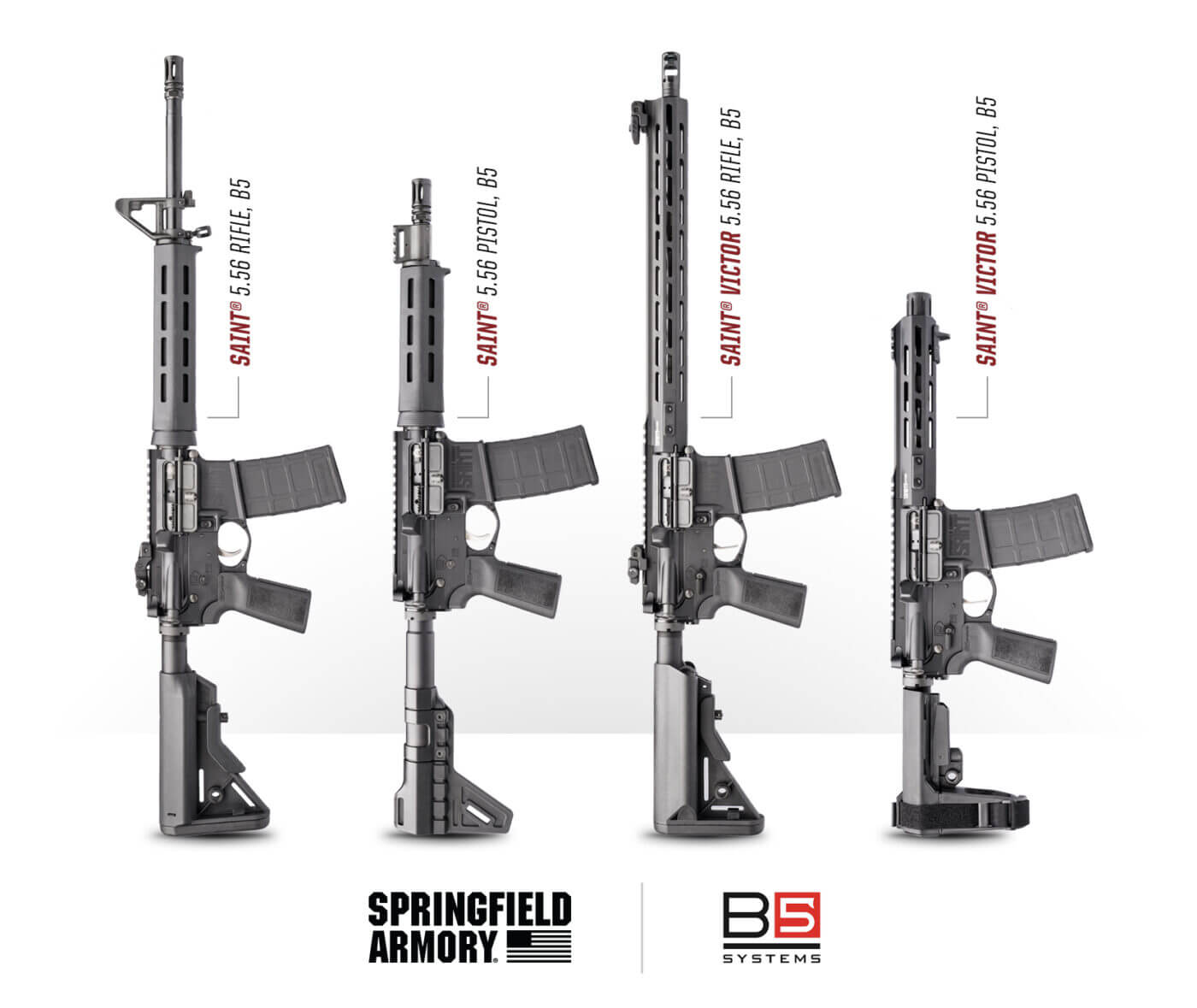 The SAINT Pistol and SAINT Rifle are also getting B5 Systems enhancements. Both models feature the company's pistol grip and trigger guard, and additionally are equipped with the B5 Systems' Hand Guard — offered now with M-Lok slots. The SAINT Rifle is equipped with the B5 Systems Bravo Stock. It was the latter of those I had a chance to go hands-on with in this review to see for myself.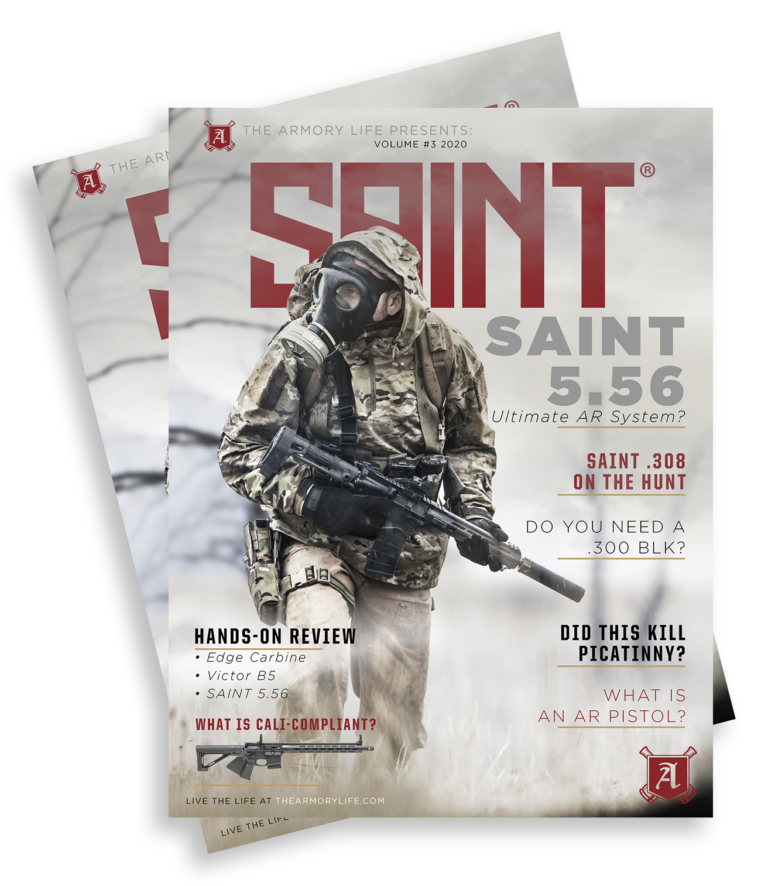 Hands On
One of the first elements I noticed on the SAINT with B5 furniture was the pistol grip. It is set at a much steeper angle than a traditional AR pistol grip with an extended tang that fills your palm completely. This allowed me to get my hand and whole shoulder into better alignment with the rifle for a more repeatable trigger press and improved shooting. I was able to achieve more accurate hits out to 100 yards with mere iron sights than ever before and I attribute it to the pistol grip. Also, with multiple faces of texturing on the pistol grip, I had sound dexterity even on a hot and humid day.
Right next to the new pistol grip was another new B5 Systems part — the quality composite trigger guard. Its oversized, thick and spacious nature allows for gloved shooting whether it is a tight-fitting Mechanix shooting glove or a bulky and loose one during cold weather shooting. The glove-friendly profile shows a lot of attention to detail. For people who live in inclement weather areas like Minnesota similar to myself, this B5 Systems trigger guard also has the ability to swing-down for when your sausage fingers are numb or hiding inside a massively burly set of mittens.
Moving forward on the rifle, we encounter the B5 Systems M-Lok hand guard. The hand guard is surprisingly slim (one of the narrowest on the market, according to B5 Systems), which made it a breeze to grip and control. Additionally, it has built-in stamped steel heat shields.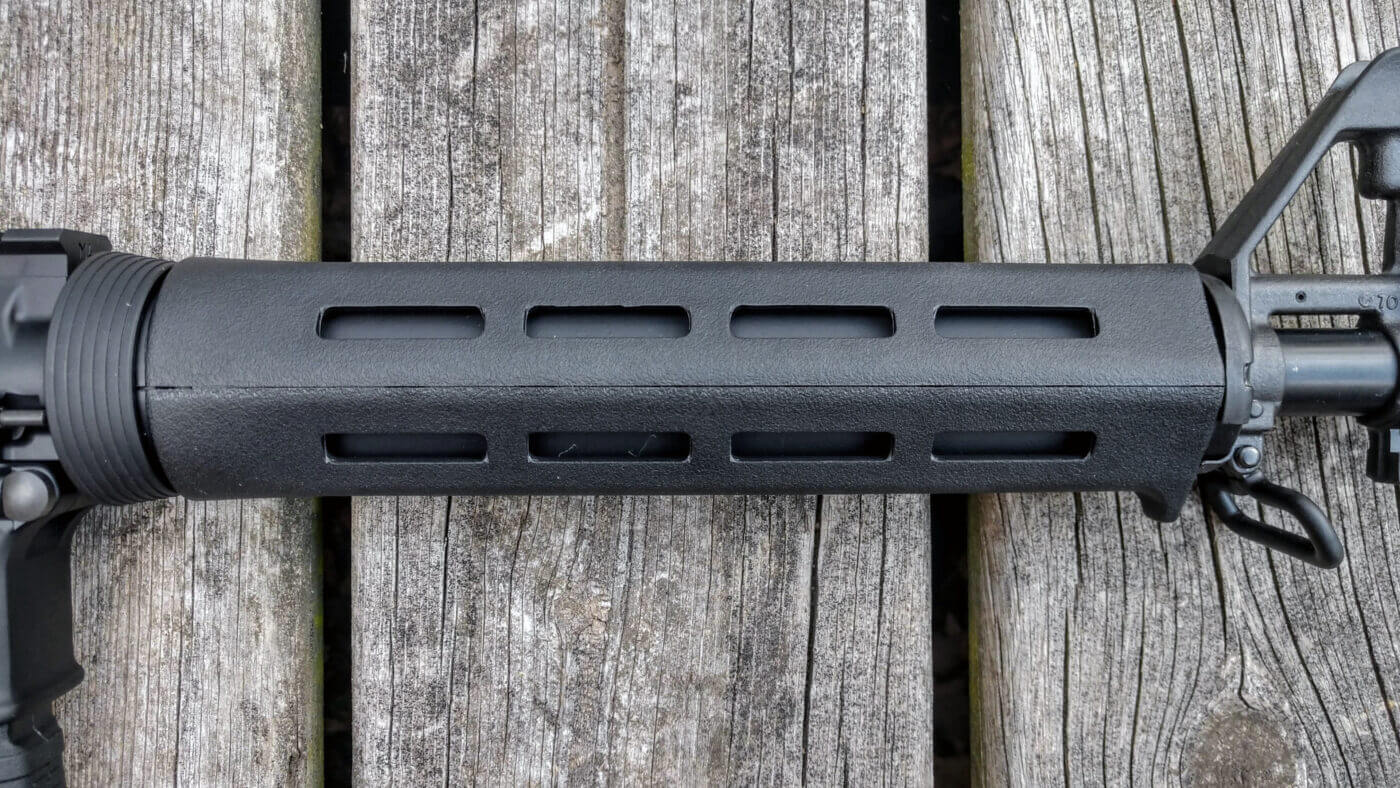 Something that almost got by me unnoticed is a small handstop built into the end of the B5 M-Lok hand guard. This afforded me positive manipulation to be able to reach out assuredly as far as possible without the chance of slipping off the hand guard. This is also a very nice feature for the SAINT Pistol, on which this is also equipped. Being that it has M-Lok channels throughout, you can add an infinite amount of accessories easily without needing to remove the hand guard to do so.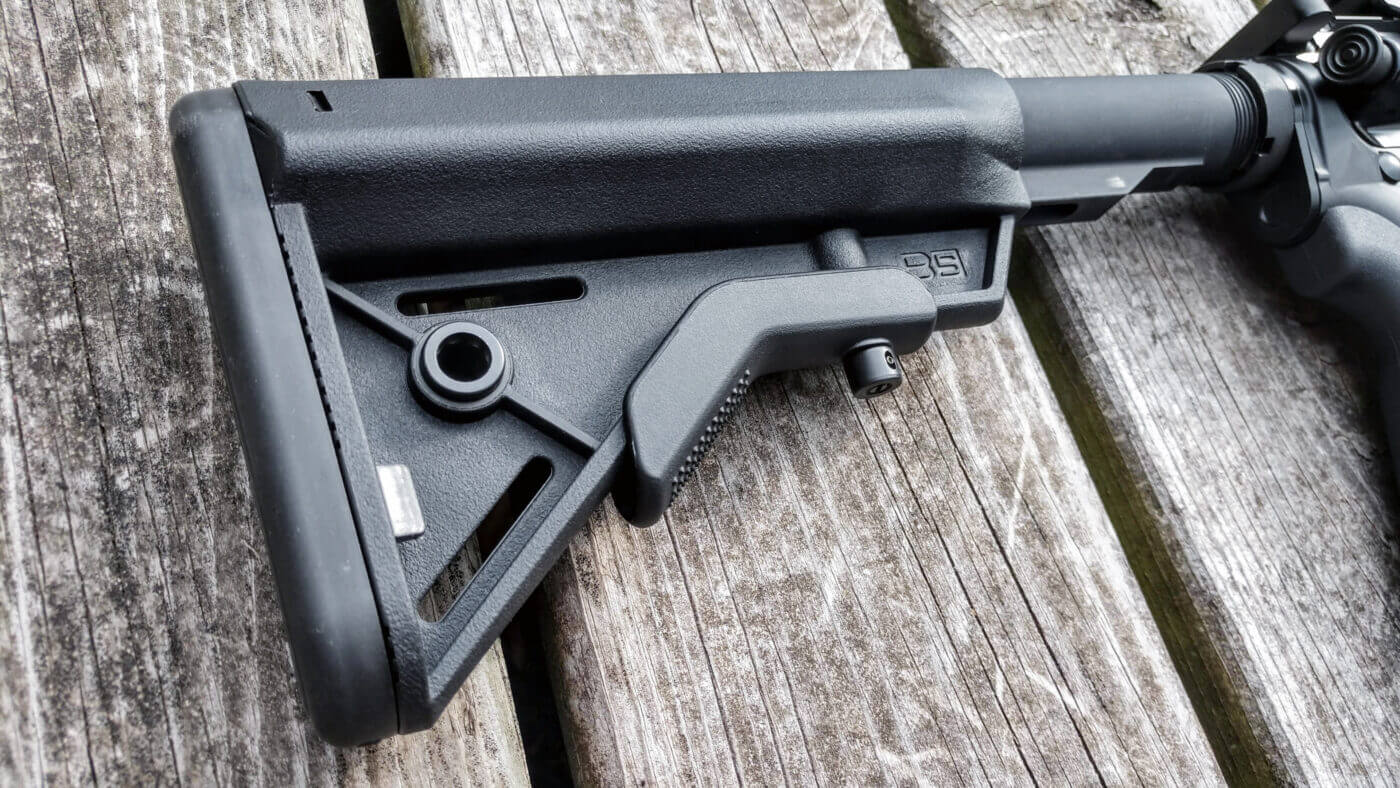 The final B5 Systems piece that brings this rifle together is the Bravo stock. This six-position collapsible stock is incredibly light and streamlined for maximum performance and minimal bulk. This buttstock ensures consistent, repeatable shouldering of the weapon every time. You have one over-molded, steel anti-rotational QD sling mount as well as two different fixed sling mounts to sling your rifle to your preferred carry method. All of the metal hardware is color-matched to the composite material and non-slip cushioned buttpad for a nice aesthetic as well.
More Than The Sum …
While all of this excellent B5 Systems hardware brings a lot to the SAINT series of AR rifles and pistols, the SAINT exudes quality unto itself. You have professional quality low profile flip-up iron sights that come standard so you can run the gun right out-of-the-box. It boasts a mid-length gas system, which is optimal for the 16" barrels the SAINT deploys.
The SAINT also has a premium nickel boron-coated G.I. single-stage trigger for a smooth and grit-free pull every time. There is also the Accu-Tite Tension System between the upper and lower receivers to eliminate slop and optimize accuracy.
Another point of quality and reliability is the bolt-carrier group (BCG). The one utilized by Springfield Armory is an M16-style featuring a Carpenter 158 steel bolt and rugged Melonite surface treatment. In addition, it is high pressure tested/magnetic particle inspected (HPT/MPI) to ensure strength and durability.
All of the components of the SAINT, from the barrel to the buttstock, are meticulously hand-chosen and provide something of usefulness and quality to the user. From their inception a few years ago, I have always been impressed that Springfield Armory could dive into a watered-down market like the AR one and rise to the top. And now with these new B5 Systems versions of select SAINTs, you have even more choices!
Editor's Note: Please be sure to check out The Armory Life Forum, where you can comment about our daily articles, as well as just talk guns and gear. Click the "Go To Forum Thread" link below to jump in!
Due to an ATF ruling regarding the configuration of pistols with stabilizing braces, these firearms can be subject to NFA (National Firearms Act) regulations as short-barreled firearms. It is the buyer's responsibility to comply with all rules, restrictions and/or laws determined by your city or state. Please ensure you are up-to-date on all current laws.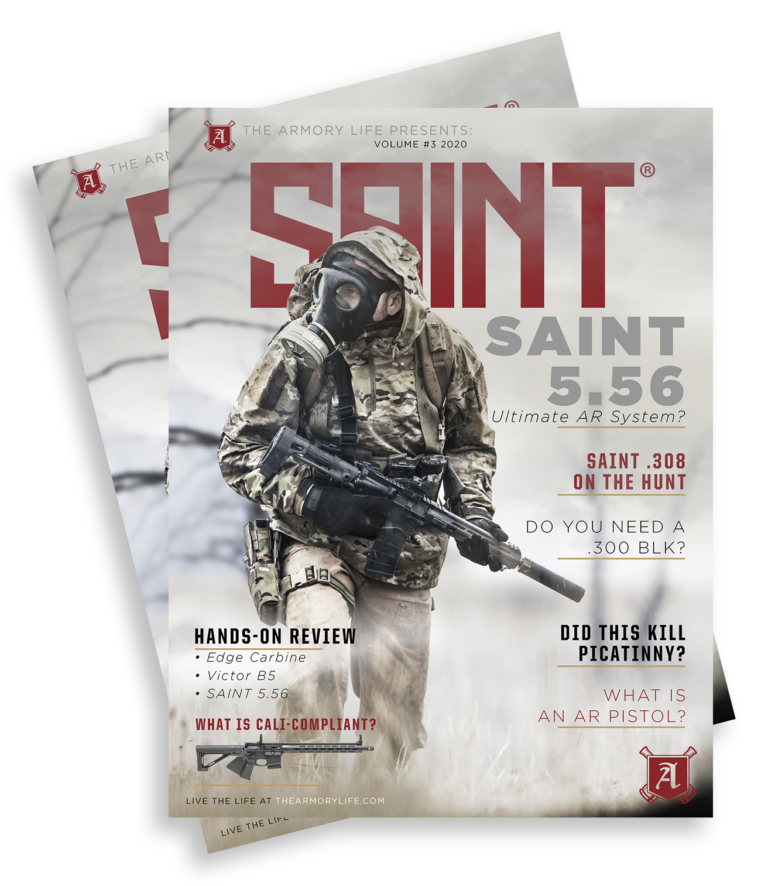 Join the Discussion
Featured in this article
Continue Reading
Did you enjoy this article?
208