Gatorz Blastshield Review: Modular Ballistic Eyewear
August 27th, 2023
6 minute read
As a rule, the shooting sports can be extremely safe. Like any sport, if we follow the safety rules and wear the appropriate protective gear, we can lay the groundwork for a safe experience. Eye protection — sometimes referred to as shooting glasses — is eyewear designed to protect the eyes from the rare bit of debris that can kick up when on the range.
In this article, Scott Conditt reviews the new Blastshield from Gatorz Eyewear. More than just stylish, polarized sunglasses, this amazing product is designed with CNC-machined, adjustable frames. The lenses offer UV protection, reduced glare for improved vision and fragmentation protection.
Whether it's woodworking in the garage, training with firearms at the range, or riding bikes in Arizona's sunny and treacherous deserts, when it comes to personal protective equipment (PPE) across all potentially dangerous activities, eye protection has always been the one piece of kit I personally obsess over most.
[Be sure to read our article What to Put In Your Range Bag.]
Straight up, I admit I also have always had an eye injury phobia and absolutely hate when I get crud in my eyes. Partly, this may be because of how intimately aware I am of how much my eyesight plays a major role in my career as a filmmaker and photographer, which also lends itself to enhancing my appreciation and understanding of how a quality lens can make or break how you are able to view the world.
I've owned more pairs of eye protection than I can count over the years, from the cheap throwaway multipacks of safety glasses from the hardware store to the far more expensive name-brand varieties specifically designed for one activity or another.
Without reservation, I can say that my experience testing Gatorz's latest release, the Blastshield, has made them my favorite all-around well-crafted badass pair of eye-pro to date. Let's jump into why I make that claim.
What Is the Gatorz Blastshield?
The Blastshield model of eye protection incorporates every single feature I look for in eye protection for firearms training and ballistic environments — and then some. One of the key design features that has always impressed me when it comes to the proudly American-made brand is the aluminum frames. Gatorz CNC-machined and Cerakote-coated frames are beyond durable, they're damn near indestructible.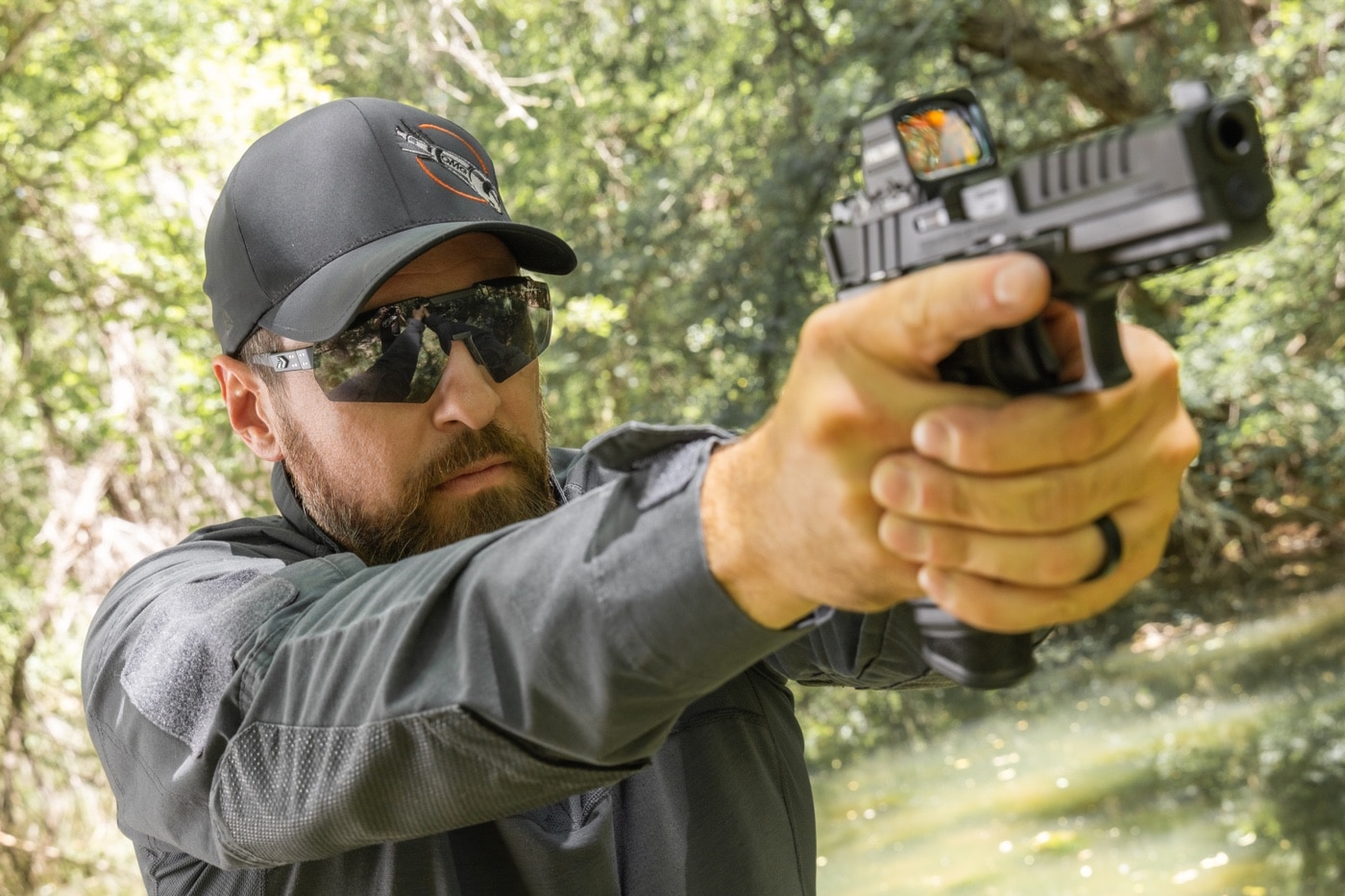 Beyond pure strength, the frames offer additional benefits. Their innovative construction features thin temples that allow for a good degree of flex when wearing it. This is great if you have a hat with ear protection or a helmet with communications devices on.
What really stands out for me when I worked with the Blastshield eye protection, though, was the lenses and lens-change mechanism. Many other eye protection brands I've worked with in the past feature tough or overly difficult lens swap mechanisms, which is annoying at the very least on a casual range day and could be an absolute nightmare in more serious circumstances.
[Starting your handgun training? Read What You Need for Your First Pistol Class for some important tips.]
The Blastshield features the Innovative Clamp Mechanism (ICM) Rapid Lens Change feature. To swap lenses, all you need to do is pull the nosepiece away from the rear of the glasses while maintaining a positive hold on the outside of the lens, and the hinged mechanism attached to the nosepiece lifts up to allow you to free and exchange the lenses. I was impressed with how secure the lenses were held in place when the ICM was locked down, but also how quick and easy it was to actuate the mechanism for lens swaps.
Gatorz glasses have always been renowned for both their comfort and their durability. And now with the ICM lens change system, they are adaptable to a wide range of shooting conditions. The ease and smoothness of this single feature had me sold on the Blastshield, but they proved to be even cooler once I got them out to the range.
Visual Clarity and Variable Lenses
I received the ballistic-rated smoke, clear, and photochromic lenses from Gatorz to try out. With the ballistic lens option, the glasses have a starting price of $275. You can select one lens type with the glasses or a bundle with smoke and clear for $340, and pick up extra lenses for anywhere from $115 to $160.
The quality and clarity of all three of these lenses were both truly exceptional. There was no visual warping or distortion apparent when in place and worn. The ballistic smoke was just the perfect shade of dark for the harsh Arizona sun at the range, while the clear lens inside was so clear and pristine that I barely realized they were on my face.
The one lens that stole the show for me was the photochromic variant. This specialty lens darkens when exposed to bright lighting conditions. I had used a few such lenses in the past and had always sort of had mixed results with how they performed and felt when wearing them.
To be honest, at first glance, I thought Gatorz had accidentally included two clear lenses with the Blastshield package, not realizing that the photochromic lens in indoor conditions was just as crystal clear as its true clear counterpart. It wasn't until I took them all out into the sunlight and witnessed the photochromic lens darken to a shade just about as dark as the tinted Smoke-colored lens in just seconds, that I figured out my error.
I had never seen a quality photochromic lens change color so quickly, or in such a degree of contrast, from clear to darkened like that. I absolutely love that this lens works so effectively, and if I had to choose one lens to leave in place for my varied training environments and in consideration of what scenarios I am most going to use them in, it would be the photochromic. Getting the glasses with that lens bumps the price to $320. The lens alone is $160.
Comfortable Protection on the Range
Luckily though, with the easy ICM rapid lens change feature, I don't dread wrestling with these glasses like I did with other brands in the past if and when I wanted to swap the lenses. Another benefit of the ICM is that they are center-mounted, which enhances their functionality by reducing visual impairment from adjustment or impact, and provides a wider overall field of view.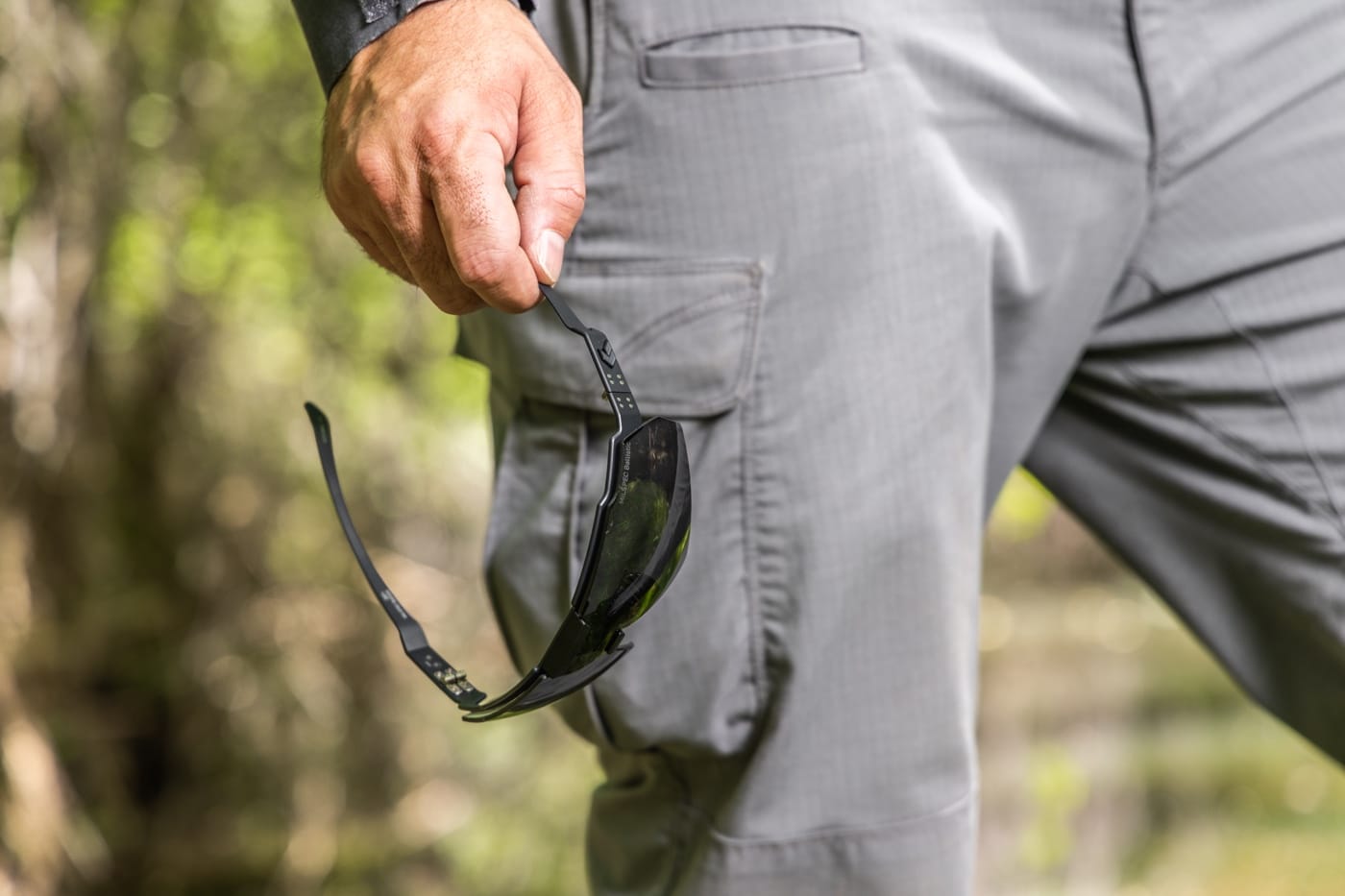 Additionally, the lenses I received are also anti-fog, Milspec ballistic rated, include a scratch-resistant coating, are ANSI Z87.1 rated and are American-made. All of that means they offer a lot of protection for your eyes.
I tested the Blastshield indoors and outside at the range and absolutely loved the clarity, comfort, and capability. Whereas I have a few pairs of other glasses that start to rub and apply unwanted pressure around the temple or bridge of my nose after thirty minutes or so of wear at the range, I didn't experience any discomfort whatsoever during my time wearing the Blastshield glasses during my range session.
These specs check all the boxes for me: innovative design, ease of use, comfort, and they are durable as hell. Not to mention, American-made. For all of these reasons, I highly recommend you check out a pair of Blastshields and see the difference for yourself.
Editor's Note: Please be sure to check out The Armory Life Forum, where you can comment about our daily articles, as well as just talk guns and gear. Click the "Go To Forum Thread" link below to jump in and discuss this article and much more!
Join the Discussion
Featured in this article
Continue Reading
Did you enjoy this article?
31