Just when I thought I had all the 1911 pistols I could ever need, Springfield Armory comes out with something even more awesome. Out comes the Ronin 1911, a pistol that is ready to roll with all the modifications and features I wanted, and at an amazing price of an MSRP of just $849.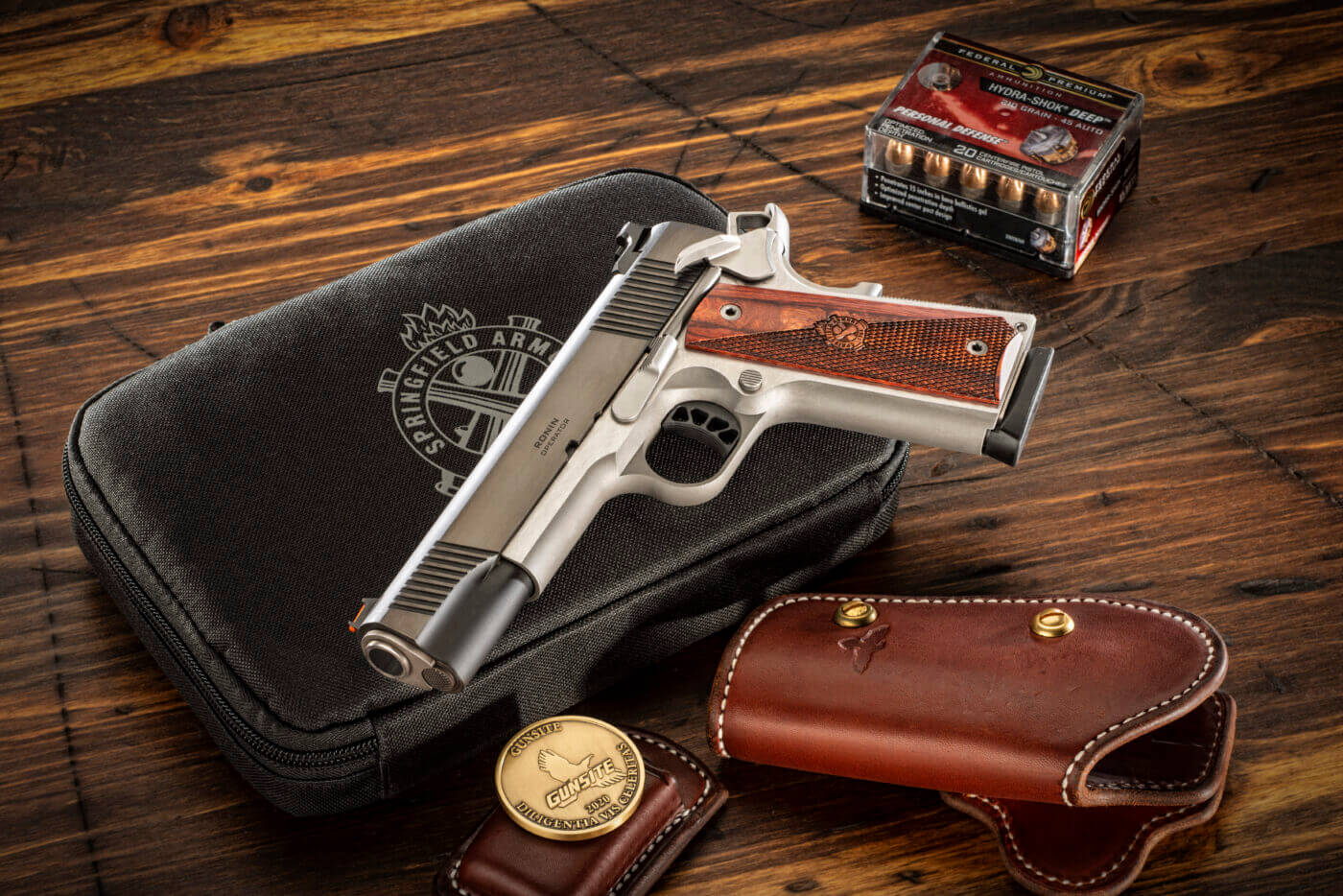 Must-Haves
Features I can't live without? Forged steel. The material on a 1911 must be durable and of the highest quality. The Ronin features a forged stainless-steel frame and a forged carbon steel slide. A hammer-forged barrel rounds out the package. This makes the Ronin a great option.
There are some other features on a 1911 that I have grown so accustomed to that they are a must on my 1911 pistols. These features are functional and for ergonomics, like a tactical rack rear sight, high-visibility front sight and a beavertail grip safety. The Ronin has all three, starting with a fiber optic dovetail front sight, which is great for competition, a two-dot serrated tactical rack rear sight, and a well-designed grip safety with "memory bump" to ensure full engagement. A lightweight trigger adds to the appeal of this superb pistol.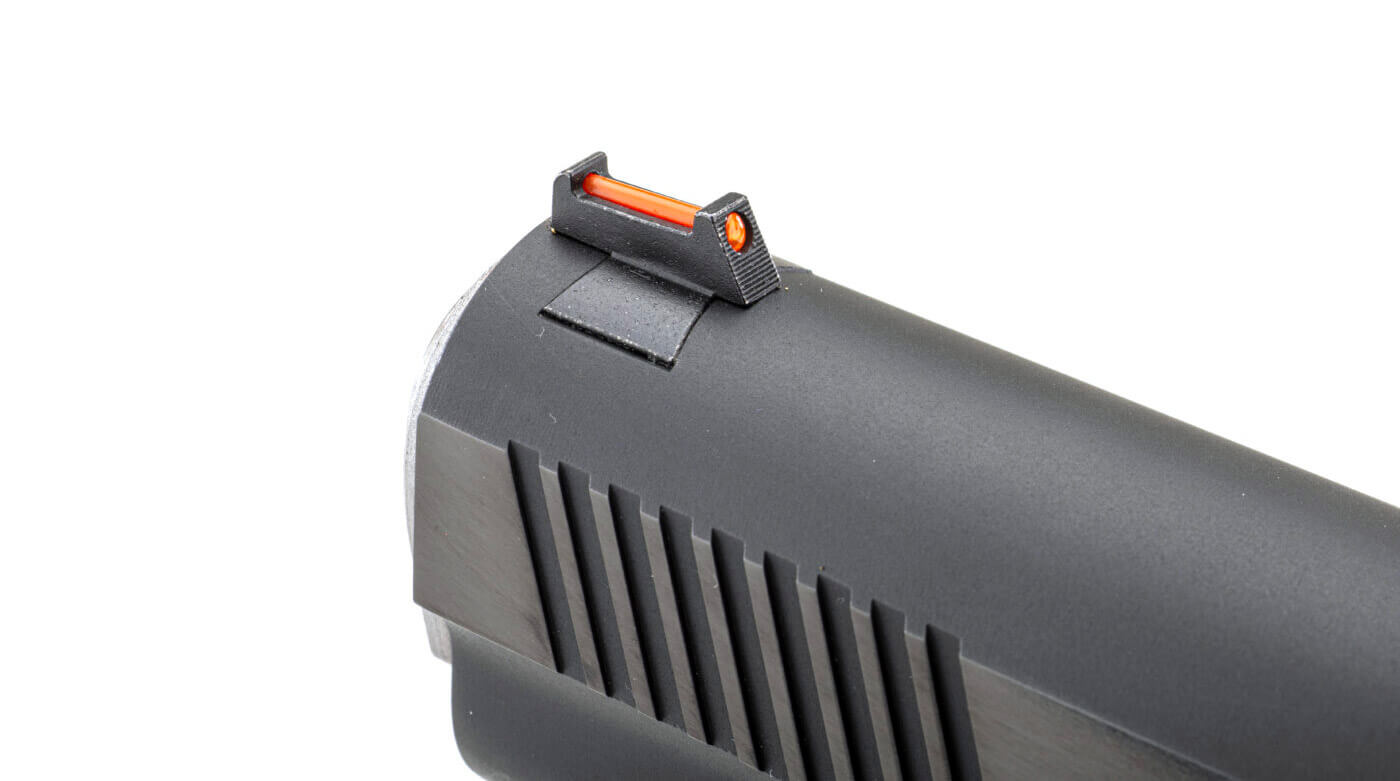 Perfect Platform
What's so great about the Ronin to me is everything it gives you for the price, which allows you some budget for customization if you are one of those that likes to "tweak" their guns like me.
There are features on any handgun that are appealing to some shooters and maybe not to others. Grips for example are a very personal thing to 1911 shooters. The Ronin ships with beautiful wood grips, which not only are very aesthetically pleasing, but very comfortable, too.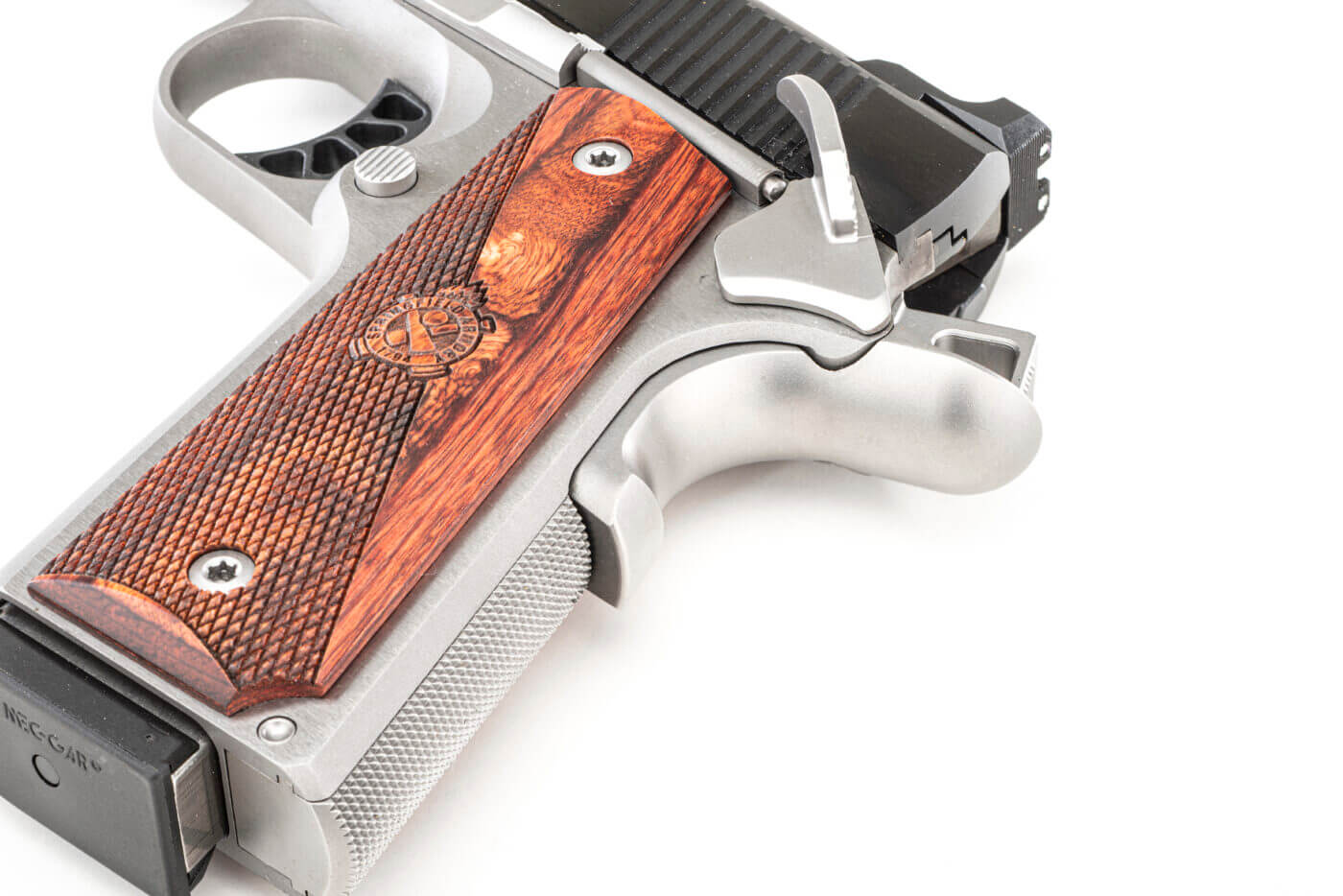 But remember, I like to change things out. Personally, I'm switching them out for some G10 grips as I've found those are a great option for the hot Arizona climate where I live. With the price of the Ronin, I end up with some spare cash for add-ons like this.
Clean Canvas
One feature I love in the Ronin is the clean and smooth front strap of the frame. This will allow me to decide what kind of texturing I will add to the pistol, whether checkering, stippling or just leave it as is. It gives me the freedom to choose and customize the pistol to fit my needs.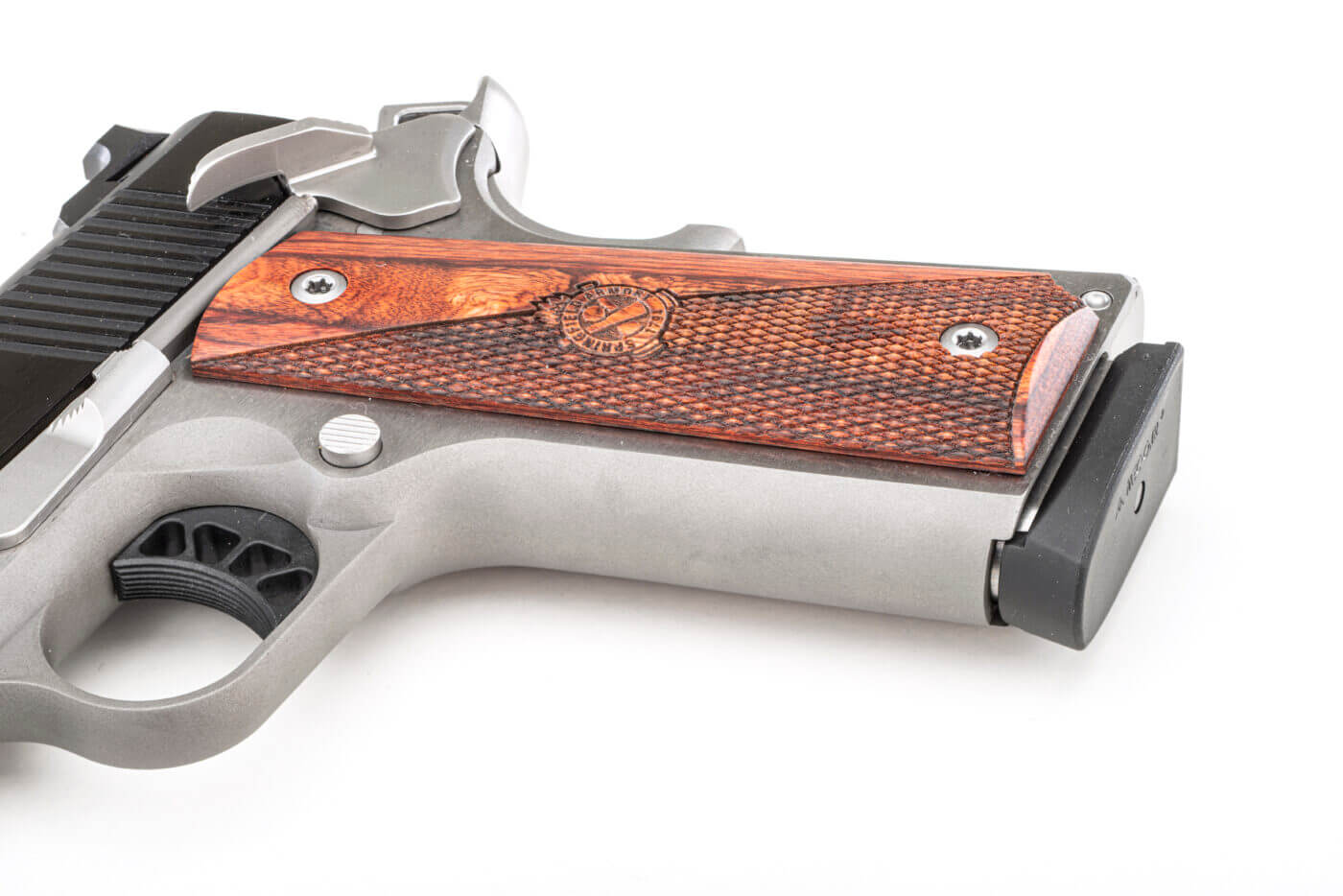 Caliber
Another very cool thing about the Ronin is caliber choices. I'm a huge .45 ACP fan, but there are times when a 9mm is a good choice. Then, you're in luck, there's a Ronin just for you! It is available in both 9mm and .45 ACP. Now, my choice is going to be which one? I'll make it simple — I'm getting both! There is also a 4.25" version of the pistol in the works as well with a lightweight frame, also available in .45 ACP or 9mm. Choices, choices, choices!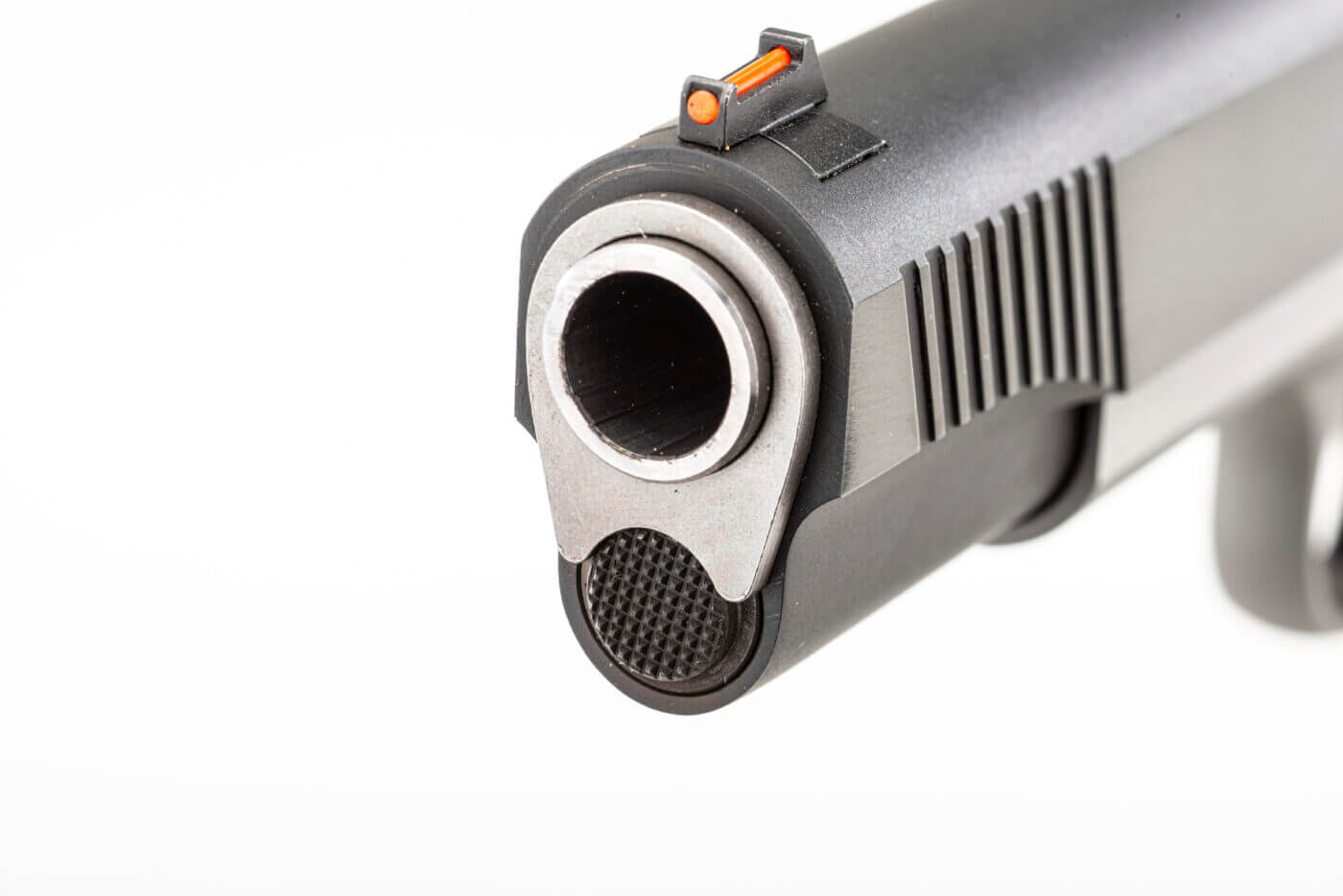 Range Time
I guess the first thing to do is hit the range. I got some Federal Syntech ammo and took my .45 ACP Ronin to my local range and shot a few hundred rounds of ammunition. The pistol ran great, shot well and was just an all-around impressive performer. Now I just need to pick out a holster, and I'm all set.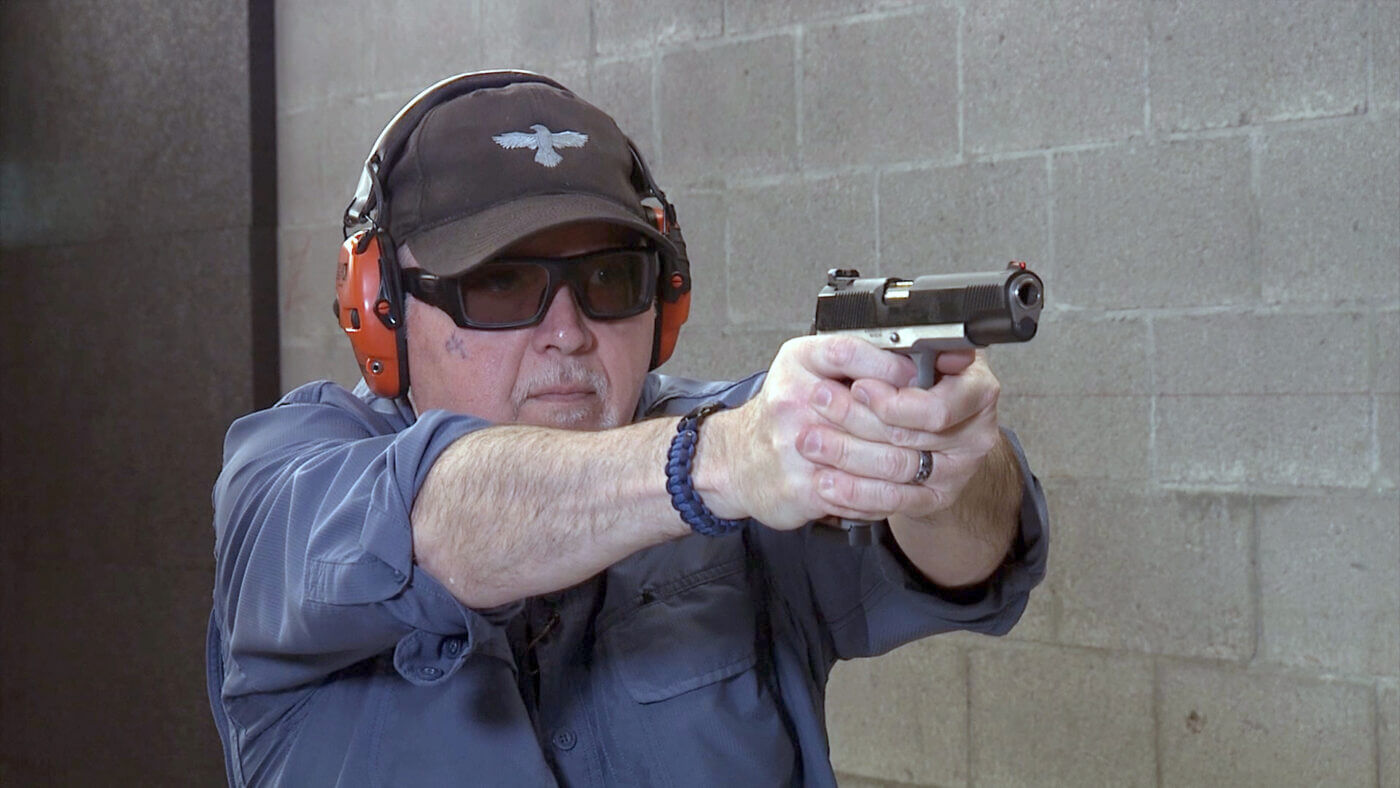 Conclusion
The Ronin from Springfield Armory is pretty tough to beat. I think you'd be hard-pressed to find a pistol with all these features on it at the price, even without the forged parts. Add in the long-life and durability the Ronin offers along with its great features and an amazing price, and you have a gun you can afford that will likely outlast you!
Editor's Note: Be sure to check out The Armory Life Forum, where you can comment about our daily articles, as well as just talk guns and gear. Click the "Go To Forum Thread" link below to jump in!
Join the Discussion
Featured in this video
Continue Reading
Did you enjoy this video?
207