I recently had the chance to shoot the Ronin 5" in 9mm and really enjoyed it, so when the opportunity came to try it out in .45 ACP I jumped at the opportunity! But this time it was the newer version of the pistol, the more recently released 4.25"-barreled version with a lightweight forged aluminum frame.
Curb Appeal
The looks of a gun might not be overly important to you, but that's one thing I want to talk about. It all comes down to individual preference, but I personally favor the 4.25" version of the Ronin, which is completely out of character for me.
I'm a larger guy and like 5" 1911 pistols, that's one of the reasons I bought the XD-M Elite Precision 5.25″. However, this 4.25" Ronin just felt "right" to me. I shoot 9mm more than any other caliber, but I have to admit I thoroughly enjoyed shooting this 1911 in .45 ACP. Maybe it's because traditionally that's the caliber a 1911 is, maybe I just enjoyed the heftier recoil. This gun, like the 5″ 9mm I got to shoot, is very accurate.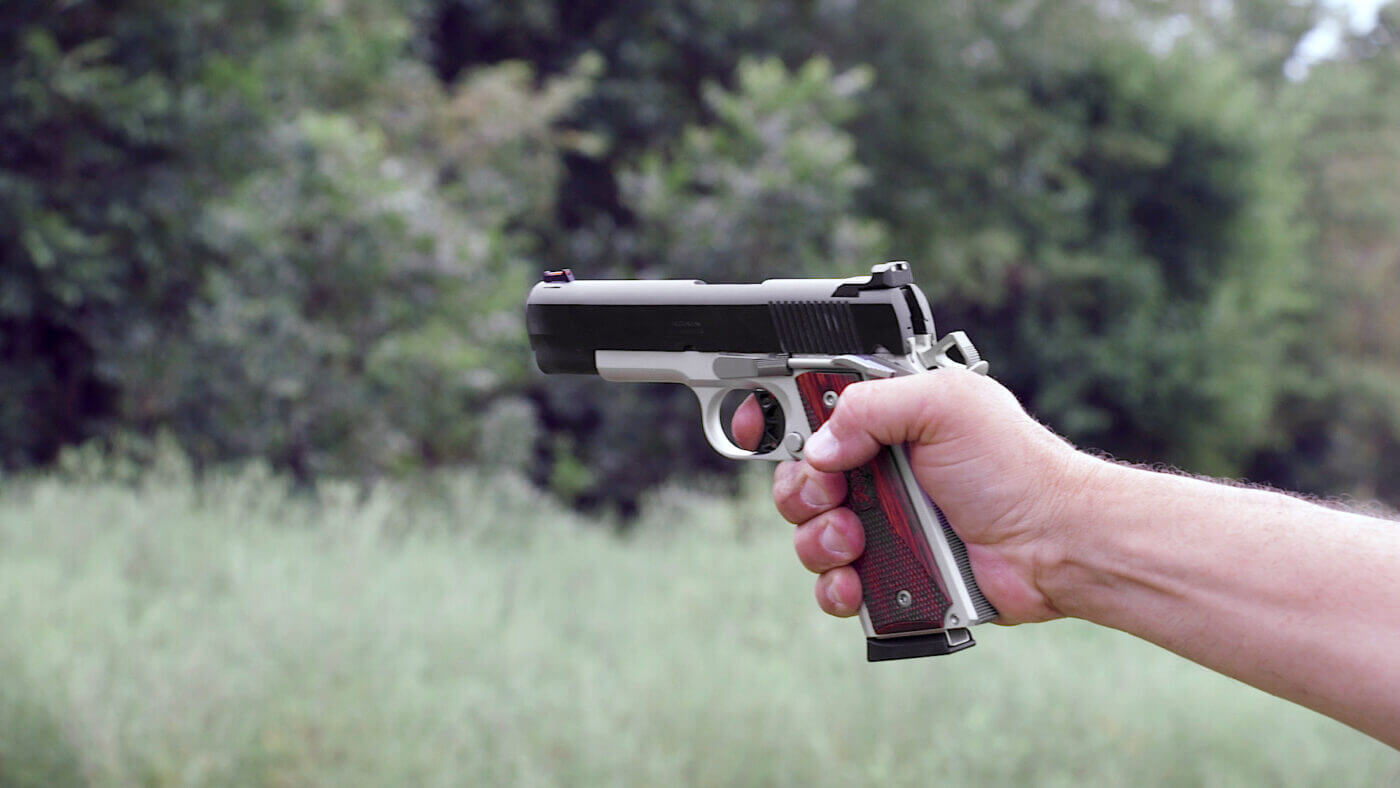 The pistol has all the features you'd want on a 1911, but without a high price tag. The forged steel slide has a deep blue finish that contrasts nicely with the satin silver Cerakote finish on the lightweight forged frame.
An extended beavertail grip safety, fiber optic front sight and tactical rack rear, 8-round magazine and a host of other nice features round out the package.
Hands-On
I took this out to the gun range with Grant LaVelle to get his thoughts on it as well, and we pretty much felt the same about it. This smaller, more compact and lighter version of the Ronin has a nice balance to it, and shooting it in .45 ACP just felt awesome! I could see this version of the Ronin being a very viable carry option.
Each round we fired made us want to keep shooting it more and more and more. Plus, with the accuracy we were seeing down range, it made it even more enjoyable to shoot. It was a real shooter, and we both really liked it.
Conclusion
The Ronin line up has a heavy duty robust feel to it and, with an MSRP of $849, I don't know how you could go wrong with it. The Ronin is definitely a model I would recommend for anyone looking to own a 1911 but doesn't want to spend money on a big price tag. And with the Ronin 4.25″ in .45 ACP, you get a "little big gun" that can serve admirably as your self-defense sidekick.
Editor's Note: Please be sure to check out The Armory Life Forum, where you can comment about our daily articles, as well as just talk guns and gear. Click the "Go To Forum Thread" link below to jump in and discuss this article and much more!
Join the Discussion
Featured in this video
Continue Reading
Did you enjoy this video?
144