N8 Tactical OWB Pro-Lock Holster and FLEX Mag Pouch Review
February 25th, 2021
4 minute read
I have long been a fan of N8 Tactical holsters, so when I got a chance to do a review on a brand-new product line from the company I just had to jump at the opportunity.
I'm going to be walking you through two new products N8 Tactical is putting out. The first is the Pro-Lock OWB holster, and the second is their FLEX mag pouch.
N8 Tactical History
First, let's talk about N8 Tactical. The company started out making solely inside-the-waistband (IWB) holsters in 2009, after two buddies (both named Nate) had a detailed long conversation over the phone about what made a good holster and their journey's trying to find the perfect one. Shortly thereafter and with a few sewing under their belt, the company was born.
My journey with them started shortly thereafter, buying my first N8 Tactical holster for a concealed carry pistol. Since then, I have owned 12 of their holsters. Now, with the release of these two new products I have a strong feeling that the number is going to increase.
Why I Carry with N8 Tactical Rigs
N8 Tactical has made it their mission to make the most comfortable holsters possible by using a multi-layer fabric design for all day carry, every day. They also wanted to make sure it was comfortable in more extreme temperatures.
For me, being born and raised in Arizona, wearing a N8 Tactical IWB holster in the summer when the temperatures would reach 105 degrees or more, it never became uncomfortable. The durable leather they chose to have the firearm rest against acts as a barrier, keeping the sweat off the firearm. You will never have to worry about unwanted grime or rust building up on your firearm.
After carrying a firearm every day for the last 10 years, one of the most uncomfortable things is feeling the sharp edges or the pressure of the different parts of the firearm pressing into my body. Having multiple layers to absorb and distribute the pressure of the firearm evenly across where it's placed is a game-changer.
Twist Lock Security Design
The second most important thing for me when carrying a firearm is security. I'm not just talking about my own personal security of CCW, but the security of the firearm itself. Having the peace of mind that the firearm will not come out of the holster unless I pull it out is just as important.
N8 Tactical thought of this as well when designing a holster and came up with a twist lock design. This means when you're ready to draw your firearm you have to slightly twist the butt of the firearm into yourself and pull up to disengage the lock. It uses the natural pressure of the body as well as the natural pressure of the holster design to keep the firearm locked into your holster at all times. It will remain safe and secure until you have made the conscious decision to draw your firearm.
Stepping Outside the Waistband
N8 Tactical decided to step outside their comfort zone with these game changing holsters. While still keeping the mindset of superior comfort, they brought these IWB holsters into the world of outside the waistband (OWB).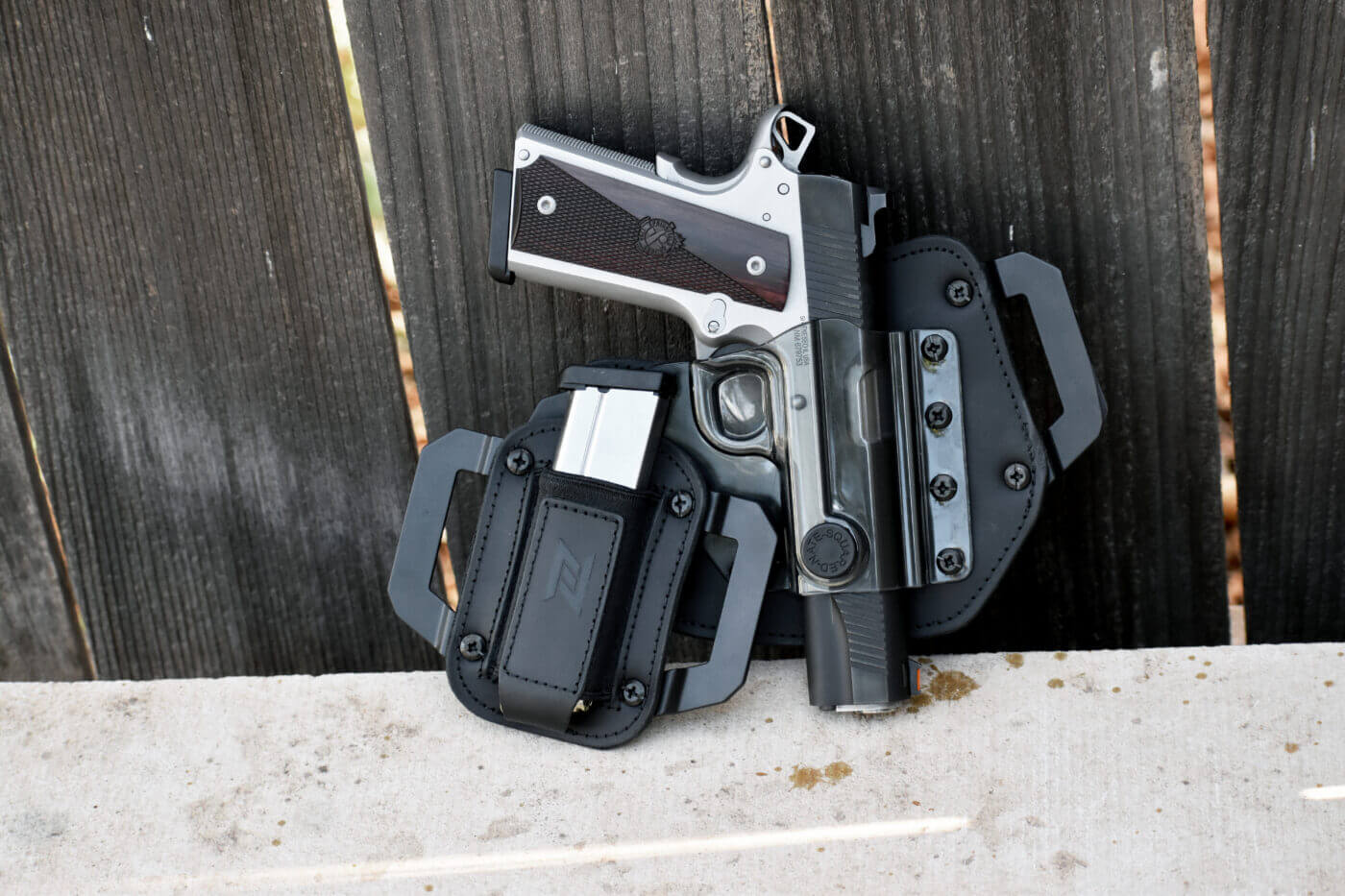 The N8 Tactical Pro-Lock OWB holster comes with the multi-layered material and the patented twist-lock design keeping everything you already love about N8 Tactical holsters and bringing them outside of your waistband.
The Pro-Lock OWB holster comes with two layers of durable cowhide leather and has two 1¾" nylon pancake belt loops, one on either side to attach it to your belt without that uncomfortable hard plastic feeling you get with normal OWB Paddle holsters.
I tried it out with my Ronin 1911 pistol and found it to be a comfortable, capable and secure way to carry a concealed pistol. Everything I had come to expect from N8 Tactical was present in this holster, and now in OWB form.
Back-Up Options
Holding an additional mag or two in your pocket is a thing of the past. N8 Tactical has come up with a solution for this.
Keeping with the same design of the Pro-Lock holster, N8 Tactical introduced the OWB FLEX mag pouch. The FLEX mag pouch has the tried-and-true multi-layer dual cowhide leather design coupled with elastic for retention to hold your additional mags in place.
The FLEX Mag pouch is available individually or dual mag pouch options. This allows you to customize how you want to wear your holster setup.
Conclusion
The N8 Tactical holster, while being loaded down with features, comfort and security, won't break the bank. The Pro-Lock holster only costs $49.95. Not bad at all considering everything this holster has. Add that together with "Two Week, Try it free guarantee and a lifetime warranty," and you literally couldn't ask for a better deal on such a high-quality product.
The FLEX mag pouch doesn't come in at a bad price either, running just $29.95 for the single or $35.20 for the dual mag pouch. I'm definitely adding these to my collection!
Editor's Note: Please be sure to check out The Armory Life Forum, where you can comment about our daily articles, as well as just talk guns and gear. Click the "Go To Forum Thread" link below to jump in and discuss this article and much more!
Join the Discussion
Featured in this article
Continue Reading
Did you enjoy this article?
45