In my opinion, one of the most valuable accessories and additions to your EDC pistol that you can possibly invest in is a quality flashlight. When you consider the potential nighttime scenarios and threats, darkened interior environments, and other low-visibility situations you may find yourself operating in and how the outcome of a potential engagement may be affected by low visibility and lackluster target identification, the benefits of a dedicated weapon-mounted light are obvious.
One of my favorite EDC pistols for its extremely concealable form factor and round capacity is the Hellcat. And, I have been seeking a quality, compact, bright light to affix to it for some time now. It's no secret to those who operate micro-compact pistols that, when it comes to outfitting it with accessories, one of the most challenging aspects of the design is the amount of real estate, or lack thereof, that you have to attach them.
Identifying smaller form factor accessories that are suitable and designed for micro-compact pistols can be challenging, and one of my key concerns is not detracting from the very thing that attracted me to the small EDC platform in the first place by making it cumbersome and weighed down. This is why I was particularly intrigued when the Nightstick TSM-16G Subcompact Weapon-Mounted Light with Green Laser landed on my radar.
Going Green
Designed for use with the Springfield Armory Hellcat pistol, the TSM-16G not only includes a rechargeable super-bright LED that is rated at 150 lumens, but also a Class IIIa 532nm daylight-visible green laser. Being offered both a quality flashlight and green laser in such a small package presents a good value for me.
Unpacking the unit and charging it up for an initial test run, I engaged the light and was immediately impressed by the quality and brightness of this small unit, particularly for its tiny form factor. The intensity and focus of the illumination is due in part to the precision-engineered mini reflector within the unit that creates a super bright beam that is rated out to 104 meters, which is truly impressive for just how small the overall package is.
In addition, the unit's housing design is contoured nicely to mount onto the pistol directly in front of the trigger guard and locks around the Picatinny rail section beneath the barrel, affording the combination of a really sleek and appealing look that is compatible with a number of holsters.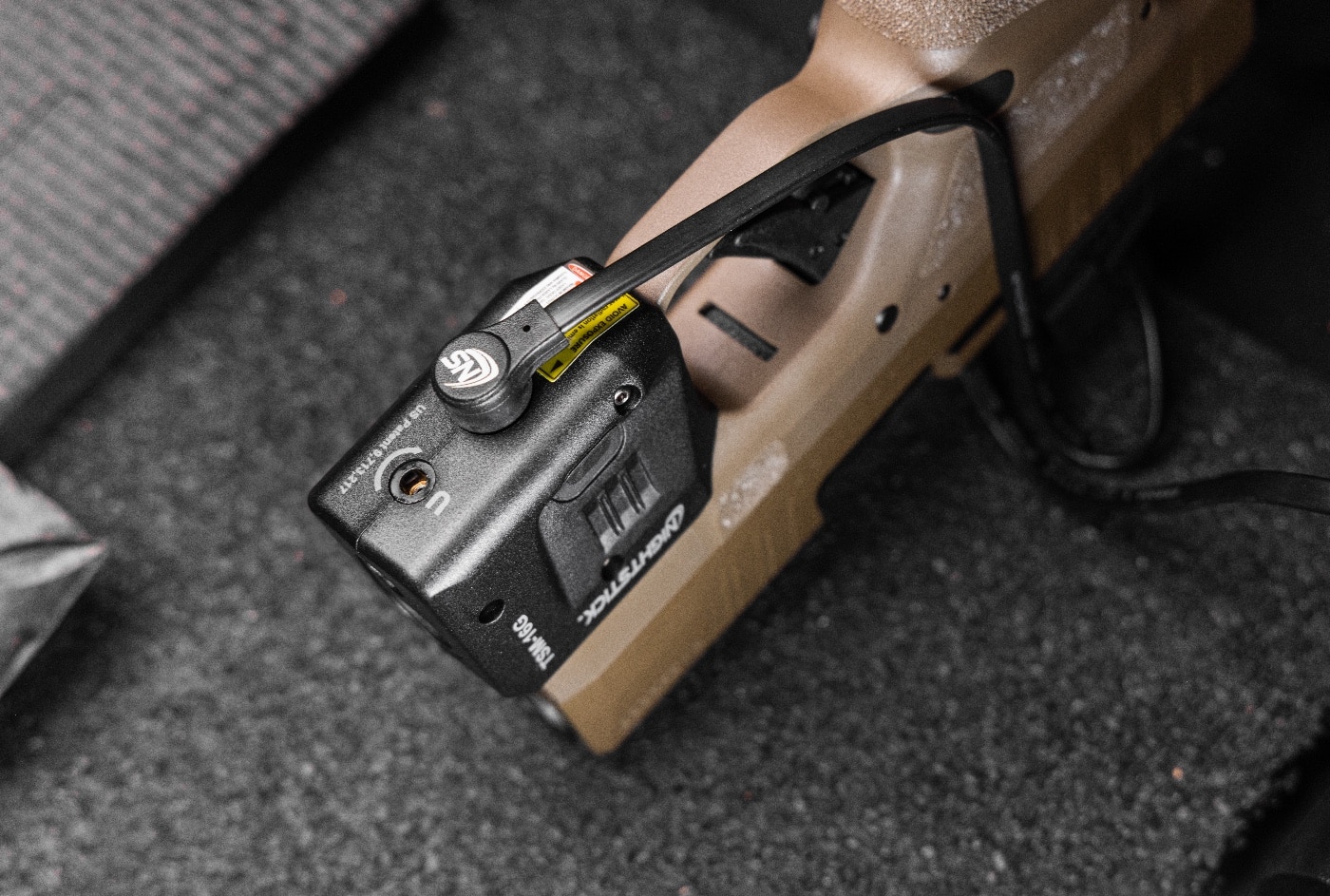 I also like that the TSM-16G features ambidextrous low-profile switches that are recessed on each side of the light, and the fact they are easy to access and have a nice, positive tactile "click" to them when engaging them, which is great during low-light operation. These switches operate the momentary-on and constant-on lighting modes and/or the green laser. Boiled down to its basics, the lighting modes you can cycle and choose between are white light, laser, or both light and laser.
Hands-On with the Nightstick TSM-16G
In the box is a little Allen driver tool to detach the two halves of the glass-filled nylon plastic housing of the TSM-16G. It also adjusts the laser's aim. The unit is designed to clamp onto the front of the pistol's trigger guard for secure installation for the lowest profile possible and installation was very easy. It felt quite sturdy once tightened down.
An aspect I really like about this design is that the kit includes a Nightstick MagMate USB magnetically coupled charger. The little connector just magnetizes right to the charging port, and the unit charges up really quickly and is rated with a high runtime rating of .75 hours. For operating in wet environments, it features an IP-X4 water-resistant rating.
Operating and testing the TSM-16G, I found it to be intuitive and very easy to activate. I do really appreciate the option to run the white light and daylight visible green laser in tandem, or any combination thereof, depending on your preference and operational scenarios. I could see how this level of choice is valuable in a variety of concealed carry, home defense and tactical applications.
I worked with the unit in a darkened warehouse and office environment, adjusting ambient lighting in the space from minimal to completely blacked out in order to gauge the effectiveness and quality of the light and laser combo. As a general takeaway from the preliminary testing, the green laser is extremely vibrant and the quality of the white light cone is crisp, intense and more than adequate for dark environments or night use.
Specifications
Here are the specifications of the Nightstick TSM-16G used in this review:
LED Lumens: 150 (white light)
Beam Distance: 104 meters (sharp, focused beam)
High Candela: 2,700
Drop Rating: 2 meters
Water Rating: IP-X4 water-resistant
High Runtime: 0.75 hours
Laser Color: Daylight-visible class IIIa 532nm green laser (ECCN #0A504.f.)
Switch Function: Momentary, constant-on white light, laser, or both
Serialized: Yes (personal identification)
Case Material: Engineered polymer
Power Source: Integrated li-polymer battery
Package Contents: Light, 2′ MagMate USB charger cable, gun lock cable, 1.3 mm mounting and laser adjustment Allen screwdriver
US Patent(s): 9713217
Warranty: Limited lifetime warranty
UPC: 017398807869
Conclusion
Ultimately, one of the core features that I have always appreciated about the Hellcat is just how slim, compact, and comfortable the form factor of the pistol is in the hand for me. I was pleased that the TSM-16G didn't infringe on any of those attributes or add unnecessary bulk to the pistol.
To the contrary, I barely noticed it was there and felt that the small, low-profile integrated weapon light was just a great add-on for target and background identification, particularly for moments when your life may truly depend on having a quality light.
I highly recommend you check out the Nightstick TSM-16G if you are a Hellcat owner and are seeking quality illumination with the bonus of a laser.
Editor's Note: Please be sure to check out The Armory Life Forum, where you can comment about our daily articles, as well as just talk guns and gear. Click the "Go To Forum Thread" link below to jump in and discuss this article and much more!
Join the Discussion
Featured in this video
Continue Reading
Did you enjoy this video?
37