SAINT .300 BLK Pistol vs. Wolf Pack?
September 27th, 2019
4 minute read
If you've ever been out in the woods and felt like someone (or something) was following you, that can be a very unsettling feeling to shake. That racing feeling in your chest can quickly crescendo to a deafening level of anxiety if you don't have something to adequately protect yourself. And what if that thing stalking you is a deadly predator?
For me, that threat is wolves. When I'm out hunting whitetail deer, grouse, and other game in Minnesota, wolves are disconcertingly common. In fact, I've been that guy standing on a logging trail, miles from civilization staring down a wolf wondering what's going to happen next.
While many of us carry a pistol daily for defense, something like a traditional 9mm can feel wholly inadequate while out in the wild and potentially facing down larger threats such as wolves who hunt in packs. For that reason, it can be tremendously valuable to backpack with something with more capacity and ft.-lbs. of energy. This is the perfect argument for a firearm like the Springfield Armory SAINT .300 BLK Pistol. It's compact enough for packing, but powerful enough to face down serious threats like these.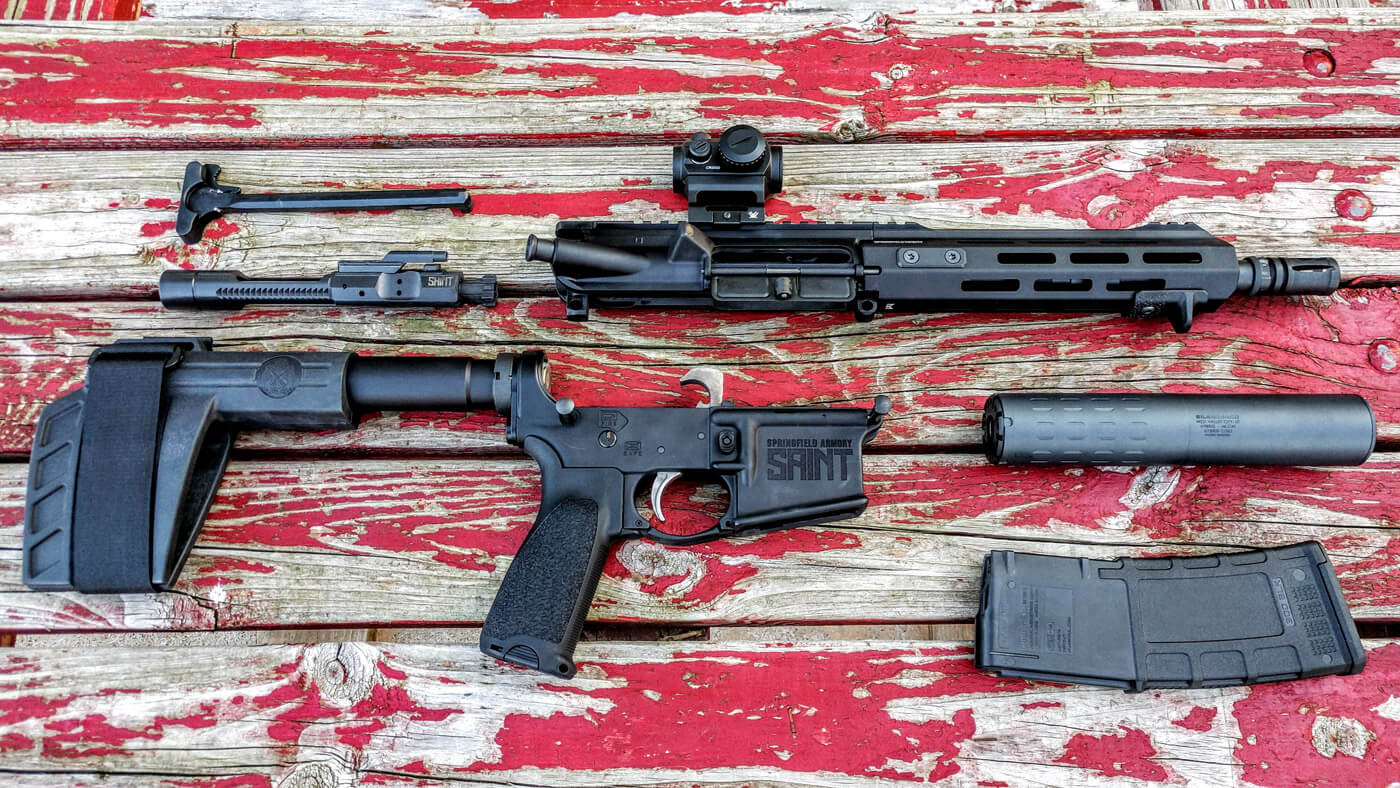 Layers of Defense
For those who hike or enjoy spending a lot of time in the great outdoors, I would fully advocate backpacking a compact, stout firearm like the Springfield Armory SAINT .300 BLK Pistol where legal. Simultaneously, I am not advocating for anyone to do away with their everyday carry (EDC) pistol – large or small. If you are trained and proficient with something like a 911 .380 ACP or even a 1911 .45 ACP, by all means carry it. That will always serve as your fastest and most familiar line of defense.
Your secondary line of defense (if a situation necessitates you summon it) should be your final problem solver; the exclamation point, if you will. If you cross paths with wolves like I have and they are aggressive, you will want all the thunder possible to protect yourself — yet hope you don't need to deploy it. The ability to carry a familiar platform like the AR and have 30 rounds at your disposal of a .30 caliber cartridge like the .300 BLK puts you in a stronger position of defense.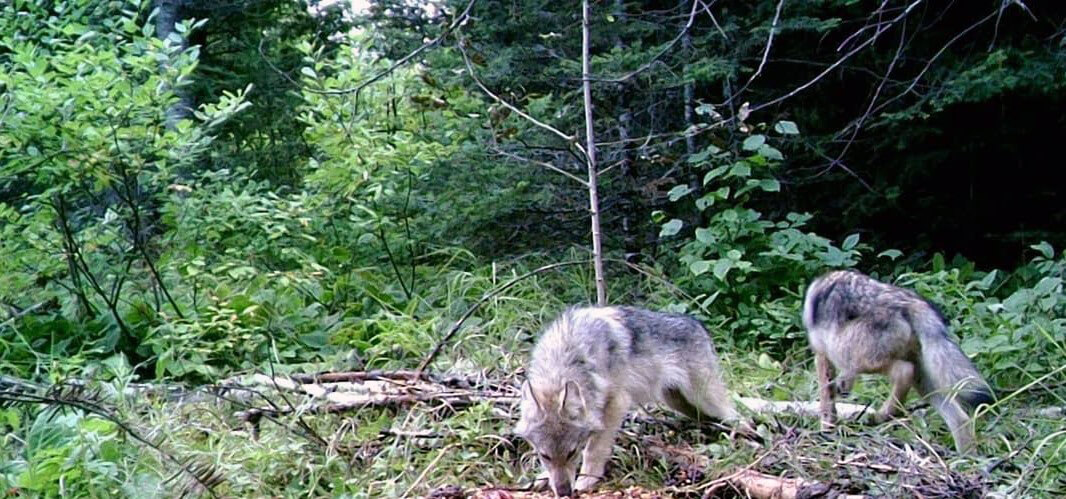 Additionally, the .300 Blackout cartridge generates as much as 4X the ft.-lbs. of energy as premium 9mm hollow-point ammunition. Once you factor in the ability to carry 30 rounds in a magazine at a time, it's nearly a no-brainer.
Personal Experience
In my personal hunting exploits I've never had to discharge a firearm at wolves, but I'm encountering them more and more frequently. Whether I'm trout fishing the shores of Lake Superior, black bear hunting near the Boundary Waters or barreling down logging trails in pursuit of ruffed grouse in Northern Minnesota, wolves are prevalent everywhere I go.
Last fall, I made the wise decision to bring a SAINT .300 BLK Pistol with me and immediately benefited from that decision. A very large adult wolf crossed 10 yards in front of me while I was grouse hunting, which froze me in my hunt. The wolf evaporated into the forest as quickly as he appeared, leaving me to my grouse adventures without incident. This stood as a stark reminder that I was never alone, and that precautionary steps like carrying a firearm like this was well worth the added pounds in my pack.
While not all of my hunts peak with an adrenaline rush like that, it's always good to prepare for the worst and hope for the best. For all of our hunters and lovers of the great outdoors, may you have filled tags this fall and safe travels as always! And make sure you have the right gear with you to ensure your safety.
Due to an ATF ruling regarding the configuration of pistols with stabilizing braces, these firearms can be subject to NFA (National Firearms Act) regulations as short-barreled firearms. It is the buyer's responsibility to comply with all rules, restrictions and/or laws determined by your city or state. Please ensure you are up-to-date on all current laws.
Join the Discussion
Continue Reading
Did you enjoy this article?
223