It seems that body armor is being talked about more and more these days. If you are like me, you can't scroll through social media without being hit by ads from body armor companies. But in my research and newfound relationship with HRT Tactical, I came across what I have come to know as the lightest rifle plates on planet earth. If you know of one lighter in weight, then be my guest to prove me wrong.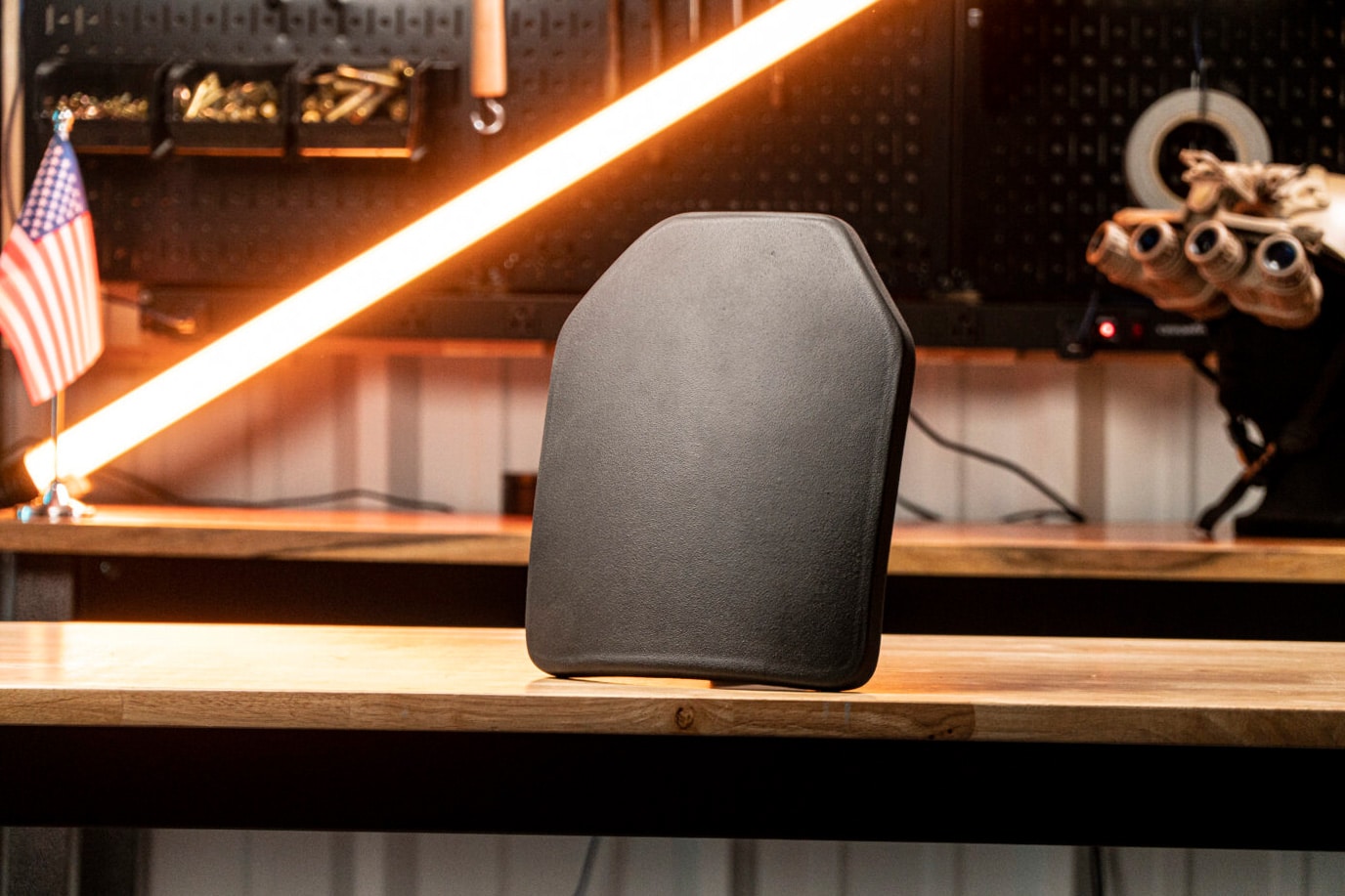 In my research, I learned that ShotStop sells a ton of plates. Seriously, a lot. They have inserts for your plain old, everyday backpacks. They also sell rifle plates in just about any level of protection and any cut and size you want. They offer sizes like 8"x10", 10"x12" and 11"x14", offered in cuts like full, SAPI and shooter.
Lightening Me Up
The plate I focused on is what I believe is the lightest plate in the world, their Duritium III+PA – LEVEL III+ body armor. This armor is offered in a shooter and SAPI cuts in 8"x10", 10"x12", 11"x14", 8.75"x11.75" and 9.5"x12.5" sizes. The plate is only 0.7" thick, give or takes an extra .125 of an inch depending on the manufacturing process.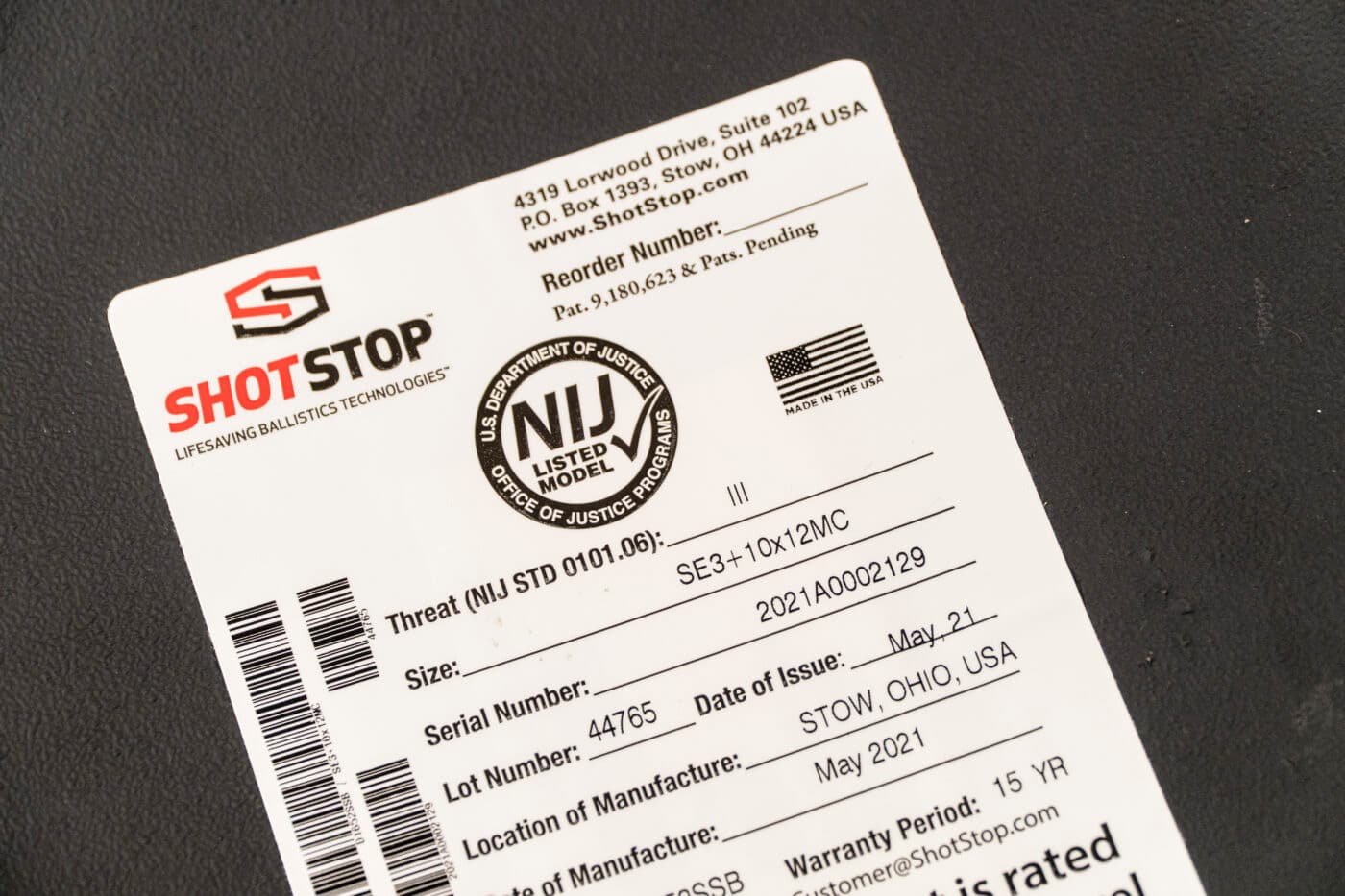 ShotStop says this plate is "the world's fastest stand-alone rifle plate. At just .7" thick and only 2.7 lbs., you will have the confidence, mobility, and comfort to get your job done with all the stopping power protection." This plate is manufactured to come in at 2.7 lbs., although ours weighed an even 3 lbs. on our scale.
The protection type is a laboratory-tested U.S. NIJ Level III+. NIJ Body Armor Ballistic Level III rifle plates are designed to stop six spaced hits of 7.62x51mm NATO FMJ M80 at a velocity of 2,780 feet per second. Level III+, like these plates, is a designation that the body armor industry has adopted to show the capabilities of armor beyond the NIJ Level III testing. This indicates that the plate can withstand higher-velocity rifle rounds, plus additional threats such as M855 and M193.
These plates are not level IV, which means they should not be expected to stop 30.06 rounds. But for all of your common military calibers, this should stop it. Popular handgun rounds that it will stop include 9mm, .40 S&W, .45 ACP, 10mm, FN 5.7×28 and rifle calibers include 5.56mm, 7.62×39, and 7.62×51.
The Details
These rifle plates are made of a UHMWPE (Polyethylene). UHMWPE is an Ultra-high-molecular-weight polyethylene which is a subset of the thermoplastic polyethylene. Also known as high-modulus polyethylene, it has extremely long chains, with a molecular mass usually between 3.5 and 7.5 million amu.
ShotStop has a custom technology applied to their plates that no one else has called Duritium technology. ShotStop says it's "a next-generation polyethylene that has an unusually high tensile strength. This tensile strength lends itself very well to ballistics and body armor projectile, basically kinetic energy disbursement." ShotStop feels so confident that their tech is superior they are going to enter the market of vehicle armor, building materials for safe rooms, schools, banks and public areas.
A Fitting Concern
When talking about the ShotStop Duritium III+PA – LEVEL III+ body armor, we have to talk about its remarkable comfort level. Because of their weight, these plates almost feel fake. Then on top of that, it has a multi-curve structure. This means it has a horizontal curve and a vertical curve. This makes the plate extremely comfortable to wear, and with it in a plate carrier the curve also provides some relief as the plate allows air to pass between you and the carrier.
The dual curve lets the plate form fit to your body as well as a hard rifle plate possibly could. Couple that with the 2.7 lb. weight, and it's a dream to wear that you will completely forget is even there. Your other gear will outweigh these plates, for sure.
Another impressive thing from ShotStop is that they have a 15-year warranty on this plate. Plates can and will expire, eventually. Sweat and environmental factors like the sun will create wear and tear on the plates, degrading their bullet-stopping capabilities over time. That being said, 15 years to guarantee a plate is a really long time. If you look across the industry, you are going to see a bunch of plates with about a five-year warranty.
At the Cost of…
Let's talk about the price. This is sold on HRT's website for $634 dollars per plate. While you can find plates cheaper, show me a steel plate that is as safe and effective and weighs at or under 3 lbs. Oh, and guaranteed for 15 years.
If you work in the line of duty, is this cost worth your life, or the lives of those who serve under you? Undoubtedly. After getting these in to feel them and see them, my reaction is still the same. These plates seem impossible, like they are something otherworldly or derived straight from the world of science fiction. I am eager to see what else ShotStop will do with this technology, and I think you should be as well.
Editor's Note: Be sure to check out The Armory Life Forum, where you can comment about our daily articles, as well as just talk guns and gear. Click the "Go To Forum Thread" link below to jump in!
Join the Discussion
Featured in this video
Continue Reading
Did you enjoy this video?
53