Silence Is Golden: GSL 9mm Stealth Suppressor Review
July 6th, 2022
5 minute read
I have always been a big pistol shooter. Sure, I like rifles, shotguns, lever actions, bolt guns. Okay, I just like guns, but pistols have always been my favorite. Naturally, after shooting pistols for years I have grown very fond of shooting them suppressed. I just love the ability to tone down the crack and lessen the felt recoil of the gun I am shooting. A suppressor has been the gateway to longer range sessions and better training.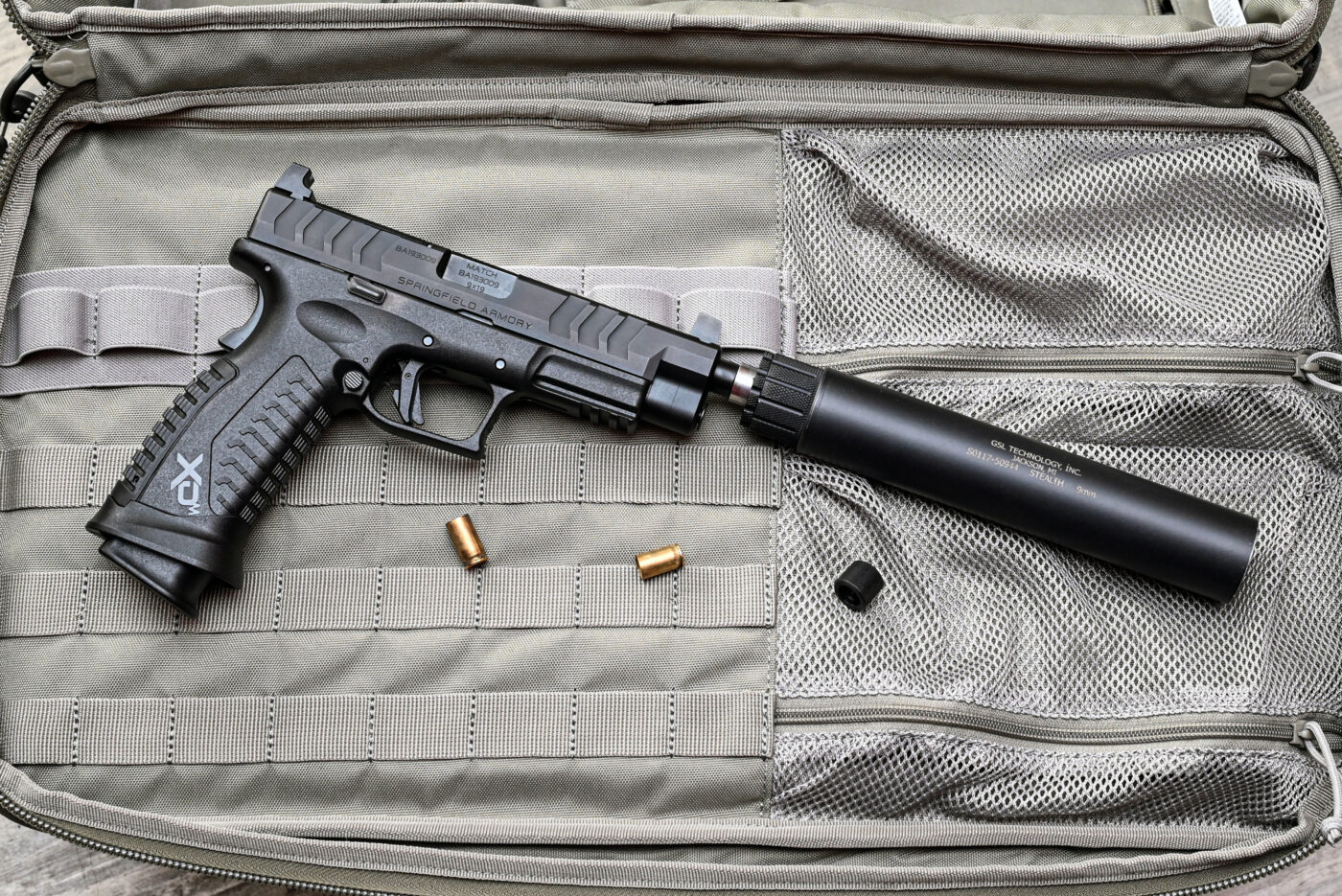 When I got my hands on the Springfield Armory XD-M Elite Tactical OSP 9mm pistol and shot it the first time, I knew I wanted to suppress it. The XD-M Elite already had a 4.5" threaded barrel and shot awesome. The graspable grip, 22-round capacity, enhanced trigger, deeper and more aggressive slide cuts, the ability to run a dot, and the factory-equipped suppressor-height iron sights just made the package scream "suppressor".
I am a firearms instructor and an industry writer, so I shoot a lot and I am almost always shooting with different people. Camera guys, students, other instructors and friends. For me, a suppressor is really a training tool. Sure, it is always cool to shoot suppressed, but it also is safer all around.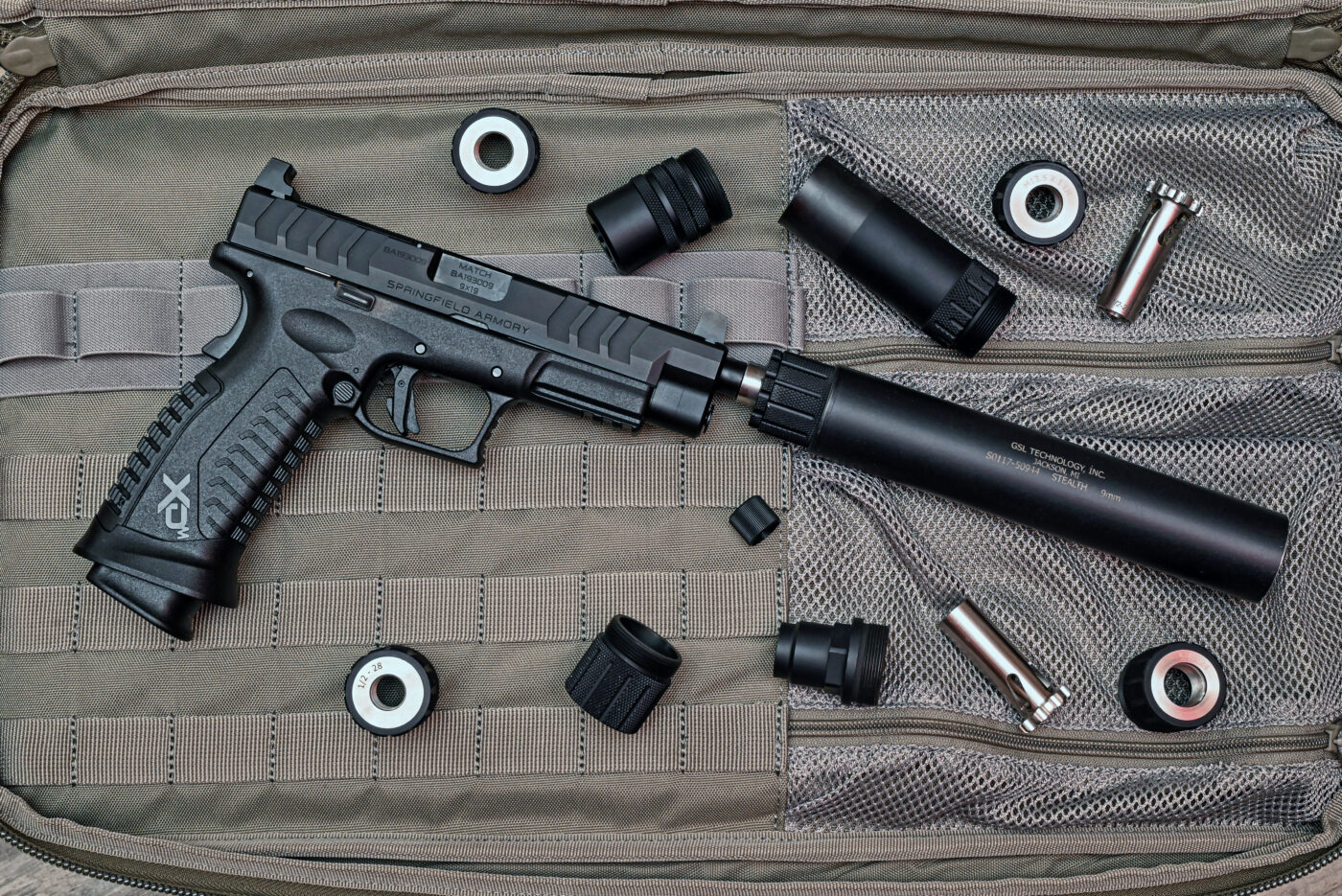 Due to its size, the XD-M Elite Tactical OSP has been a training tool for new shooters in my classes and during private lessons. Chambered in 9mm, it has very little recoil already, but adding a suppressor to the front would make the pistol feel like a .22LR. Obviously, a quieter gun with minimal recoil is going to be the best possible scenario for any new shooter.
My issue was I didn't want to waste a tax stamp on a one-gun-only can. I wanted a can that would easily adapt to my 9mm sub guns, pistols and pistol-caliber carbines. Well, I found out someone does make that exact can: GSL Technology.
The Solution
GSL's 9mm Stealth suppressor is by far the most adaptable can I have ever found on the market today. Designed as a pistol suppressor, the Stealth's modular design has interchangeable adapters that will allow this suppressor to fit practically anything and everything chambered in 9mm.
GSL Technology's Stealth features a traditional baffle design. The baffles redirect and slow gasses coming out of the barrel. The gas exiting the suppressor is slower, cooler and less "aggressive". This results in reduced noise and perceived recoil, making the design perfect for 9mm platforms. It also creates a safer, more controlled environment for new shooters and anyone in the bays next to you at a public range.
Right out of the box, you get a beautifully hard coat anodized 6.875" aluminum can that weighs only 7.2 ounces. The package comes equipped with a standard 1/2 – 28 direct thread piston that threads right onto the extended threaded barrel of the XD-M Elite Tactical OSP. You can purchase an optional 13.5x1mm left-handed piston as well as five adapters for your favorite mounting system. The greatest part of the Stealth from GSL is it was literally the answer to my wants because it will support just about any 9mm pistol, rifle, carbine or sub gun.
GSL Stealth Specifications
| | |
| --- | --- |
| Caliber | 9mm |
| Sound Reduction | 34 dB |
| Length | 6.875" |
| Diameter | 1.375″ |
| Weight | 7.2 oz. |
| Materials | Aluminum |
| Finish | Hard Coat Anodized |
| Mounts | Each Stealth includes a Direct Thread Piston 1/2-28 |
| Optional Piston (purchased separately) | 13.5x1mm LH |
| Optional Adapters (purchased separately) | 1/2 – 28, 9/16 – 24, 5/8 – 24, M13.5×1 LH, SIG MPX, UZI, Scorpion, and MP5 |
| MSRP | $785 |
GSL 9mm Stealth In Use
The noise reduction that GSL Technology claims on their website of 34db is definitely substantial. However, I honestly feel that reduction is even better than that. The sound you hear is kind of tough to describe; it is sort of a longer, low tone that never really cracks. It almost messes with the shooter at first because it is so quiet. I have shot a lot of suppressed pistols, and this is by far the quietest suppressor I have touched when it comes to suppressing a pistol.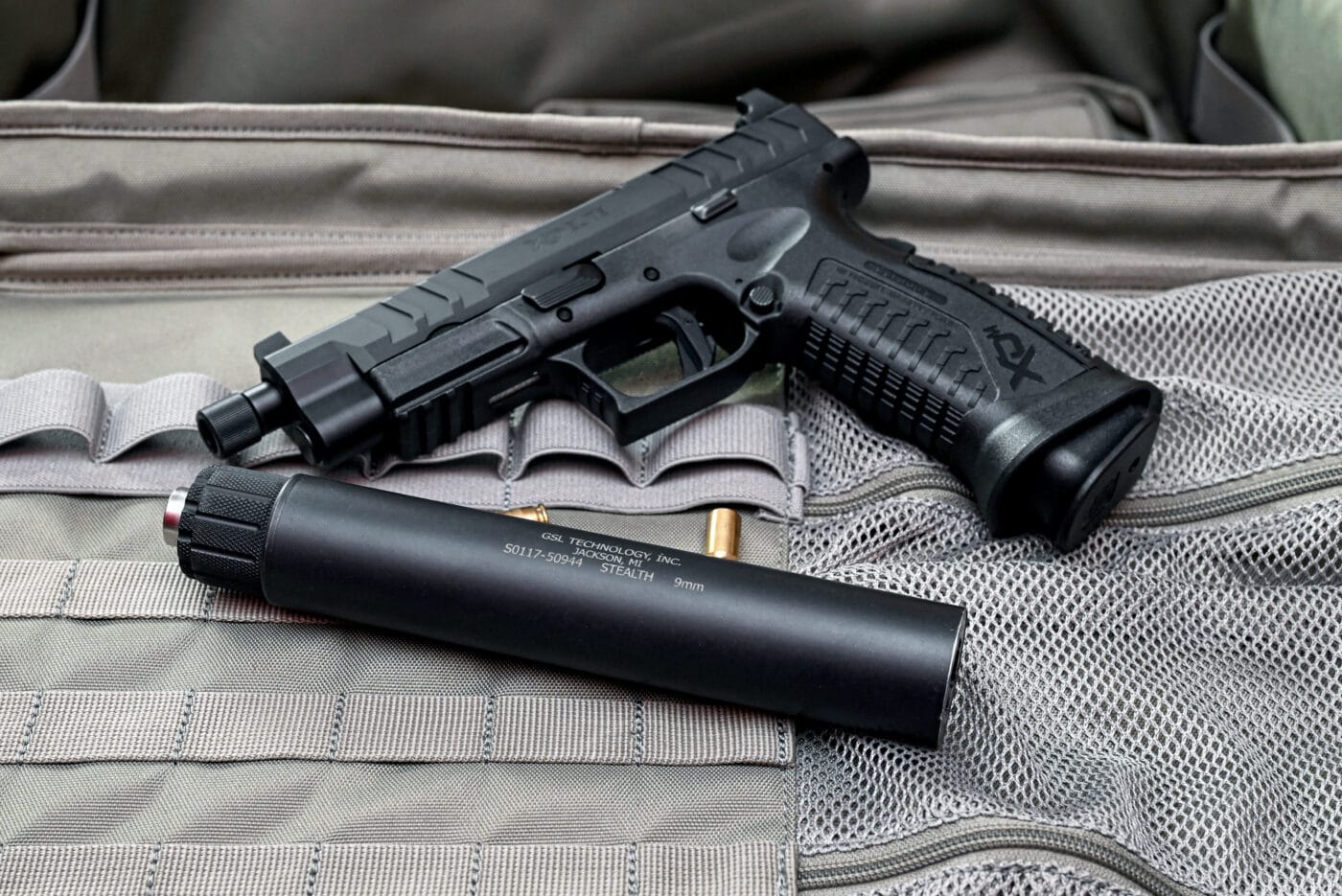 Most suppressors on the market just take the decibels down a little, but you still get that standard crack from the pistol. The crack just is a bit quieter. The GSL Stealth changes the tone of the shots completely and, I hate to say this, but it makes the sound almost a Hollywood tone. Stealth is honestly the perfect name for this suppressor because it is "stealthy."
Shooting sub-sonic ammunition, the can makes the shots sound like a suppressed .22 Short. While I did have some trouble with sub-sonic ammunition cycling the slide on the XD-M, that is not due to the gun. It is actually pretty common with suppressed pistols shooting sub-sonic ammo. The pressure is cut down so much that the slide doesn't come back with enough force to go back into battery all the way. This to me honestly shows how much recoil reduction you are really getting when shooting suppressed. A simple tap on the back of the slide got things lined up again for me.
The Stealth is also a serviceable can, meaning you can actually take it apart and clean it if you want to, although GSL says just run it like they do with all of their cans. GSL Technology has a proven track record in the industry and Greg, the owner, is the mastermind behind it. Greg actually Holds 9 patents in suppressors and suppressor designs. The man could easily be called The godfather of sound suppression in the firearms world. (To learn more about Greg and the story of GSL, click here.)
Conclusion
The ingenuity and passion of GSL really show in the Stealth suppressor. With a budget-friendly MSRP of only $785, in my opinion, there is no reason to look any further if you are in the market for one 9mm suppressor that can do it all while keeping it very quiet.
Editor's Note: Be sure to check out The Armory Life Forum, where you can comment about our daily articles, as well as just talk guns and gear. Click the "Go To Forum Thread" link below to jump in!
Join the Discussion
Featured in this article
Continue Reading
Did you enjoy this article?
47