I have to admit, I've become a real fan of Springfield Armory's naming conventions when it comes to its line of 1911 pistols. The first that really caught my attention was the Ronin, followed up by the Emissary, and now the Garrison. While we are all likely very familiar with the tried-and-true 1911, the platform has a lot of room for enhancement and adaptation, and Springfield Armory has been working very hard to develop new and interesting variants for all of us fans out here. And in my opinion, these very distinctive names do a good job of individualizing these very appealing guns.
I took some time to check with my pals, Merriam and Webster, and they gave me a bit of insight into the name "Garrison" and how I see it applying to Springfield's newest 1911. As a noun, the word Garrison can mean a permanent military installation. I certainly think this can apply to the 1911. The 1911 has more than a century of service under its belt, and I don't see it retiring anytime soon. And if you need proof of that, just look at all the variations Springfield Armory alone is offering.
But, as permanent as the 1911 design may seem, just like any military installation it can benefit from some updating from time to time. Springfield Armory took that concept to heart with the release of the Garrison. In my opinion, this pistol offers a perfect balance between the tradition of the 1911 and what is demanded by today's shooters from a modern handgun.
Where It Counts
At its heart, the Garrison is a 1911. But beyond that, it's also a beautifully crafted handgun. When I look at the Garrison, I see a solid, traditional 1911 with some important upgrades that help to make the modern 1911 the capable handgun that it is. Before we consider those upgrades, let's first focus on the basics.
The Garrison is a full-size 1911 chambered in .45 ACP. It's available in either a forged carbon steel blued frame and slide or a forged stainless steel frame and slide, depending on your preference. My version is the hot salt blued pistol in carbon steel, and it's a good-looking gun with polished flats and very fine machining. This is exactly what I expect from Springfield Armory.
The 5" barrel is a match-grade, hammer-forged stainless steel barrel with a 1:16" twist, interfacing with a traditional bushing system. I was immediately impressed with the pistol barrel's lock-up. This is a production gun with a production gun price, but it feels like a custom pistol. Under the barrel is a G.I.-style recoil system, which is simple and reliable.
The Garrison weighs in at a reassuring 37 oz., has a height of 5.5" and an overall length of 8.6". The pistol is finished off with a set of thin profile wood grips sporting the Springfield Armory Crossed Cannon logo.
Forged Foundation
Springfield Armory pays particular attention to metallurgy, and as a result, you see the word "forged" in the description of the Garrison (like all of their 1911s). During the forging process, steel is heated and then struck with great pressure over and over. This leads to parts that are stronger and extremely durable, offering rugged durability to the steel. While I don't have a way to evaluate the long-term strength of the Garrison, I do have an eye for quality machining. The quality of the work on the Garrison is impressive.
The forged frame is richly blued, and the rounds have a smooth, matte finish. In contrast, the flats are consistently polished to a sheen that grabs your attention. The front of the frame's grip is smooth, with that velvety bead-blasted finish I mentioned. The mainspring housing features checkering which, along with the checkered grips, enhances your purchase on the pistol.
The Garrison's forged slide is a perfect match for the forged frame. Bead blasted rounds and polished slabs provide a visually appealing 1911. The slide has rear cocking serrations that are functional and crisply cut. I don't have to have forward serrations on the slide, but I wouldn't complain if they were there. I really like the bead-blasted finish on the rear of the slide. The finish is just right to look good and reduce glare at the same time.
The quality of a barrel has a significant impact on the quality of a firearm, in my opinion. The fact that Springfield invested in a match-grade barrel, coupled with the fit of this pistol, ensures it performs well and will continue to outperform my abilities. From a visual standpoint, I particularly like the accents of the stainless barrel and barrel bushing to the blued slide.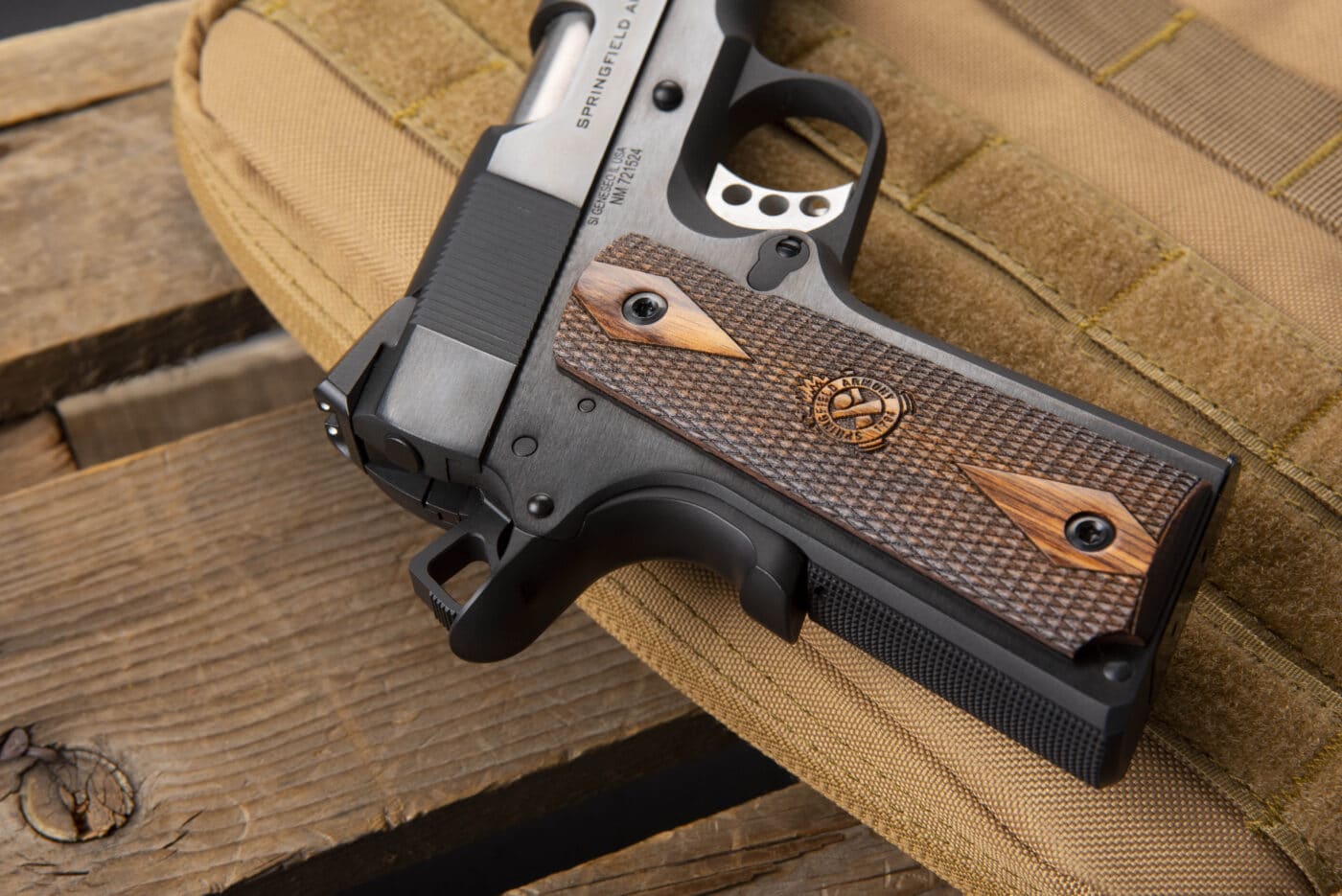 Tradition, Enhanced
At first glance, the Springfield Armory Garrison appears to be a traditional G.I.-style 1911, and in many ways it is. But it doesn't take long for you to realize the Garrison is enhanced with a significant number of features. For the most part, these upgrades are solid and practical enhancements that help to improve the Garrison.
Let's take a look at the upgrades, from top to bottom.
The Garrison's sights are a significant upgrade over the standard G.I. sights, which usually consist of a diminutive blade and notch. Instead, the Garrison has a set of highly visible low-profile three-dot sights. The sights are sort of a Goldilocks set-up in that they are "just right." The front is wide enough to be easily picked up, but fine enough for precision shots. The rear is spacious, allowing fast acquisition and ample light on either side of the front blade for speedy alignment. Three dots are there for additional information if you want it. Quick work with a Sharpie marker is always an option if you don't.
The skeletonized hammer of the Garrison is a nice addition to the appearance of the pistol. For those that have a trigger finger that likes to race, the lightweight hammer reduces lock time and the likelihood of hammer bounce. For most of us mortals the skeletonized hammer just looks sexy. Matching up with that rowel-style hammer is an extended beavertail safety. The extension helps to ensure the safety is engaged when the gun is grasped and protect the hand from potential hammer bite, and it allows you to firmly seat the pistol as low in your hand as possible, aiding in recovery from recoil and faster follow-up shots. A "memory bump" the grip safety ensures full engagement as you grip the pistol.
In my opinion, an extended safety lever is an important part of any serious 1911. Although handguns in general have drifted away from manual safeties, it's a required feature on a 1911-style pistol due to its single-action operation. To help ensure proper safety manipulation, my thumb lives on that safety. As a result, I think that safety needs to be wide enough and long enough to provide an appropriate platform for my thumb — and hopefully a little bit of extra recoil control when I'm pressing the trigger. The Garrison's safety does it well.
Garrison Specifications
Here are the Springfield Garrison specs:
| | |
| --- | --- |
| Chambering | .45 ACP |
| Barrel Length | 5.0″ |
| Weight | 37.0 oz |
| Overall Length | 8.6″ |
| Sights | Low profile 3-dot |
| Grips | Wood |
| Action | Semi-automatic |
| Finish | Blued or stainless |
| Capacity | 7+1 (one magazine included) |
| MSRP | $800-$849 |
Shootability
The Springfield Armory Garrison is a very shootable 1911. The blaster is chambered in .45 ACP and shoots just like it should. The 37-oz. gun and G.I. recoil system effectively tame the 45's push. The extended thumb safety helps keep the muzzle flat. The sights do their part and tell you exactly where your shot is going to go.
The trigger was impressive. There was little pre-travel or overtravel and zero creep. The break was smooth and crisp. I like it a lot. Before I measured the trigger, I guessed it was pressing at about 3.5 pounds. I was off. By a pound and a half. The trigger averaged out at 5 lbs., 8 oz. Clearly, this is a clean and crisp trigger on the Garrison. Trigger weight matters, but in my opinion, the quality of the trigger matters more. Obviously, the Garrison is a winner in the trigger department.
Conclusion
I enjoy 1911s and I have some pretty strong opinions on what makes for a good 1911. Springfield struck a beautiful balance with the Garrison, in my opinion. Are there some upgrades I would like to see to the Garrison, like frontstrap checkering or maybe forward cocking serrations on the slide? Sure. But, I have not mentioned one of the most important features of the Garrison — its MSRP. The blued gun has an MSRP of just $800, and the stainless $849.
For that price, you are getting a 1911 with a solid forged foundation and numerous enhancements as well as fit and finish that borders on a custom-grade gun in my opinion. Add to that the upgraded sights, hammer, beavertail safety, and safety lever, the Garrison is a steal. And those upgrades I'd like to see? For this MSRP, you could make this pistol the foundation for a custom 1911 project and have a leg up at the start for a great price.
The Garrison ships with a single seven-round magazine, and you can pick up additional mags at the Springfield Armory Store online. You can choose more seven-rounders, flush-fitting eight-rounders with slam pad, or even extended 10-rounders.
If you want a 1911 that has the upgrades a modern 1911 deserves for a great price, or simply need a solid gun to serve as the foundation for a customized 1911 project, the Garrison is a great way to go. Regardless of your end use, the Garrison deserves to become a permanent installation in your collection of 1911s.
Editor's Note: Please be sure to check out The Armory Life Forum, where you can comment about our daily articles, as well as just talk guns and gear. Click the "Go To Forum Thread" link below to jump in and discuss this article and much more!
Join the Discussion
Featured in this video
Continue Reading
Did you enjoy this video?
423