Springfield Armory
XD-M

5.25 Competition Series
September 21st, 2019
6 minute read
The evolution of Springfield's polymer pistol is designed for winning matches, but has more serious applications as well.
And in the archives of Springfield Armory it is written that the company tested the HS2000 pistol made in Croatia, and found it good, and imported it to the United States as the Springfield XD. And lo, it became hugely popular, and the time came when Springfield's own Dave Williams created new design features for it and the XD-M was born. It was sleeker and somewhat more ergonomic (and, in 9mm and .40S&W, with higher cartridge capacity), and it came to pass that the XD-M actually became more popular than the XD. And then, it is written, Springfield Armory's resident world champion and consultant, Rob Leatham, tweaked the shape to make it even better for winning pistol matches, and thus was born the XD-M 5.25.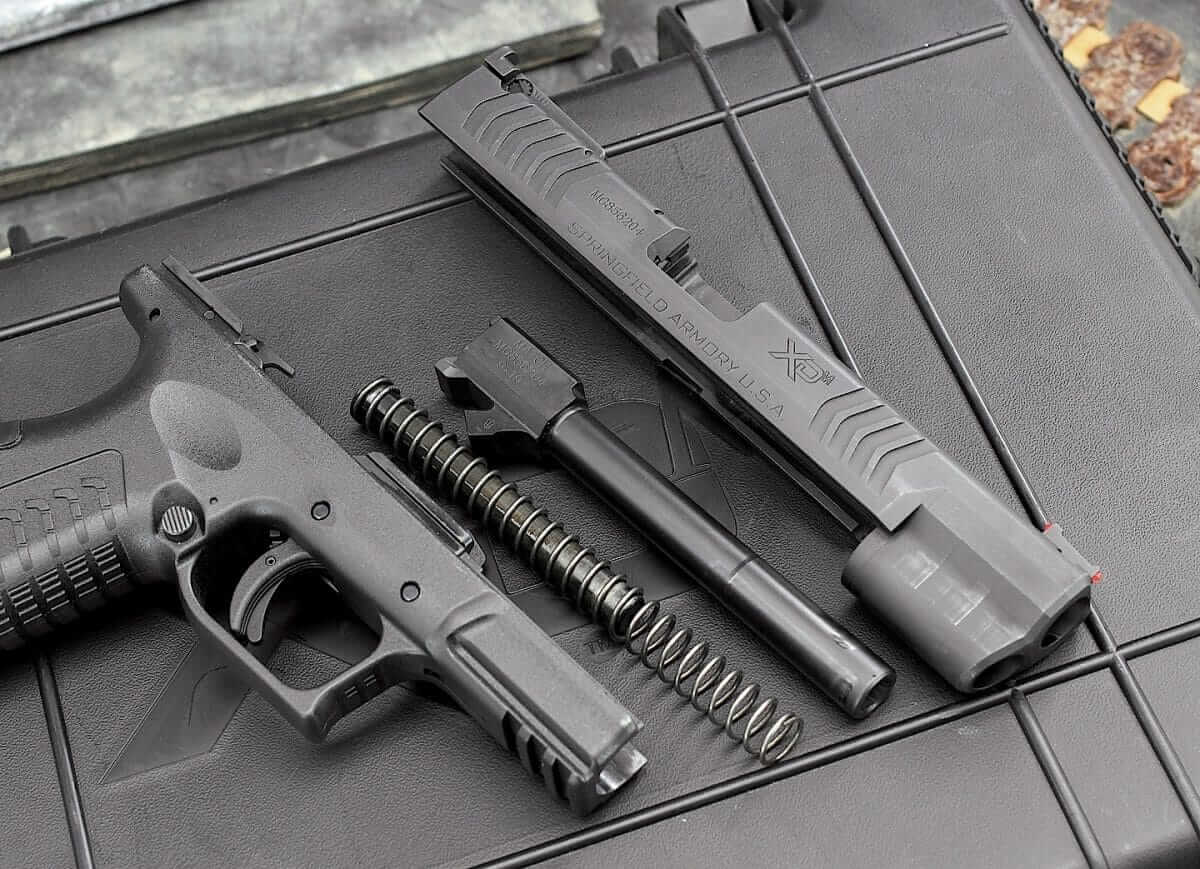 Tracking the
XD-M

5.25

In the early spring of 2011, I visited Springfield Armory in Geneseo, IL and got an in-depth, one-on-one preview of the then about-to-be-introduced XD-M 5.25 from Dave Williams, head of the Springfield Armory Custom Shop. The pistol was, essentially, the standard XD-M extended to a 5.25" barrel length (hence the nomenclature) with commensurate slide length.
Now, the standard barrel length on an XD-M is 4.5″, so we're talking three quarters of an inch. That's more barrel, more slide, more weight up front. That muzzle-heavy feel can slow you down tracking between multiple targets. So, the slide of the 5.25 is "skeletonized" above the barrel to reduce the weight. If that sounds suspiciously like what Glock did with their long-barrel competition guns, well, welcome to the Planet Earth: folks like Leatham, who shot the multi-target Steel Challenge matches under time, had been doing this sort of skeletonizing on 1911s even earlier than Glock. There ain't too much new under the sun. The bottom line is, this configuration gives you a longer sight radius which historically reduces shooter error…a longer gun, which when you're looking over the top of it in close tends to create a "pointing wand" effect that makes coarsely aimed gunfire hit closer to center…and, overall, a gun that tracks faster between multiple targets.
The standard XD-M features are all there: ambi mag release, which allows the shooter to use the index finger of the shooting hand instead of the thumb, dumping the magazine faster without "breaking the hold;" interchangeable backstraps to give the shooter more adaptability to a perfect interface between man and machine; and a reshaped slide (compared to the original XD) that many find faster to operate under stress.
Shooting the 5.25
The trigger pull weighed for On Target's test gun — a 5.25 9mm — averaged 6 lbs., 5.8 oz. on a Lyman digital scale. Trigger pull seems long, as does re-set, but it is smoo-ooth, and those who use it in competition speak well of it. Those who want to use it at the highest levels of speed-shooting matches can get a custom trigger job from Springfield Armory's Custom Shop, which will have a lighter pull and a crisper reset. I, for one, however would recommend that a custom trigger pull that light be used only for competition, and not for personal defense/home defense/police or security duty.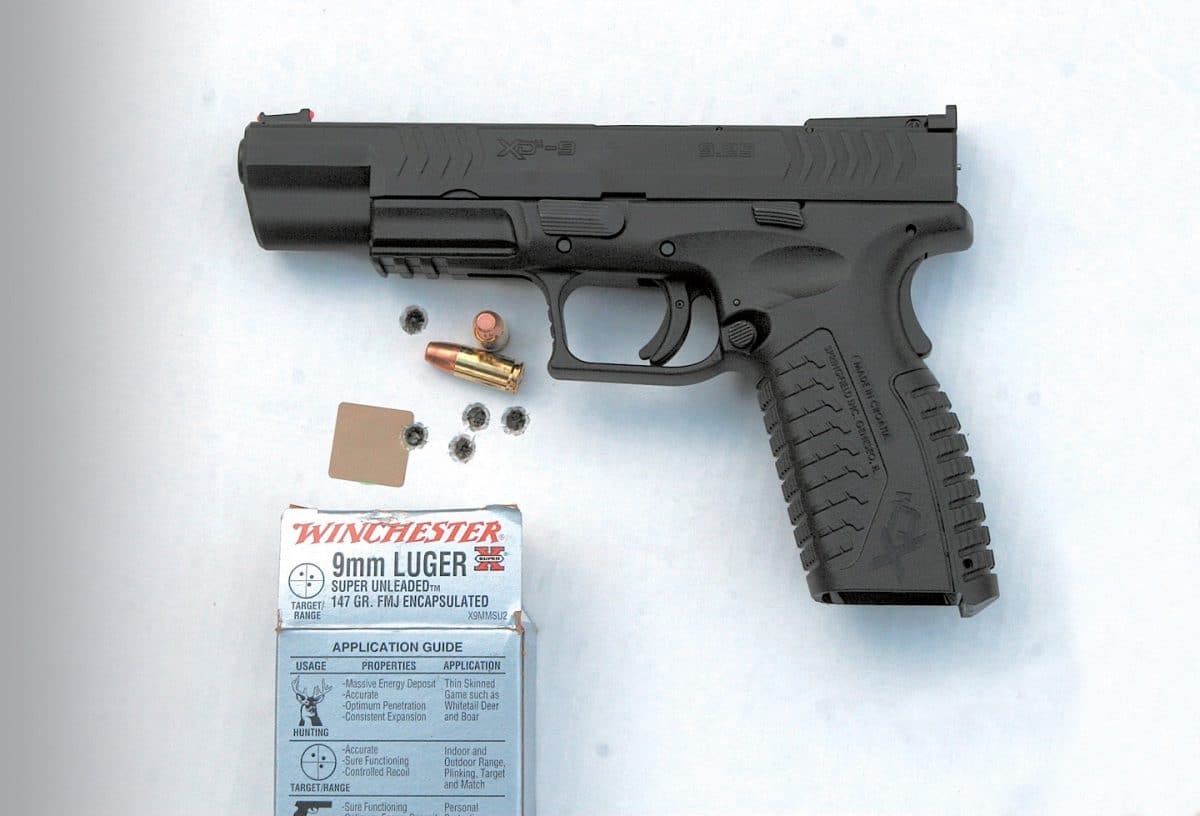 Recoil? It's a polymer frame 9mm, and "kick" is negligible. The hottest load we ran in it was Buffalo Bore's 124-grain Gold Dot hollow point, rated for 1,300 foot seconds velocity and probably doing more than that out of the long 5.25″ barrel. With standard pressure loads, you could pretty much watch the sights going back and forth as the slide cycled without appreciable lift. With the hotter stuff, the muzzle could be seen by the shooter to rise more, but was still back on target by the time the shooter's finger had reset the trigger.
Our sample XD-M 5.25 was tested with the three most popular 9mm Luger bullet weights. It didn't care for MagTech 115-grain FMJ, which has given us some very accurate groups in other guns, posting a 4.85″ group for all five shots, with four of those in 3.30″ and the best three in a much more reassuring 1.55″. For a "street load," we used Buffalo Bore's very hot 124-grain JHP, with that Gold Dot bullet rated for 1,300 foot seconds. One errant shot enlarged the group to 4.50″, with the other four in 1.60″ and the best three in 1.25″.
The 5.25 iteration of the XD-M was designed first and foremost as a competition gun, and 147-grain subsonic seems to be the choice of champions. Winchester's Unleaded FMJ in that format was the ticket: it punched a 1.55″ 5-shot group, with four of those shots in 1.15″ and the best three in 0.65″. All of the above groups were fired at 25 yards, and assuming twice the group size at twice the distance, all shots would be in the 4-inch, 10-X center ring of a Bianchi Cup target at 50 yards.
The 5.25 in Action
Rob Leatham — The Great One, the legendary multi-time world champion who spec'd the 5.25—has already proven it to be a winner in competition. So have others. John Strayer, a Florida-Georgia regional IDPA champion and 5-gun Master, was already an XD and XD-M fan when he got his hands on a 5.25 in 2011. He shot it in three matches, taking First Master, Enhanced Service Pistol honors in all three. "I love the balance," he says. "I can't describe what it changes over the 4.5-inch, but it just feels and shoots faster. The gun is more 'lively' in my hand. Transition between multiple targets is smoother. In 9mm with that gun, there's almost no recoil, and it seems to have less muzzle rise than my XD-M 4.5."
This gun is made for IDPA competition, so it seemed logical to shoot it at one. I carried the test gun for a day before the match in a high-ride Blade-Tech Kydex hip holster. A loose SIG-Tac concealment vest hid it well as I went about daily errands. The extra length of the barrel presses against the side of the leg and actually tucks the 5.25″ gun's butt in tighter against the side, a counterintuitive aid to concealment rather than impediment to it. Since IDPA is supposed to be geared to carry guns, that seemed relevant.
I borrowed Strayer's XD-M 5.25, with a three-pound trigger pull from the Springfield Armory Custom Shop, and IDPA-legal Arredondo flared mag well. On a challenging five-stage course at the First Coast IDPA Club in Jacksonville, FL that drew 122 shooters, the 5.25 demonstrated its lively handling. The long, light barrel pointed like a wand, bringing the bright-colored fiber optic sight quickly between targets. Being able to use the trigger finger to punch the ambi mag release sped up reloads. And, of course, the gun hit what it was aimed at with those 147-grain Winchester FMJ bullets.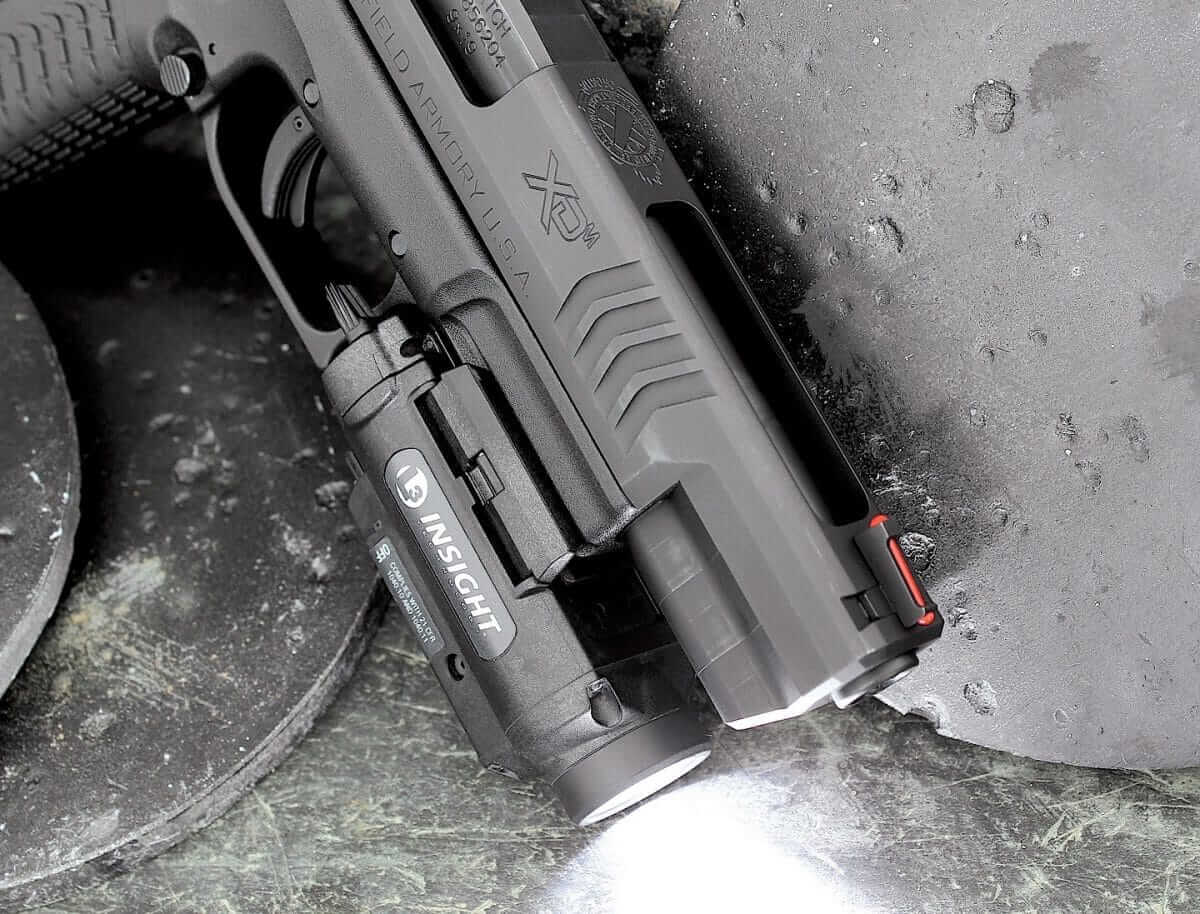 Outcome? I managed to capture overall winner/first master in the Enhanced Service Pistol division, where XD-series pistols play since they are mechanically considered single action autos. Of the 122 shooters, the XD-M 5.25 brought me in as fourth most accurate. This was the XD-M 5.25 that Brother Strayer had won three for three matches with. This one made it four for four.
When a pistol gives a creaky old geezer with a bum ankle a finish like that on a run-and-gun course, you really can't ask for more. If you're my age and wanna buy a Corvette to make you feel high speed/low drag, but can't afford one…then check out the Springfield Armory XD-M 5.25 at your gun shop.
Editor's Note: This article was written by Massad Ayoob and shared with us by On Target Magazine.
Join the Discussion
Featured in this article
Continue Reading
Did you enjoy this article?
68