Taffin Falls for a SAINT
April 19th, 2020
4 minute read
The latest from Springfield Armory, which I've chosen to call the "Quaint SAINT," looks just like a typical MSR/Modern Sporting Rifle — with two exceptions. The SAINT pistol's barrel length's less than 8″, and it's fitted with a stabilizing brace. While it simply looks like a Modern Sporting Rifle with a very short barrel, it fits the BATFE definition of a handgun. Who am I to argue?
As one who was never bitten by the MSR bug, I suddenly find myself fascinated by the latest iteration of the MSR platform from Springfield Armory. In 2016, Springfield Armory joined the long list of manufacturers of .223/5.56 modern sporting rifles with the introduction of the SAINT. Now they have taken it one step further with the SAINT Pistol. This opens a whole new facet of handgun shooting for this old dog.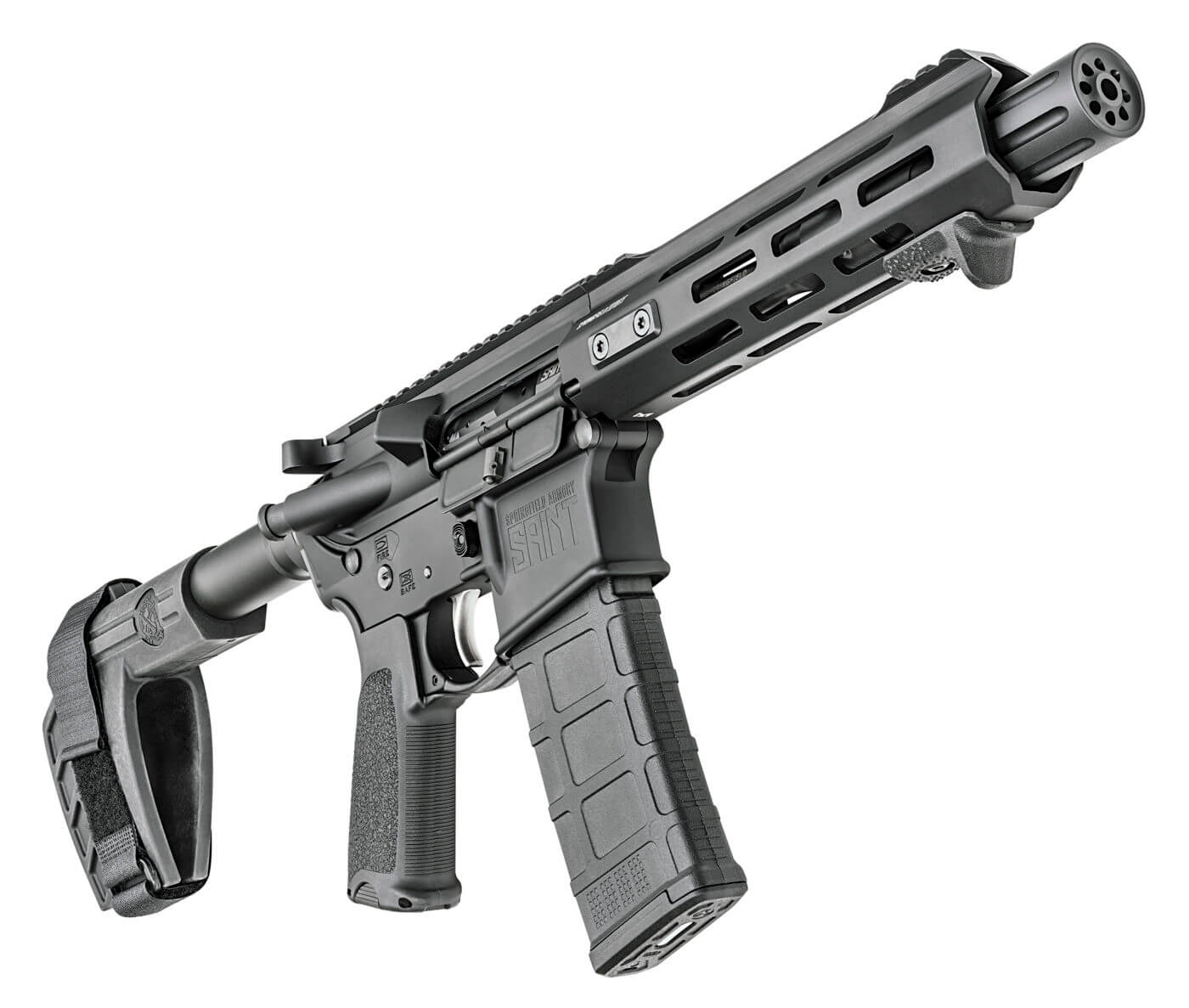 My approach to the SAINT Pistol was to see it as a close-range self-defense pistol. Let's consider the gun.
She's No Angel
The SAINT Pistol's 1:7″ twist Melonite-treated 416R barrel is a mere 7.5″ long and equipped with blast diverter to channel sound, concussion and debris away from the shooter. The receiver extension has an SB Tactical SBX-K brace to help stabilize the pistol for accurate shooting. Overall length is 26.5″ with a weight of 5.5 lbs. The upper receiver is forged Type III hard-coat anodized 7075 T6 aluminum while the lower receiver's of the same material and fitted with the "Accutite Tension System."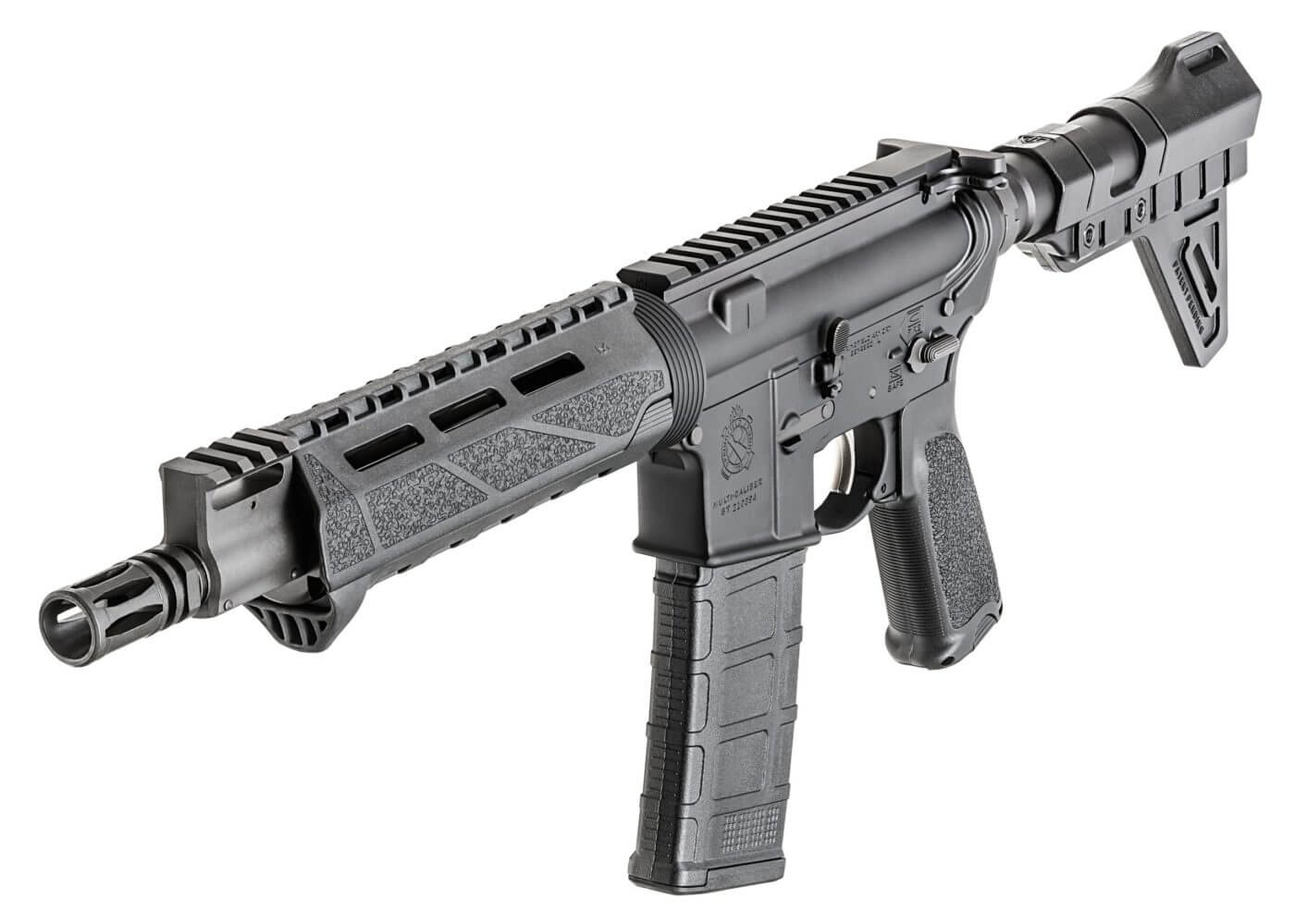 The gas system's a direct impingement pistol-length system with a low-profile pinned gas block under a free-floated M-Lok forend sporting a safety stop. The trigger is nickel-boron coated and the trigger guard and the pistol grip are from Bravo Company. The SAINT is exceptionally well made with no looseness or rattling. It just seems to be solid all the way around.
I found the SAINT Pistol worked flawlessly with factory ammunition, but I ran into problems with reloads I have run in .223 chambered rifles with no problems. My loads would chamber, but the gun would not fire and there were no strikes visible on the primers.
All of my ammunition previous to this had been reloaded using RCBS standard dies. The answer was a set of RCBS Small Base dies, and I also added a Lee Factory Crimp Die. This solved all the problems. In comparing the base diameters of Black Hills Match factory loads, my standard loads and those assembled with the Small Base dies, I found my original loads to be 1½ thousandths larger than factory while my new loads were 1/2 thousandths smaller than the factory loads. The new loads worked perfectly.
On Target
As set up, the Springfield Armory SAINT Pistol's made for close range shooting in self-defense situations. I also found it to be a fun gun for plinking — easily controlled and astoundingly accurate when fired from the hip with a laser.
Muzzle velocities of most .223 factory ammunition from an 18½" barrel run right at 3,000 fps. Switching to the short-barreled SAINT Pistol resulted in loads slightly more than 25 percent slower. For handloads, I chose Hodgdon's CFE 223 powder. CFE stands for Copper Fouling Eraser, as this powder works to reduce copper buildup in the barrel. My loads of choice for use in the Quaint SAINT were all assembled with CFE223 powder with 27.0 grains giving the following results with the given bullets: Hornady 50 V-Max, 2,267 fps; Hornady 55 SSP, 2,259 fps; Sierra 55 HPBT, 2,201 fps; and Speer 55 SSP, 2,157 fps.
My fastest load consists of the Speer 52 HP with 28.0 grains of CFE223 for 2,342 fps. When assembled with RCBS Small Base dies and crimped with the Lee Factory Crimp die, all loads worked flawlessly with no problems to feed, chamber or extract. It's no problem to place three shots in one hole, or very closely so, at seven yards when fired from the hip.
A New Fascination
I'm pretty much a traditionalist when it comes to handguns, preferring single-action and double-action sixguns or a classic semi-automatic. As stated earlier I have never been bitten by the MSR bug, but this version snuck up and won me over.
Editor's Note: This article was written by John Taffin and shared with us by American Handgunner. The original article can be seen here.
While the SAINT that Taffin reviewed was available when this article was first published, Springfield Armory has updated the SAINT Pistol line to include the new SAINT Pistol (at an MSRP of $849), the SAINT Victor Pistol series (starting at an MSRP of $1,049) and the SAINT Edge Pistol series (starting at an MSRP of $1,559).
Also, please be sure to check out The Armory Life Forum, where you can comment about our daily articles, as well as just talk guns and gear. Click the "Go To Forum Thread" link below to jump in!
Due to an ATF ruling regarding the configuration of pistols with stabilizing braces, these firearms can be subject to NFA (National Firearms Act) regulations as short-barreled firearms. It is the buyer's responsibility to comply with all rules, restrictions and/or laws determined by your city or state. Please ensure you are up-to-date on all current laws.
Join the Discussion
Continue Reading
Did you enjoy this article?
81