Top 5 Tips for First-Time Gun Buyers
April 15th, 2020
6 minute read
The COVID-19 pandemic has spurred Americans to buy guns in record numbers, and gun shops across the country are seeing many first-time gun buyers enter their stores. These new customers are not only confused by the vast array of available gun types, but they're also mystified by the often-bewildering buying procedures mandated by state and federal law.
If you're interested in purchasing your first handgun and don't really know where to start, retail firearms senior advisor Miles Hall can help make the process easier. As a former owner of a gun store and range, over the years he has helped thousands of first-time buyers select the gun that worked best for them. I had a chance to talk with him a bit and ask the advice he would give to first-time gun buyers.
Constructive Comments
My first question to Miles was regarding what these new buyers should say to the person behind the counter to ensure that they will be able to help them.
"Pretty much all performance-oriented gun shop/ranges are very receptive to questions and directions from their guests," Hall says. (He always called his customers guests because, as he told me when I visited his shop, "well, we invited them in, didn't we?").
"Be open, honest, and factual regarding your needs and wants," he continued. "There are no silly or stupid questions. If you are a first-time buyer, proudly say that. If it is for protection, then tell them that, too. If you intend to carry the gun on you, say that."
Doing so allows the salesperson to make sure the gun is the correct size and weight for you. If the gun is to be used for home protection only, size and weight are far less critical factors.
Fitting Choices
The next topic that came up in my conversation with Miles was the importance of how the gun fits in your hand.
"Fit is a critical element for the safe handling and accurate use of any tool, especially a firearm," Hall explained. If the handgun doesn't fit your hands (it can be too big or too small), there's no way you will be able to use it properly.
"When the team member is ready, they will check to make sure the gun is unloaded and then hand you the firearm, typically grip towards you," he says.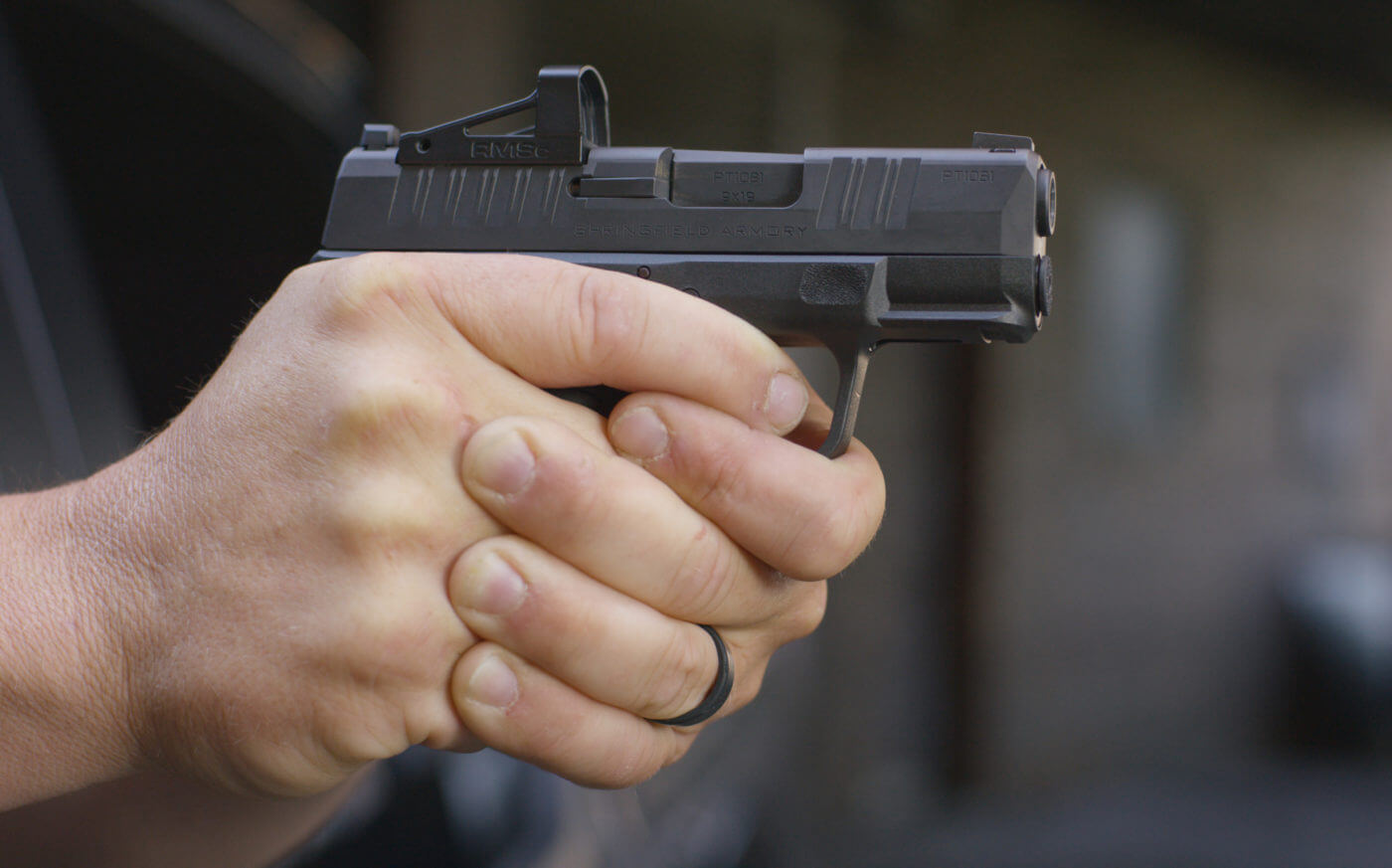 Many new gun owners often do not know how to handle a gun safely. Gun store personnel know this and will assist you, but bear in mind the following: Grasp the gun firmly around the grip, but keep your finger off of the trigger. Instead, place it outside the trigger guard. Point the gun away from any person. I encourage you to check out our article on safe gun handling. This article goes over the universal rules of gun safety that you need to learn.
"Now you can see if the gun is too heavy or too light," he says. "Can you cycle the slide on a semi-auto? Does it feel comfortable and secure in your hand? There may be features on the gun you are not sure of, such as ejection or release buttons or de-cockers. Ask about any part of the gun you do not understand. After all, that is what a good team member is there for," he explained.
Elephant in the Room
The next topic that came up is one those of us in the gun world have heard many times. Does caliber size matter?
"In a defense gun, the short answer is that the more powerful the caliber that you can handle, the better," says Hall. "Any and all ammo size is potentially deadly, but it's the 'stopping power' you are most concerned with."
But don't let this overwhelm you. You don't need to worry yourself with all of the technical ins and out of ammo. If you find a reputable shop with well-informed employees, your salesperson can help you select which will work best for your needs.
Must-Have Add-Ons?
Buying a gun is a big expense, and there are a lot of costs beyond the gun itself. Transfer fees, taxes, ammo, etc. It all adds up. But what do you really need to purchase with your new pistol?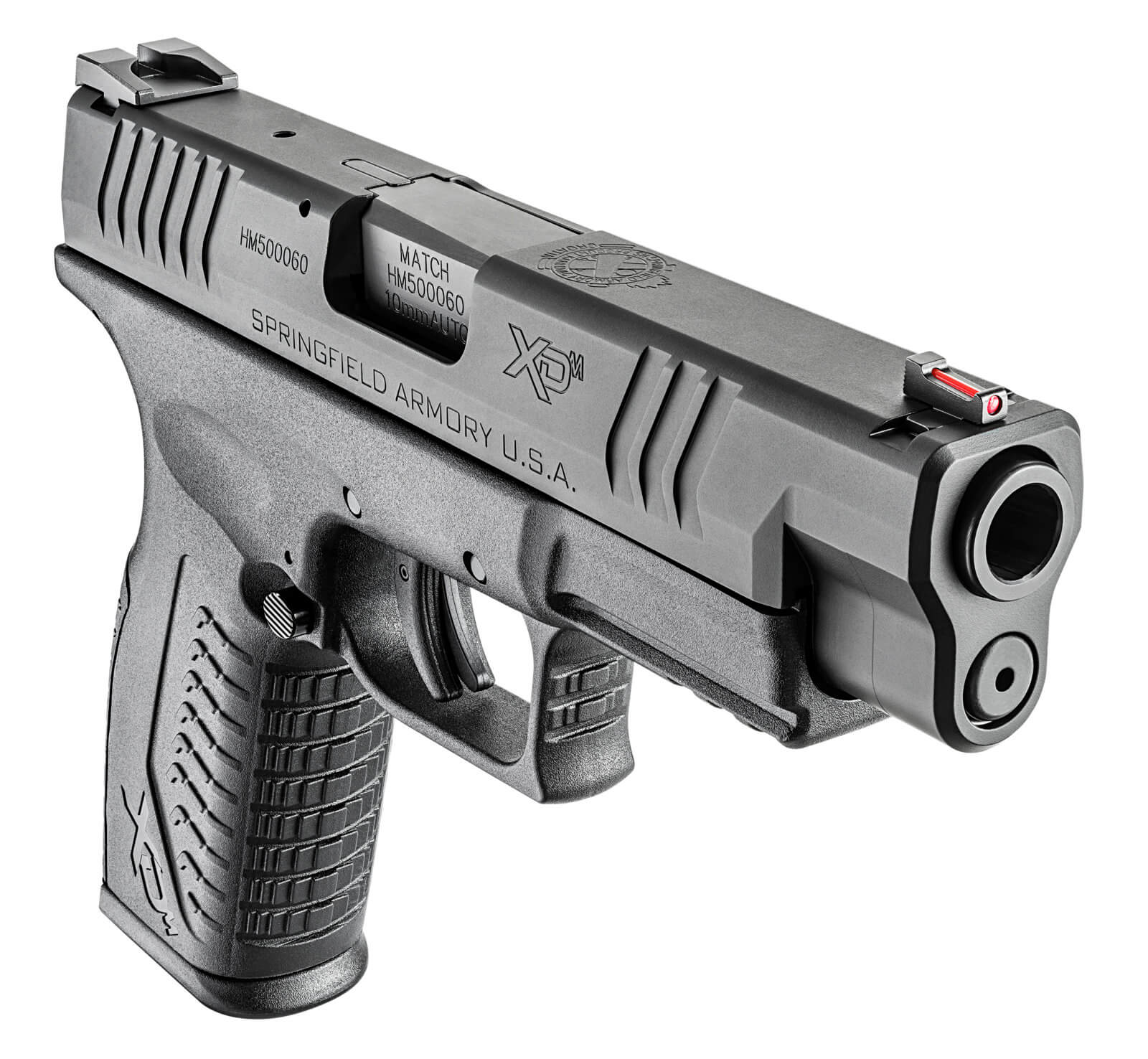 "Today's firearms — especially ones like the Springfield XD and XD-M series of handguns — are high-quality tools that typically come with safety and performance features designed to provide a lifetime of service," Hall says. "Once you gain experience shooting by practicing at a range, you can then determine whether you want to add accessories, such as laser sights, to your gun."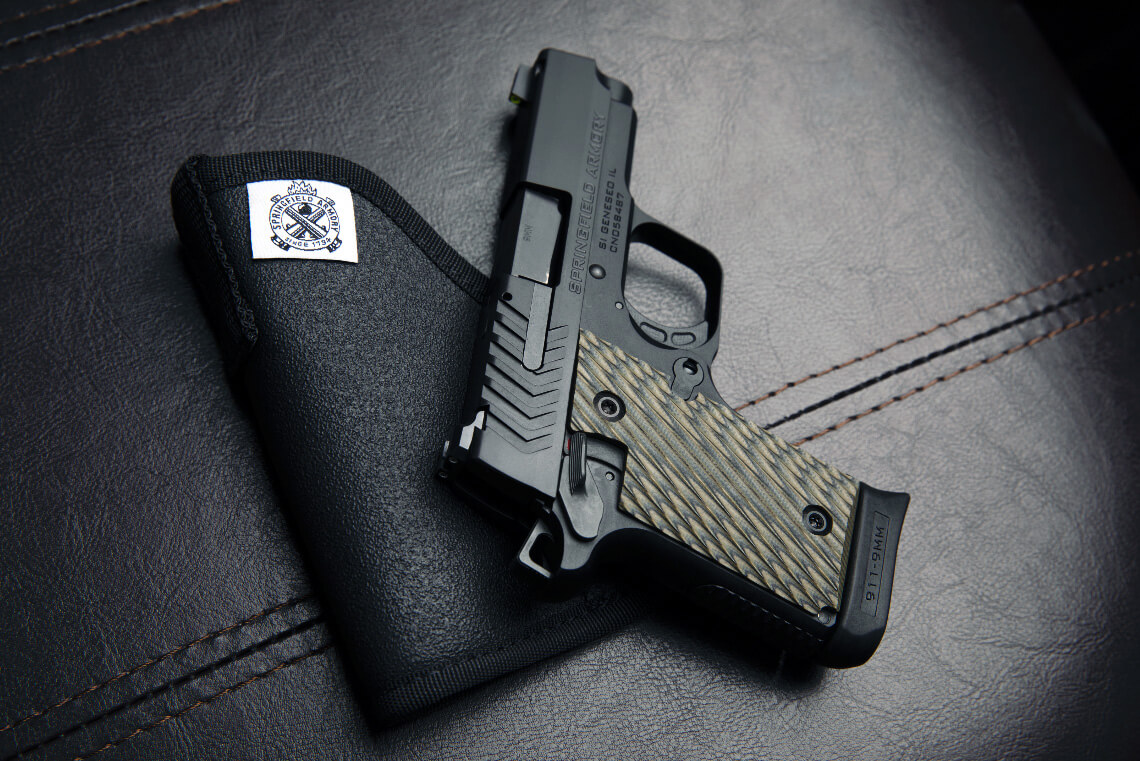 One key accessory for those who intend to carry the gun on their person is a holster. This is also an issue of fit. There is a seemingly infinite variety of carry options out there. Let store personnel assist you in choosing the holster that best fits your lifestyle. Are you a lefty of a righty? Do you want to carry on your belt, inside the waistband, in a pocket? Dig around and do some research beforehand on places like The Armory Life, and then go in armed with the questions you want to ask.
Hands-Free Handguns?
The next topic that came up in our discussion was about how you would store the gun when you are not carrying it, or when it is in a home defense role. Basically, what about safe storage?
"All quality tools need to be safely secured when not in use, and that goes for firearms as well," Hall says. "For a defense gun, a small quick-access safe is great. Many gun owners will also see the value in a larger safe for the home. Beside your guns and ammo those safes store jewelry, coin collections, cash, important papers, and the like. If you carry in your auto, always bring the gun into the house when you get home. Glove boxes are not secure enough for overnight storage."
As a gun owner, you also need to be aware of any gun-storage laws that pertain to you. If you are unsure about this, do some research and also ask your retailer.
Bonus Tip
Finally, Hall notes if a nearby store offers rental guns for use on its range, that's a great way to go. It's just like taking a car out for a test ride. You'll also receive valuable instruction on safe loading and unloading procedures and aiming and trigger technique.
So, there you are, five top tips on buying your first handgun. So, find yourself a reputable dealer, go armed with the right questions, and pick out your first handgun.
Editor's Note: Please be sure to check out The Armory Life Forum, where you can comment about our daily articles, as well as just talk guns and gear. Click the "Go To Forum Thread" link below to jump in!
Join the Discussion
Featured in this article
Continue Reading
Did you enjoy this article?
209