Review: Versacarry Shoulder Holster with Double Mag Pouch
January 20th, 2023
4 minute read
Shoulder holsters to carry handguns of all types were once the standard wear for nearly all of those who carried concealed — and it was especially so for the leading pistol of the time, the iconic 1911. Television celebrities like James Sonny Crockett, played by Don Johnson, on the popular Miami Vice TV show was routinely seen wearing shoulder holsters. Dirty Harry, known for his oft-repeated "Make my day!" statement, and Doc Holliday in the western Tombstone flick, used shoulder holsters, as did Agent 007 Bond. Shoulder holsters were the way to carry concealed.
And while other forms of carry — like inside-the-waistband, etc. — have taken the lead in popularity these days, it does not mean that the shoulder holster is past its prime. In fact, it has a great deal going for it.
The Real Deal
While you might associate the brand Versacarry with belt-mounted holsters of all sorts, the company also offers should holster systems, such as the one I am reviewing here today. That holster is the "Shoulder Holster with Double Mag Pouch."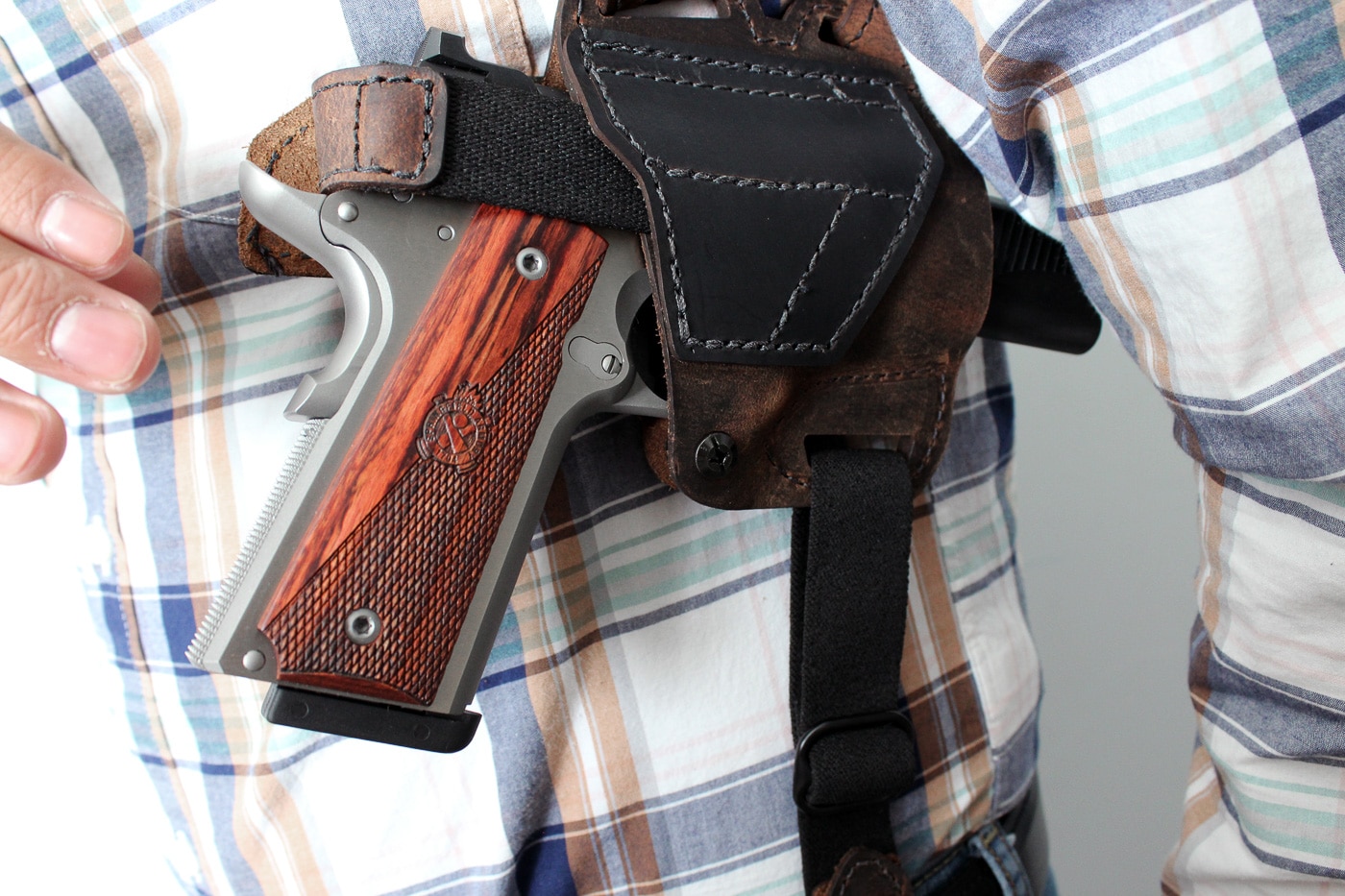 To start off, this shoulder holster offers numerous adjustment options. It also holds magazines stacked in pouches on one side, and the handgun of your choice from a broad list of selections in the horizontal position on the opposite side. In my case, I tried out the version for a 5" 1911, for my Ronin pistol from Springfield Armory.
The shoulder rig is offered in right- or left-hand versions, so they have you covered there. In addition, the holster is available in brown or black premium, vegetable-tanned water buffalo leather.
"When tackling the design prospect of improving a time-honored holster, it can be difficult to reinvent the proverbial wheel," stated Justin Sitz, Versacarry's CEO/owner. "I believe my team and I have done a wonderful job of adding some new features and design elements the end-user will surely enjoy."
Hands-On with the Versacarry
Having tried out the holster for myself, I can honestly say that I believe a lot of thought and design effort was incorporated into the final model.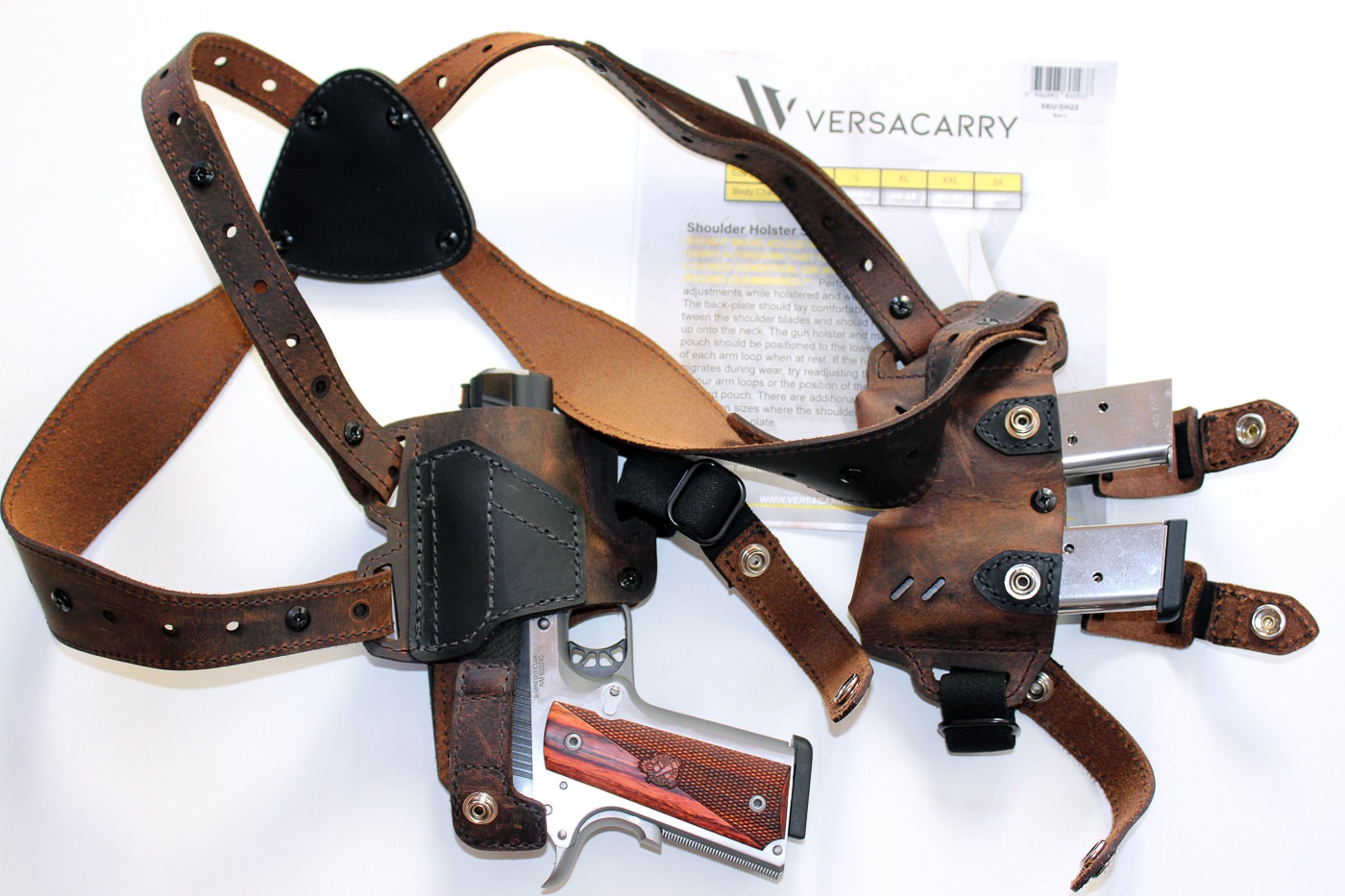 As I mentioned earlier, the Versacarry Shoulder Holster has multiple adjustment points — along four thick leather straps — to ensure a comfortable and secure fit. Those four main straps provide about a dozen adjustment points on each segment, so your perfect and comfortable fit is assured.
I would like to point out that, in my opinion, leather is comfortable and flexes far better than many stiff polymer products. And the Versacarry was no different, with leather that was thick yet pliable. Per Versacarry's product description, the company uses water buffalo leather and industrial grade elastic material to provide "give" and "flex" in the harness where needed.
Other features of this holster are a sweat resistant shoulder pad, ergonomically designed straps, dual magazine pouches built of the durable leather; retention straps for both the magazines and the firearm, and adjustable belt-loop straps.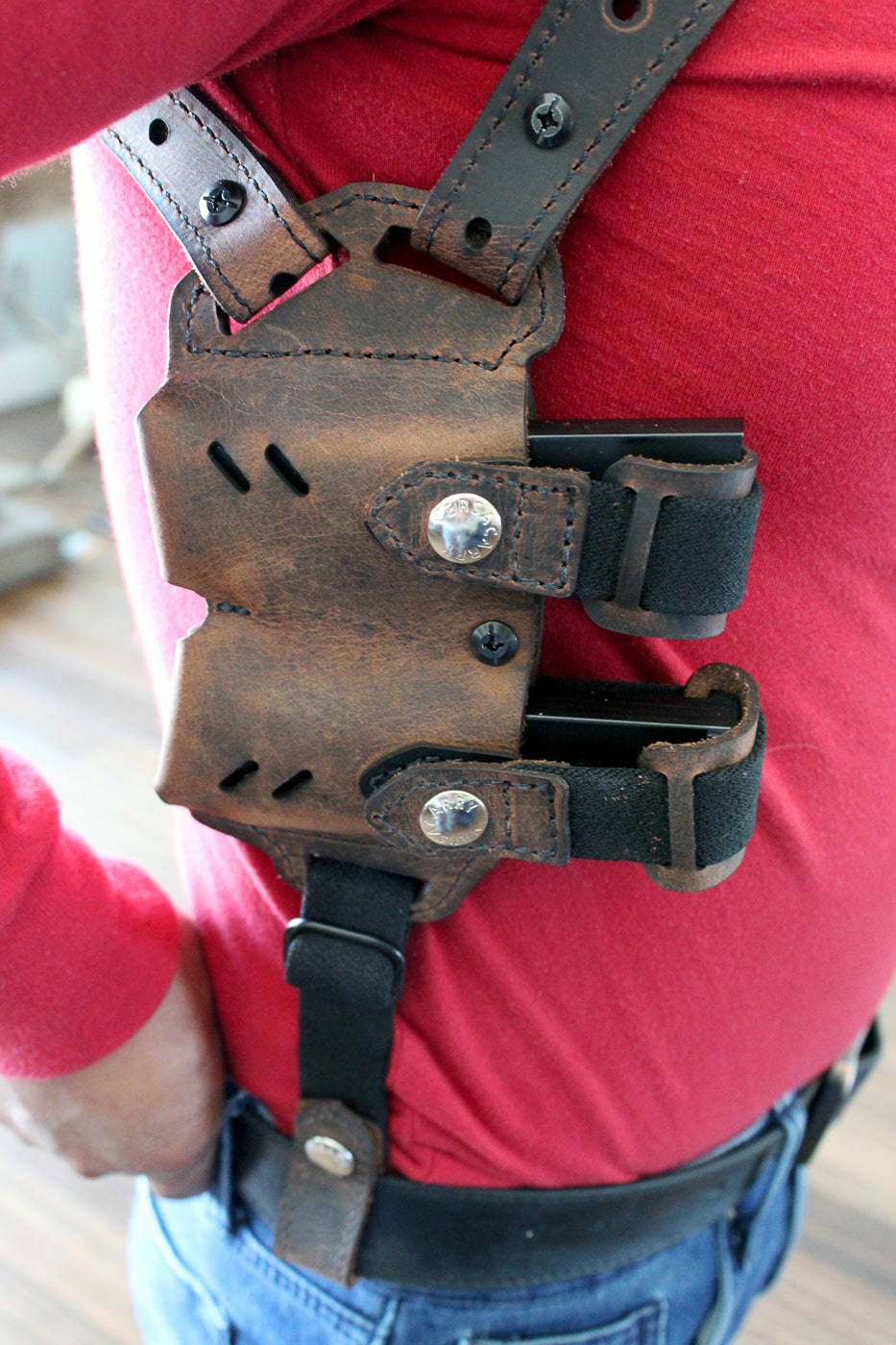 An enclosed card with the packaging has detailed instructions and adjustment guidelines to ensure a comfortable and secure fit when preparing the holster for wear. The website of the Bryan, Texas-based manufacturer also provides useful guides in the "How to Size" section. I recommend looking at this information when deciding which size holster to order. The company's website also provides useful break-in for wear and firearm carry instructions.
After some time carrying with it, I found the holster to be very comfortable for a day of wear. And, I have no doubt it will only get better with more time worn — and break in nicely for a custom fit. The thick leather has just enough "give" to permit the magazines into the pouches and for the 1911 pistol to securely fit into the holster. The elastic straps and leather loops around the belt did an excellent job of keeping the gun and magazines in place during wear.
Conclusion
If you are a 1911 fan, then I recommend checking this out as it is a top holster system for this type of pistol. The Versacarry shoulder holster retails for $225, and I think it is a great buy. It is intelligently designed and flawlessly executed with top-grade materials and craftsmanship. And, it just plain looks cool!
Editor's Note: Please be sure to check out The Armory Life Forum, where you can comment about our daily articles, as well as just talk guns and gear. Click the "Go To Forum Thread" link below to jump in and discuss this article and much more!
Join the Discussion
Featured in this article
Continue Reading
Did you enjoy this article?
90