Review: Walker's Silencer BT 2.0 Earbuds
August 17th, 2022
7 minute read
I recently received a set of Walker's Silencer BT 2.0 wireless earbuds and was excited to give them a try as I had never run earbud-style hearing protection at the range. I was familiar with the Walker's brand and really enjoyed their Firemax Digital Muff active earmuffs over the last year, so I was curious to see what the comparison would be like with their Silencer BT 2.0 earbuds.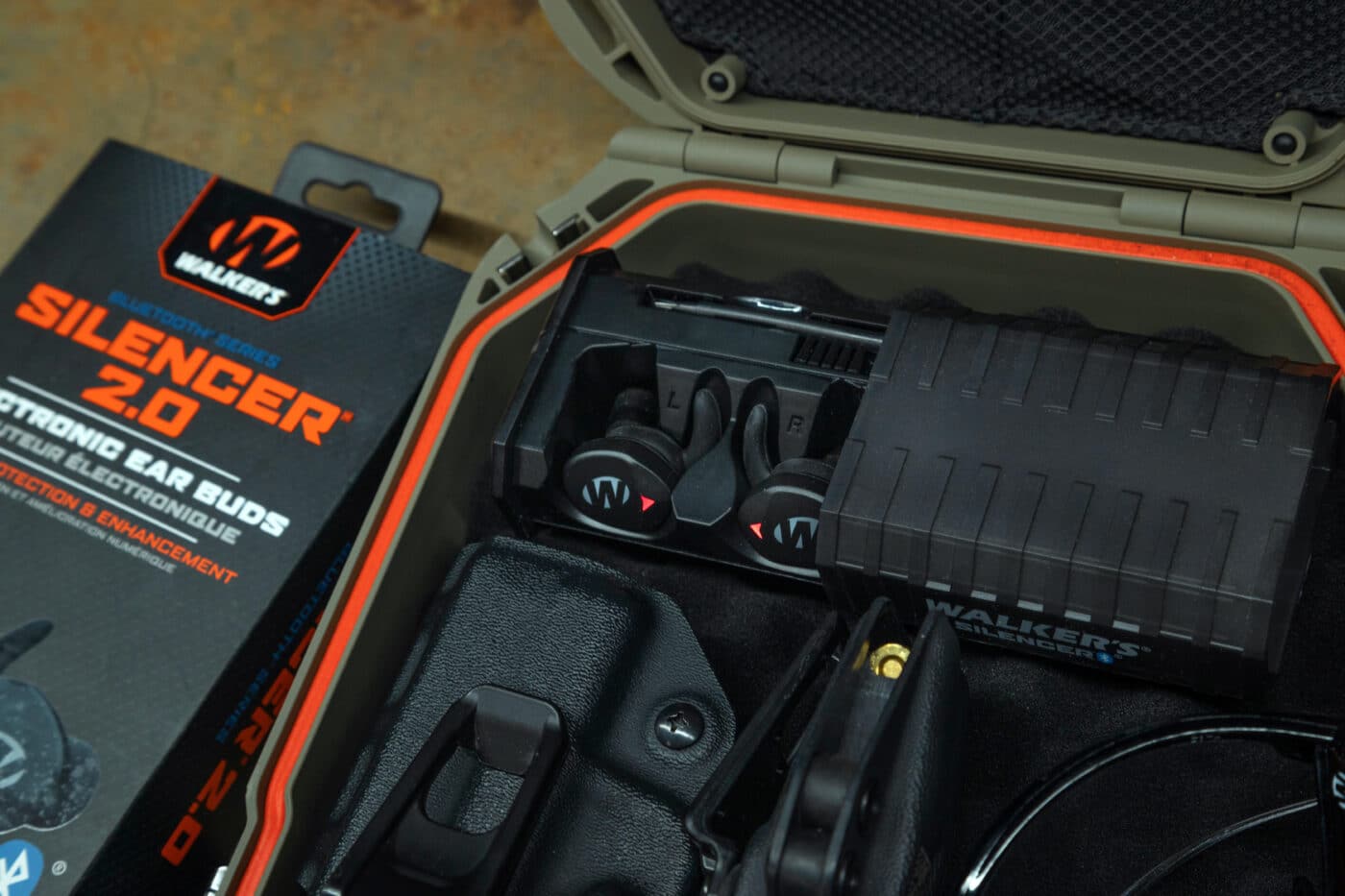 I've been a music lover for as long as I can remember and hearing protection and preserving my ears have always been a priority for me. Even as a fledgling metalhead during my teens while jamming in garage bands, I was lucky to have saints for parents who insisted on getting some custom-fit inner ears made for me. Based on the ungodly ruckus we would produce for hours on end, they probably would have enjoyed having their own custom ear-pro as well.
Nowadays, the only percussion and metal I'm ringing is when firing on steel at the range. So, it's really cool to see so many "active" or electronic options be made available on the market.
Silence Is Golden
Walker's Silencer BT 2.0 earbuds are one of the most recent releases in the Silencer line by the brand. Bluetooth capable, in this iteration they have produced a formidable earbud ideal for casual use like listening to music and taking phone calls with exceptional Bluetooth capability and range as well as superior sound quality.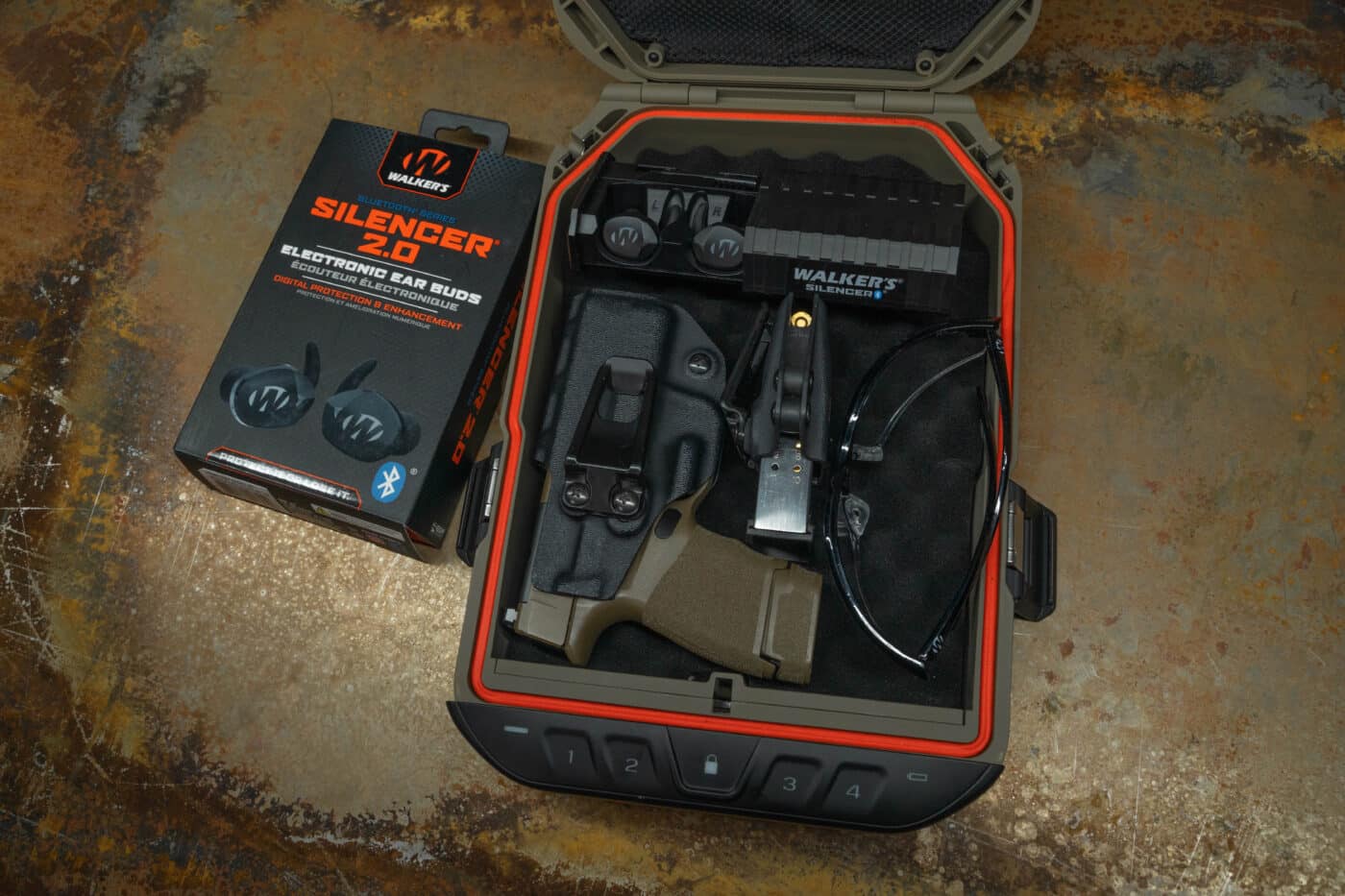 The unit excels in its capability to provide all of those routine earbud functions with quality and clarity that rivals Apple's earbuds and other commercial listening devices of a similar class, while also offering true hearing protection and a 24db noise reduction rating.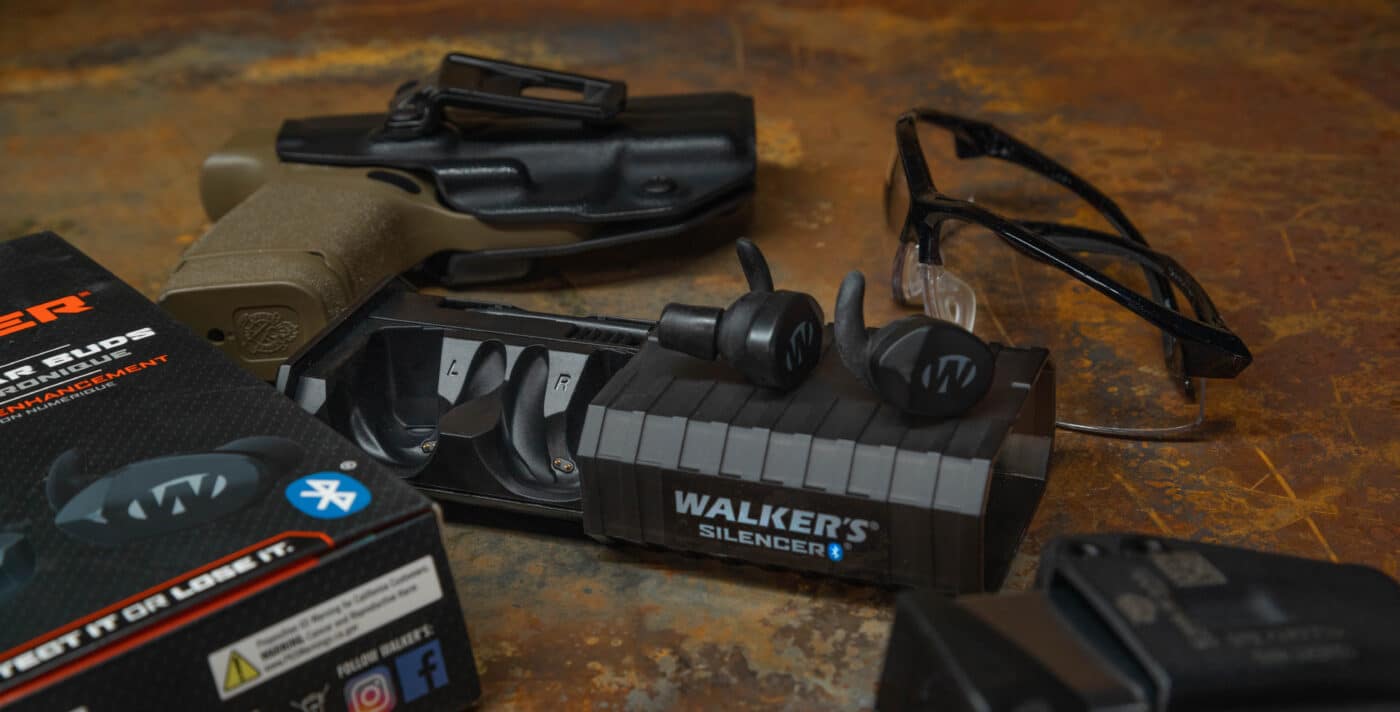 The packaging is premium, coming in a beautifully designed magnetized window box, and includes the instructions and app QR code, a charging/cradle style case, cleaning brush, assortment of earplug fitments, charging cable and small lanyard.
Earbuds
Diving right into the product, the design style of the two earbuds is really sleek and come clearly labeled with an "L" and "R" designation. I know it's a small detail and what ought to be an obvious inclusion for a pair of earbuds, but I can't tell you how many headphone products don't come with this insignia or make it so small you have to hunt for it. During a high-stress or low-light scenario, those clearly labeled little letters help make sure you aren't trying to mash the wrong earpiece into your opposing ear hole. What can I say, it's the little things.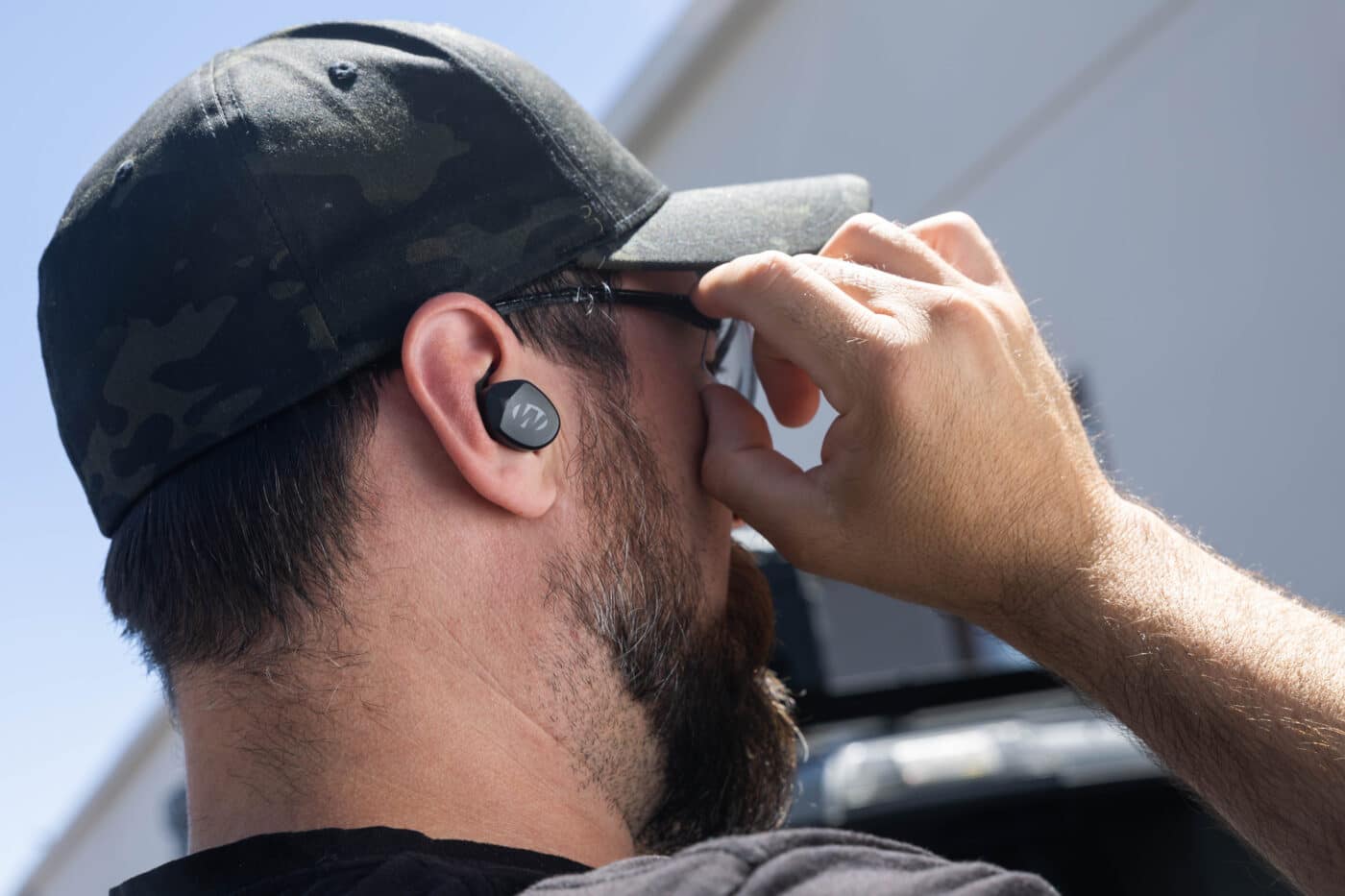 The matte black earbuds themselves feel very substantial and feature a clean, angular design style that looks very cool. Fitment wise, the kit comes with multiple size rubberized plugs, so choose yours according to what offers a snug and comfortable fitment. This is essential to ensure the buds are not loose and that the actual sound reduction is optimal and effective.
The rubberized "hook" portion of each earbud pressed and held within my ear easily and comfortably, and during exercise and slinging and unslinging my rifle I had no issue with the buds coming loose or sticking outside of my ear so far that they got caught during such maneuvers and activities.
Charging Case
The sturdy plastic charging case contains a recharging battery cradle case with a USB plug that keeps these earbuds clean, secure and charged. Just slide open the case, insert the earbuds, and close it up to charge. A red LED light will appear when the buds are charging and will turn off when charging is completed. Also within the charging cradle is a small cleaning brush so you can get the gunk off of your buds after each use. Use the small micro USB port on the side of the charging case with the included charging cable to connect to any USB charging port to recharge the case.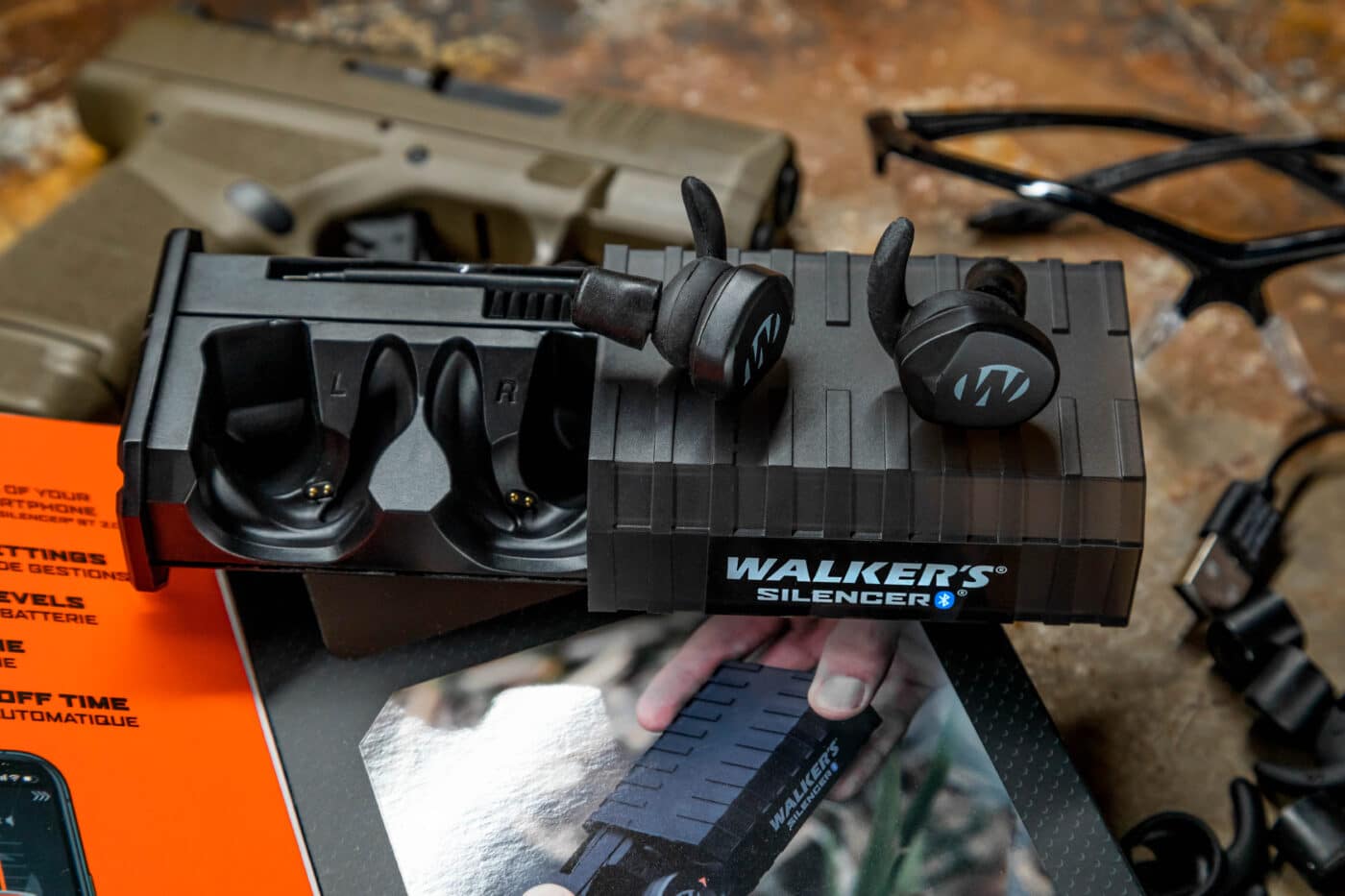 The earbuds and case themselves are pretty straightforward, feel rugged, and for me were fairly intuitive. In my experience, the charging case will recharge your earbuds a few times and a full charge from the case is detailed in the manual as providing 10 hours of life. I never wore the earbuds long enough in a single session to test the total runtime in a single go, but they did seem to average that amount of usage over multiple wears throughout the week between both casual use and range use.
Use and Functions
To activate the touch-sensitive earbuds, simply press and hold down on the Walker logo on the face of each L/R unit for a few seconds. You will hear an audible chime and then a voice saying "Walkers", which indicates they have been powered on successfully. You can then swipe up or down on that same surface to adjust the volume accordingly.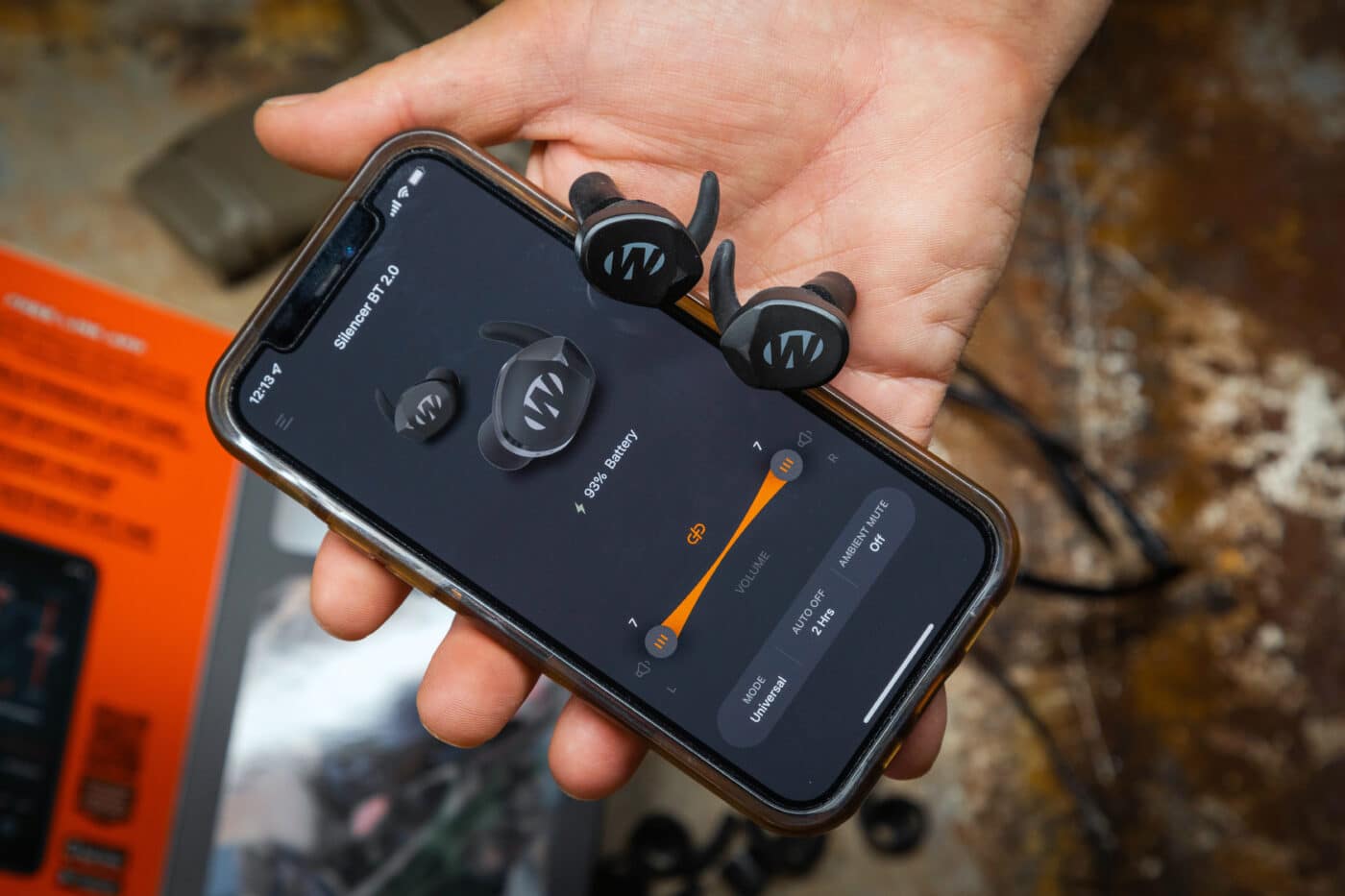 On the "right" earbud you can control its four modes by double-tapping it on the surface to change modes (or "sound profiles"). These profiles include "Universal", which attenuates every sound at all frequencies universally, as the name implies. "Clear Voices" helps you hear speaking and instruction while minimizing all other frequencies and regulates sudden changes in volume, e.g. gunshots. "Power Boost" boosts everything while regulating and attenuating unsafe volume changes and frequencies. "High Frequency Boost / HF Boost" is a neat mode, as it helps enhance the high frequency "ringing" of steel, which is great for long-distance or precision rifle shooting on steel so you can hear the impact at distance.
Additionally, when listening to music, you can also skip to the next song on your app by double tapping on the left ear bud, skip to a previous track by short-pressing the BT button three times, or pause music by tapping the touch zone during playback. Controlling phone calls operates in a similar way, allowing you to answer calls by tapping the touch zone, reject by pressing and holding the touch zone for one second, or ending a call by tapping the touch zone. It takes a little getting used to but is genuinely intuitive when you are wearing them for just a short period of time.
During my usage at the range and for conventional listening purposes, the earbuds mitigated and regulated sudden loud noise very well. They were comfortable, unobtrusive and effective, and I experienced no glitches during use. The units operate really well as standalone hardware, but they offer an enhanced experience via the mobile app, which lets you control the full feature set and capability of the system.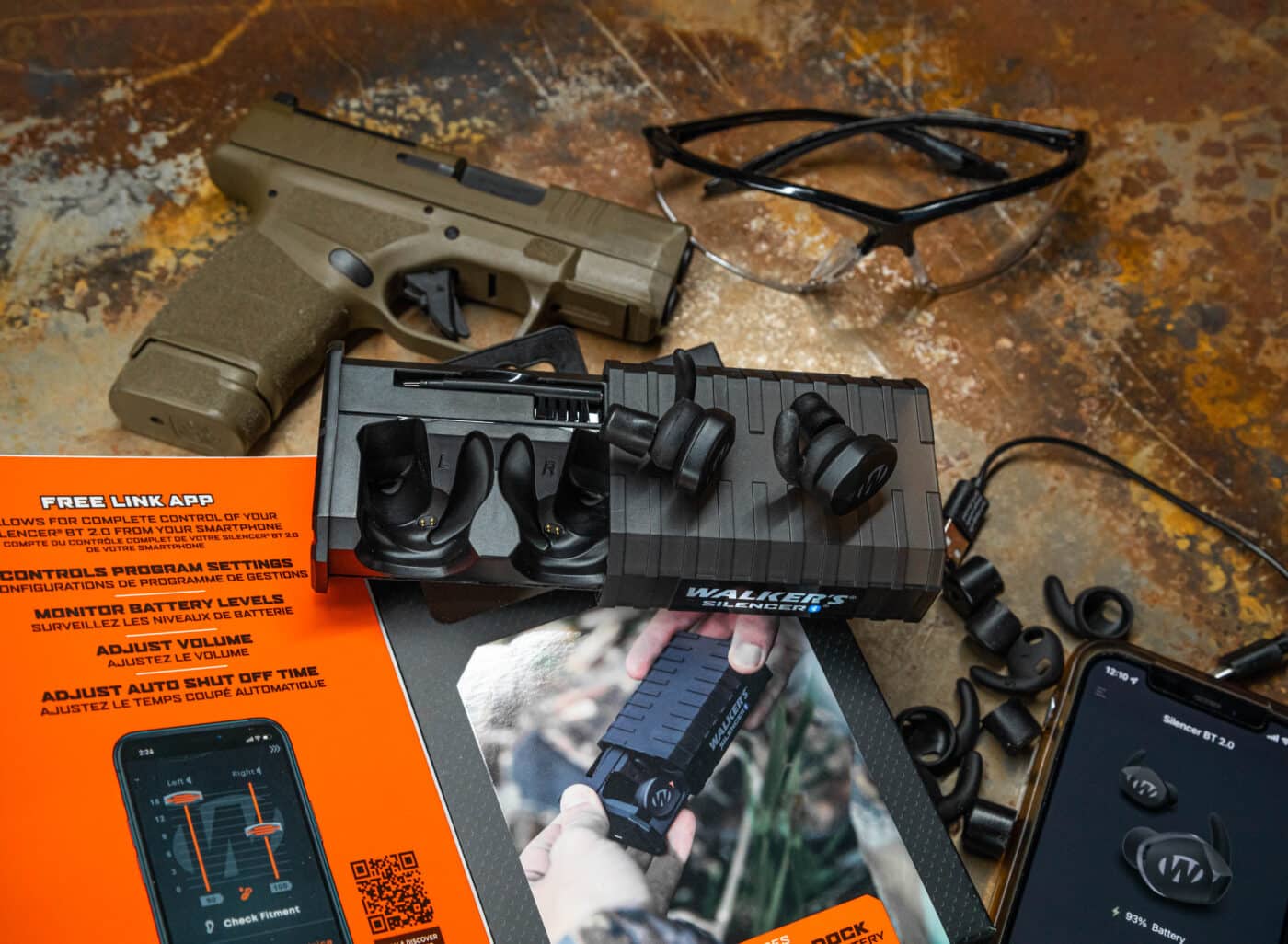 The app is cleanly designed and easy to use, intuitive and straightforward. You can control the connection and audio level of each earpiece (R/L) independently as well as select the sound profiles of the pair. One feature that stood out and I definitely will benefit from is the auto shut-off function, which allows you to choose between two, four or six hours for auto shut-off, and will help me conserve battery life.
Walker's Silencer BT 2.0 Earbuds Specifications
Bluetooth 5.0: improved battery life and wide connection range
Much more stable left/right earbud connection
Touch button controls
SAC (sound-activated compression)
Dynamic wind noise reduction
Variable gunshot suppression
Voice prompts
Auto shut off
NRR — 24db
Battery — rechargeable lithium battery + rechargeable lithium battery in dock
App supported — yes
Takeaways
After running the Walker's Silencer BT 2.0's for a few months, they have proven to be fantastic earbuds in general and very effective hearing protection as well. I really enjoy the comfort of not having to wear earmuffs, particularly for precision rifle shooting and forming a positive cheek-weld in instances when shooting without suppressors in place. The sound quality is excellent in general for music and phone calls.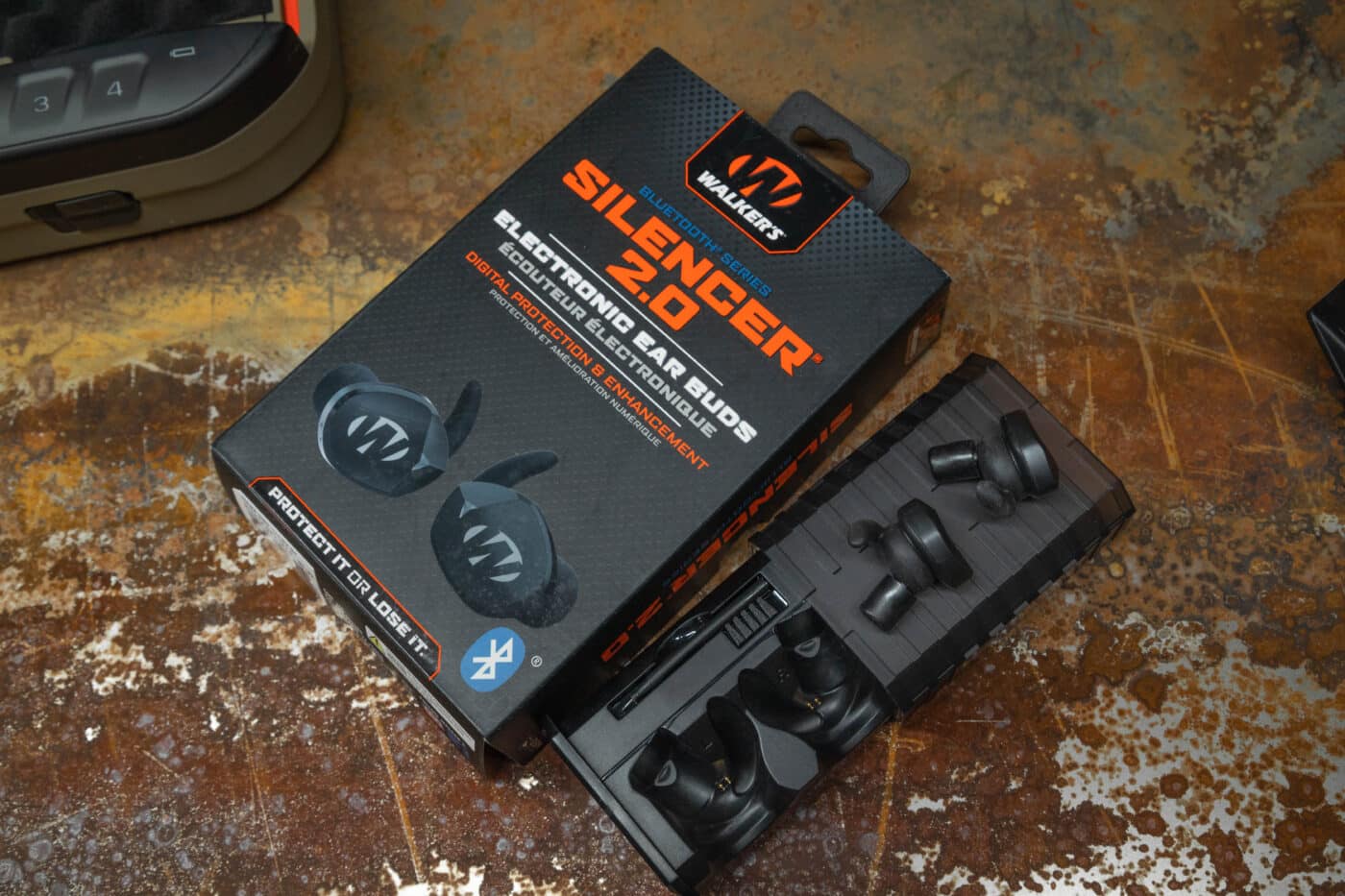 The Walker's Silencer BT 2.0 earbuds are great for using while working out, while operating power tools, and of course, for enhanced capability for use during training at the firing range. Being able to answer a call from family or my office while not having to remove my ear protection is a bonus as well for me in all situations.
The battery life is excellent and the charging case that not only keeps your gear stored, clean and organized but also charges the two earbuds, is a huge benefit and makes this a very formidable package. The Silencer BT 2.0 has an MSRP of $319.99, and all things considered and for the multi-scenario capability offered, I think the value is definitely there.
Editor's Note: Be sure to check out The Armory Life Forum, where you can comment about our daily articles, as well as just talk guns and gear. Click the "Go To Forum Thread" link below to jump in!
Join the Discussion
Featured in this article
Continue Reading
Did you enjoy this article?
71