When You Need a Red Dot
October 15th, 2019
4 minute read
Editor's Note: This is part two of a three-part series on sighting options for your rifle. The first entry covered iron sights, while this part considers when you want a red dot. Part three touches on rifle scopes.
While we considered the merits of the often-underrated iron sight last week, this week we will discuss the usefulness of red dot optics. While some people who have not jumped on the bandwagon of red dots might view them as a gimmick, I can assure you they offer more than you might think. Red dots can be useful for individuals who may have vision impairments or wear glasses because there's no need to focus on three points — the rear sight, front sight and the target you are engaging. For some people, having to focus on three varying points can be very difficult. Instead, you can have a singular focus on a red dot overlaid on your target.
Real-World Applications
Red dots can be extremely useful for close-quarters target engagement, whether for a competitive league event, recreational shooting or self-defense. Instead of taking the micro-seconds to align a rear sight over a front sight, you can more quickly obtain a sight picture of a singular red dot over what you are shooting. Moreover, wherever a red dot appears, regardless of the shooter's orientation or symmetry to the target, they will accurately hit.
Red dots may appear to "float" within the optic and that is a result of the red dot correcting for a shooter's angle or level at which they are aiming. Wherever the dot appears, you will hit. This is a result of the effects of reduced parallax in non-magnified red dot optics. But, putting aside the tech-speak, the end result is that no matter where the dot may appear in the optic, it will be on target downrange. No need to perfectly center it. Simply get the dot on the target and press the trigger. For additional information, see our article "The Problem with Parallax."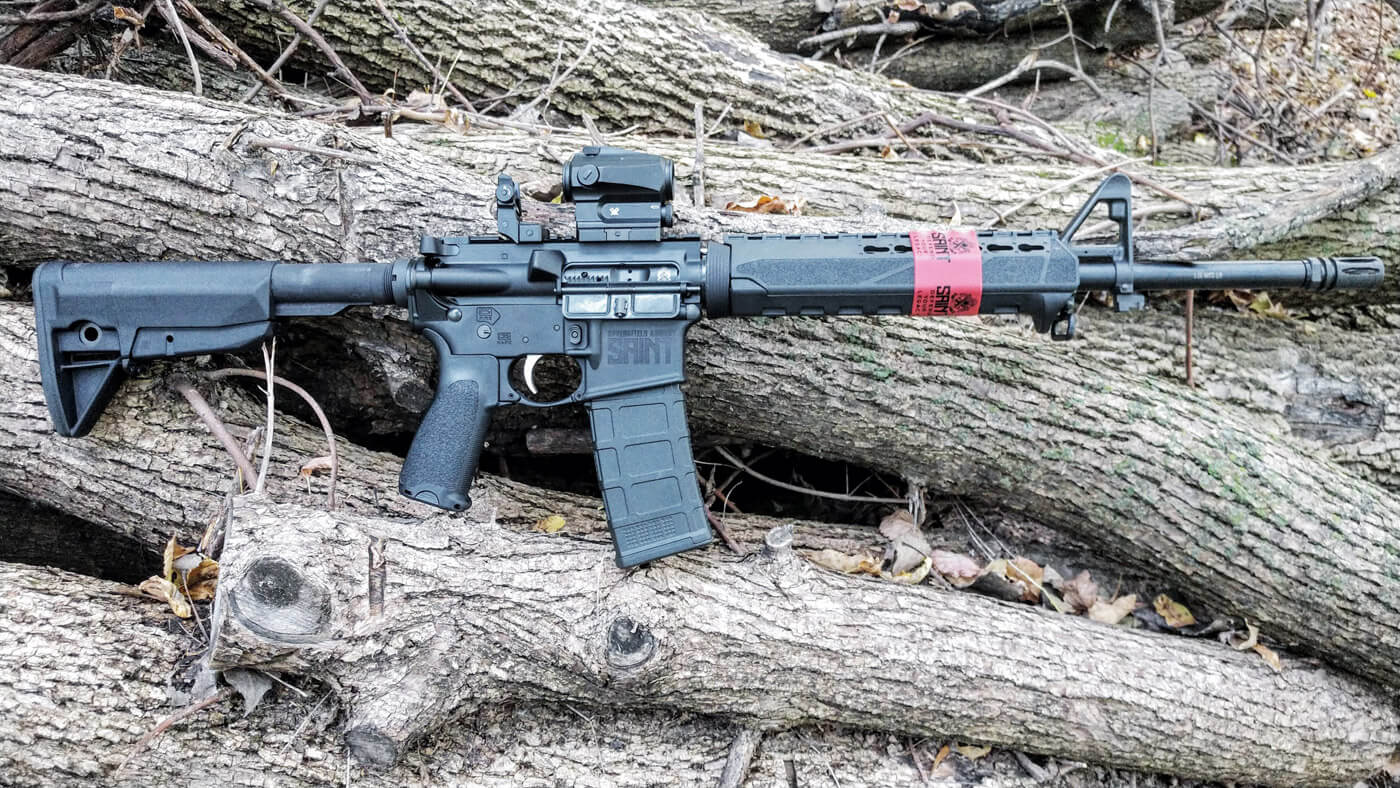 Another valuable benefit to red dots is their ability to provide good contrast in low-light situations. When iron sights may not be visible during dusk, dawn or overcast conditions, even to an individual with perfect vision, a red dot can create enough contrast to safely and successfully engage a target. Black iron sights on a dark silhouette may make placing a safe shot difficult because you don't know precisely where on the silhouette you are aiming. A red dot will crisply and definitively show you your reference point.
Pros and Cons
One downside that should be considered for red dots is a need for batteries. The batteries themselves are usually cheap and the battery life of most red dots are improving exponentially to have a working lifespan of one to two years or even more. Even so, you may want to have extra batteries squirreled away in the pistol grip of your rifle or your pocket just in case.
One tactic people will employ if they fear their red dot dying is to co-witness a red dot with their iron sights. The act of co-witnessing is to align their rear iron sight peep through the optic and to the red dot which is covering their front sight post. This triple-alignment assures you are as level and in line with your target as possible. If you happen to break your red dot or its battery dies you simple continue to shoot with your iron sights. This safeguard method is used by a lot of people, and they will flip down their rear sight if that sight picture appears "too busy" to look through.
Another advantage with red dots is their capacity to allow the user to have greater spatial awareness around them while shooting. Since you are not tunnel-visioned or intensely focused on a front and rear sight, only the red dot, you can take in your complete peripheral vision and see everything occurring around you. This can be highly valuable in defensive situations so you are not blindsided.
As you can see from part one and part two of this series, you have a lot of benefits to both iron sights and red dots when shooting with your rifle. Be sure to watch for part three of this series where we will cover the pros and cons of deploying a rifle scope on your rifle versus iron sights or a red dot. Be safe out there and happy shooting!
Read part one: Why You Need Iron Sights
Read part three: Do You Need a Rifle Scope?
Join the Discussion
Featured in this article
Continue Reading
Did you enjoy this article?
149