The struggle is real. You have your eye on just the right handgun for self-defense — you've done your research and carefully read the reviews. You know which gun is right for you and your family to rely on in an emergency. But you live in a state where a limit has been placed on how many rounds of ammunition your magazines may hold, and the gun of your dreams holds too many.
Just a few years ago, these comments would have been focused on residents of just a few well-known states in the U.S., but unfortunately far too many of you these days are shaking your heads in acknowledgment of these words. Count me among your number, as the state I live in has also made very serious infringements upon the freedom of its residents.
But, let's allow those dark clouds to part for a moment and focus on some good news for those of us who reside in heavily regulated places. When Springfield Armory released the Hellcat Pro, it was the Goldilocks pistol for many — the slim dimension of the famous Hellcat, with a slightly longer slide and barrel… and… 15 round magazines! That last spec made it unobtanium for many people, because several states prohibit magazines capable of holding in excess of 10 rounds. The pistol simply could not be shipped to, nor sold in such places.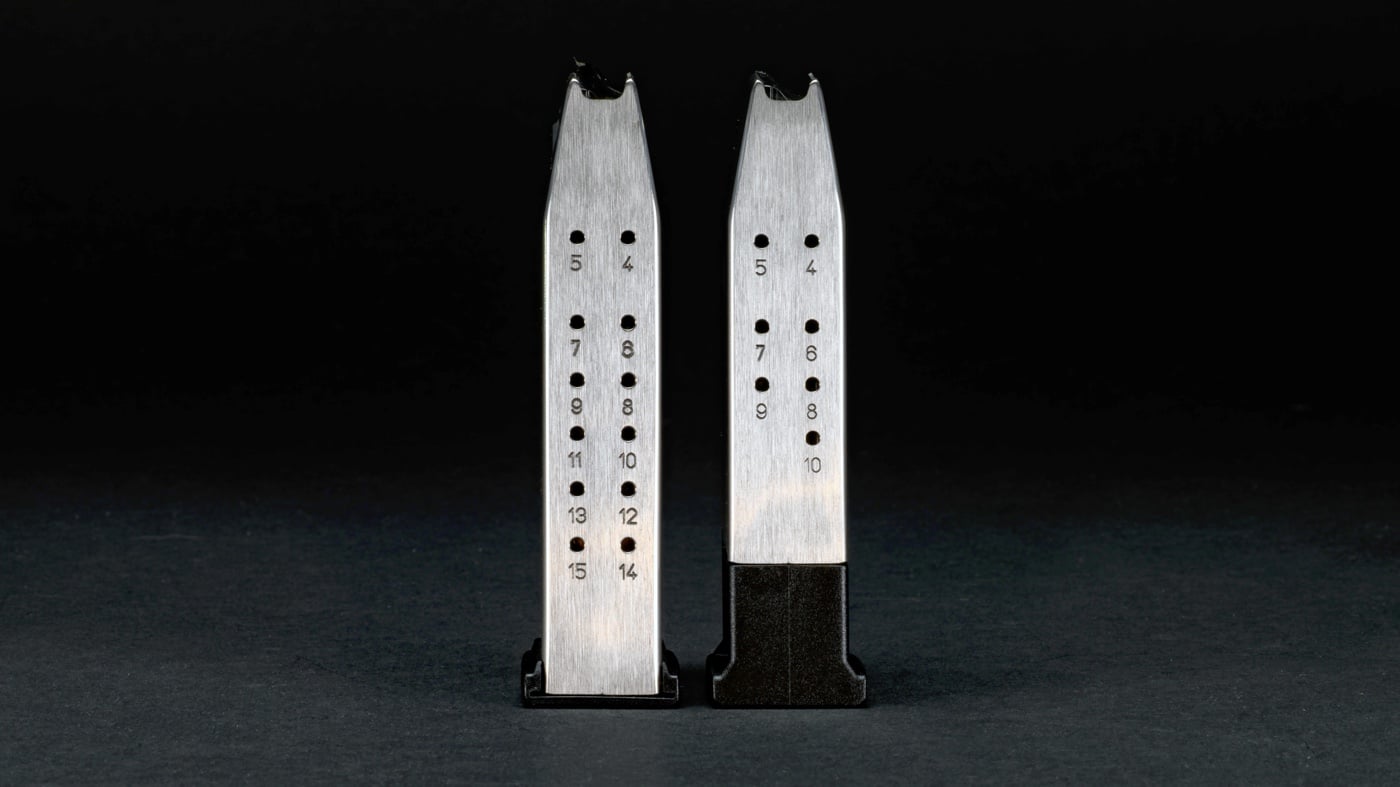 But now, the very popular and reliable Hellcat Pro is being offered in a compliant 10-round version. Same Hellcat Pro, with all the same specifications, but with two magazines that will hold 10 rounds each. If you never glanced past the "capacity" line on the spec sheet because of the above situation — now's your chance to catch up. Let's take a look at the Hellcat Pro.
Build and Features
The striker-fired, polymer-framed Hellcat Pro was designed to bridge the gap between the micro 9mm Hellcat pistol and larger duty-sized guns. Capacity was a consideration, but not the only one — and isn't the only reason that the Hellcat Pro makes sense. The longer 6.6" slide offers balance, additional sight radius to help improve accuracy, and some reduction in felt recoil.
The taller 4.8" grip frame allows even your uncle with the big farmer's hands to wrap all five fingers around it without a dangling teacup pinky. Having all your digits on the handle of any tool gives you better control. And retaining its 1" slim width makes it very comfortable to carry and conceal.
Of course, it's a Hellcat — which means that it has one of the best triggers in the business. It's light and crisp with excellent tactile feedback at the reset. The standard sights of the Hellcat are among my very favorite. The U-notch rear that is nicely outlined along with the large and bright yellow front dot is very fast and natural to acquire. There is even a Tritium insert in the front sight for night use.
And because the Hellcat Pro is optics-ready, you can take it to the next level with a red-dot sight like the Shield SMSc. The slide cut is low enough that these sized optics and other electronic sights will allow co-witnessing with the fixed sights — something that I personally find essential for a carry gun with a red dot.
Rounds Down-Range
When it comes to shooting the Hellcat Pro, the proof for me lies not in the pudding, but on the target. An ergonomic masterpiece, the Hellcat Pro is like an extension of the hand, with the controls in just the right places.
The trigger is, as mentioned, light and crisp, which keeps your front sight steady while you pull through the break. This translates to accurate and consistent shot placement. From 10 yards I was able to put 20 rounds into a tight and centered group, with just two or three that strayed but ½" above. I did my shooting standing in my usual stance, off-hand. No rest or bag — because for me it's not about the mechanical accuracy a gun is capable of — it's about how that gun and I can perform together. For me, it is usually: feel; sights; trigger.
A lot of guns score two out of three, but the Hellcat Pro gets the trifecta. If I shoot it well, it gives me confidence — an important ingredient in carry gun choice. Another benefit is that the 10-round magazine is physically the same dimensions as the 15-rounder. This made for efficient reloads, with much more material to grasp than some single-stack or shortened 10-round mags, which can be easier to fumble — especially under stress.
Conclusion
The Hellcat Pro is a top choice for me when it comes to carry guns. I'm glad to see Springfield Armory offering it in a 10-round compliant package, because that now makes it available to millions of Americans who could not previously own a Hellcat Pro. It is also worthy of note that the 15-round magazines and 10-round magazines are fully compatible and interchangeable with one another. So, if you find yourself on greener pastures in the future, you can easily raise your round count. Meanwhile, living in a state where you have the restrictions in place is no longer a barrier to owning one of the best self-defense handguns available.
Editor's Note: Please be sure to check out The Armory Life Forum, where you can comment about our daily articles, as well as just talk guns and gear. Click the "Go To Forum Thread" link below to jump in and discuss this article and much more!
Join the Discussion
Featured in this video
Continue Reading
Did you enjoy this video?
107