Understanding the Hellcat
U-Dot

Sights
October 4th, 2019
5 minute read
Let's be frank. There are so many cool things about Springfield Armory's new 9mm Hellcat, it's hard to decide where to focus. From its 11+1 capacity in a stunningly compact gun to its excellent grip texture to its streamlined design, there's a lot to talk about here.
But if there's one thing that seems to have really caught everyone's attention, it's the pistol's ability to accept micro-sized red dots on the OSP (Optical Sight Pistol) version. There's no getting around the fact that being able to cram a little red dot like the Shield RMSc onto a gun this size is remarkable.
But what about those sights backing up that red dot, featured on both the OSP and standard versions of the Hellcat? In my opinion, these "U-Dot" sights are one of the coolest features of the new pistol.
The name of the sights should give you an idea of how they are designed: a front night sight surrounded by a photoluminescent ring matched to a U-notch rear sight.
Setting Your Sights
To be honest, I've only recently started getting into customizing my CCW guns. For years, I would stick with "stock" guns only. However, over the past few years I've started adding/changing things here and there, and slowly warmed up to more thoroughly customizing my guns. And one of the first things I would change out was the sights.
What I wanted was a good set of tritium night sights, preferably with a high-visibility ring (in a bright color) around the night sight dot. This would give me a sighting system that would offer high visibility in the bright sun, as well as night sighting in low-light.
I'll tell you from personal experience that getting a good set of Springfield Hellcat night sights like this would normally set you back something in the range of at least $100 — and often $150 or more.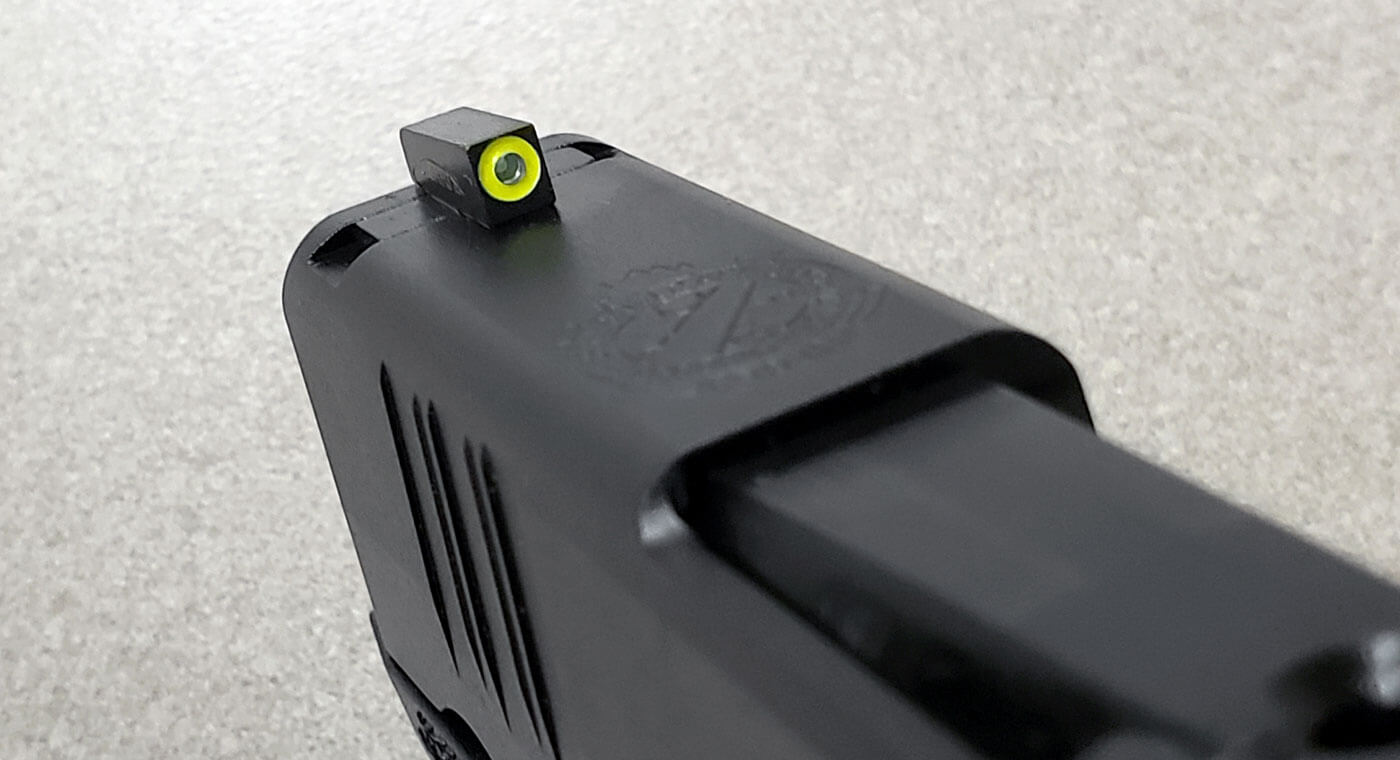 Which brings us to the Hellcat's U-Dot sights. These things are exceptional, and rival many of the aftermarket sights I've used over the years. Factoring in the $569 MSRP of the standard Hellcat (and $599 for the OSP version), these sights alone in my opinion make the gun a smart buy.
The U-Dot's front sight is a tritium night sight dot surrounded by a bright green luminescent ring. For me, this is ideal as it gives me the best of both worlds.
The green ring around the tritium dot gives me a large, easy-to-see aiming point in bright light for fast, instinctive shooting. And the tritium dot gives me a reliable aiming point for the pistol in diminished light. In low light conditions, a front night sight can be a literal life saver.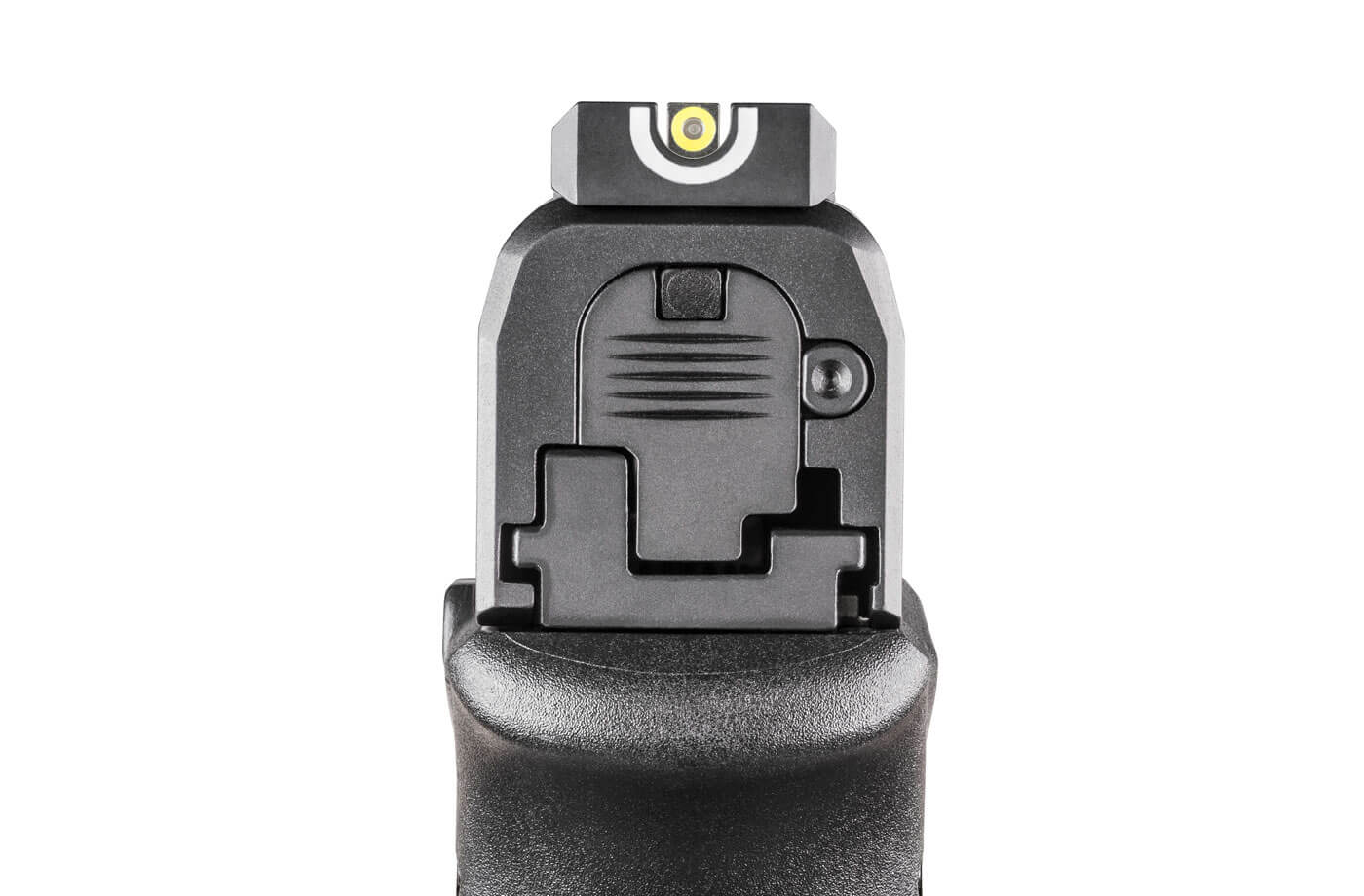 U-Dot

Gets You On Target

Speaking of fast, instinctive shooting, let's talk about the rear sight. The "u" of the U-Dot system is located here, and it's exactly what it sounds like. The white outline on the rear sight is a "u" shape following the semi-circle notch in the rear sight.

To use, you basically "drop" the round front sight into the u-notch of the rear sight. These sights are not designed for bullseye shooting at 25 meters, but rather for quick and reactive shots at a threat. That being said, the Hellcat is proving to be an extremely accurate shooter that can hold its own at distance.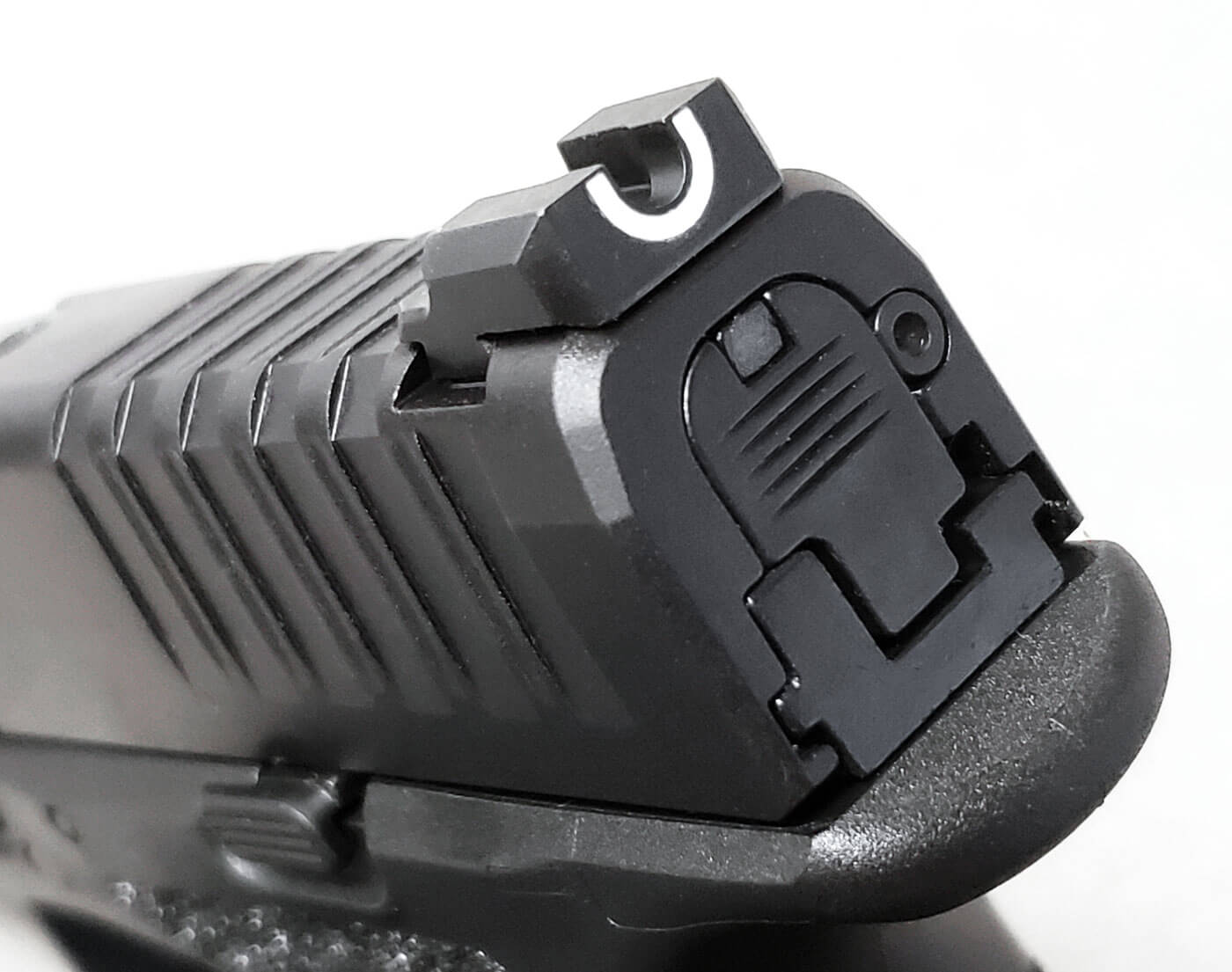 I've run these Springfield Hellcat sights on my pistol for several months now, and I really like the u-notch rear sight. The visibility and speed are unmatched.
In addition, the rear sight also has a "Tactical Rack" ledge on its front face. This feature is quite in vogue these days on defensive handguns, offering a shooter the ability to rack the slide with one hand against a hard surface should your support hand become incapacitated.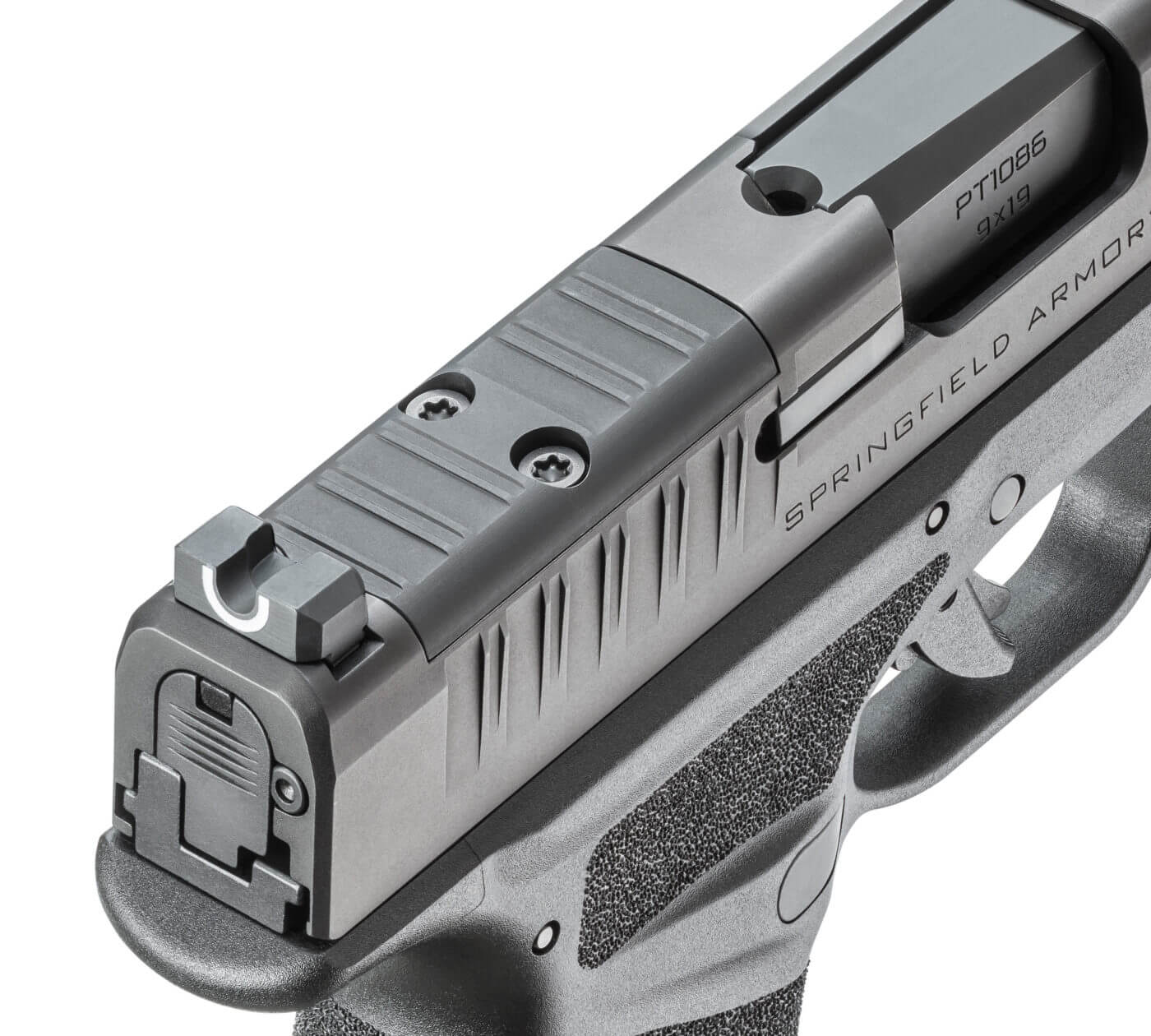 The fact these sights are high enough to co-witness through a micro red dot like the Shield RMSc on the OSP version might lead you to believe they are tall "suppressor-height" sights, or that they are different heights on the standard versus the OSP versions. No dice. The sights on both models are very low profile, with the only real difference between the two being the rear sight on the OSP model having a shorter front-to-back length to allow room for the optic mount. It is also mounted slightly farther back on the slide than on the standard model.
Conclusion
Like I said, I get why so much attention has been focused on the OSP model and its micro red dot capability. But these Hellcat night sights on both the OSP and standard model are exceptional and show how much thought was put into the design of the Hellcat.
These sights are low-profile, high-visibility, capable in bright and low-light, and come standard on a very reasonably priced gun. Looks like I don't have to install anything new on this carry gun as, for me, they are the best sights for the Hellcat currently available!
Join the Discussion
Featured in this article
Continue Reading
Did you enjoy this article?
727