Full disclosure, here. I normally carry full-size guns for CCW. I prefer the increased capacity, enhanced shootability and superior adaptability of bigger guns and simply accept the added weight, bulk and discomfort as the price of doing business.
But then I undertook this Springfield Hellcat review and my mind may be forever changed.
Although there are many little guns I like, the relative trade-offs in capabilities with them always pushed me back toward bigger guns. With the Hellcat, the typical trade-offs seem to have disappeared.
Let's get into what features I consider essential to be the best CCW 9mm pistol and where I think the Hellcat ranks as compared to a larger gun.
Best CCW Pistol Features
To switch, all I needed was to find a gun with all the features of a full-size pistol, but small enough for comfortable carry.
Easy, right? Not so much.
It was always basic physics that seemed to get in the way. That is, until now. It seems there's a pistol that might just offer the best of both worlds — full-size capabilities and CCW-ready dimensions.
Some of the features I deem to be important in a CCW gun include:
Reliability
Powerful caliber
High capacity
Good sights, preferably with the option of having a red dot sight
Easy to shoot
Accuracy
Backed by a company/warranty with a solid reputation
The Hellcat ticks all of these boxes.
Beating Physics?
The Hellcat is the new CCW pistol from Springfield Armory. Chambered in 9mm, the new gun packs 11+1 rounds into a flush-fitting magazine and even more into an included extended mag.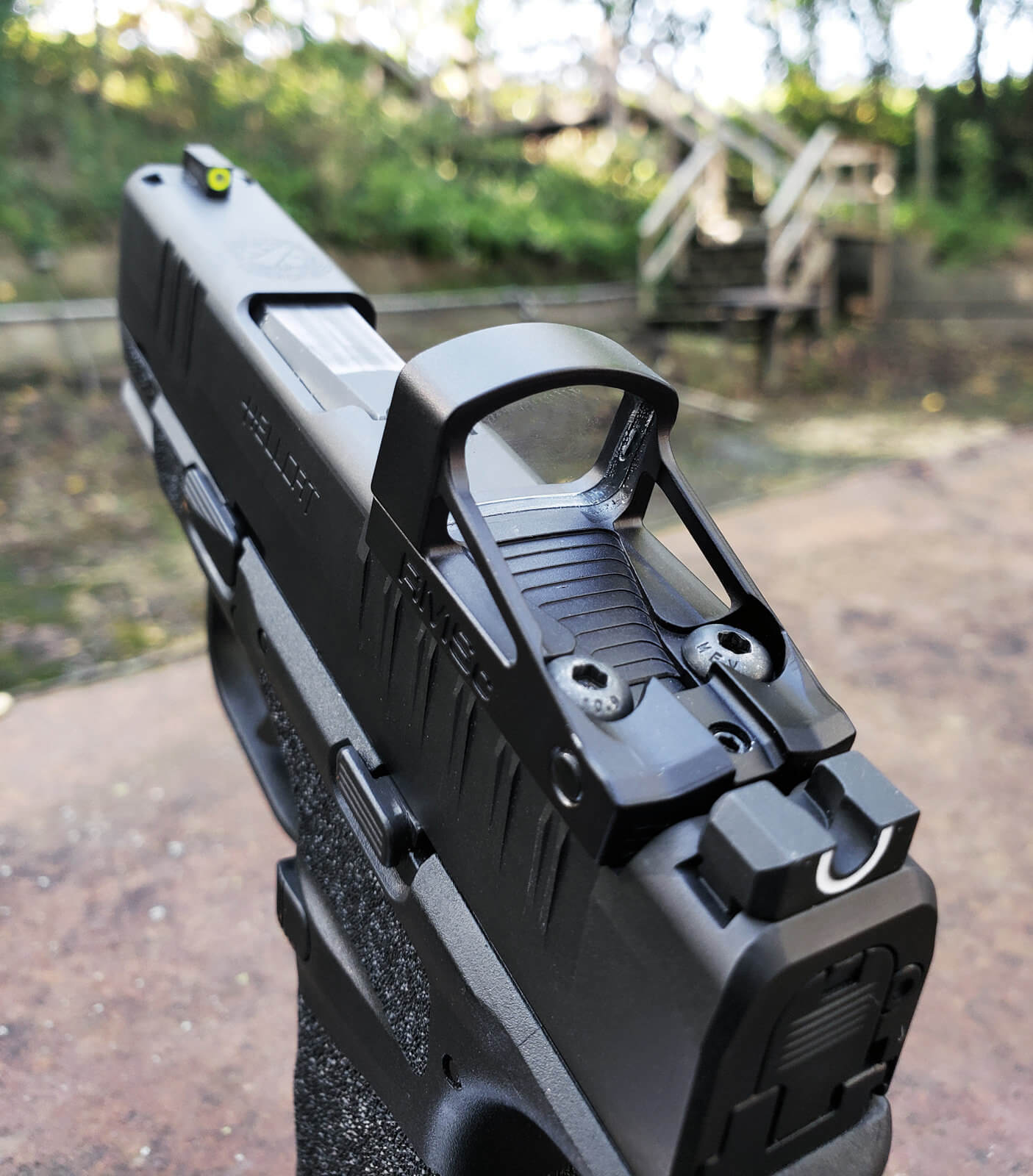 While I know there are a lot of .45 ACP and 10mm fans out there, I think most people would agree that the 9mm is a potent self-defense cartridge. With modern self-defense ammunition, I feel it is plenty powerful enough to handle any two-legged predator.
Packing up to 14 rounds (13+1) into such an easy to conceal package is mind blowing.
The development of this seemingly physics-bending compact pistol was, in the words of Springfield Armory CEO Dennis Reese, "shaped by a singular mission — to deliver the ultimate concealed carry handgun."
Did Springfield succeed? Let's take a look and see. Also, be sure to check out my full video review at the top of this page.
Standing Apart
While the micro-compact semi-auto pistol market is packed with options, the new +P rated Hellcat sets itself apart with some very unique features. But first let's discuss its dimensions so you can appreciate how small it is.
The pistol weighs around 18 oz., has a short 3″ barrel and is a mere 1″ wide. Yet within these tiny dimensions the pistol packs an impressive 11-round capacity within its patented magazine — and bumps it up to 13+1 with the included extended magazine. Springfield describes it as "the world's highest capacity micro-compact," and I haven't been able to identify an alternative to refute that claim.
In addition to its impressive capacity, the Hellcat is also capable of accepting micro red dot optics such as the Shield RMSc and the JP Enterprises JPoint.
While the pistol is offered in a standard model with iron sights, the OSP version features a removable cover plate and the ability to mount optics directly to the slide. As a result, optics sit low enough to allow co-witnessing the irons with the red dot.
Pricing of the two models? The standard has an MSRP of $569, and the OSP model bumps the price up a mere $30 to $599.
Speaking of the iron sights, both versions come standard with Springfield's U-Dot sights, which features a deep U-shaped notch rear — with a "tactical rack" for one-handed cycling of the slide — that mates up with a tritium front dot surrounded by a luminescent ring.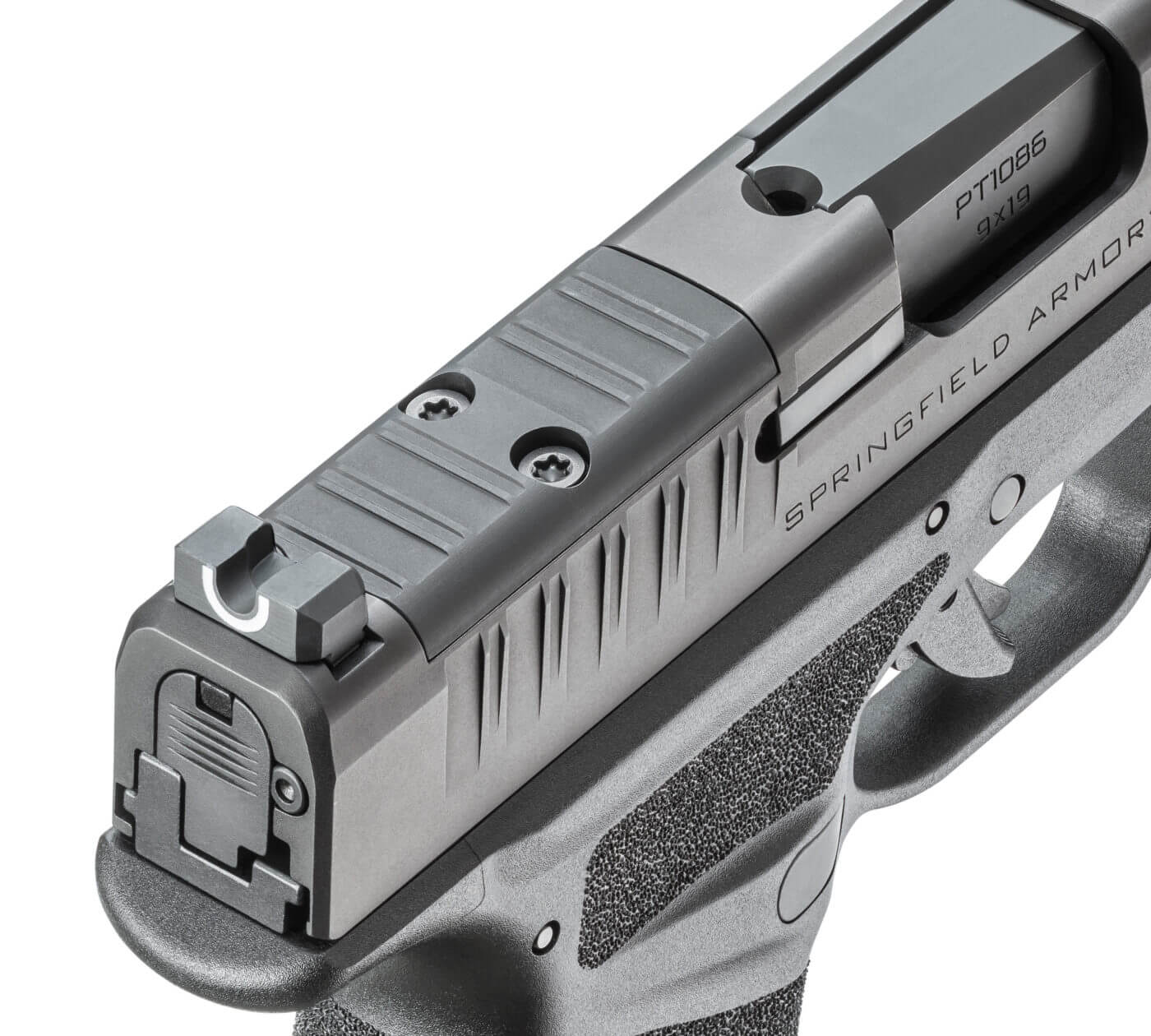 The slide sports forward and rear cocking serrations, with the rear ones wrapping up over the top of the slide, both on the standard and also on the cover plate of the OSP model.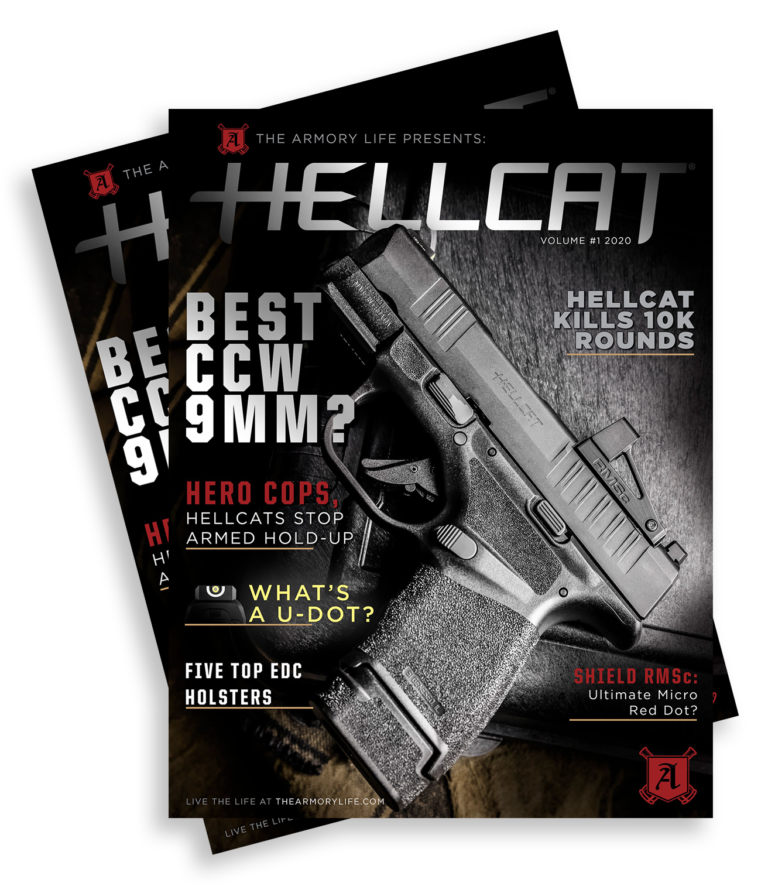 While we're discussing the slide, it's worth mentioning both it and the hammer-forged barrel are Melonite-coated inside and out for corrosion resistance and increased durability.
A loaded chamber indicator is made up of a "witness" hole in the top of the slide/barrel, and the front face of the full-length guide rod sports a "stand-off device" designed to prevent the pistol from going out of battery if the muzzle is pushed up against a target.
In regard to the frame, the Hellcat has lots of really nice enhancements. It sports Springfield's "Adaptive Grip Texture," a texture with a staggered pattern of short and tall pyramid shapes designed to combine comfort against the body with a secure hold in the hand.
It achieves this through an alternating pattern of flats on the tall pyramids for comfort and points on the short ones for grip.
An undercut triggerguard and high-hand beavertail situate the pistol low in the hand, and a reversible mag release gives a kind nod to all us southpaws out here. A short strip of standard rail on the dustcover rounds out the package.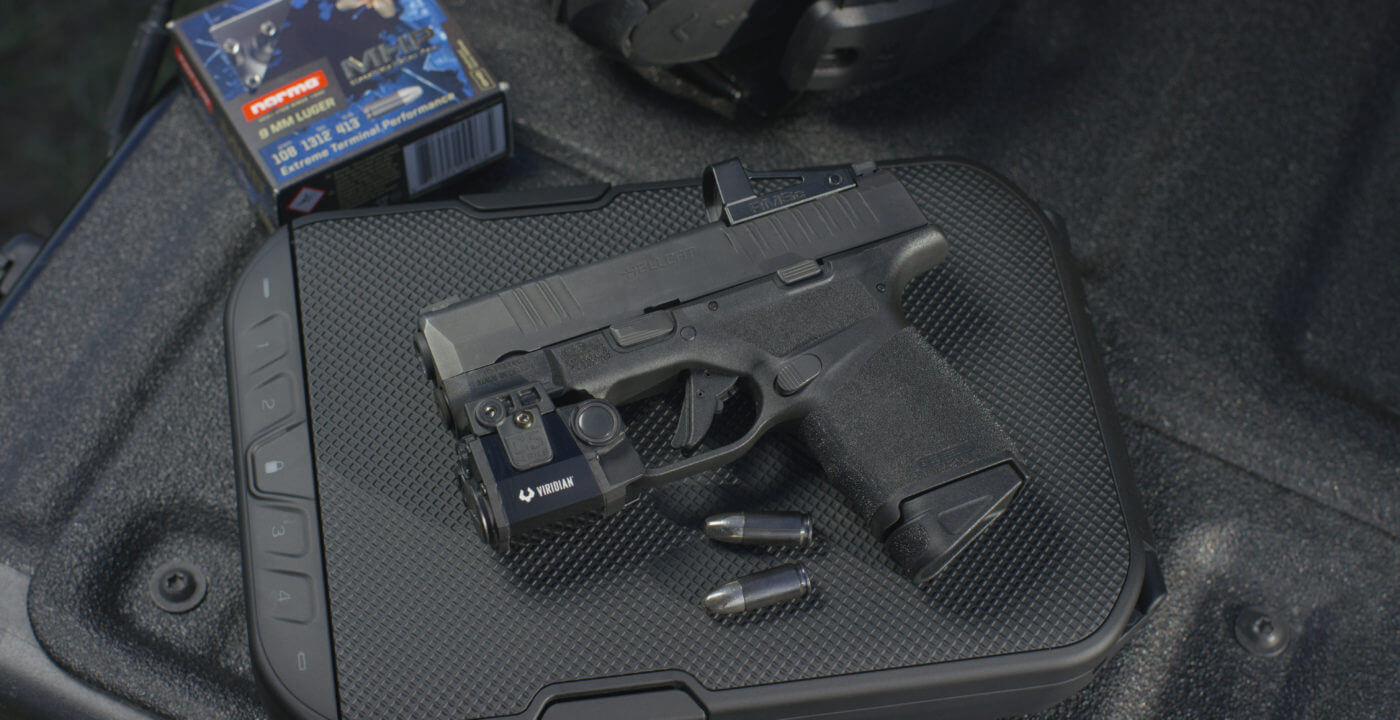 A New Direction
Anyone familiar with the XD series of pistols might wonder if the Hellcat is a new addition to the XD line. It is not, but rather a totally new design direction for Springfield Armory.
Key giveaways to this difference are the lack of a grip safety on the Hellcat as well as a lack of the pivoting loaded chamber indicator found on the XD.
This very fact was spelled out in press material included with the pistol, with a note from Springfield Armory CEO, Dennis Reese, stating that the Hellcat is "…the first step in a new direction for Springfield Armory polymer handguns…"
Hands On
My test sample of the Hellcat was an OSP variant topped off with a Shield RMSc red dot. I put several boxes of American Eagle 9mm 124-gr. FMJ, Black Hills 125-gr. Honey Badger and several other assorted defensive loads through the Hellcat on the range and didn't have any malfunctions.
| | | |
| --- | --- | --- |
| Ammunition | Velocity | Energy |
| Black Hills 125 gr. HoneyBadger | 998 fps | 276 ft-lbs |
| Federal American Eagle 124 gr. FMJ | 1,044 fps | 300 ft-lbs |
| Federal HST 124 gr. +P JHP | 1,086 fps | 325 ft-lbs |
| Speer Gold Dot 147 gr. JHP | 971 fps | 308 ft-lbs |
How accurate is the Springfield Hellcat? Very accurate, as it turns out. I consistently rang 6″ steel plates at 25 yards with the pistol. Closer in, the groups were satisfyingly tight.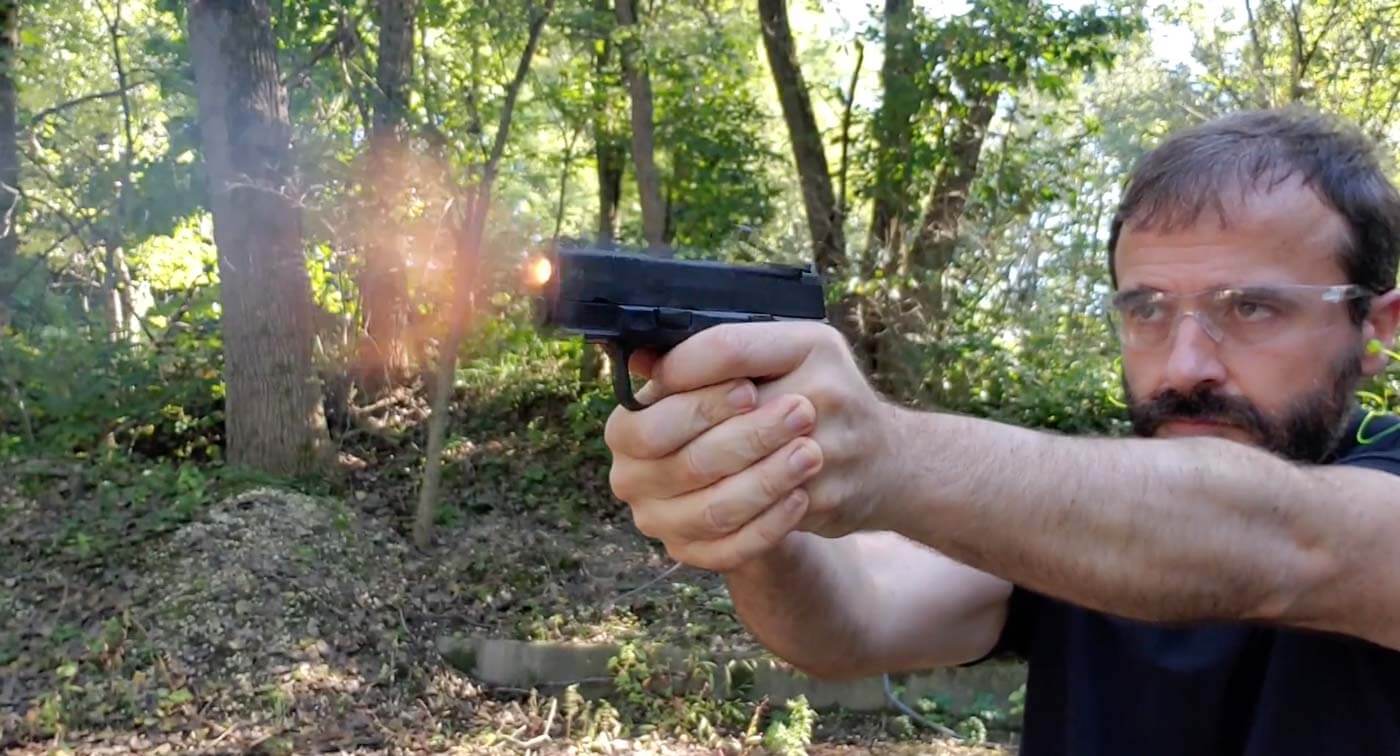 Although the pistol is small and chambered in a somewhat "zippy" cartridge recoil-wise, I found the Hellcat to be very controllable.
Is it like shooting a full-size, all-steel 9mm 1911? Nope. But, for its size and weight, the Hellcat handles extremely well and is very manageable.
As far as sighting went, the U-Dot iron sights matched up very nicely with the mounted Shield optic, with me being able to co-witness with both the irons and the optic easily. However, I quickly switched over to only using the red dot while shooting.
Springfield Hellcat Specs
Type
Striker-fired micro-compact
Caliber
9mm
Capacity
11+1, 13+1 with an included extended magazine
Features
Standoff device, light rail
Barrel Length
3″
Weight
17.9 oz with an unloaded magazine
Grip Width
1″
Sights
High visibility luminescent & tritium front with Tactical Rack

U-Dot

rear
Red Dot Support
Yes, on OSP models
MSRP
$569 – $643
Warranty
Lifetime for the original owner
Conclusion
Well, that's it. Springfield's new Hellcat has made me reconsider my long-held opinion that I only want to carry full-size pistols.
With its capacity, ability to accept a red dot optic and all-around pleasant shooting characteristics, the Hellcat offers the best of both worlds. So I'm definitely going to add one of these new little shooters to my collection. And if you want the best CCW gun around, I suggest you do the same.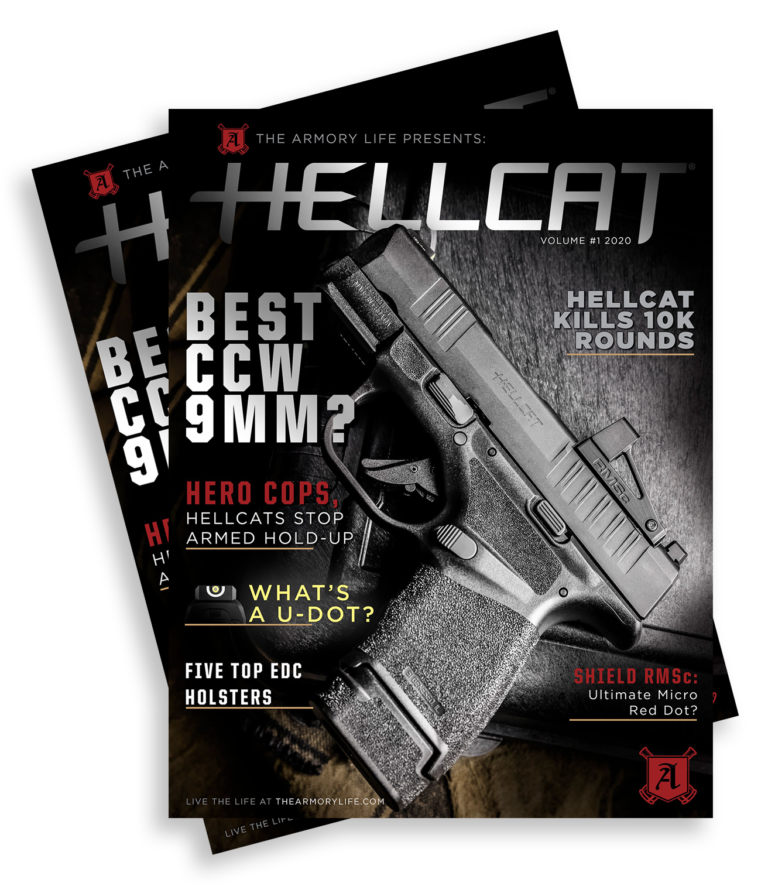 Join the Discussion
Featured in this video
Continue Reading
Did you enjoy this video?
446