Heckuva Hellcat Stage!
December 1st, 2019
4 minute read
It was a lovely October Sunday afternoon in Arizona. Debbie Keehart, my Her Handgun co-founder, and I were hosting our women's monthly practice session. We had a great turnout — probably because it was the first practice since the weather had finally broken — and everyone seemed particularly peppy. After a long, hot Arizona summer, 85-degree temps have that effect on us.
Deb and I are very fortunate to shoot with this group of 15 to 20 women on a regular basis at Rio Salado Sportsman's Club. We are all responsible firearm owners and we all have different skill levels; some are brand spanking new to shooting, others have more experience and have just bought their first belt and holster, and many are already hard-core, totally addicted competition shooters. I can't explain to you just how inspiring it is to watch their confidence grow as they each become more and more competent.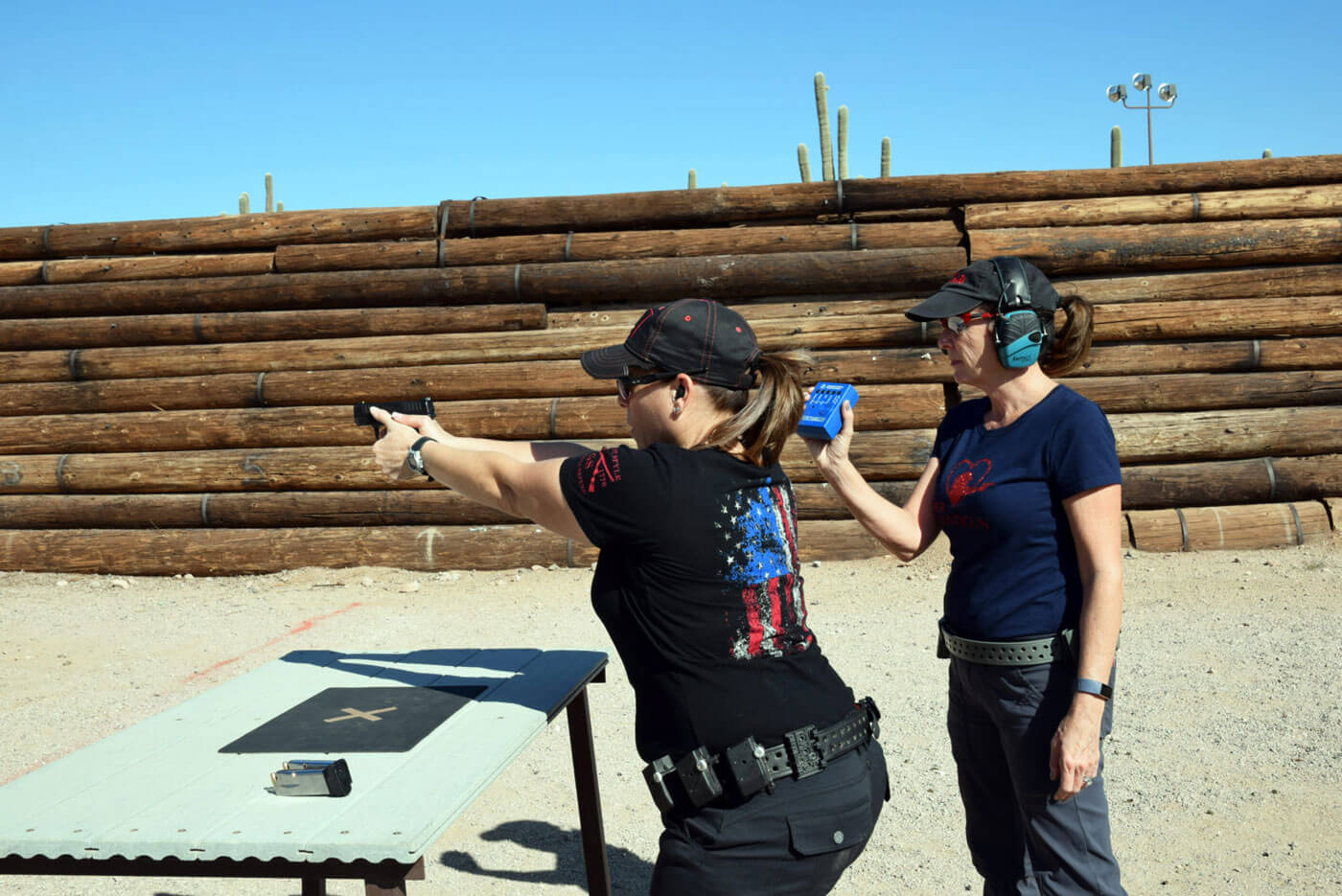 New Cat at the Match
Typically, we shoot our own pistols on all of the practice stages, but occasionally Deb and I will bring out a new firearm for them to try on one or two stages. On this day, I brought Springfield's new Hellcat 9mm micro compact pistol. A lot of our ladies got a big smile on their face when I introduced the gun.
I wanted the ladies to get a feel for acquisition (moving the Hellcat quickly from target to target) and multiple shots on targets — so here's the stage:
String 1
Start Position: Unloaded Hellcat on the "X" on the table, loaded magazines on table with hands flat on table.
Procedure: On signal, retrieve Hellcat and load, then engage targets 1 through 7 with one hit each.
String 2
Start Position: Loaded Hellcat on the "X" on the table, loaded magazines on table with hands flat on table.
Procedure: On signal, retrieve Hellcat and engage targets 1 through 4 with two hits each.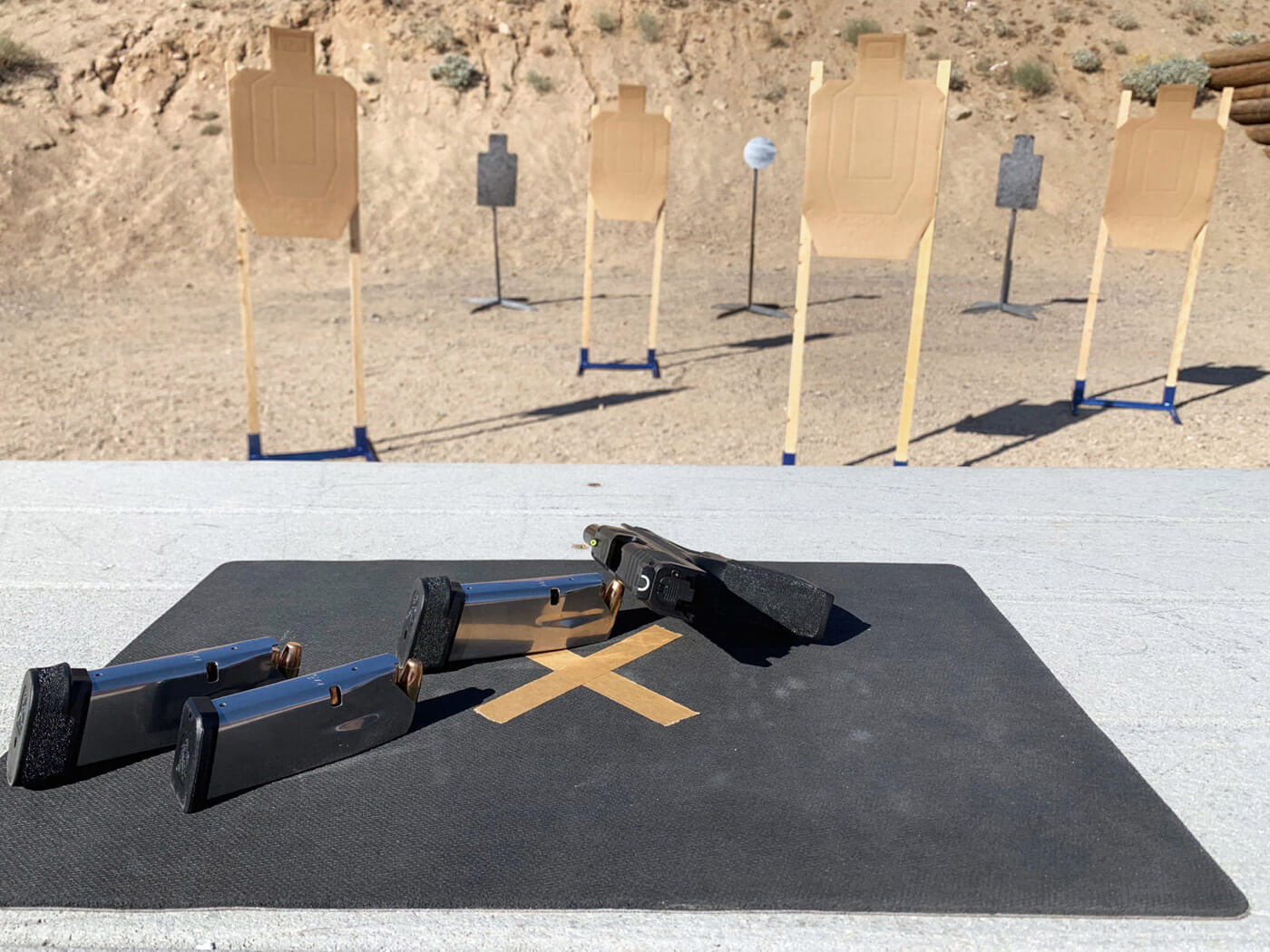 Cat's Meow
As the stage range officer, I got to hear a lot of what everyone said about the gun. Overall, the Hellcat reviews were very positive:
All of the ladies liked how quickly they were able to pick up the

U-Dot

tritium signs (especially as the sun was starting to set). The

U-Dot

sights feature a high visibility tritium/luminescent front paired with a U-notch rear.
Many were impressed with the thin grip width and the impressive magazine capacities (11 or 13 rounds, +1).
Most everyone liked the more tangible/abrasive grip texture, known as the Adaptive Grip Texture, featuring a pattern of staggered pyramid shapes.
Several of our competition ladies commented on the light weight and ease with which they shot the gun (recovered from recoil).
I personally was impressed with:
The trigger feel and weight (and I am super finicky about triggers).
The

U-Dot

sights (LOVED them).
The feel of the grip — it's hard to be too aggressive for me.
The controllability of the recoil and how quickly I was able to shoot accurate shots (the stage targets were from 4 to 11 yards and I didn't drop a single point). Not bragging, just reporting!
Second Swipes
And in closing, I will share the follow-up emails I received from my gals.
"Thanks for letting me shoot the Hellcat, Kippi. I loved the sights; so easy to pick up. Nice fit in hand too (especially with the extended mag – I have big hands) and the weight was good." — Ramona
"As a newer shooter and competitor, I haven't yet had the opportunity to try different types of pistols. The Hellcat obviously is much smaller than my XD-M 5.25, but it was such fun to shoot! And even though the trigger press was heavier than my 5.25, I was quickly able to adapt to the smooth feel to shoot good hits on the targets." — Kelly
"Just picking up the Hellcat was new and exciting— but also familiar — if you love Springfield guns like I do. It is small, but substantial in weight, especially for its size. Springfield's quality is as apparent in this micro-compact as it is in my full-size XD-M. The Hellcat has exactly what I look for in a concealed carry gun:
Similarity to the gun I shoot the most (my

XD-M

), which will help when under pressure.
Overall size that is easily concealed.
Above-average magazine capacity.
Sights that are easy to acquire.
"I have to say that the new sight design on the gun is amazing! Shooting the Hellcat was fun and the ergonomics made it easy to get the sights back on target. Springfield knocked it out of the park with the Hellcat, and as soon as I can find one, it will become my new carry pistol." — Anissa
Join the Discussion
Featured in this article
Continue Reading
Did you enjoy this article?
95