Does the Hellcat Have a Safety? As Much as You Might Want
March 13th, 2020
6 minute read
There's a lot to love about Springfield Armory handguns. I have access to literally everything the industry produces, yet it is Springfield Armory iron that rides underneath my scrubs.
One of the recurring questions I receive is does the Hellcat have a safety? Depending on your perspective, the answer is both yes and no. The Hellcat sports a variety of intrinsic safety mechanisms. Nowadays, however, the Hellcat can be had with as much or as little manual mechanical safety as you might desire as well. Perhaps an in-depth explanation is in order.
Hellcat Safety Features
The impressive new Hellcat packs a full fourteen rounds of 9mm firepower (with the extended 13-round magazine, included along with the standard flush-fit 11 rounder) into the same volume lesser guns might use to tote half that. If you really want to turn capacity up, add a Hyve magazine extension to squeeze 1-3 more rounds into those mags.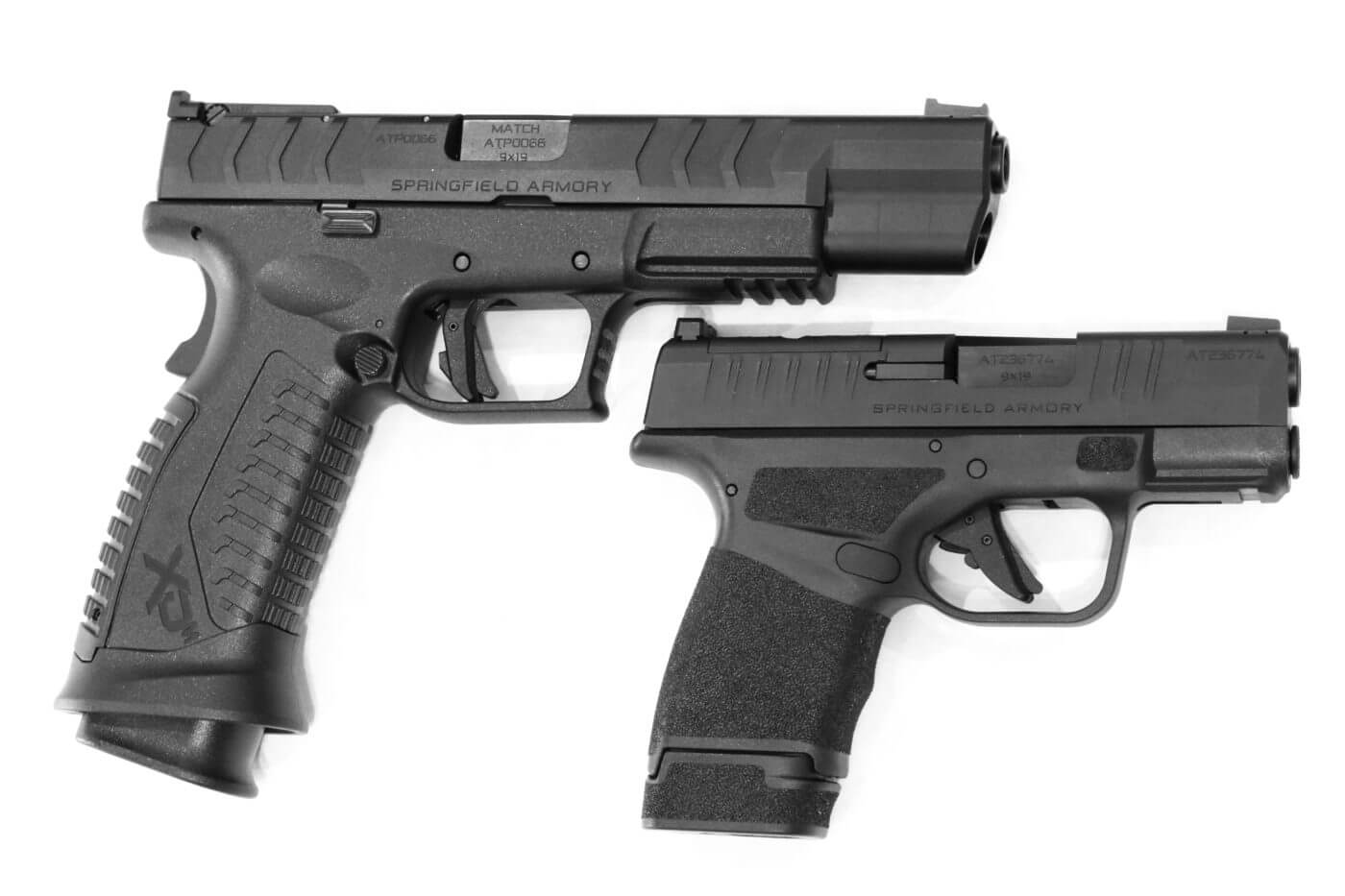 While many other Springfield Armory pistols sport a grip safety, the ultra-compact Hellcat does not. The lack of a grip safety, however, in no way means the Hellcat is unsafe. It is simply that the gun's redundant mechanical safeties are tucked away inside where you can't readily see them.
In fact, the Hellcat is proving to be a very popular CCW firearm for civilians, as well as a great back-up gun for law enforcement. I recommend reading Massad Ayoob's piece on the Hellcat as the best backup gun for police, and the amazing story about the two married off-duty officers who stopped a robbery a Raising Cane's restaurant.
The Power of Engineering
The Hellcat's primary manual mechanical safety visible on the outside of the Hellcat is built into the trigger. This modest blade serves the same purpose as did manual safeties on combat handguns of yesteryear.
Keep your finger clear of the trigger, and the gun is on safe. Put your finger inside the triggerguard and place your finger on the trigger, and the safety comes off automatically.
You've got to keep your finger clear of the trigger until you are ready to fire, but that is the reason we train. If you don't already own one, I'd recommend looking at the Mantis X10 Elite shooting performance system to improve your training.
The Hellcat even has little textured finger pads on the sides of the frame upon which to rest your trigger finger when you're not actively throwing rounds downrange.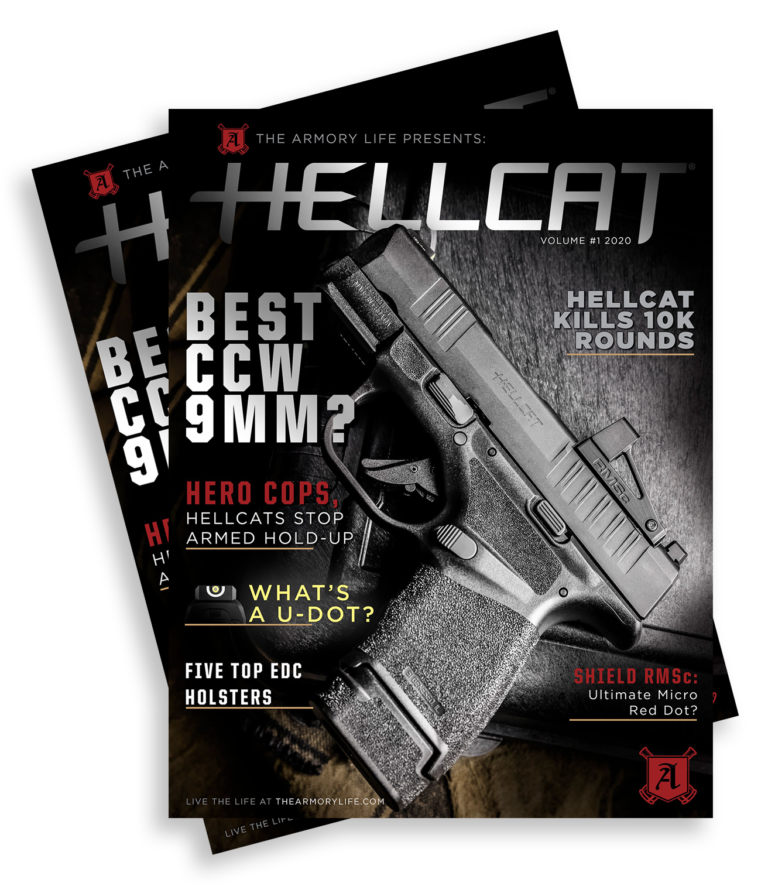 This trigger safety is standard equipment on most but not quite all popular defensive pistols produced today. Its effectiveness is well-established. You keep your finger clear of the trigger when you don't need to be prickly, but such discipline is a prerequisite for embracing the responsibility of carrying a firearm. The real magic, however, takes place inside the gun.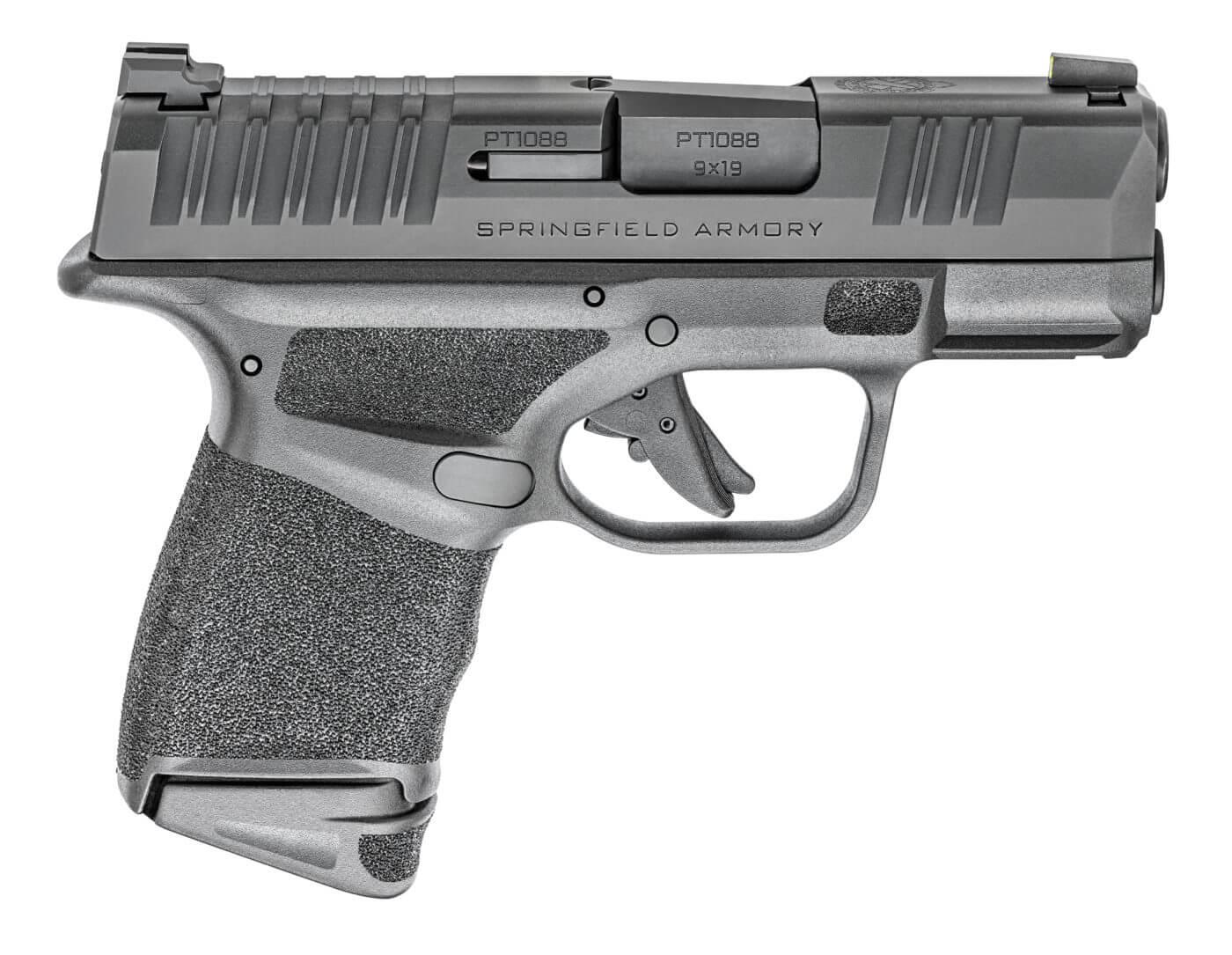 A Heart for Safety
In my world firearms are fun, fellowship, security and vocation. However, for all their undeniable mechanical elegance, at their hearts, defensive firearms are designed to stop a threat. It behooves us to treat them with respect.
No matter how safe you are with a firearm, there is always the chance that it can be dropped. For those rare times when a gun might strike the ground, you want that thing in a non-negotiably safe state. The Hellcat has you covered.
Disassemble the Hellcat and turn over the slide. You will notice a shiny silver cylinder just to the rear of the breech face.
Now take a glance at the frame and note the sizable steel protrusion that sticks up on the right. That cylinder is a spring-loaded firing pin block that locks the firing pin away from the cartridge in its default position.
That protrusion I mentioned slides forward when you pull the trigger and disengages the firing pin safety automatically. None of these critical operations requires any conscious thought.
Grand Scheme
Practically speaking, this means that as your Hellcat sits inert on the tabletop or in your holster, the firing mechanism is locked out via two independent safety systems. The firing pin cannot contact the primer unless the trigger is pulled, and the trigger cannot be pulled unless your finger first disengages the blade safety within the trigger face.
Think of it like an automatic two-stage redundant thumb safety on a 1911 that disengages without conscious thought only when you squeeze the trigger. In the Springfield Armory Hellcat, you find the absolute state of the art in both reliability and automatic safety systems. But now there's more.
Fresh New Options
Nowadays Springfield Armory offers the Hellcat with yet another layer of mechanical safety for those who desire it. Most every cop in America carries a gun with the sorts of automatic safety mechanisms described above, and they do just fine. However, some of us are just a bit more comfortable with a manual switch. The Hellcat's new optional low-profile ambidextrous manual thumb safety operates in the same manner and location as that of a 1911.
This unobtrusive lever is reproduced on both sides of the gun and offers a little extra peace of mind, particularly for civilian concealed carriers. Use it if you want, or leave it off and ignore it if you don't. It's there if you need it, and I like the option.
I work closely around kids, and I prefer the manual safety myself. The manual safety lever is indeed one more thing you have to address should you ever need your Hellcat for real, but that's yet another reason we train. I find that disengaging the safety as part of the draw process is both intuitive and fast.
Reliable Partner
With the Hellcat, you get a defensive tool that is as reliable as a tire iron yet remains utterly inert until you put your finger on the trigger and squeeze. Just as you would with any firearm, you still have to respect the cardinal rules of gun safety religiously.
However, combined with its small size, prodigious magazine capacity and combat U-notch sights, the Hellcat also provides you with an utterly safe firearm that can be counted upon to be there when you need it — and also be stone silent and safe when you don't.
Editor's Note: Please be sure to check out The Armory Life Forum, where you can comment about our daily articles, as well as just talk guns and gear. Click the "Go To Forum Thread" link below to jump in!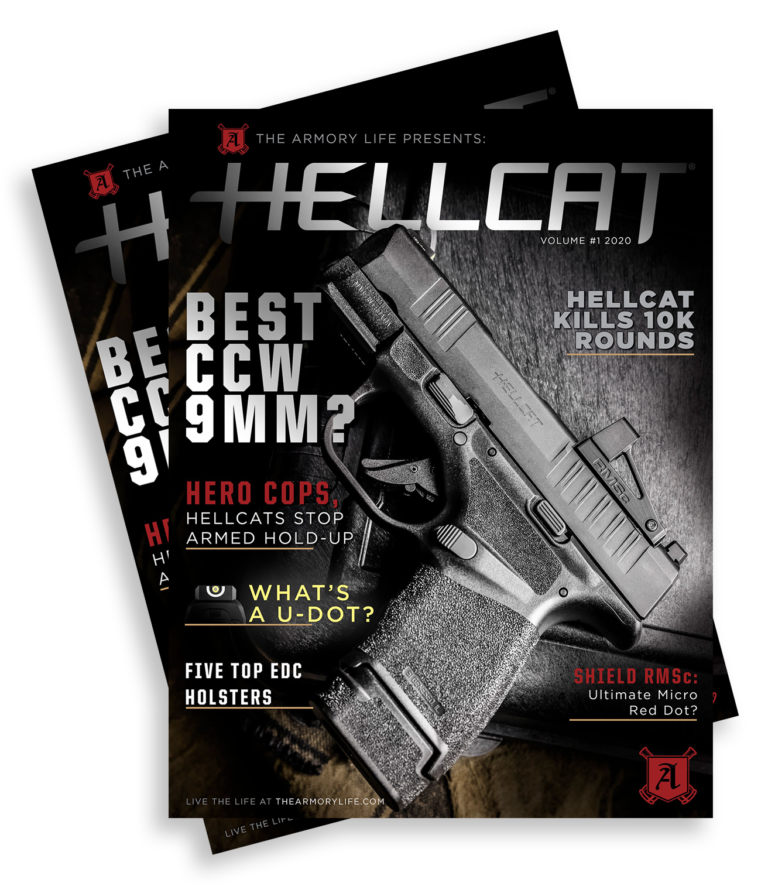 Join the Discussion
Firearms in this article
Continue Reading
Did you enjoy this article?
372