When the micro 9mm Hellcat was released in September of 2019, it was a huge hit for the concealed carry community. The buzz over the tiny new titan was undeniable, and I just had to experience it for myself.
Needless to say, after I got my hands on one, it hasn't left my side since … almost literally. I have found the Hellcat to be an exceptional micro-compact handgun that is ideal for my everyday carry (EDC) pistol, and I enjoy training regularly with it. After all, if you're going to carry, you better be training regularly with the equipment on which you rely.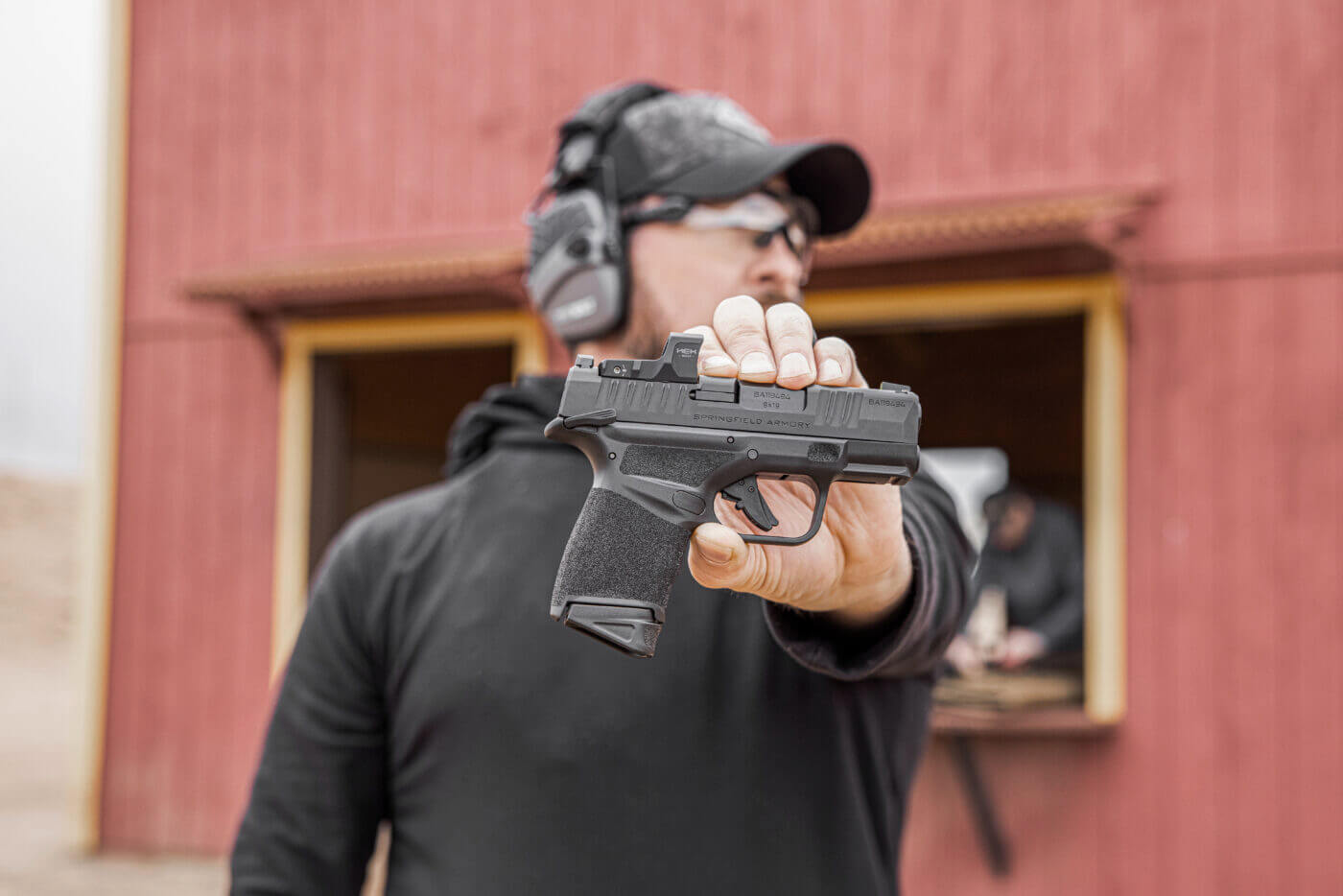 But I would add one more requirement. You also should enjoy the gear you're using if you are investing time, money, and sweat into the process of being a responsible, capable carrier. It will reward your investment of time and money into the project and keep you properly engaged.
Solid Partner
At this point, I've put thousands of rounds through my gun and have found the extremely compact, 11+1 capacity (13+1 with the included extended magazine) of the platform, coupled with its extremely consistent and comfortable shooting experience, to be second to none in its class. This is consistent with the 20,000 round torture test that Paul Carlson conducted with his Hellcat pistol.
Putting it through its paces for some time now, I've found the handgun's reliable, rugged design is everything it was claimed to be and more. I'm also a gear-geek, a husband and a father. As such, I was also quite taken with the amount of thoughtful consideration and care that went into the platform's intention and design, which was to serve as a superior EDC firearm option to protect you and yours.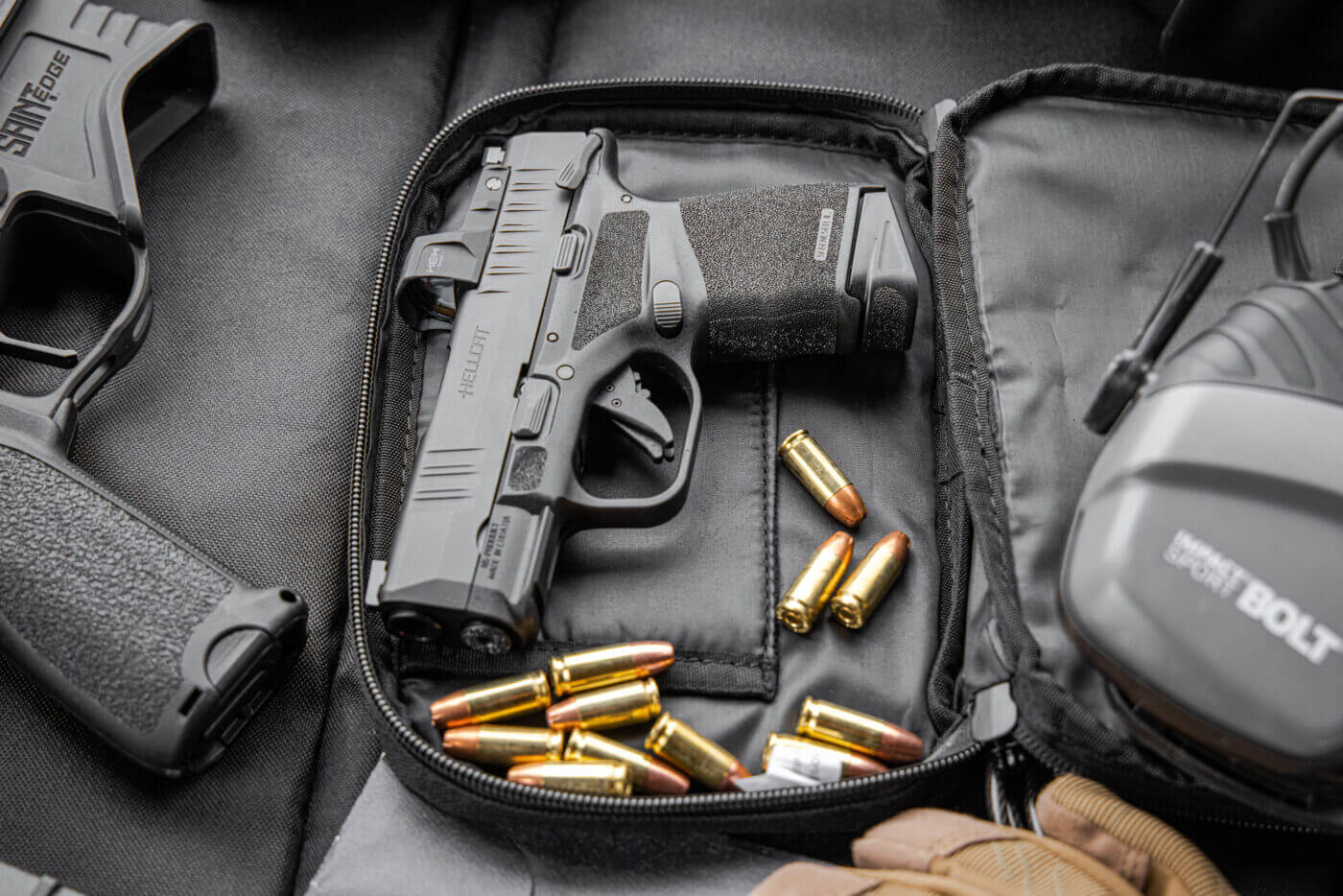 Most notably, in my experience, this pistol shines in the key areas of innovation, comfort, ergonomics and safety. All of these were quite clearly key focal points that the design team at Springfield Armory emphasized when approaching the pistol's design, and it shows. For all of these reasons and more, that's why the handgun earned a spot at my side in public, and when at home, each and every day.
With safety and reliability being paramount when it comes to choosing an EDC, the numerous standard safety features included with the Hellcat in all of its various configurations make it a very safe gun. As it stands, this model comes standard with the bladed safety feature on the face of the trigger.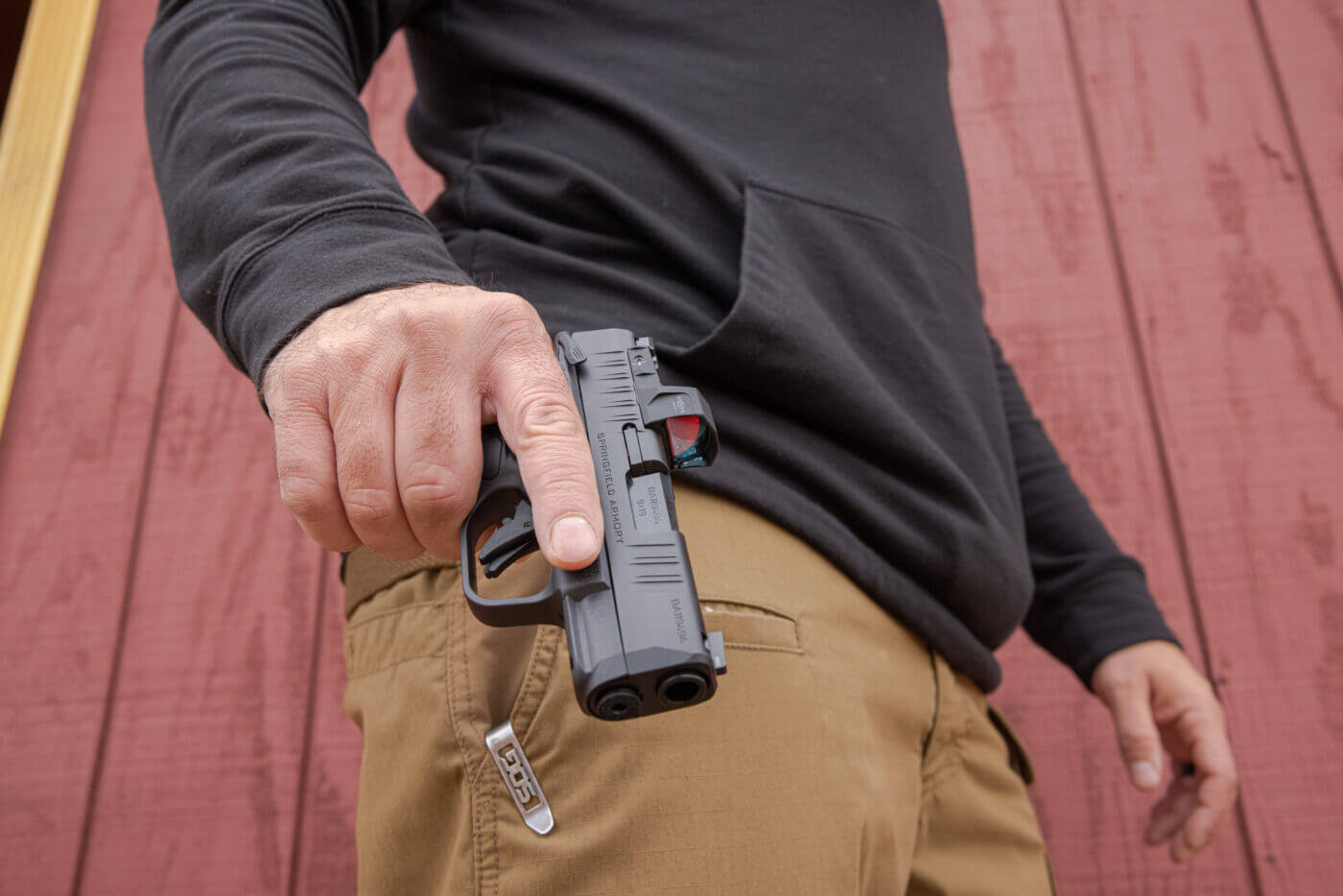 This bladed mechanism ensures that if your finger is not within the triggerguard, depressing the face of it against the trigger itself, then the gun remains in a safe state. Once your finger enters the triggerguard and you place your finger on the trigger, the safety disengages and the firearm is active and able to fire. It's that simple. However, some shooters prefer the inclusion of a manual safety option for a variety of reasons.
Safe & Secure
The new OSP model includes a manual safety option just like the new Hellcat RDP. This affords shooters the same great handgun that features all of the capability and design that the original models offer, but with the added option of an ambidextrous, low-profile manual thumb safety.
Whether you are a staunch believer in the theory that solid trigger discipline and proper holstering and drawing techniques are the ultimate (and only) safety controls you need, or you simply feel more comfortable and secure having both active and passive safety measures in place for the environments you operate in and/or at your level of proficiency when it comes to handling your gun, the choice is ultimately yours. It's just as simple as that — it's an option. The manual safety is now on the menu.
When it comes to other facets of the safety-minded engineering that has gone into the development and production of the pistol, a very important feature is included within the firearm itself: a spring-loaded striker block that retains the striker securely away from the cartridge in its default position to prevent discharges due to drops or sudden impacts on the frame.
Then there's the engineering consideration that went into enhancing the safe handling, ergonomics and retention of the autoloader when held in hand, helping ensure that you don't lose your grip in the first place. The Hellcat's unique and innovative Adaptive Grip Texture pattern provides a pattern of small staggered pyramid shapes.
Essentially, what you have on the frame/grip is a series of taller pyramids throughout the texture that have flattened tops to ensure comfort in the waistband and minimal wear on clothing. The shorter pyramids throughout the texture lie recessed beneath the taller ones, coming to a point to lock into your hand for a secure hold when the pistol is firmly gripped, thus "activating" the grip when the skin of your hand depresses into these small recesses on a micro level for a secure, comfortable hold.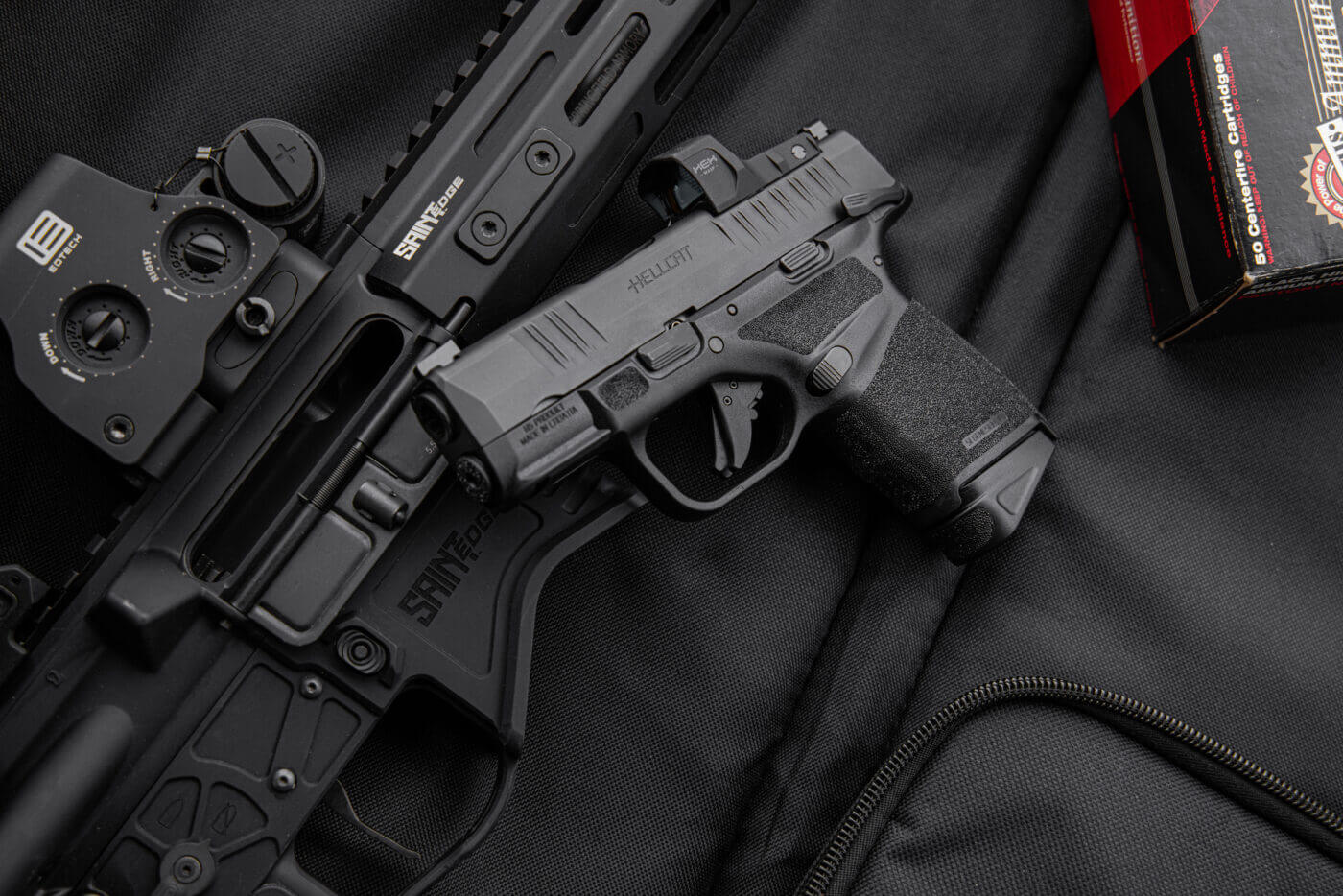 Another feature I particularly enjoy is the sidearm's loaded chamber indicator at the top of the slide, which is visually discernible at a glance, allowing you to confirm a round is chambered (or not) before holstering your EDC at the beginning of your day.
I keep my Hellcat in my bedside safe at home at night, and each morning I check the condition of my firearm before heading out for the day — even if I know it never left the holster the day and night before.
After a quick physical inspection of the firearm to ensure the condition of the firearm is in proper order, the added confirmation I get when seeing that small bit of brass showing through the indicator is something I really appreciate. Call it peace of mind, call it obsessive-compulsive, but to me, that added visual component is just a really nice touch that reaffirms the state of readiness of my firearm before I holster it.
Specifications
Chambering
9mm
Barrel
3″
Weight
18 oz. w/ flush mag, 18.4 oz. w/ extended mag
Overall Length
6″
Sights
Tactical Rack

U-Dot

/optic mount
Grips
Integral, polymer
Action
Striker-fired
Finish
Black
Capacity
11+1 (one), 13+1 (one)
MSRP
$599
The Next Level
While the safety features of the Hellcat have always ensured the striker-fired pistol is extremely safe to carry and operate, the addition of the new manual safety option is ideal for those that prefer the added safety feature for any number of reasons. There are many schools of thought and opinions when it comes to manual safeties, and levels of redundant safety in your firearm in general for that matter.
Particularly, these considerations come into play when it concerns your EDC, which may need to be drawn upon in a rapid engagement, life-threatening/life-saving scenario where milliseconds count. As with any firearm, fully understanding and training with the platform you choose to carry regularly will ultimately dictate the users experience and capability with it.
The new pistol with manual safety includes all of the features that we've come to know and expect from the Hellcat. The quick acquisition, high visibility tritium & luminescent front sight paired with a Tactical Rack U-Dot rear sight for easy target acquisition in all lighting conditions are there. The hammer-forged barrel that makes the gun an exceptionally straight-shooting and durable concealment pistol is at the heart of the new model.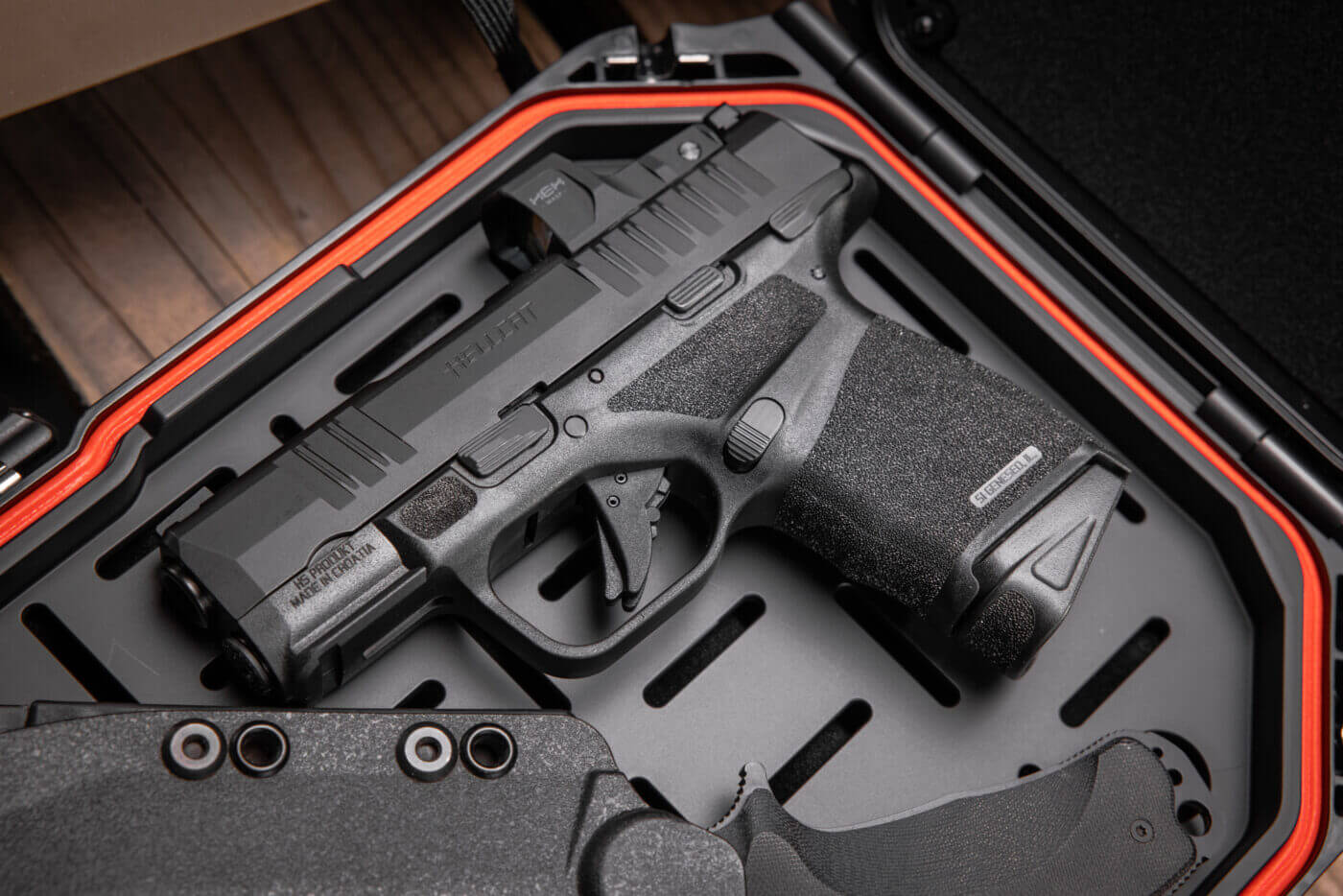 Those aggressive top slide serrations make the Hellcat exceptionally easy to rack. Additionally, the customizable, non-proprietary rail allows you to accessorize your EDC with lights like the SureFire XSC. Also, let's not forget the rear slide deck, which is cut to accept a micro red dot for swift engagement and enhanced situational awareness capability. This cut is a perfect home for the HEX Wasp red dot optic I have riding on mine.
In Your Sights
Speaking of new features and options, the HEX Wasp is really stepping up the game in design style and capability when it comes to selecting a compact red dot optic for your Hellcat. Designed for low-profile, direct mounting, the HEX Wasp is perfectly suited for compact, EDC applications like the Hellcat OSP.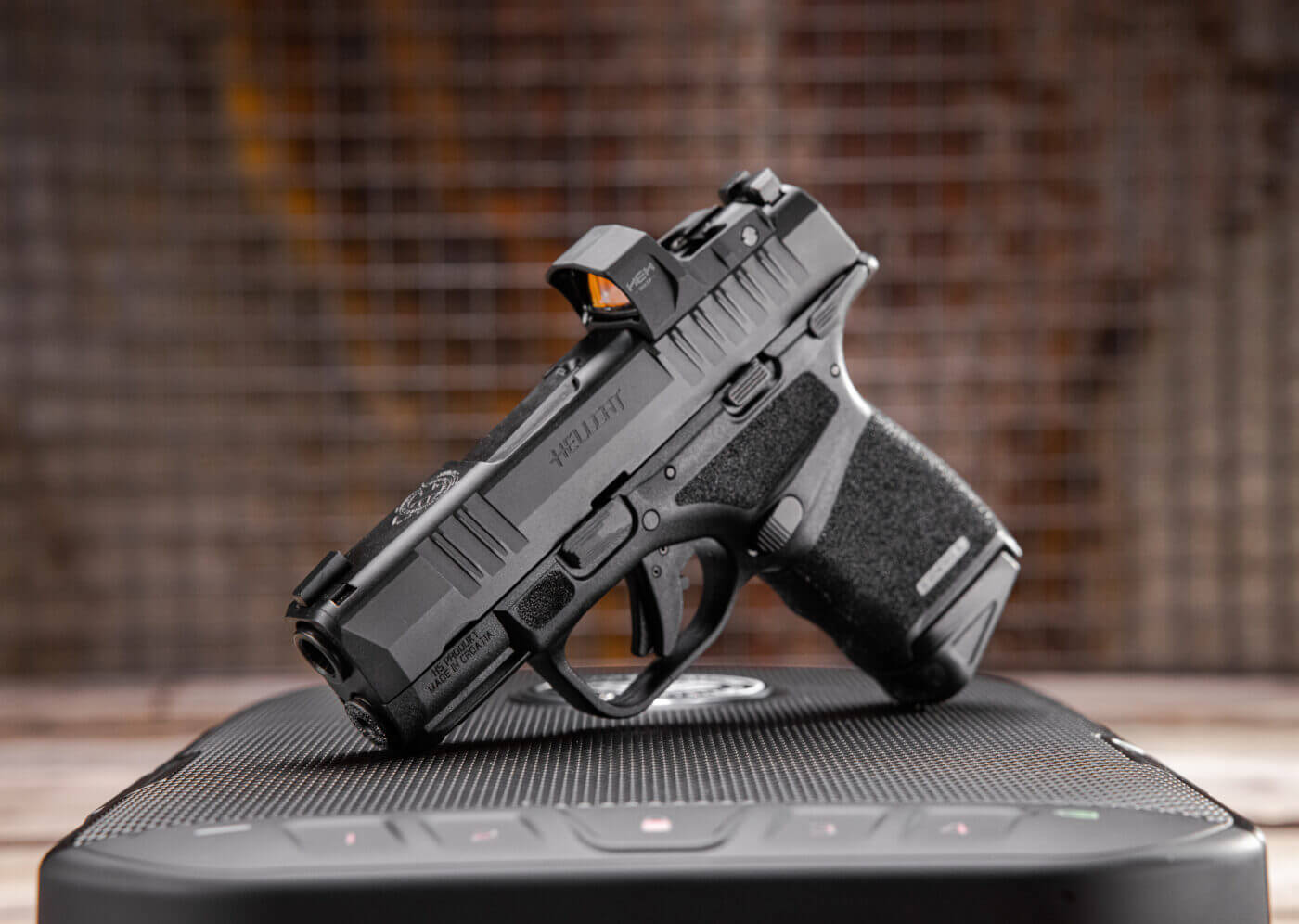 Unobtrusive, effective, and efficient, the Wasp is continuously powered, and includes an auto-dimming sensor that regulates proper dot brightness based on ever-changing ambient light conditions. The Wasp will run for over 65,000 hours on its lowest power setting. That's freaking incredible. In real-life use, in varying light conditions, a user can generally expect approximately two years of battery life out of the Wasp.
The highly aggressive and angular, yet somehow elegant, aerodynamic design style of the Wasp is precision machined from highly durable 6061 T6 hardcoat anodized aluminum, which houses a scratch-resistant, premium anti-glare coated glass lens. The thing is just sexy looking and operates like a champ.
One aspect I absolutely love is the co-witness channel milled into the housing that provides an unobstructed view of your (back-up) iron sights. If that wasn't enough, this thing is ready to weather the storm and is built to withstand the elements with its IPX7 waterproof rating, which allows it to be submerged in one meter of water for up to 30 minutes. Rugged, reliable and ready for action, the HEX Wasp is a phenomenal companion for your optics-ready shooter.
Conclusion
My takeaway on the whole package and these new options? The Hellcat OSP with the manual safety option is a fantastic EDC solution. Add on the HEX Wasp, and it's even better. Perhaps more than that, and most importantly, these offerings signify more than merely a few new variations, options and accessories. It exemplifies a persistent and conscious evolution in this line of handguns and really demonstrates that the same spirit of ingenuity, innovation and improvement that we've seen come from the engineering team over at Springfield Armory are at the very core of their initiatives and drive.
The pistol is raising hell again by evolving and expanding its accessory line-up and configuration possibilities, and the team at Springfield Armory isn't resting on their laurels. I look forward to continuing to champion my Hellcat as my personal EDC and equally look forward to seeing what is next in the evolution of the line.
Editor's Note: Please be sure to check out The Armory Life Forum, where you can comment about our daily articles, as well as just talk guns and gear. Click the "Go To Forum Thread" link below to jump in and discuss this article and much more!
Join the Discussion
Featured in this video
Continue Reading
Did you enjoy this video?
135