Review: 1911 Ridgebacks G10 LOK Grips
January 15th, 2023
4 minute read
The grip of a firearm is one of the most crucial and personal parts with which the user interacts. For some people, they want maximum grip; others want comfort; and yet others go for style points. At the end of the day, it's all about personal preference.
Most manufacturers create great grip textures or choose well-made panels with tasteful designs. But having the option to customize your grip is always welcomed, even just for trying out different textures to see what works best for you. After all, it's your gun and you want to make it stand out from the crowd and reflect your personality, too. Unless you're one of those purists … . You guys are cool, too.
Hands-On
I got my hands on a beautiful TRP Operator a couple months ago and I really wanted to go for an all-blacked-out look while retaining the great texture that the stock grips provide. For projects like this, one of my go-to grip companies is LOK Grips. This is due to their wide array of design and color choices for a broad selection of pistols.
The grips are always of the highest quality and their customer support is fantastic. If you've got an idea for a custom look for your gun, I'm sure they've got something you'd like. All the grips are made right here in the U.S.A. using the highest quality materials that you can trust. They are also very fairly priced in the market.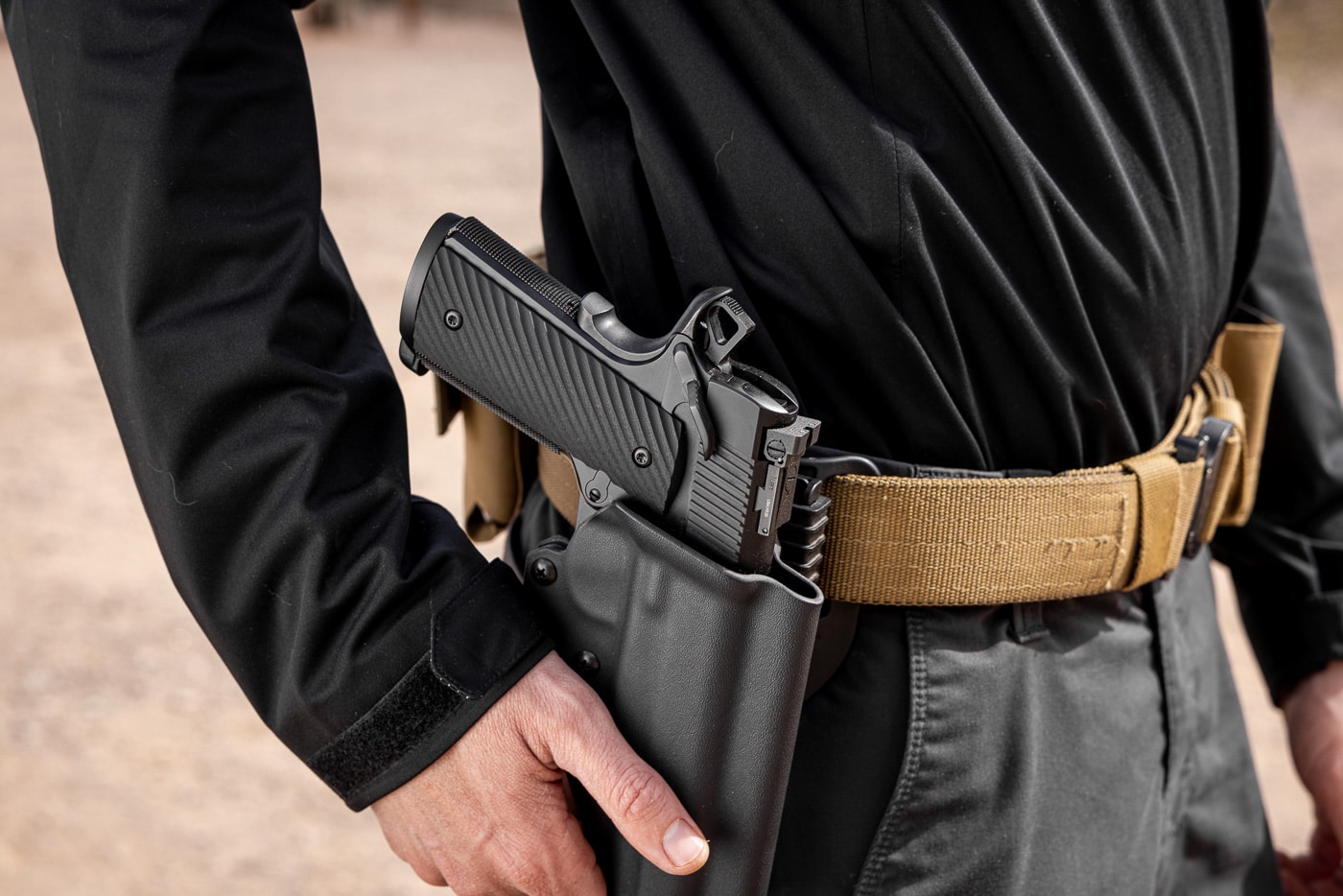 I ordered their all black G10 Ridgeback grips for my TRP Operator. These are some of my favorite designs for a more streamlined minimalist approach, and they provide a fantastic grip texture for controlling the pistol. I love the way they make the TRP Operator look; it's such a beautiful piece of machinery that operates so smoothly right out of the box. It's everything you could want in more of a tactical-style 1911.
[Check out How to Replace 1911 Grips for details on making a grip swap.]
Range Time
Taking the TRP to the range with the new LOK Ridgebacks was everything for which I could have hoped. The pistol now looked more in the style that I want, and it was just as controllable as the factory configuration. I was able to keep the pistol firm in my hand to control recoil while also returning to zero with accuracy and repeatability throughout my range session.
The TRP Operator almost feels like a custom shop 1911 and has such a great grip that I almost forget that I am shooting .45 ACP in it. The Ridgeback grips, mixed with the aggressive texture on the front- and backstraps of the TRP, make for the most grip you could ask for without shredding your mitts.
I think the next step to really completing the full black out would be sending the barrel and trigger off to get a DLC coating. Then it would be the black pearl I've always imagined.
I think if there were another grip I would test from LOK Grips, it would be their new LOK Ops pattern. It seems to be a mixture of their bogies pattern and the ridgebacks. Another grip I was on the fence about trying was the Mayhem style. It's a bit more modern looking and has some really cool color combinations to give you some nice personality in your pistol. If I got a different color from the black, I think I would do an OD green. I think the OD green and black are a really nice combo without being too flashy.
Conclusion
I would highly suggest heading over to the LOK Grips website and checking out what they have to offer if you are interested in upgrading your 1911 or SA-35 grips. From enhancing your grip to just making your pistol more personal, they've got an option for you.
Editor's Note: Please be sure to check out The Armory Life Forum, where you can comment about our daily articles, as well as just talk guns and gear. Click the "Go To Forum Thread" link below to jump in and discuss this article and much more!
Join the Discussion
Featured in this article
Continue Reading
Did you enjoy this article?
73