5 Top Car Carry Options
November 24th, 2021
5 minute read
Carrying in your vehicle has a few similarities to carrying on your person. You want a stable, secure means of carrying and you want the gun out of plain sight, hidden from view. Moreover, you want something that keeps your gun within easy reach.
Vehicle carry options have increased significantly over the years, mainly coming in the form of plain-sight devices that hold your gun on a nearby surfaces as well as in the form of very secure — but often hard-to-get-to — in-vehicle safes.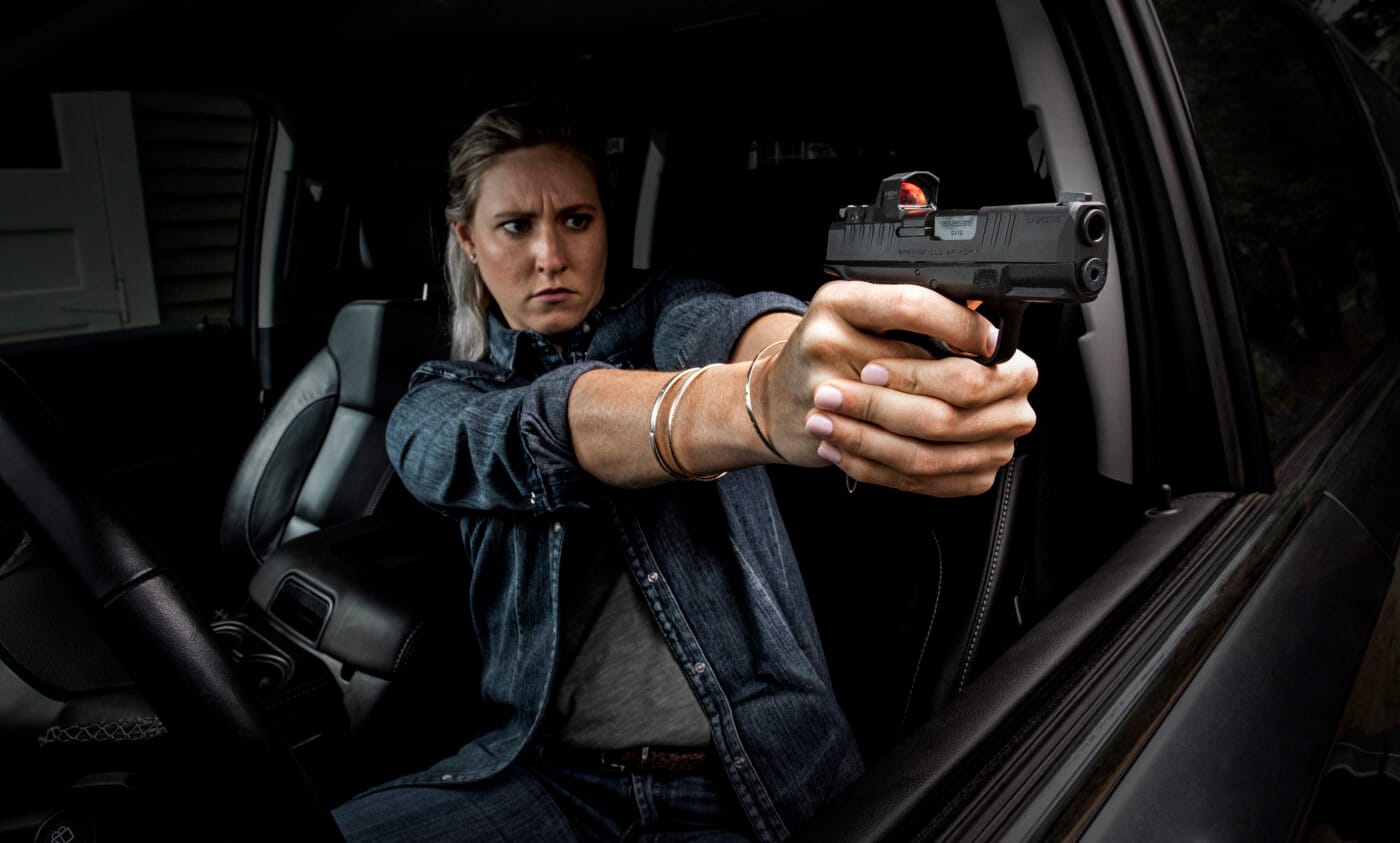 Somewhere in the middle of that range may be a better option — making use of, for instance, your vehicle's center console. Here are five options for making it work.
Packin' Neat Boss
The Packin' Neat Boss is actually meant to holster and conceal a handgun in a bag or purse. But it does just as well in the console — the center storage area, between the two front seats — of your vehicle. Note: Your console should have a properly closing lid to even further hide this carry system.
The Boss is a drop-in organizational tool, providing a large main pocket for "whatever" stuff, but also numerous side pockets to carry pens, tactical flashlight, spare magazines and more. The key is the dedicated, raised holster pocket. A covering flap secures with a magnet, but once you pop it open, you'll have instant access to your handgun, which is held stocks-up, ready to grab, by an interchangeable holster.
The Boss' dimensions are 8" x 12" x 7" and, because it is soft-but-durable ballistic nylon, it'll fold and adjust somewhat to a variety of console sizes. You can also get it in other sizes, including Mini, Skinny and Tactical.
Gum Creek Vehicle Handgun Holster (and Case)
I'm not a big fan of carrying a handgun in plain view in a vehicle, so Gum Creek's Vehicle Handgun Holster at first wasn't a draw to me. But it's possible to affix this rig to the inside of a vehicle console, provided you're okay with screwing the straps into the interior of the console itself.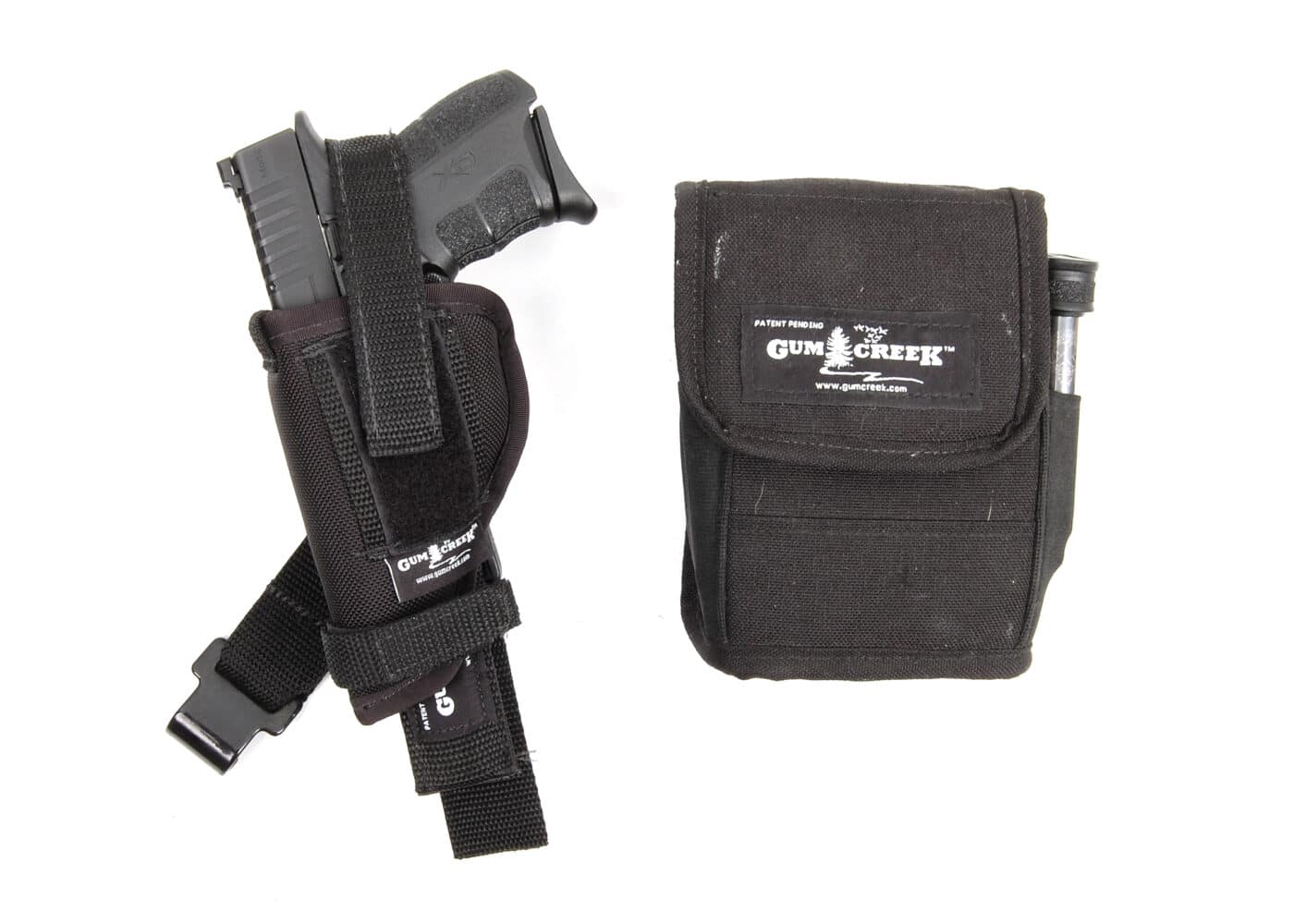 If you are, you'll have a ballistic nylon holster with a retention strap holding your handgun at the ready. Gum Creek also made a carry case with an integrated holster system which could also be affixed to a vehicle. This, too, can also go in a console but should be anchored in some way. The case offers a couple of pockets for magazines as well as a slot for an ID card or other papers. The case cover secures shut with a magnetic closure that easily pops open when you need it.
Galco Defense Planner
Yep, it looks like a typical daily planner or organizer, but inside its elastic holsters carry a handgun and a spare magazine. Intended for carry in a briefcase or messenger bag, I also find the Defense Planner a useful means for vehicle carry.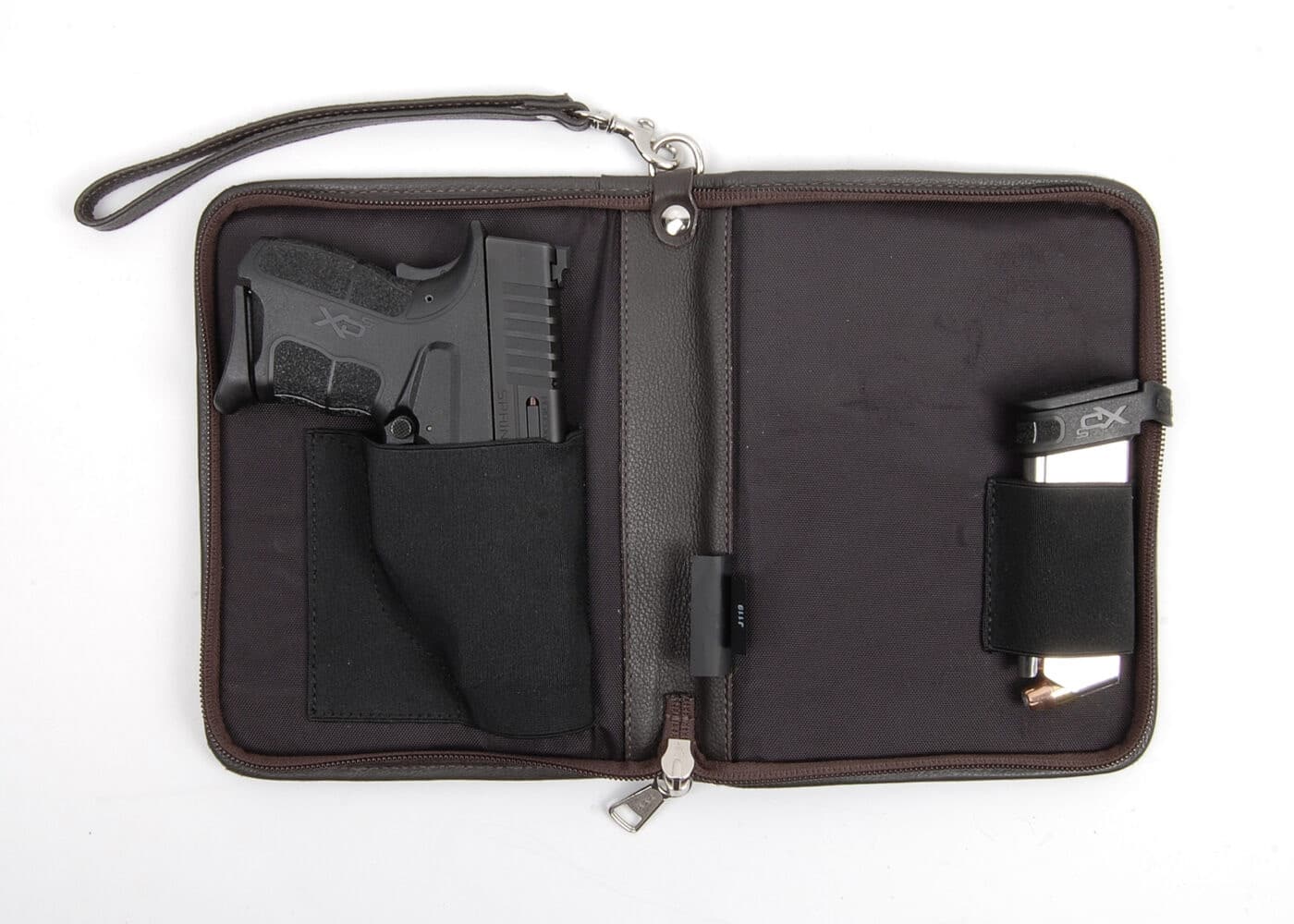 When driving, I'll leave it unzipped but closed right on the passenger seat of my car, within easy reach. If I have a passenger, I'll put it just behind the shifter. When I leave the vehicle and can't take the gun with me, I'll drop it in the vehicle console, hidden from view. Defense Planner zips securely but also offers a key lock integrated into the zipper pull.
Magna-Arm Magnet
The Magna-Arm Magnet sports a strong magnet encased in rubber. Two screws allow the magnet to be mounted against any surface that'll effectively hold the screws in place and tolerate the forces associated with attaching and removing a handgun to it. Most wood works well for this, but some vehicle surfaces may as well. It may also be possible to attach the magnet to a surface with a high-strength glue.
Since I'm still not a fan of storing a handgun in the open cabin of a vehicle (perhaps under a dashboard near my knees), the console is probably the best place for the Magna-Arm. Mounted against the front panel of a console, Magna-Arm can hold a handgun, muzzle down, in a combat-grip-ready position. Note that the trigger is not covered so, regardless of the mounting location, extra care is needed to ensure safe operation.
Belly Band
Besides on-body carry, a belly band offers a viable vehicle console organization tool.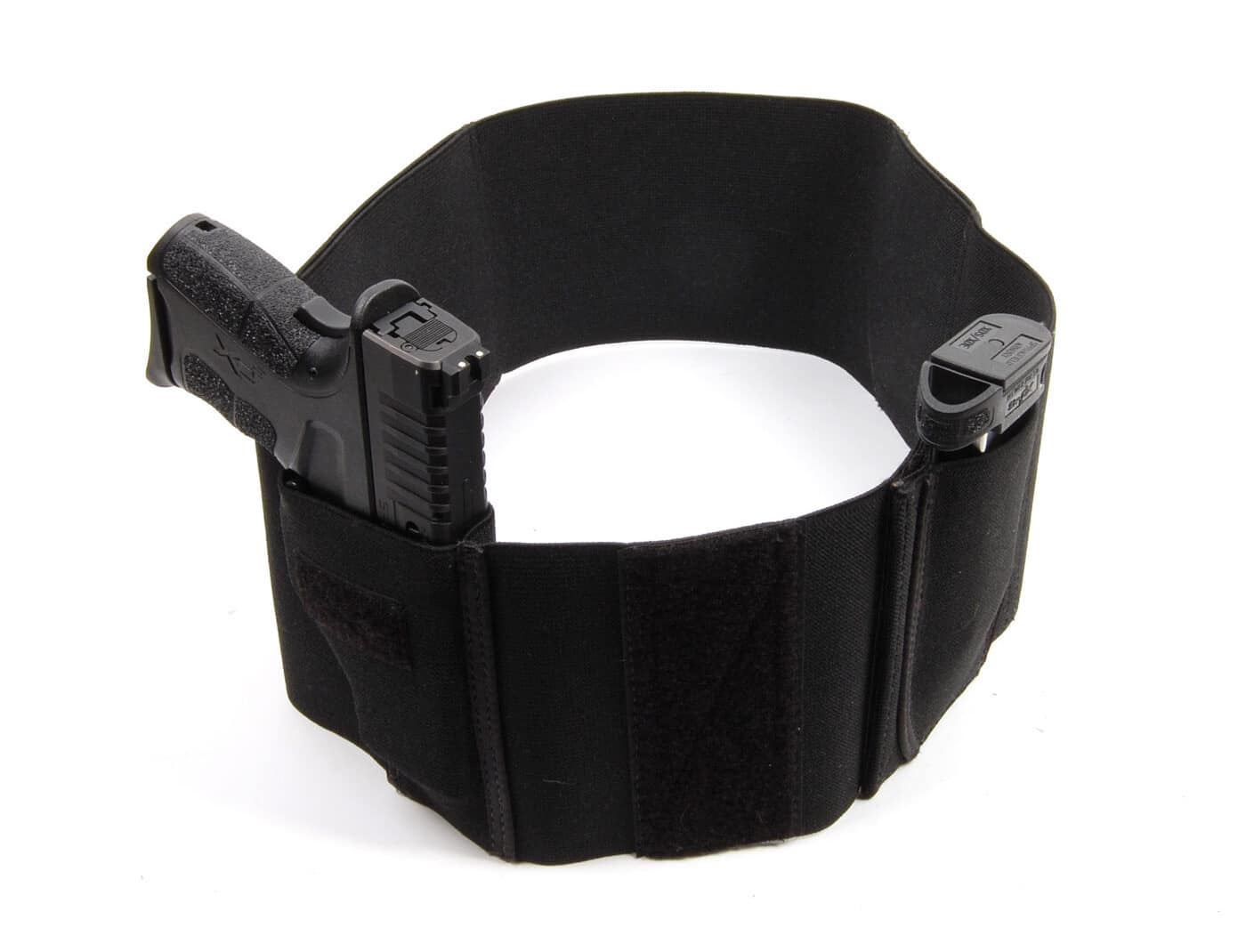 With a built-in holster for a handgun and, depending on the make/model, holsters or slots for other gear, a belly band can be adjusted to fit in just about any console and stand upright, offering easy access to the handgun's stocks. Plus, if you're in need of an on-body carry solution, there it is, ready to go.
Conclusion
So there you have it, a round-up of some of the top car carry gear options around. Armed with these options, you should have the means to ensure your safety both in and out of your vehicle.
Editor's Note: Please be sure to check out The Armory Life Forum, where you can comment about our daily articles, as well as just talk guns and gear. Click the "Go To Forum Thread" link below to jump in and discuss this article and much more!
Join the Discussion
Featured in this article
Continue Reading
Did you enjoy this article?
245