Over the years, my progression through the many types of handguns available goes something like this: 1911s in .45 ACP, 2011s in .40 S&W, polymer guns in .40 S&W, polymer guns in .45 ACP and polymer guns in 9mm.
[Editor's Note: This pistol was replaced in the Springfield Armory lineup with an optics-ready version. Read Paul Carlson's review of the XD-S Mod.2 OSP .45 ACP.]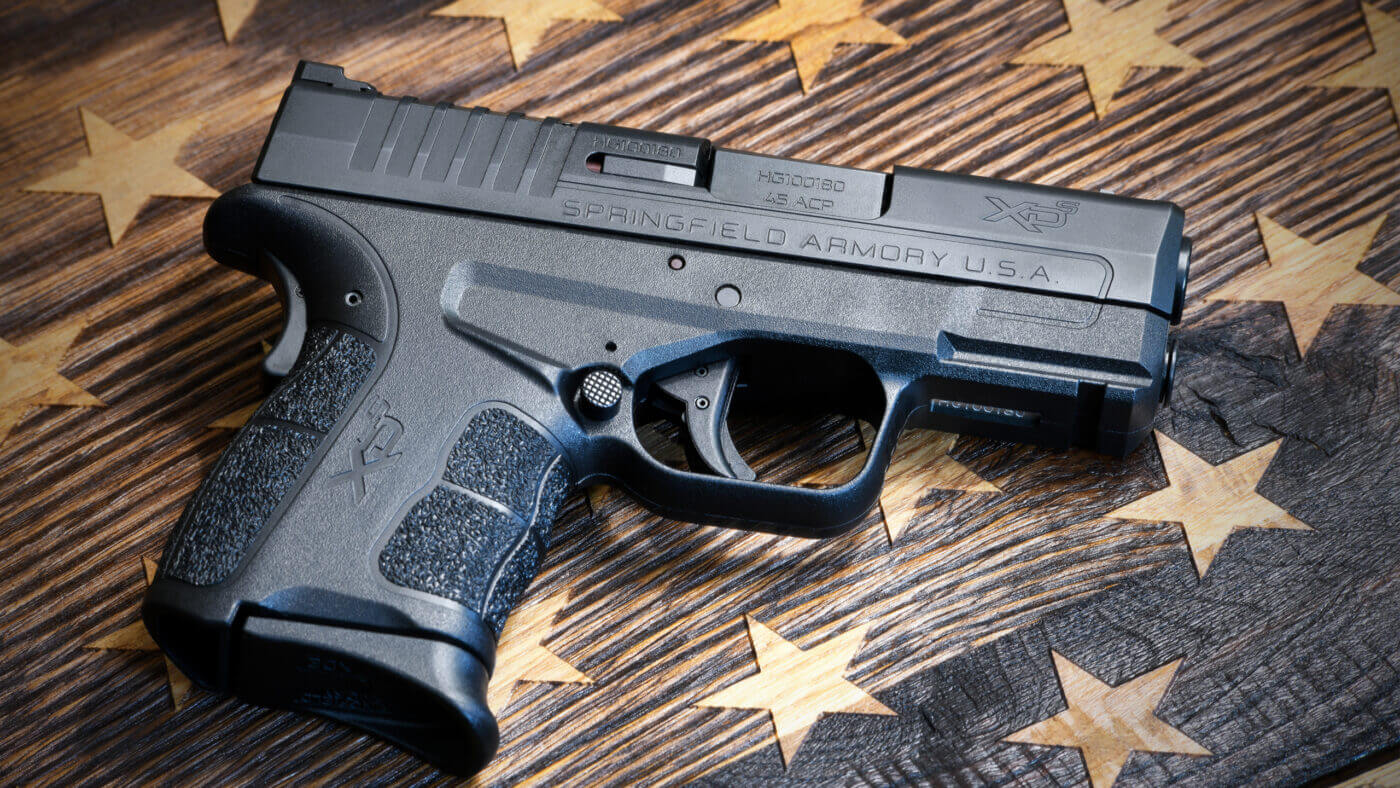 Don't get me wrong, I still have them all as I rarely sell a gun. But today? Now, I am pretty much a 9mm handgun guy. That's why I was intrigued to have a chance to test out the XD-S Mod.2 in .45 ACP from Springfield Armory. I'd been using 9mms for so long now, I thought it might be interesting to try out a big bore compact pistol again. Who isn't interested in something different? Small, polymer, modern and in .45. Yeah, I'm in to give it a shot.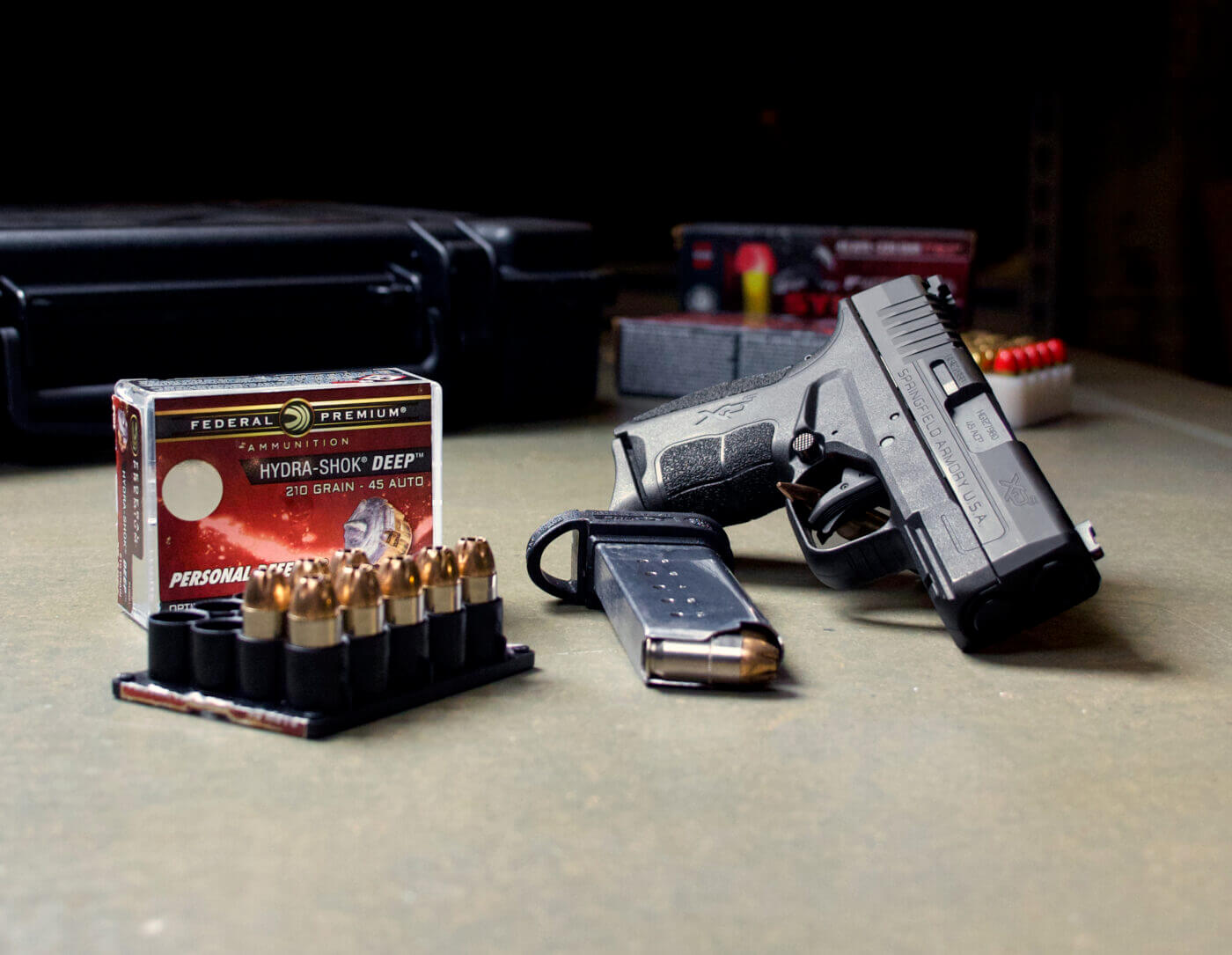 The Specs
The 3.3″-barreled gun ships with two mags. The pistol has a capacity of 5+1 with the flush fitting mag and 6+1 with the included extended magazine. It weighs in at right around 23 oz. with an empty mag, and the XD-S Mod.2 is 6.5″ long and 4.66″ tall with the flush magazine.
The "S" in XD-S stands for "single-stack," and this is where this .45 shines with a mere width of .975″. The XD-S Mod 2 guns are polymer framed with a forged steel slide. Its barrel is hammer forged and both the barrel and slide have a Melonite finish.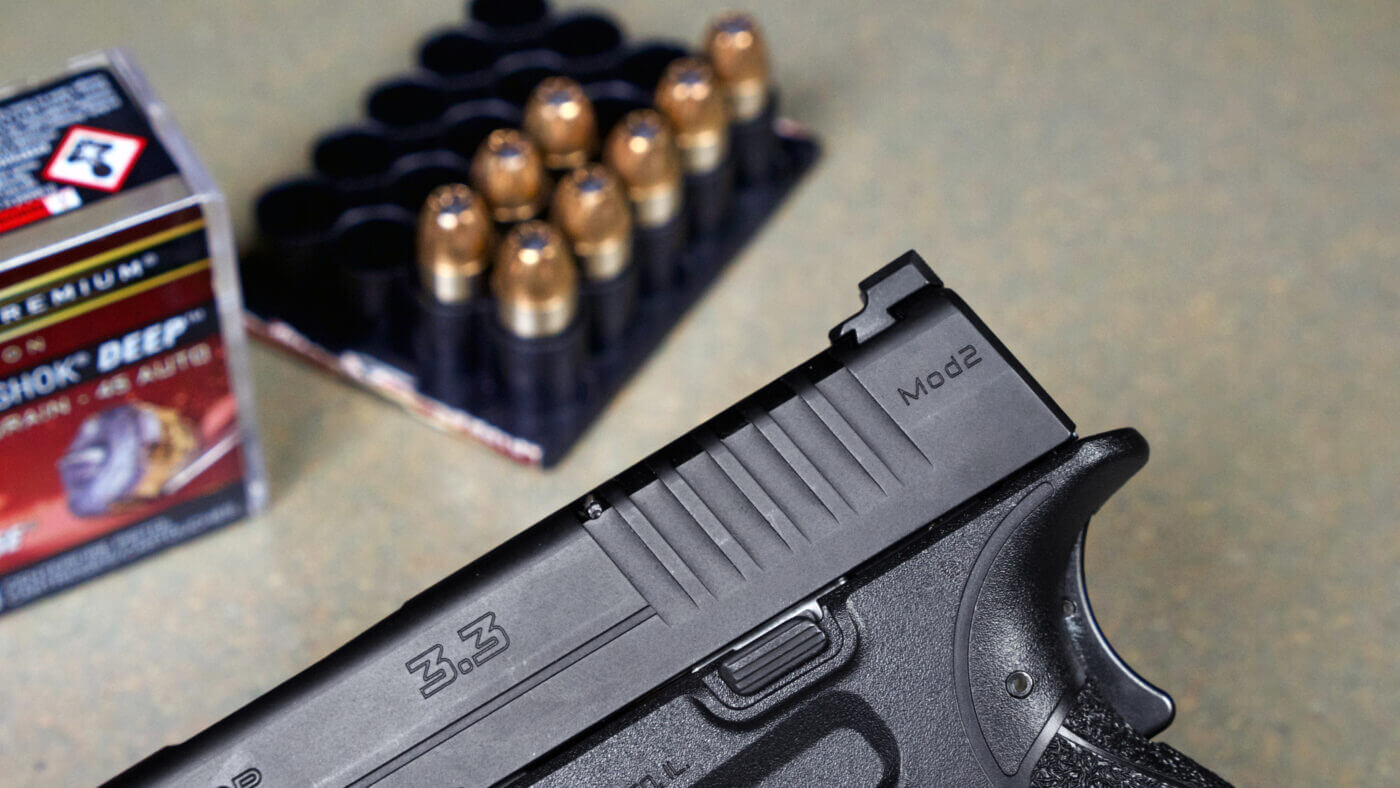 Of course, being an XD-S, the pistol is fitted with a grip safety that engages naturally when gripping the gun. You can pick up an XD-S Mod 2 in 9mm, .40 or 45 ACP.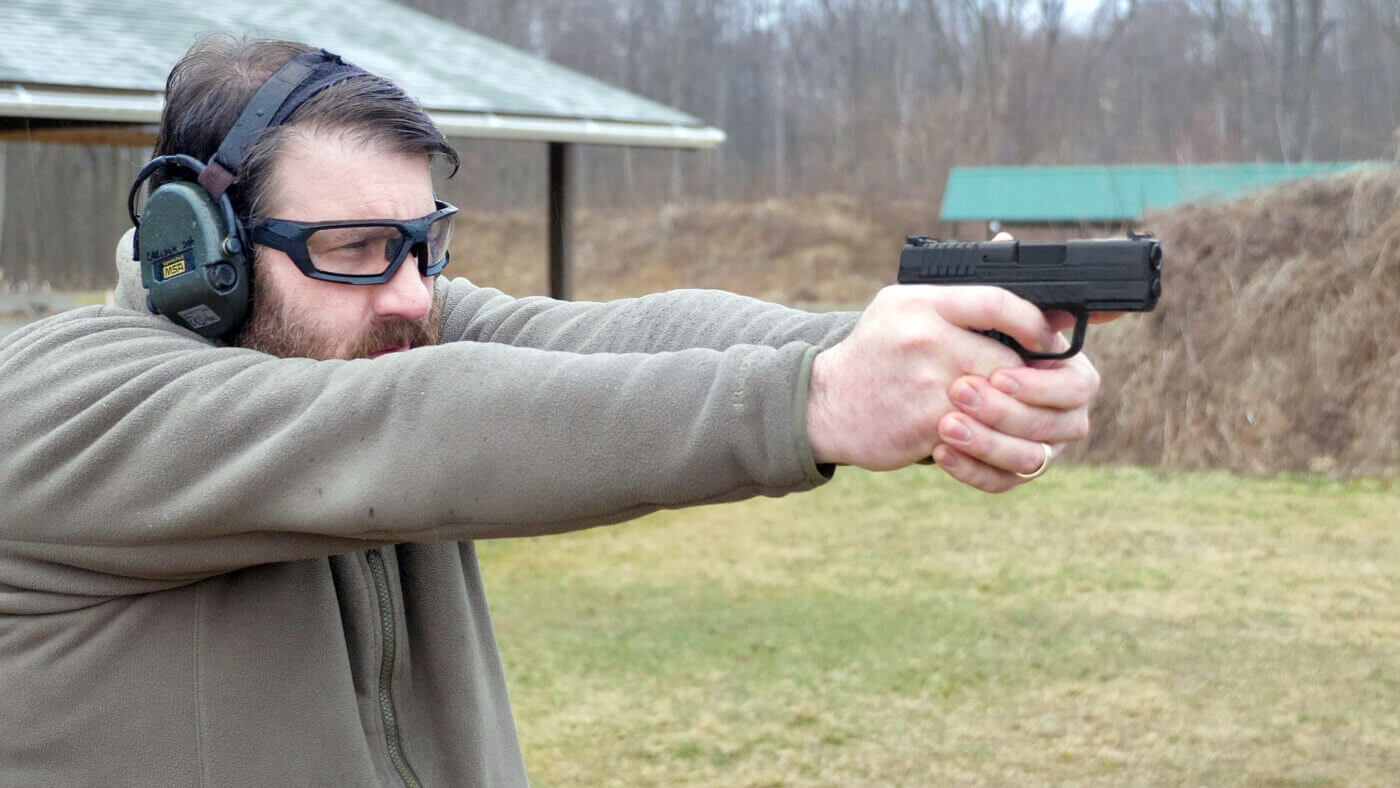 What's the Mod.2?
This gun is a second go round for the XD-S line of pistols. That is why it is a Mod.2. I think the most significant change comes from the effort to bring the bore axis closer to the top of the hand. When you are shooting guns, physics is a thing, and lowering the barrel reduces the lever arm acting on your hand. The result is reduced muzzle flip and a lower felt recoil. When shooting a small polymer gun, this matters. When that gun is a .45, it matters more.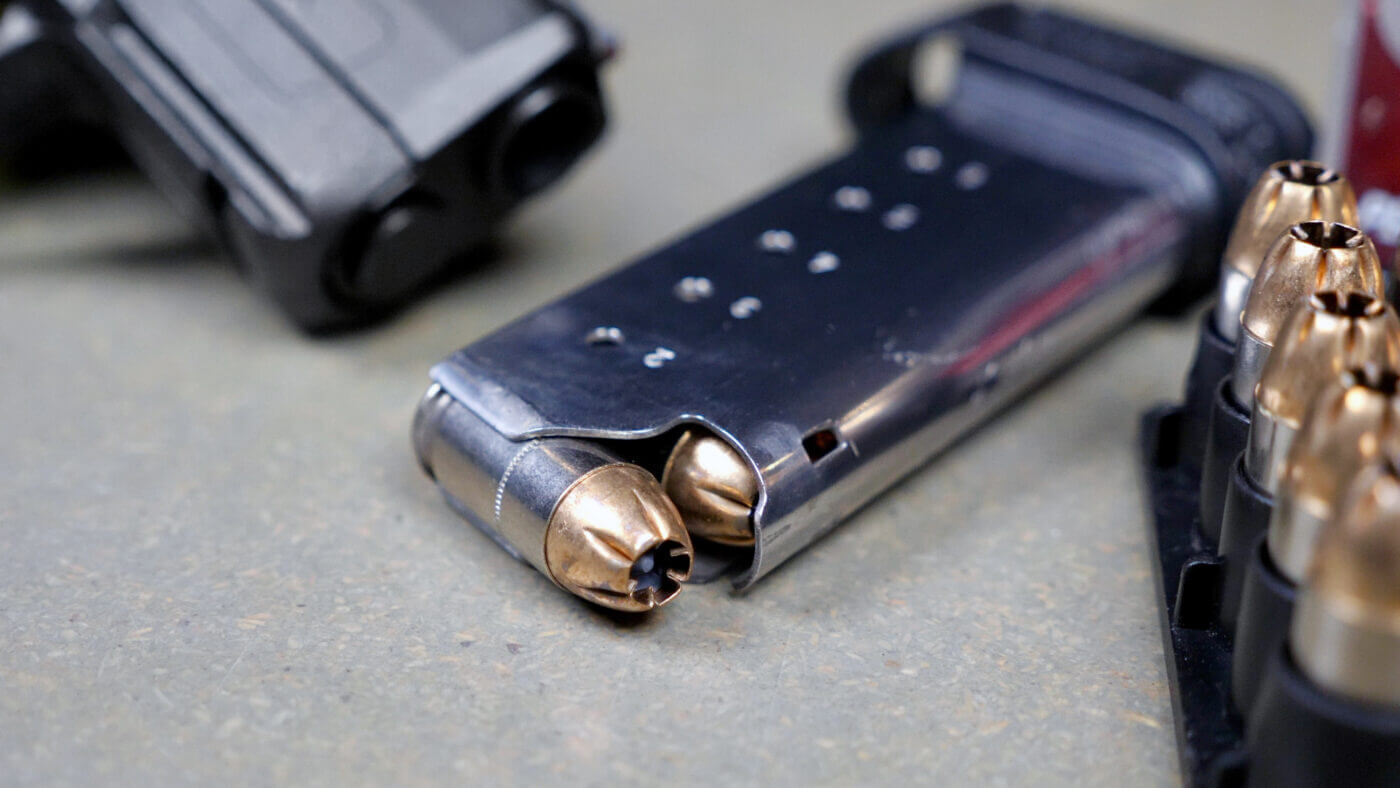 The slide serrations are improved with a more aggressive, yet finger-friendly profile, and the trigger is refined. The grip texture is also improved in the XD-S Mod.2. I found it to be very positive and helpful in controlling the recoil of the .45. At the same time, it was easy on my clothing and I experienced no snags like I do with many other polymer-framed guns.
Live-Fire Impressions
When I pressed the trigger on the XD-S Mod.2 .45, I expected more recoil than there was. I shot 210-, 220- and 230-gr. loads and expected the heavier slugs to push back as they exited the barrel. Of course, there was recoil, but not what I expected.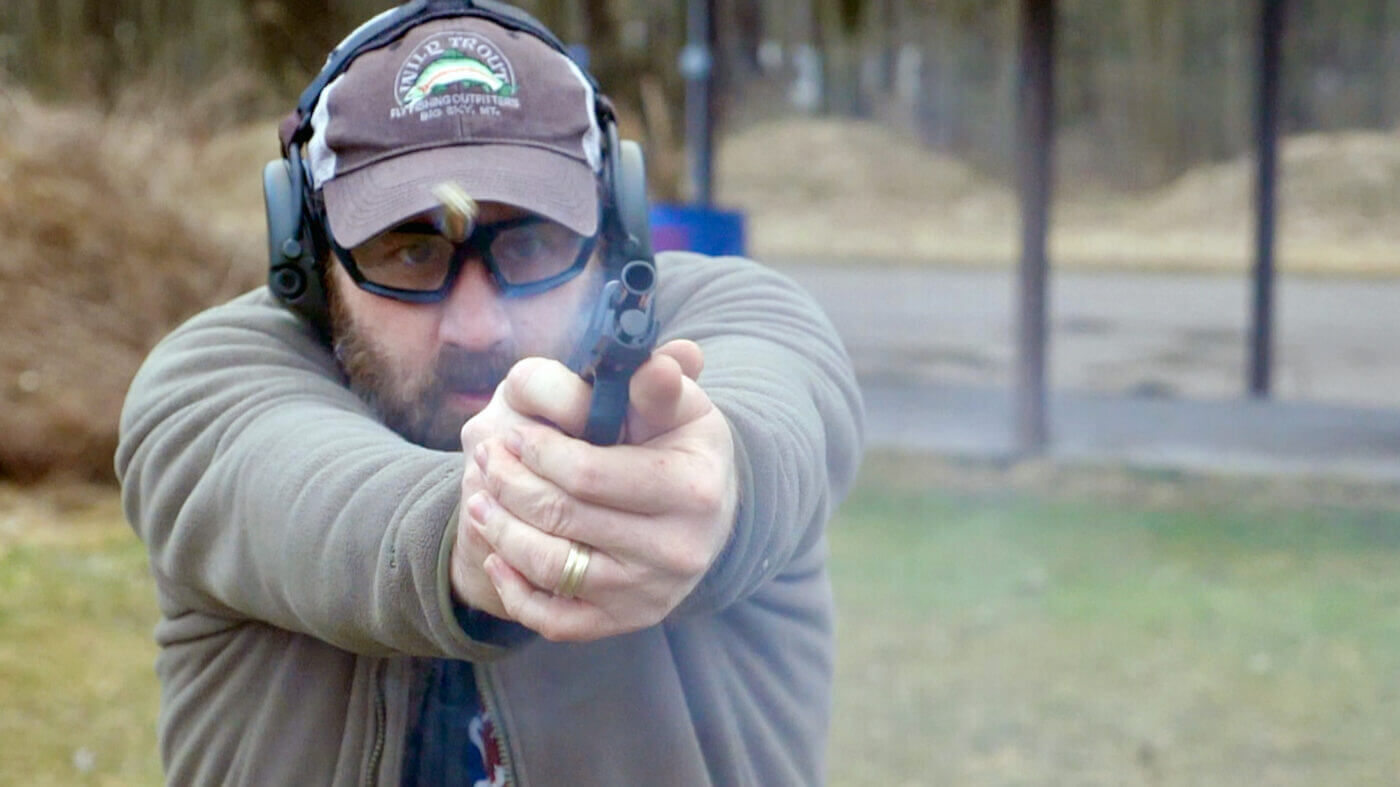 The impulse was reasonable and a bit less snappy than typical 9mm rounds. The push from the .45 was exactly that — more of a push than a sharp recoil. I did feel like muzzle flip was more than the typical 9mm, and that likely would lead to longer follow-ups with the .45 compared to 9mm.
Overall, I was pleasantly surprised at how shootable the XD-S Mod.2 was — even in .45 ACP.
Final Thoughts
If you are currently carrying a full-size .45 and need a slim gun for special occasions, the XD-S Mod.2 might be just the thing. What if you are all about 9mm or .40? Well, there is an XD-S Mod 2 just for you as well.
Editor's Note: Please be sure to check out The Armory Life Forum, where you can comment about our daily articles, as well as just talk guns and gear. Click the "Go To Forum Thread" link below to jump in and discuss this article and much more!
Join the Discussion
Featured in this video
Continue Reading
Did you enjoy this video?
92