Ayoob: Is This the Best 1911 Carry Rig?
December 26th, 2020
7 minute read
When Tim Wegner founded Blade-Tech back in the day, it quickly became the premier brand of Kydex holster. The field quickly burgeoned, and today we have literally countless manufacturers of holsters and accessories made of hard-shell synthetics. Despite this, Blade-Tech remains universally recognized as a top tier provider. Why is that? In this article, we look at their Classic line for the 1911 to try to answer that question.
Why Not Leather?
When quality "plastic" holsters emerged in the 1970's, most traditionalists thought of them as a joke. It took gun gurus like Bill Rogers a long time to earn them acceptance, and a lot of experimentation and trial and error took place along the way.
Today, you'll have to look long and hard to find a police officer carrying his or her duty pistol in a leather holster, and if you do find one, you've probably found a true "traditionalist." Obviously, the synthetic holster has some significant advantages.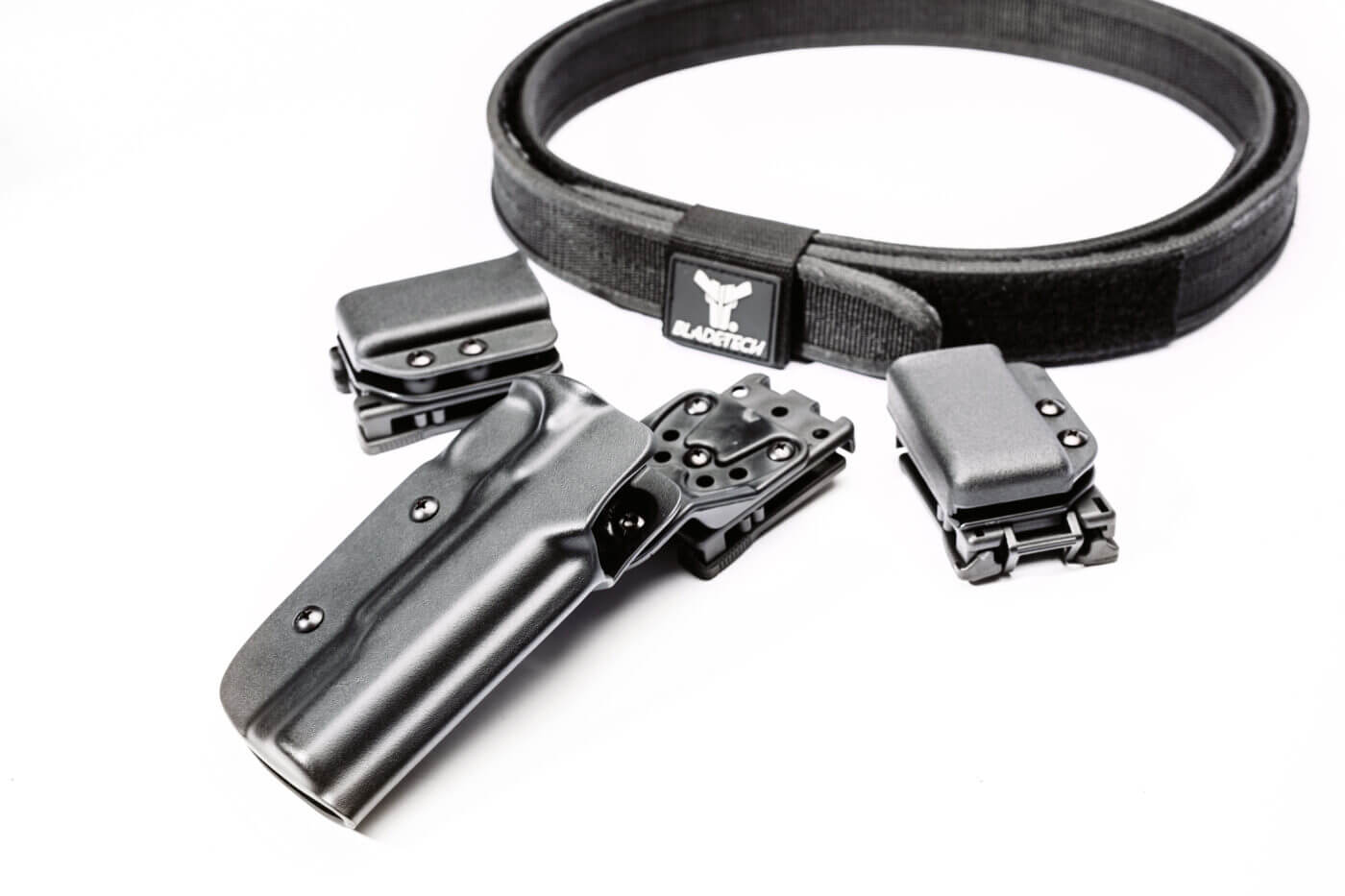 Top-quality leather holsters have, historically, been tight to start with — some almost impossibly so — and breaking them in was a tedious chore. After a lot of heavy use, they tended to become a bit loose.
With the Blade-Tech breed, both of those shortcomings are largely ameliorated. They generally require little to no "break-in" and are functional from the moment you unwrap them. Any loosening from heavy use can generally be fixed immediately by tightening their screws. They don't "soften" with age and use.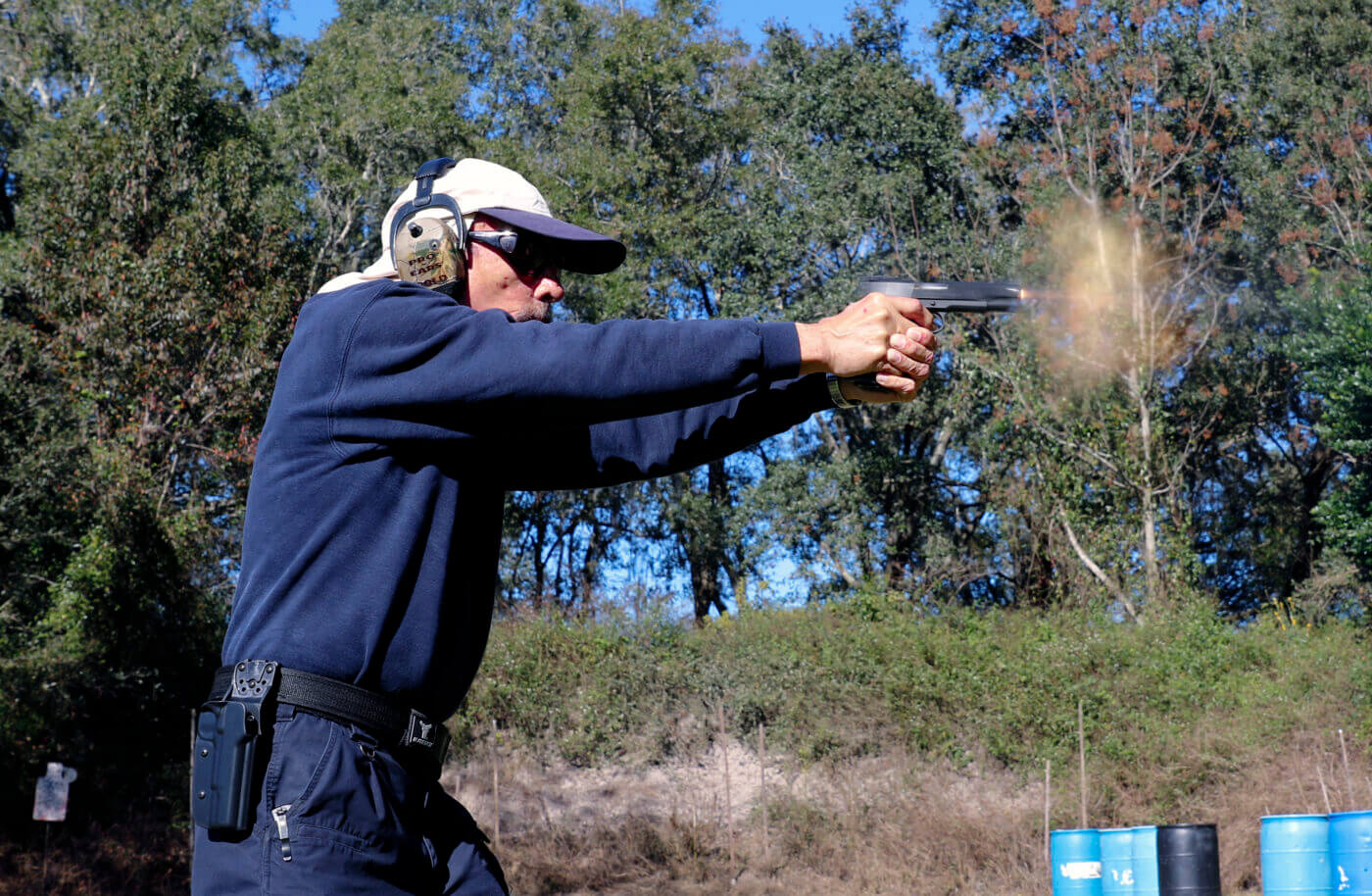 Over the years, my uniform duty gear was exposed to a lot of rain and snow, some mud, and occasionally blood or vomit — the latter fortunately not my own. In the time of bloodborne pathogens, that can become a major concern. Cleaning that stuff off leather is a royal pain in the butt; hard surface synthetics, by contrast, are a breeze to clean and decontaminate.
Leather holsters do not lend themselves to changing "mounts"; that is, height of ride on the belt. As we shall see, synthetic designs like the current Blade-Tech Classic most certainly do.
Of course, leather gun scabbards have their advantages, too. They are quieter if a surreptitious draw is needed. Perhaps you're the hunter who doesn't want to spook a deer by making a scraping sound as you ease your .44 Magnum out, or perhaps you want to unobtrusively get your defense pistol out and out-of-sight ready when danger seems to threaten. Leather, particularly in pancake-style holsters, is also more friendly to conforming to body shape for constant carry. Obviously, there are advantages to both types.
Height of Holster Placement
For some time now, the Blade-Tech Classic Outside-the-Waistband (OWB) Holster has been made with interchangeable belt loop components that allow you to wear the pistol high or low. Called "Adjustable Sting Ray Loops", they come with a bar arrangement that allows you to adjust the loops for the exact thickness of your chosen gun belt. This is important, because any play between the loop and the belt allows the whole holster to ride up slightly on the draw, before it yields the handgun: that in turn can cause a clumsy, sloppy draw which you really want to avoid.
Our test samples came with the low-riding loop attachment, which carries the butt about level with the belt. Unless your customary concealment garment is a London Fog overcoat or Count Dracula's cape, this configuration is best suited to open carry. A USPSA or Steel Challenge match would be the sort of place where you would want your holster configured so. It is not uncommon for timed stages in USPSA (the "run and gun" sport under the United States Practical Shooting Association) to begin with a draw where the contestant is instructed to await the start signal with hands at sides.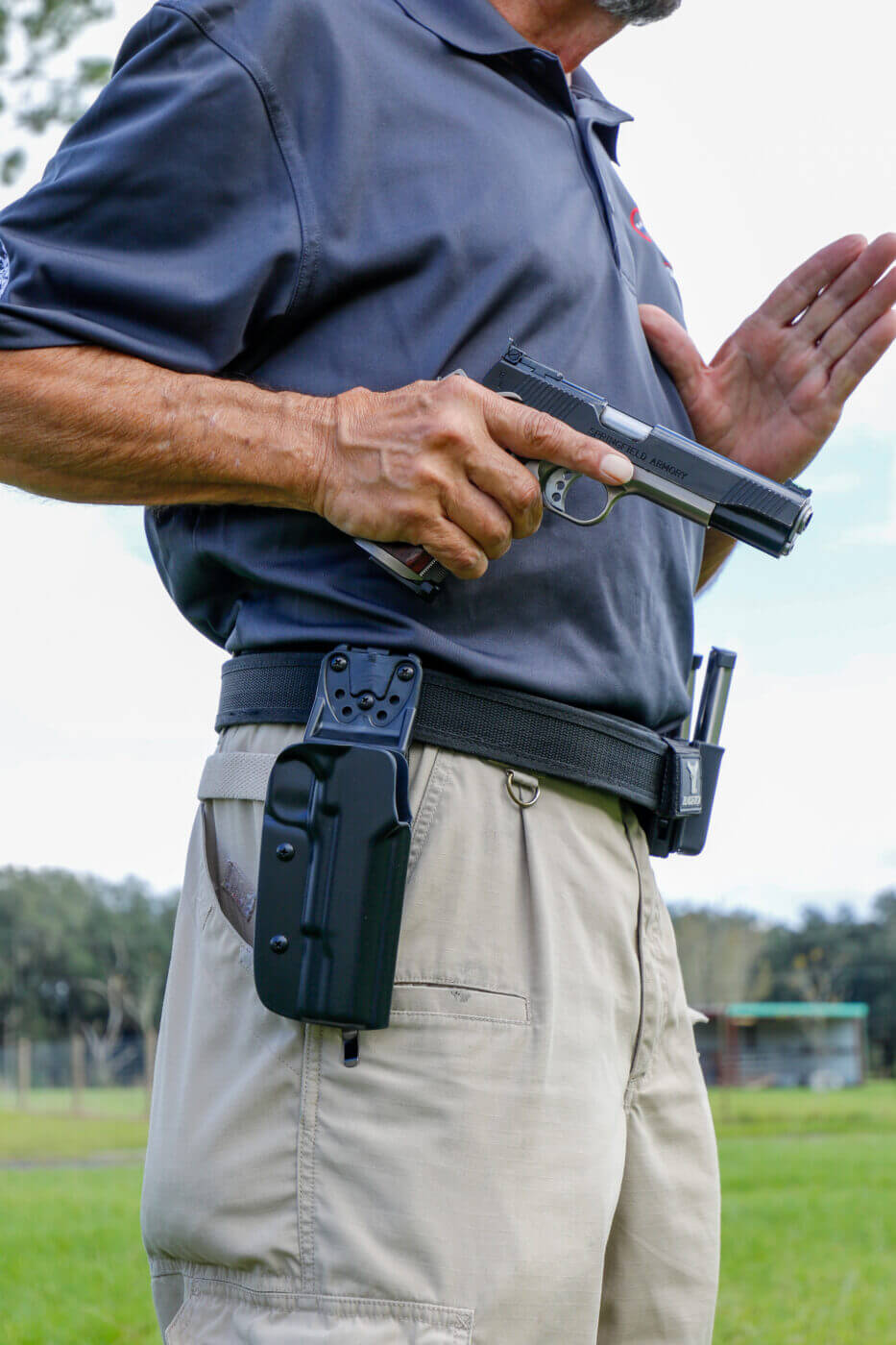 This start position in unconcealed carry lends itself to the very fast "scoop draw." The three fingers below the trigger finger curl as the hand rises directly in line with the holstered pistol, and make the first contact on the front of the grip frame before web of hand and thumb make it all the way into position. The gun is already being lifted out of the holster as thumb and web of hand complete their grasp, and are in place by the time your pistol "clears leather Kydex" and comes level on the target with a "rock and lock" as shown and accelerates on its way to an aimed fire position. This is a "drop and offset" style holster.
On most of us, this sort of carry cants the gun butt slightly out away from your body. Many shooters find this easier for getting a good grip on the draw than having to dig the fingers between the body and the side of a pistol grip tucked tightly against one's own torso.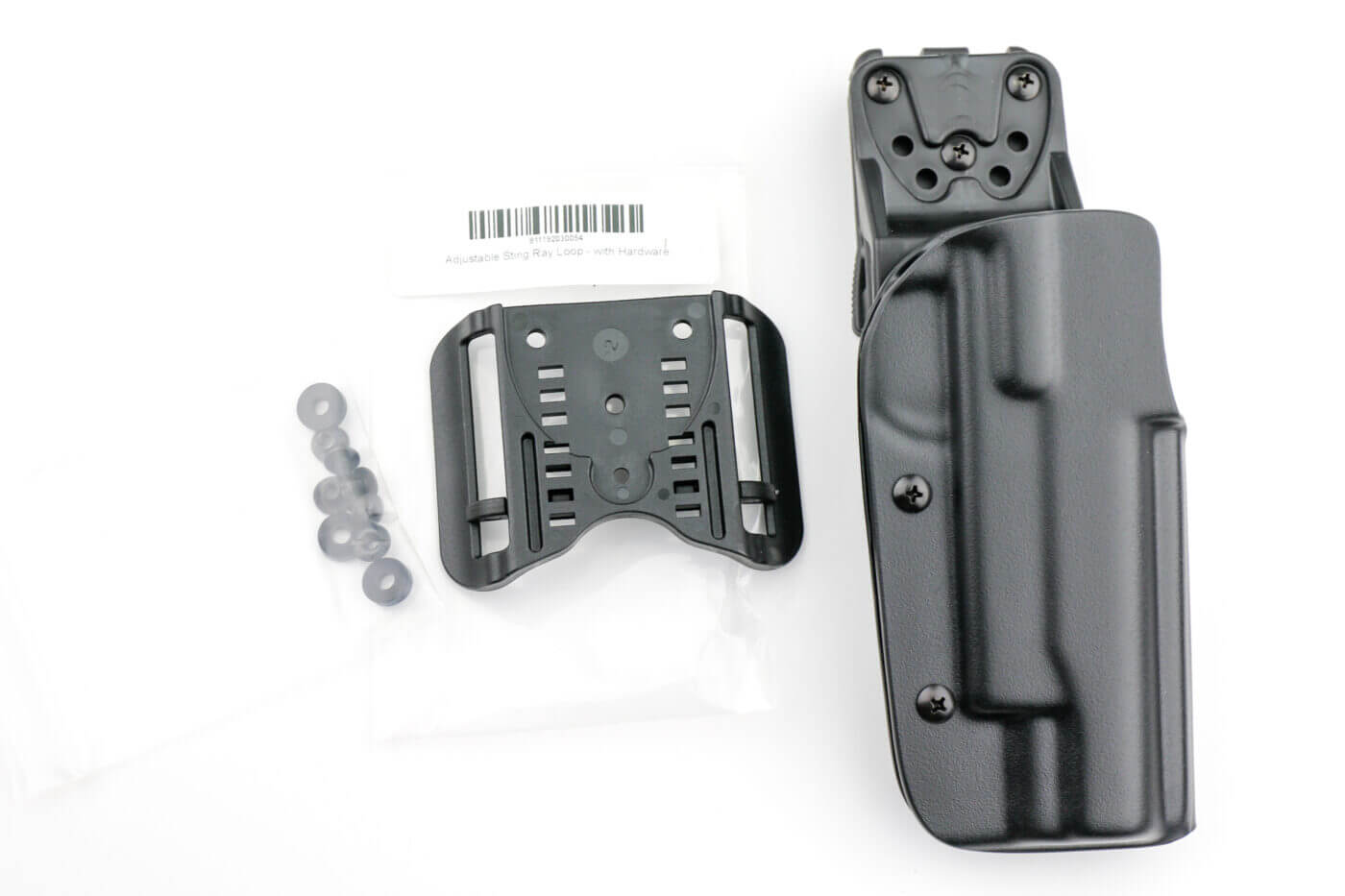 For concealed carry — or for competition in the International Defensive Pistol Association ("IDPA", the "concealed carry sport") — you want the higher-riding loop. It holds the gun close enough to the body to be concealable but is still very fast. The most efficient method is to use the gun hand to clear the concealing garment, then drive the web of the hand straight down to a position high under the grip tang, and then grasp and begin your draw.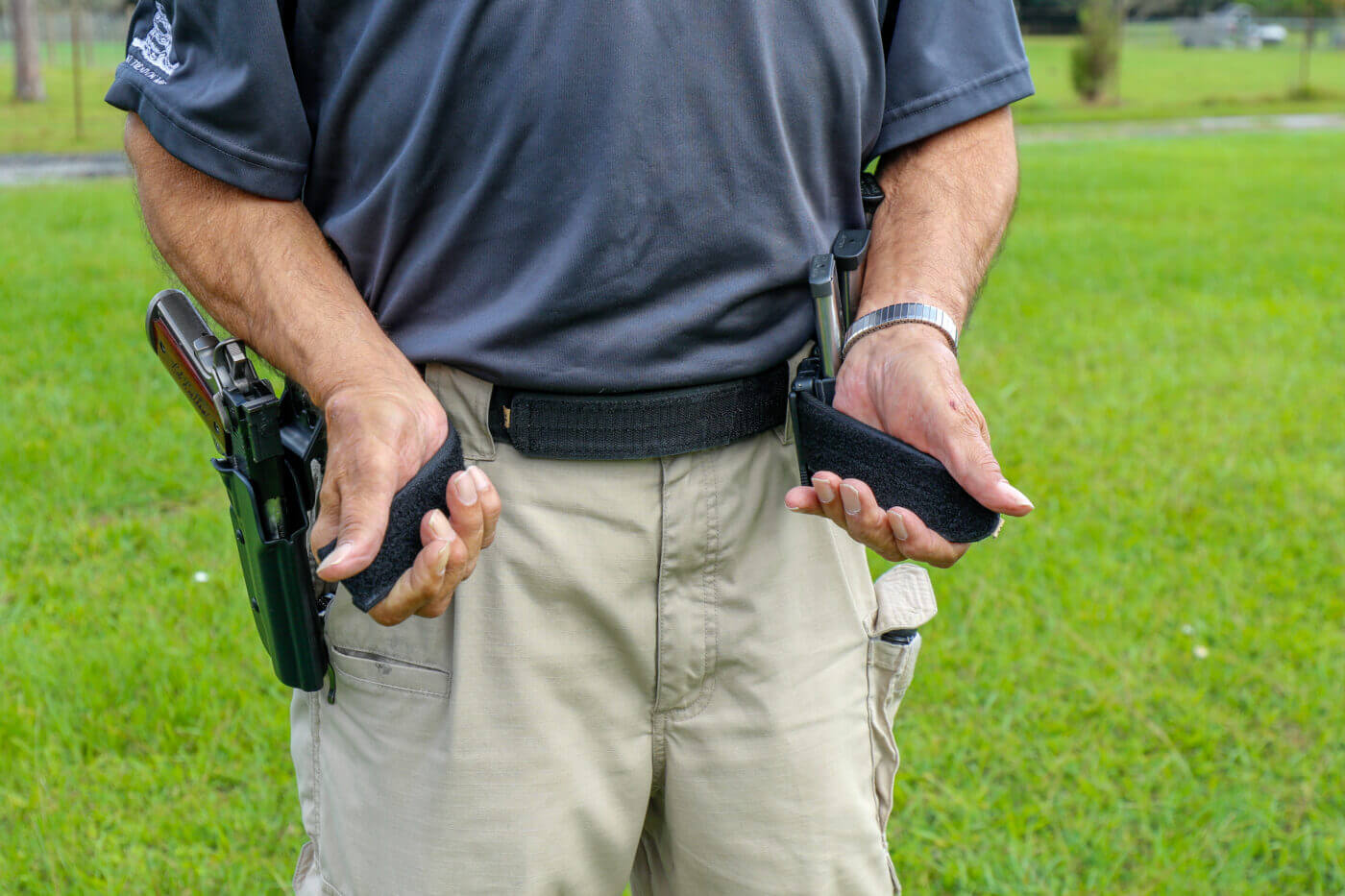 Underbelt System
My test Blade-Tech Classics came with their Competition Belt system, which is actually two belts. Mated with Velcro, the one stabilizes the other. It's a system I first saw decades ago on Safariland police uniform duty gear. When all your gear goes on the same belt that holds your pants up, placement of holster, pouches, etc. is somewhat limited by the belt loops. It is important to hold the equipment belt snugly against the pants belt or "underbelt" so things don't slide around during strenuous activity.
Keeping the belts together also prevents the weight of the outer belt from pulling the whole thing down. Wyatt Earp told his biographer Stuart Lake that just before the gunfight at Iron Springs where he killed Curly Bill Brocius, he had loosed his gunbelt for comfort and when he dismounted his horse, the whole thing slipped down to his thighs, hobbling him.
Prior to Safariland coming up with Velcro-mated belts, cops kept the duty belt in line with the underbelt with belt keepers, snap-equipped leather straps. These took up their share of space, reducing belt room and gear placement options further. The Velcro concept was a definite improvement.
The Blade-Tech underbelt goes through your trouser belt loops first, Velcro outward. Get it adjusted snugly. Now, with your gear already where you want it, strap on the outer belt and let Velcro mate with Velcro. Secure both together with the additional loop Blade-Tech provides to keep the outer belt from peeling off if the tongue gets caught on something (in a prone position, for example) and you're ready for some strenuous "running and gunning."
It should be noted that IDPA rules, last time I checked, still required you to mount holster and ammo carriers to the belt in your belt loops, but I don't think that's true of any other shooting sports.
Magazine Pouches
Years and years ago, Tim Wegner came up with the Tek-Lok magazine pouch, which sort of clamshelled the pouch out from the belt mount to allow affixing it to the belt without removing the belt. The pouch then snapped securely to the flat back of the unit. It was convenient, secure, fast and rode close to the body, and it became one of my favorite mag pouch designs.
A dozen or so years ago, according to Blade-Tech's Mike Majewski, they came up with the current version with a two-step release. I found it secure and liked that it was adjustable for height. I prefer a low-mounted pouch toward the front, and a higher mount toward the back of the belt; your range of movement, and therefore preference, may differ, but it's good for all of us to have the option.
Conclusion
Reasonably priced, Blade-Tech products remain a quality standard of their industry. I've won state and regional championships with Blade-Tech holsters. If you try them, I think you'll appreciate them as much as I do and see why they are considered a top-tier provider just as much today as when they first appeared.
Editor's Note: Please be sure to check out The Armory Life forum, where you can comment about our daily articles, as well as just talk guns and gear. Click the "Go To Forum Thread" link below to jump in and discuss this article and much more!
Join the Discussion
Featured in this article
Continue Reading
Did you enjoy this article?
136