Bowling with a Pistol? A Guide to Pin Shooting
July 30th, 2020
5 minute read
Editor's Note: This is part one in a two-part series on Pin Shooting. You can find part two here.
Of all the many enjoyable shooting sports there are, the game I've found the most fun is bowling pin shooting. I was of the generation that grew up shooting tin cans off a fence with .22s. Bowling pin shooting simply takes it to the next level. Think of it as plinking with centerfires.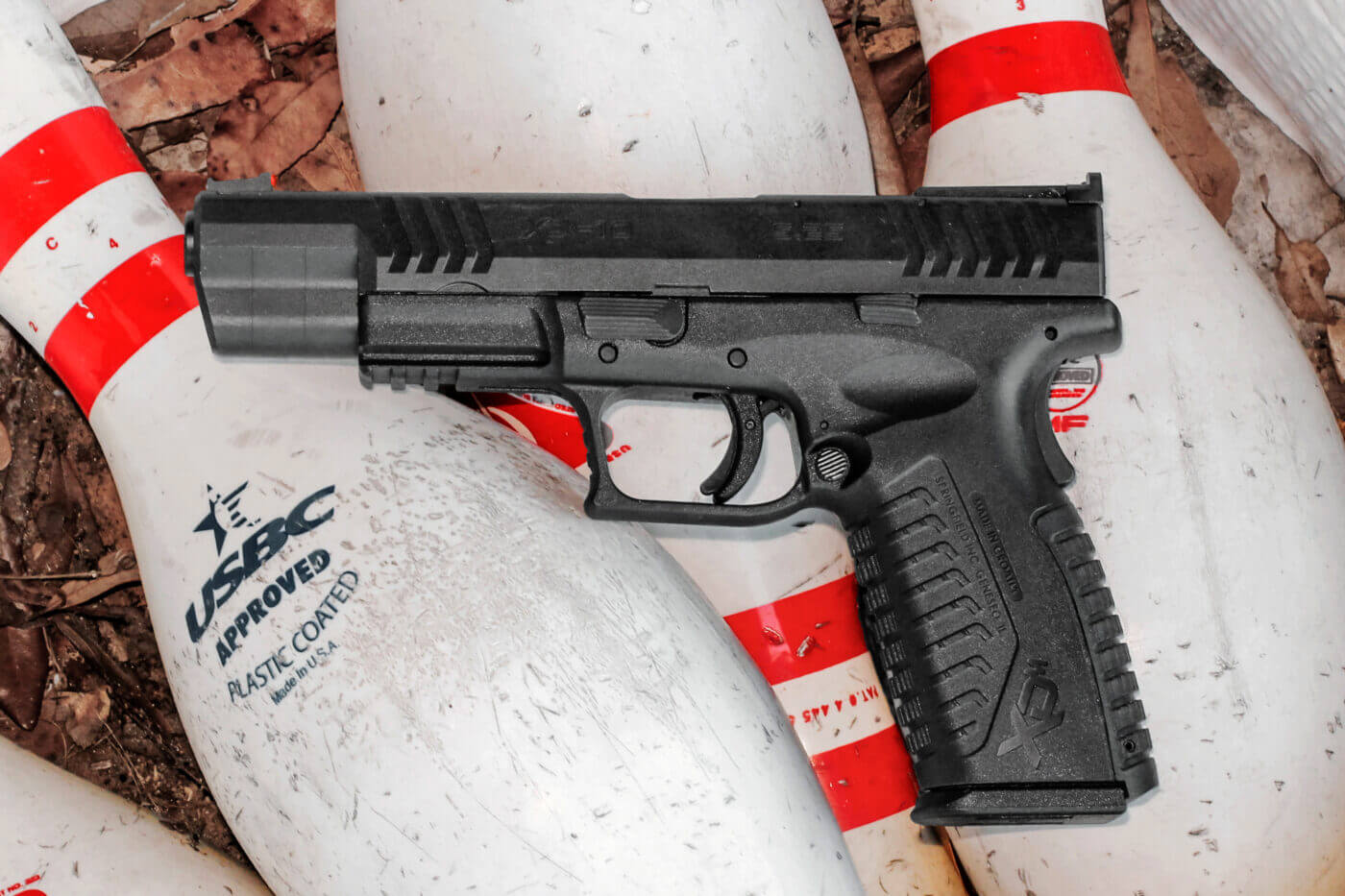 The sport was founded in the mid-1970s by Richard Davis, the man who really invented the soft, concealable body armor that has saved so many good guys and gals over the years. Generations of lawmen have been shocked to learn that "the man who bullet-proofed America's police" wasn't a supercop, but an ordinary armed citizen who liked guns and had prevailed in a 3-to-1 gun battle with armed robbers.
His invention brought him success, and to give back, he created the pin shooting sport. His match, called "The Second Chance Shoot" after the company he founded, Second Chance Body Armor, became a "must" on handgun shooting's "Pro Tour." All-time greats like Jerry Miculek and Bill Wilson first came to fame shooting pins on Richard's range in scenic Central Lake, Michigan. Knowing that the place was a vacation spot, Richard scheduled it the second week in June, after most kids were out of school, so shooters could make a family vacation out of it.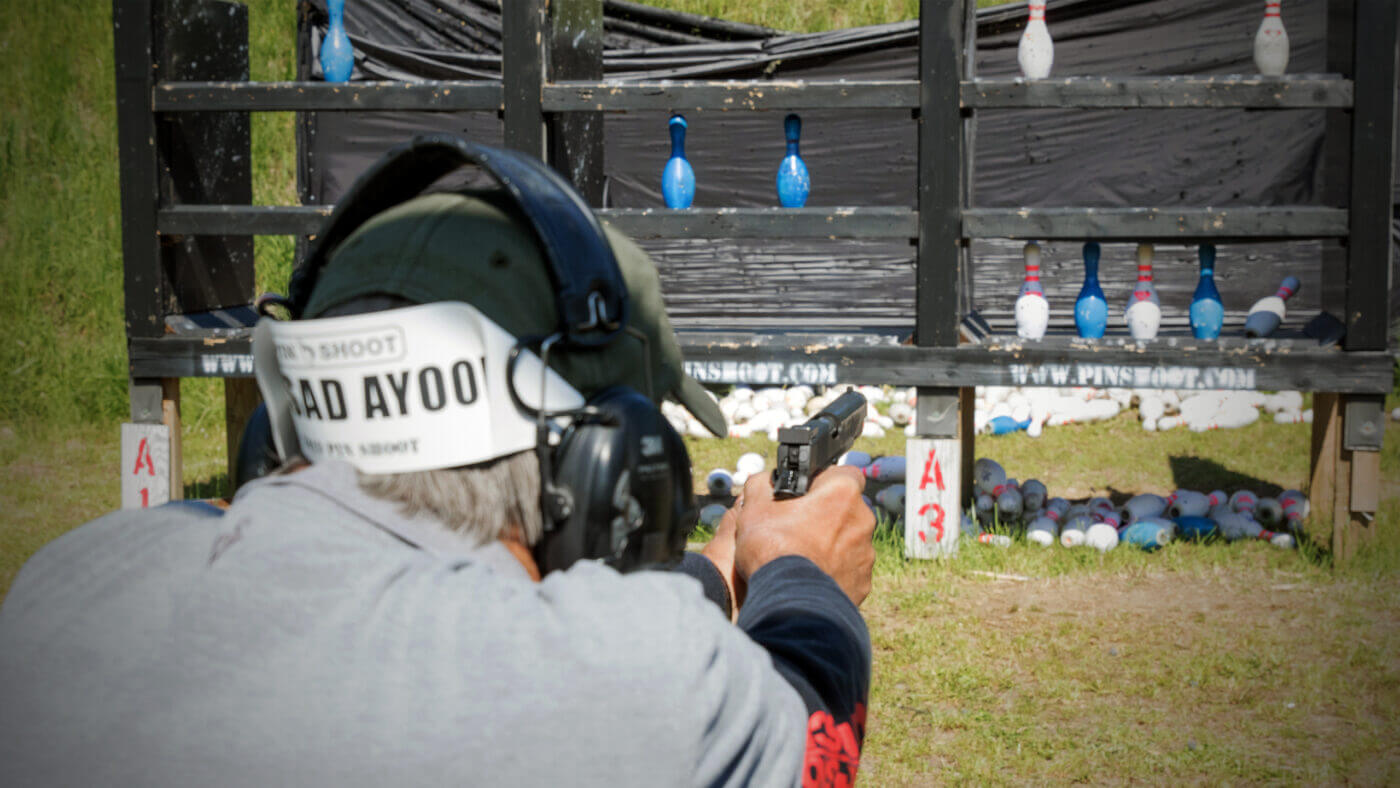 The event ended in 1998, and Richard left Second Chance. Fast forward: in 2017 Richard brought this iconic shooting event back as "The Pin Shoot", and it has been going ever since. The fourth Pin Shoot will take place (I bet you guessed this already) the second week in June 2020 in Central Lake. Check out the link to their website below for the schedule and info on the event.
A Classic, Today
The Pin Shoot has evolved into a virtual carnival midway of shooting games, all with reaction targets: usually those classic tenpins, but also some steel. But unlike the midway of yesteryear, the games aren't rigged; it takes shooting skill to win, and instead of teddy bears there are guns and cool accessories for prizes. There are events for autopistol and revolver, pump and autoloading shotgun, AR-type rifles and pistol caliber carbines.
Bring friends and family to the firing line: there are two- and three-person team events, and something just for the young ones. It's female friendly, too. Richard gives lady competitors a bonus off their time. Given the limited space here, we'll talk about the game itself, and also the pistols you could use in this ultra-fun sport.
Pick Your Poison
Heavy wooden pins must be blown all the way off the table or the clock keeps ticking on you. That means you want power. The .45 ACP is the overwhelming choice in this sport, with the 10mm a distant but effective second in popularity. The 1911 is what most often wins: good ergonomics come together with an excellent trigger pull and enough power to clear the wood.
And while the 1911 has traditionally ruled the game, polymer pistols are allowed across the board so long as they meet the other criteria. Something like an XD-M in .45 ACP or 10mm will do you fine if you're a "Prefers Polymer Person."
Stock Gun is the most popular division. The gun has to be under a certain weight limit (see the "rules" section on their website), with iron sights. The shooter is limited to eight rounds in the gun at any one time: they're testing our shooting skill, not our ammo capacity. Having shot every one of these matches, I've found myself settling on the 1911 .45. In Stock Gun I've used an out of the box Springfield Armory TGO-II with 5" barrel and fiber optic front sight for the past three years. It has served me well.
Pin Gun is the division for pistols with expansion chamber compensators, but still wearing conventional sights. The recoil reduction isn't as important here as in a match where you're shooting double-taps on the clock, since you're recovering from the kick as you swing from one pin to the next. At the Pin Shoot, I've seen overall high score go to a shooter with a stock gun. Nonetheless, I've had good luck shooting a compensated Springfield 1911-A1 that Mike Plaxco — a former Second Chance winner — built for me in the late 1980s. It's still going strong.
Space Gun is where you can have an optical sight along with all the Pin Gun accoutrements. Or, you can just shoot it with iron sights.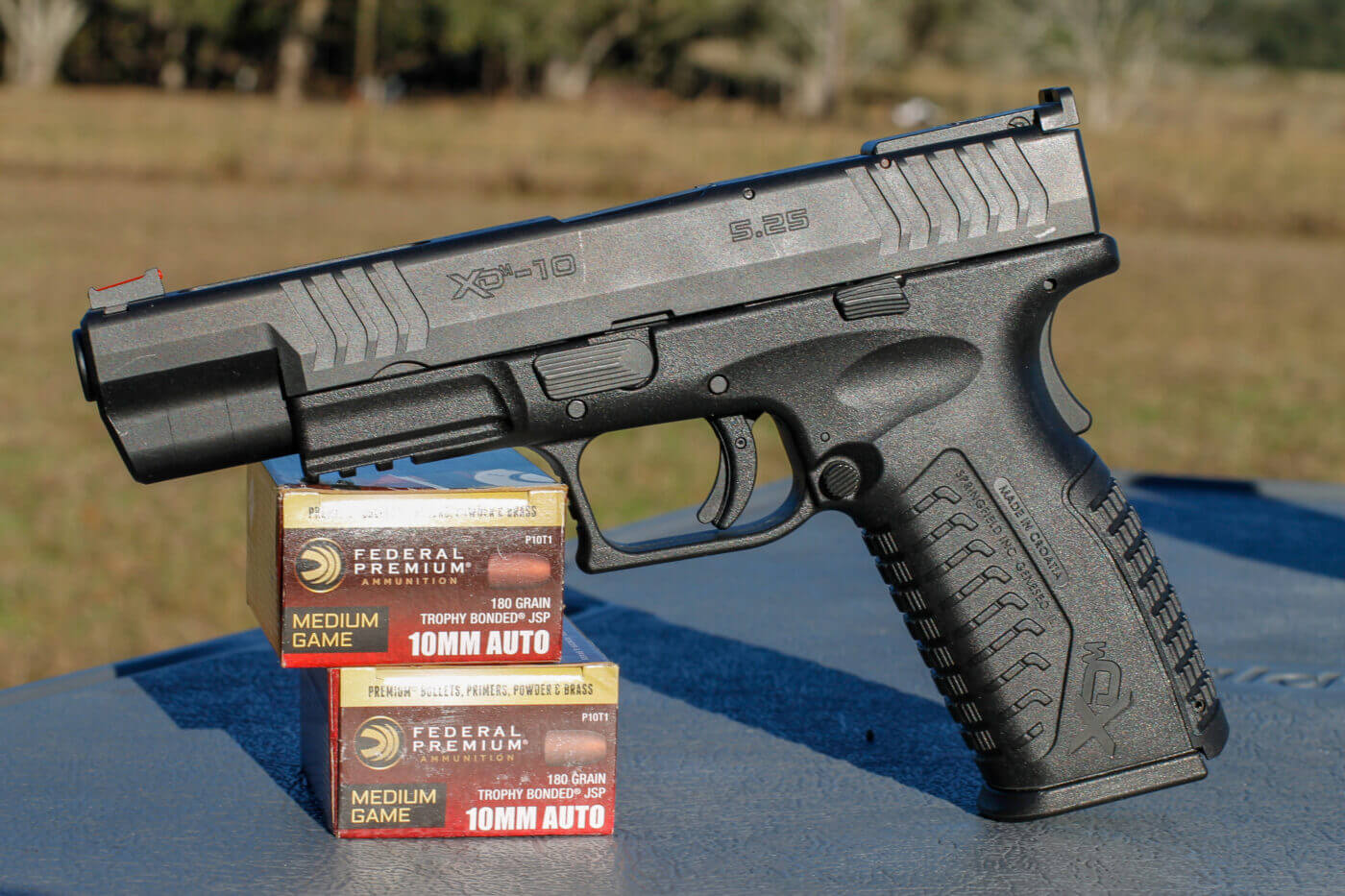 Concealed Carry division is for smaller handguns. At first, they only allowed 3.5" or shorter barrels, but they're allowing 4" for 2020. In the Springfield Armory catalog, you'd be looking at the XD-S Mod.2 in .45 ACP (You get half a second off each run if you shoot a 3.5" or shorter, you see). Yes, the XD-S only has a five-round magazine as standard, but that plus one in the chamber does it because in Concealed Carry category the Pin Shoot only allows six rounds in the gun to start.
There's one side match where the rules change and you just have to tip over the pins, a whole dozen of 'em. This event, called the "9×12", is generally shot with a double stack 9mm. I use a Springfield Armory Custom Shop XD-M 9mm for that. Starting magazine capacity is unlimited.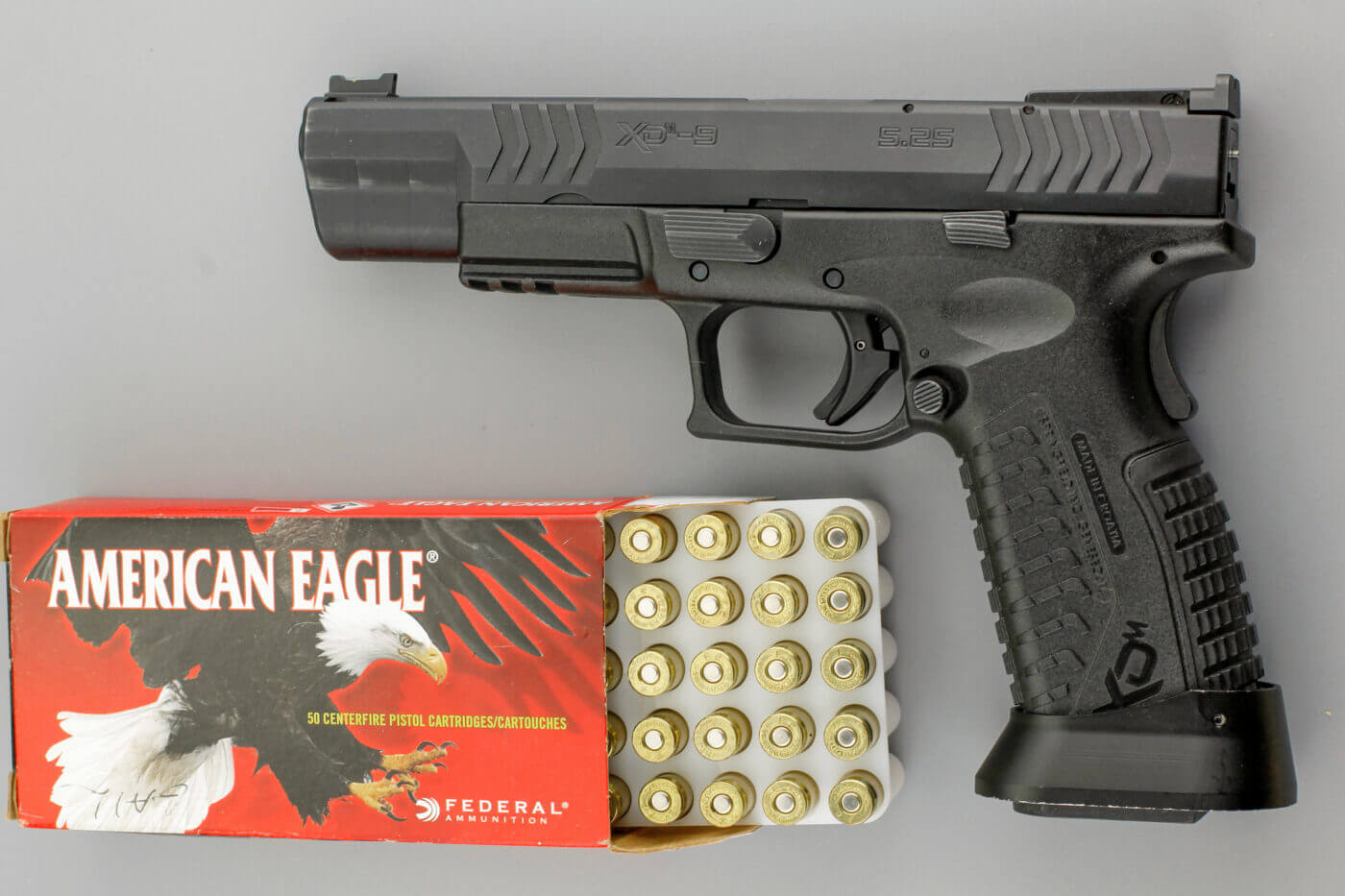 Conclusion
I've run out of space, and we haven't yet talked about how to get the best possible scores in this game. Over the decades I've been able to pick the brains of the champions on that issue, and it's what we'll discuss in this space next time. Be sure to keep an eye out for it!
Editor's note: The author has shot all the Second Chance and Pin Shoot matches in Central Lake since their inception in the 1970s. Also, please be sure to check out The Armory Life Forum, where you can comment about our daily articles, as well as just talk guns and gear. Click the "Go To Forum Thread" link below to jump in and discuss this article and much more!
Join the Discussion
Featured in this article
Continue Reading
Did you enjoy this article?
78