Champion Eye & Ear Range Gear
July 8th, 2020
4 minute read
When hitting the range, it's pretty important to remember your firearm. But what else do you need to make sure that you have with you? I'm sure you have an ammo bag, gun cases and targets, but what's all that gear without ear and eye protection?
Over the years, I've learned just how important your gear can be and why you must use what works for you. When I was in 4-H Shooting Sports as an adolescent, the first thing they taught us was the importance of protecting your eyes and ears. Now, as a frequent shooter at my local indoor range, it's required for me to have eye and ear protection.
Great Options
The first step to protecting your eyes and ears is finding what gear works best for you. There are many styles and options from which to choose at a wide range of prices, and it can all be quite confusing. For my personal needs, I decided to go with Champion Range and Target. They have several different options for eye and ear protection depending on your needs and wants.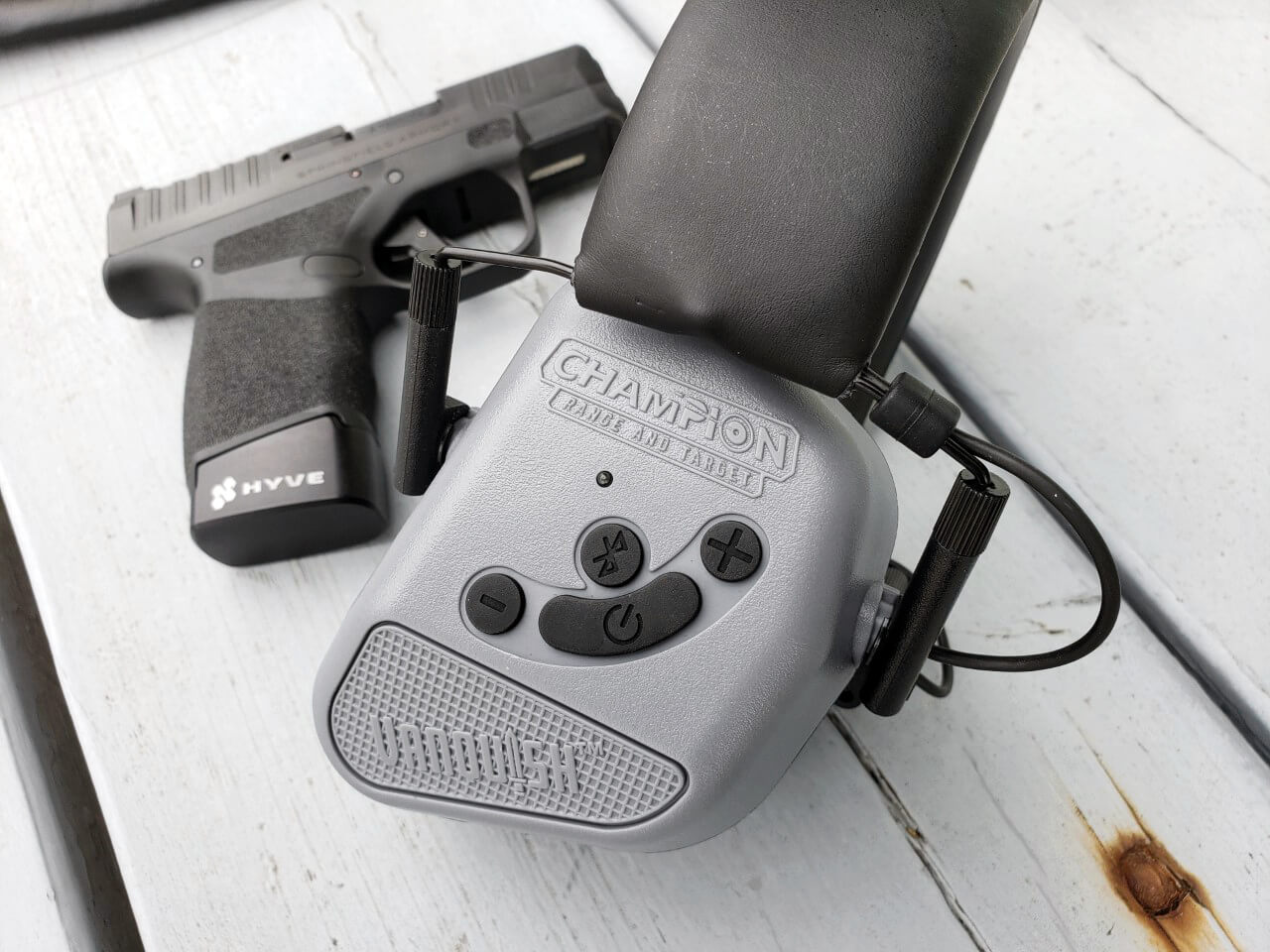 For hearing protection, I took a look at their Vanquish Electronic Hearing Protection line. The line has three tiers of products, from the Vanquish for $69.95 to the Vanquish Pro for $124.95 to the Vanquish Pro Elite for $249.95. The Vanquish offers 22 dB of sound protection, runs on two AAA batteries, features automatic shutoff, and more. The Vanquish Pro offers 24 dB of protection, enhanced construction materials, runs on four AAA batteries, adds enhanced button controls and also Bluetooth capability. The Vanquish Pro Elite takes the Pro benefits and adds Active Noise Cancellation and a rechargeable lithium ion battery.
My Choice
I personally selected the Vanquish Pro for my needs, and I have to say that it went above and beyond my expectations. I felt I could comfortably wear them all day and not have any ear pain or headaches. After just one day at the range I can easily say it blew me away with its less than one milli-second reaction time. It worked amazingly well at cutting off damaging sounds, even from a 6.5 Creedmoor rifle I was firing at one point. And it made very short work of quieting my Hellcat 9mm.
As noted above, the Vanquish Pro is Bluetooth-compatible, which gives me the option of jamming at the range without missing a beat. Also, the Vanquish's omni-directional sound amplification proved to be amazing at giving me a good grasp of what was happening around me, while still protecting my hearing from loud shots.
Eyes on Target
Now let's get to the eyes. For that, I selected Champion's Interchangeable Lens Set Ballistic Shooting Glasses, that gives you three lens sets in one affordable kit at $26.95. The system comes in a soft zippered case that clips onto any bag, making them easy to tote around.
The sleek and stylish design features a low-profile black frame system that offers comfortable and unobtrusive wear. The set includes clear, smoke and yellow lenses that are in a separate included small soft case that helps keep them from getting scratched or chipped within the zippered case.
The lenses cut down glare and enhance your surroundings and give you an option for just about any range condition. I really felt like I was looking at the target in HD. The only issue I had was that changing them out was tough the first time, but once I got past that they became very easy to swap out.
Conclusion
Overall, both products exceeded my expectations. I would highly recommend these products to anyone who is looking for some high-quality gear at a fair price. I felt like the cool kid on the block.
Editor's Note: Please be sure to check out The Armory Life Forum, where you can comment about our daily articles, as well as just talk guns and gear. Click the "Go To Forum Thread" link below to jump in and discuss this article and much more!
Join the Discussion
Featured in this article
Continue Reading
Did you enjoy this article?
37