Best Hellcat OSP Holster?
April 16th, 2020
5 minute read
Holsters come in many shapes and forms, having been fabricated, shaped and orientated millions of creative ways. This has driven many of us to buy countless holsters in pursuit of "the one." You know, the one, final "unicorn" holster that will make us stop buying holsters altogether and be totally happy with our everyday carry (EDC) pistol.
But first, you have to find that ideal EDC pistol. For me, the Springfield Hellcat OSP (optical sight pistol) is a real contender. The Hellcat OSP as an EDC has flipped the firearms industry on its head for multiple reasons. Set aside the fact that it is the world's highest capacity micro-compact; it also has normalized carrying an EDC with an optic. Now, you can have a truly compact defensive pistol, and one set up with a tough micro-sized optic such as the Shield SMSc.
Quick to follow that burgeoning trend set in motion by Springfield are holster manufacturers. Now that carrying an optic-equipped micro pistol has moved into the mainstream, holster makers are taking note.
Today, we are going to look at the Crucial Concealment Covert Inside-the-Waistband (IWB) holster to see if it is one of those unicorn holsters for which we all are searching. So, let's dive in and take a closer look.
My Take
I carried the Springfield Hellcat with the Crucial Concealment Covert IWB holster every day for three weeks straight. For myself, I carry a few different EDC pistols depending on where I am going, what I am wearing and a few other factors. So, I already have a mountain of holsters at home. There are certain things that I look for in a holster and it being a good fit for me (no pun intended).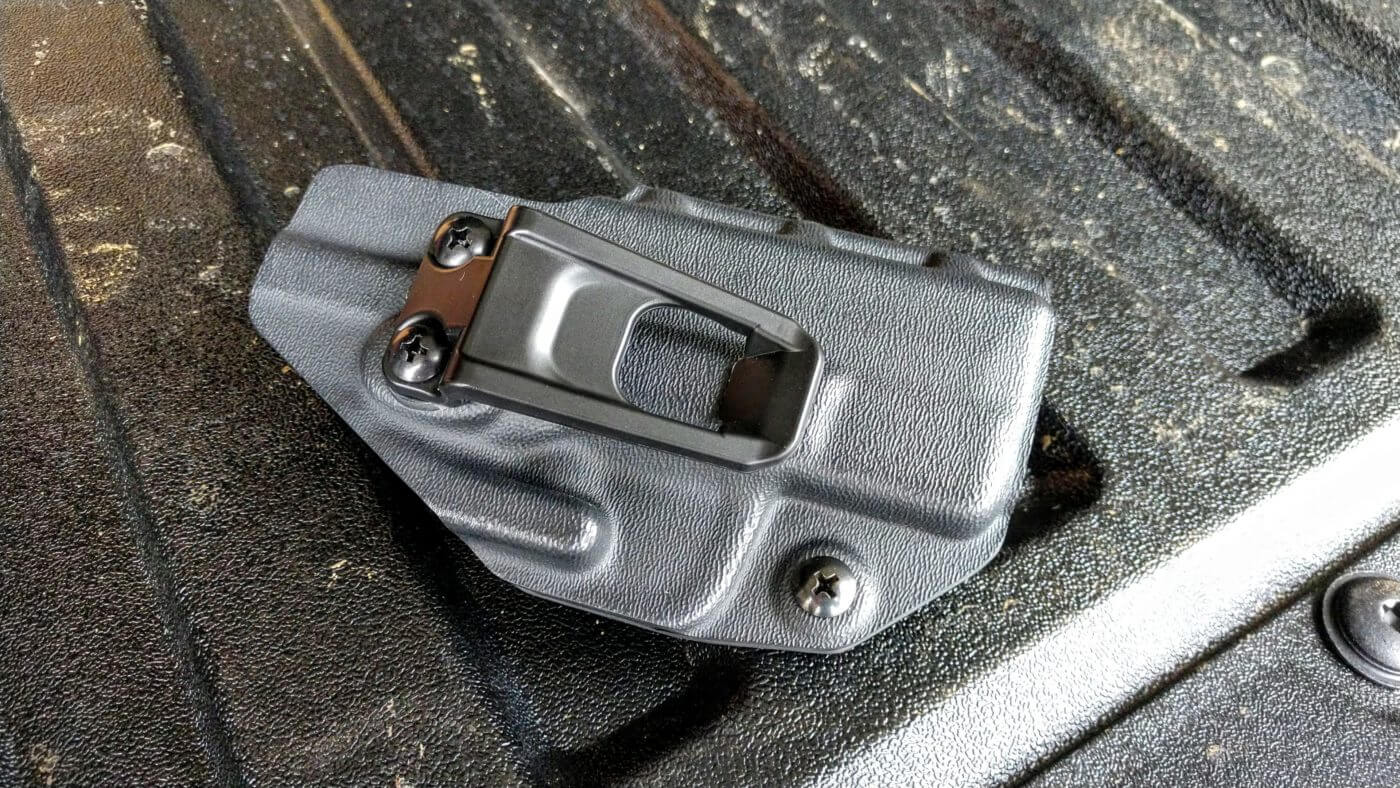 One key element to any holster is retention. It is like the three little bears and their porridge. You do not want too much retention or too little — it needs to be just right. With the Crucial Concealment Covert IWB, there is a small Phillips screw near the bottom of the holster with a rubber washer that allows you to adjust the retention to your liking. This is something that is easily modifiable.
Another feature that is externally adjustable through the use of Phillips screws is the cant or orientation at which the IWB holster will sit on your waistline. Additionally, the holster is fully ambidextrous as it can be swapped for left-handed and right-handed shooters. I appreciated all these features in the Covert IWB because it lets you create a more custom fit. Not all holster manufacturers are thoughtful enough to employ something so simple yet meaningful.
Something else that is important to me in any holster is the depth at which it will be riding on my waistline. If it is too high it has an increased likelihood to "tip" or fall off your belt or pants. Too low, and it is too difficult to draw your firearm in an expeditious manner. The Crucial Concealment Covert sat at a moderate depth where I could quickly draw the Hellcat during dry-fire drills, it hid well under a simple T-shirt without printing, and there was no dreaded feeling of it tipping out.
Most all of the holsters that I use with any regularity are made of some type of plastic or kydex versus other materials. The reason I prefer kydex is because it does not retain moisture and they simply rinse clean if you get them dirty. Obviously, I like the fact the Covert IWB is made from this material.
For my time using the Crucial Concealment Covert IWB, I was on my feet for typically 10 to 12 hours per day and it did not inhibit my movement at all, which is key. Any good holster should not change the way you act or move because that could be a signal to others you are carrying concealed. Moreover, with the Hellcat OSP toting an optic on top of the slide, the Covert holster still allowed me freedom of movement, and it was completely comfortable.
Conclusion
All in all, I thoroughly enjoyed my time using the Crucial Concealment holster because it provided me with the feature set and benefits that I look for in a holster. It is important to note though that everybody has a different body type, shape and size and that the holster has to individually fit you, your needs, and your preferred style of carry.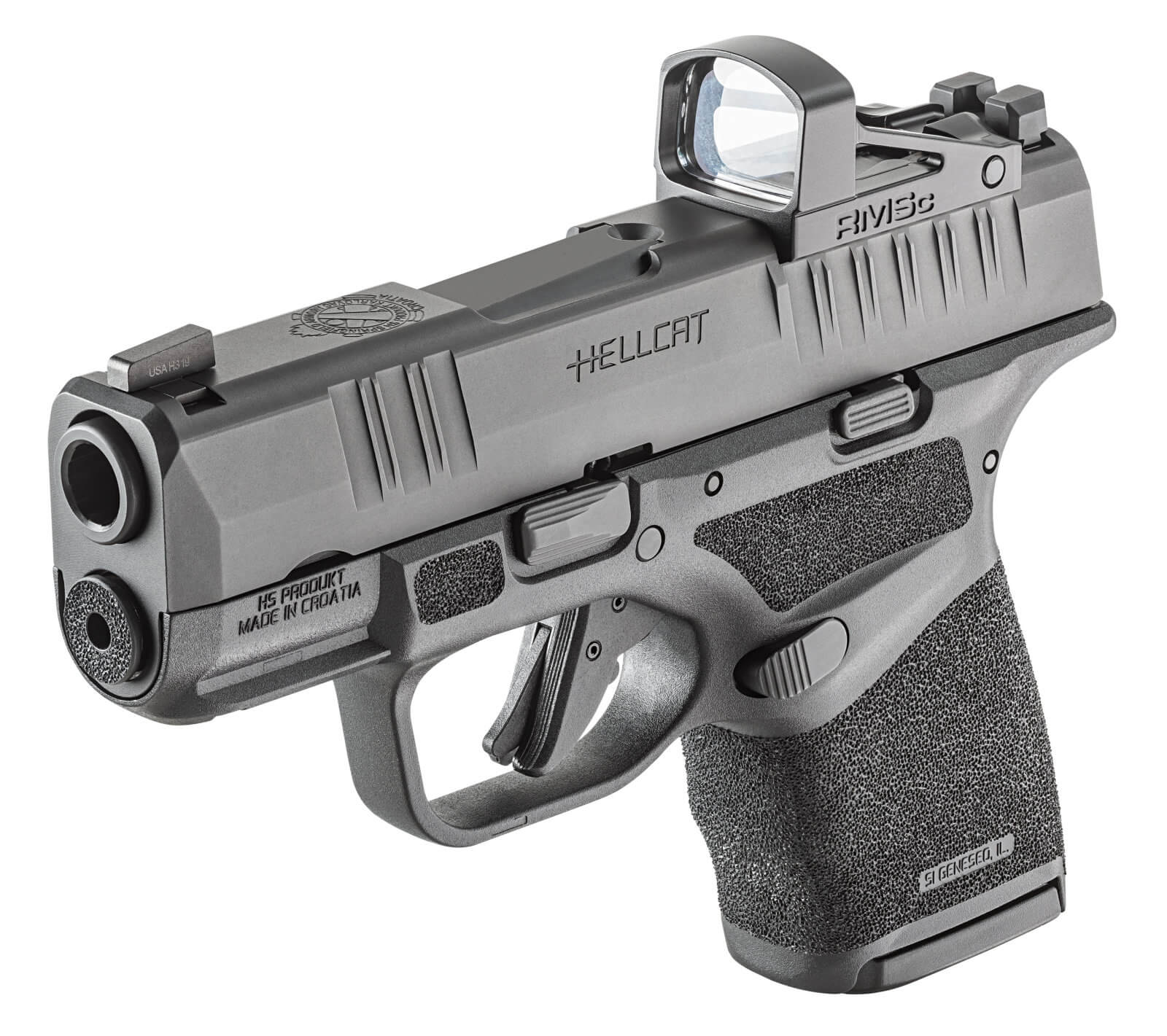 It was not long ago that having an optic on a handgun was a completely abstract and foreign idea. Now, with the Springfield Armory Hellcat OSP and accommodating holster companies like Crucial Concealment, it is becoming much more common. So, pick one of these up for your Hellcat OSP — I am sure you will like it!
If you have a Hellcat RDP, I recommend checking out Will Dabbs' review of the Crucial Concealment Covert holster. He gives the holster and matching magazine holder a real workout.
Editor's Note: Crucial Concealment has been kind enough to offer The Armory Life readers a 10 percent discount on purchases. Simply use the coupon code Springfield when finalizing your purchase.
Also, please be sure to check out The Armory Life Forum, where you can comment about our daily articles, as well as just talk guns and gear. Click the "Go To Forum Thread" link below to jump in!
Join the Discussion
Featured in this article
Continue Reading
Did you enjoy this article?
191