IWB your Hellcat RDP: Crucial Concealment Covert Holster
September 10th, 2021
4 minute read
The Crucial Concealment Covert IWB (Inside the Waistband) holster is a rugged yet minimalist solution for packing your Springfield Armory Hellcat RDP pistol no matter your wardrobe or environment.
Compact, concealable, and brilliantly executed, the Covert IWB offers everything you need without the fluff you don't. Crafted from indestructible 0.080" Kydex, the Covert IWB is your grab-and-go concealed carry tool.
Details
To be safe and effective concealed carry needs to be a lifestyle. The practice has come a long way since the 1990s. Nowadays 21 states allow constitutional carry without a permit.
It's at least theoretically possible to carry a concealed weapon legally in all fifty states, though the practicalities of that are undeniably challenging. To do so responsibly requires both training and a little gear.
Concealed carry firearms have evolved almost as aggressively in recent years as have microelectronics. Today's Springfield Armory Hellcat RDP (Rapid Defense Package) represents the state of the art.
Now available with a 15-round magazine, HEX Wasp micro red dot sight, and self-indexing compensator, the Hellcat RDP offers service pistol performance in a package you can carry comfortably underneath shorts and a t-shirt.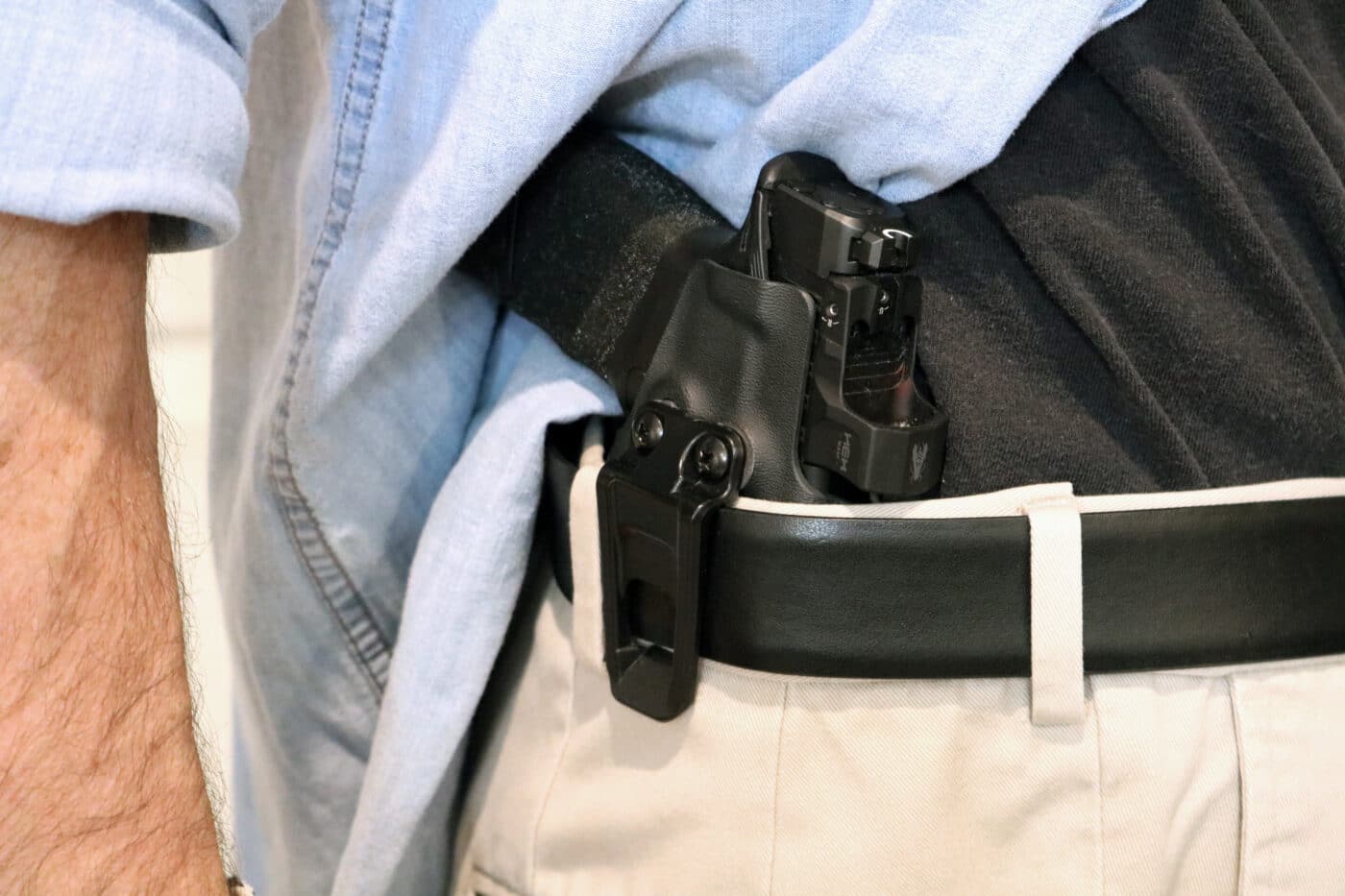 The Crucial Concealment Covert IWB holster is the perfect complement to your Hellcat RDP. The holster is reversible for right or left-handed carry and features adjustable cant to best suit your particular comportment and proclivities. All it takes is a Phillips screwdriver to adjust the degree of retention. Once you get it tweaked the gun carries comfortably yet remains instantly accessible.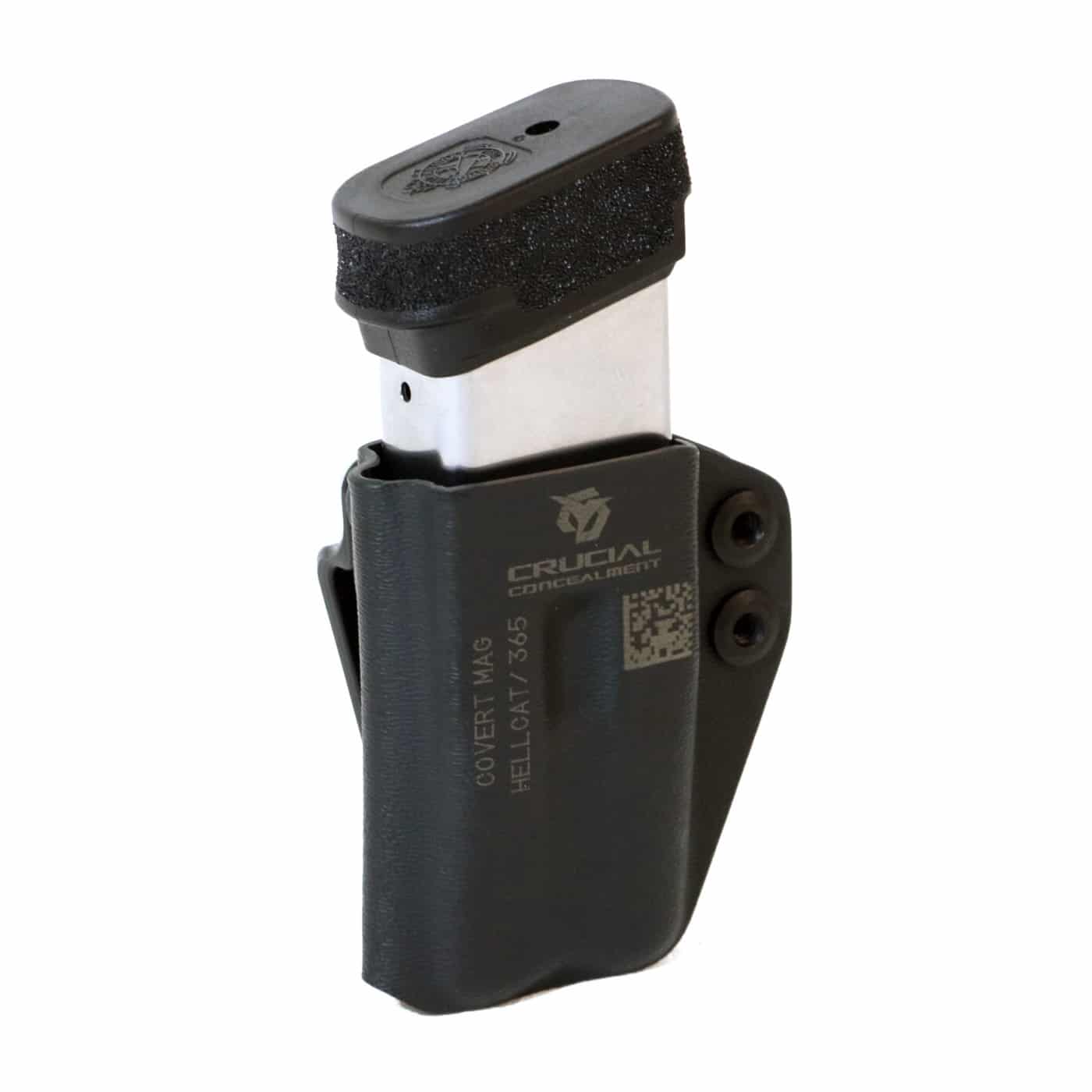 The Crucial Concealment Covert IWB holster includes a subtle bump molded in that presses against your belt and helps kick the grip of the pistol back toward your body. This minimizes printing and keeps the overall package svelte and stealthy. The gun's contours are perfectly replicated in the holster for a custom fit.
Crucial Concealment also offers a minimalist spare magazine carrier called the Covert Mag pouch that clips onto your belt on the weak side. Their carrier is also molded from heavy Kydex and features the same rugged polymer belt clip as the holster.
This minimalist magazine carrier can be used both inside and outside the waistband and is easily adjustable for both cant and height. Twin retention screws let you adjust the grippiness of the rig for reliable carry and easy access.
Denouement
With a spare magazine onboard that gives you potentially thirty-one rounds on tap in a crisis. The argument could be made that if you can't solve your problems with thirty-one rounds of 9mm Parabellum you should find some fresh problems.
Carrying a gun for personal protection is both an awesome responsibility and a great comfort. Doing so safely and well requires a little effort and dedication. Springfield Armory and Crucial Concealment can get you there.
Editor's Note: Please be sure to check out The Armory Life Forum, where you can comment about our daily articles, as well as just talk guns and gear. Click the "Go To Forum Thread" link below to jump in and discuss this article and much more!
Join the Discussion
Featured in this article
Continue Reading
Did you enjoy this article?
47