In this shoulder holster review, the team from GunSpot examines the double rig from Craft Holsters. Officially called the Double Shoulder Holster System, this outfit offers an interesting take on concealed carry. While the team had a certain amount of fun with the '80s action hero angle, the leather shoulder holster system may offer a very practical benefit for some readers. Always be safe in how you carry and train, never be afraid to engage in self-deprecating humor and always be willing to have a little fun.
Let's address something that not many people like to talk about: how it seems like the film industry is both the best and worst thing to ever happen to firearms. While there can be film mistakes that can create misinformation about guns and other tactical gear, not much is gonna fuel the firearm economy more than the dreams of being an action star like John McClane (Bruce Willis) or John Wick (Keanu Reeves).
And part of that charm is wanting to run a gun like those action stars do, even down to the way they carry them. Which brings us to the topic at hand. A dual-shoulder holster might scream "impractical" to some readers, but the simple fact is that if you are safe and understand how to properly employ a holster like this, you are set for one of the most entertaining days on the range you'll ever have.
Shoulder Rig Overview
The holster we are talking about is the Craft Holsters Double Shoulder Holster System we received for testing. For those unfamiliar with Craft Holsters, the company's website explains exactly why you should consider their products — things like a five-year warranty, multiple color options, high-quality leather and a wide range of fits and styles.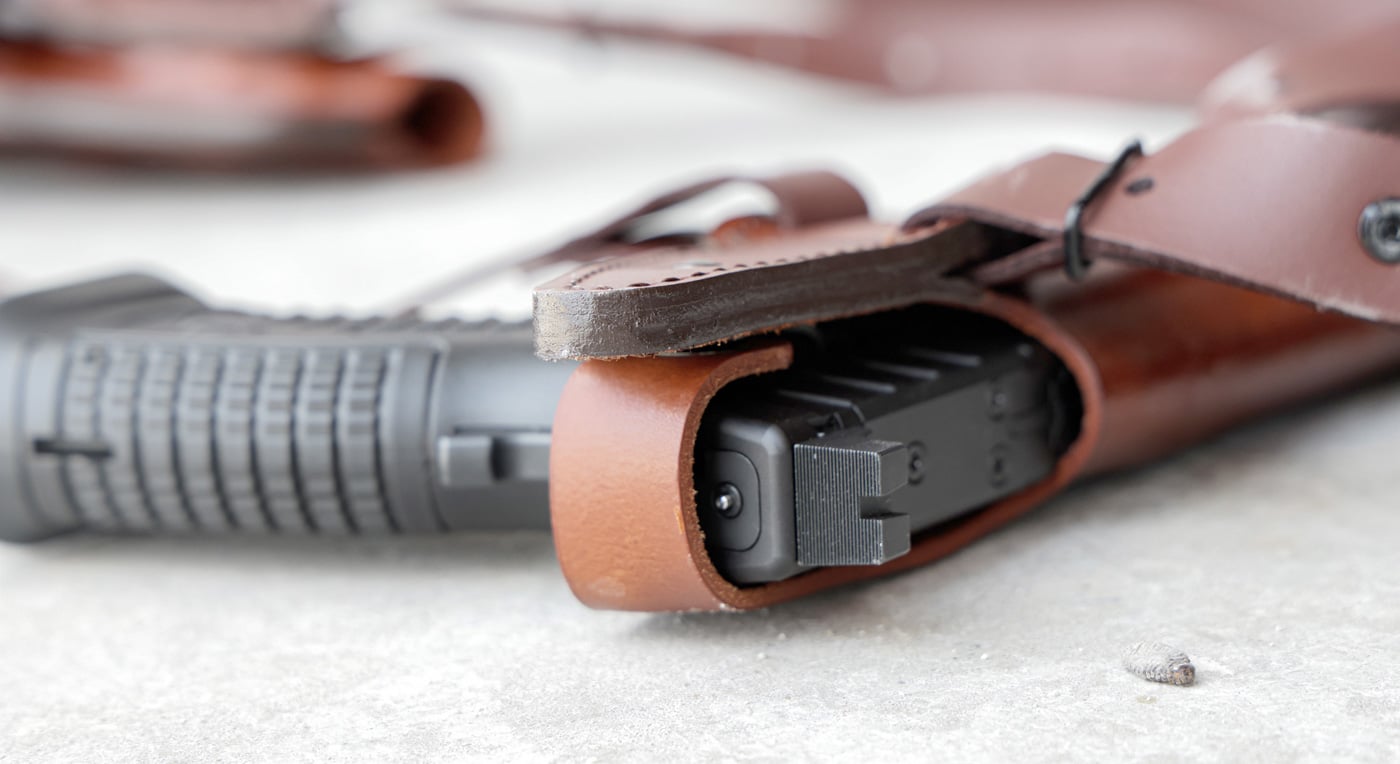 But what about things like materials and quality of life features? The website lists "premium Italian leather with lacquered finish," which, from our experience, seems to be true. One of the standout features here has to be the steel-reinforced thumb break, or strap snap, that provides secure retention on the holster rig while still providing a smooth draw.
Falco Holsters makes the leather holster itself, and there are some nice options available. In fact, we requested that our holsters have optics cuts so that we could fit a pair of Springfields with red dots, and the team was fast and efficient with their response. It was great customer service.
The holsters hook to your belt and hold very well like a pair of suspenders, which gives great stability for pulling out your gun or guns. They even do a good job of holding your pants up for you, which is always a plus. With our purchase, we had the option of multiple colors and markings on the side of the holster. You can have three characters embossed in the leather, and for ours, we went with "XDM".
Dual-Wielding Gun Rig?
Speaking of XDM, we went with two 9mm XD-M Elite OSP pistols. There is a plethora of handguns to choose from when ordering your holster. All holsters are hand fit around the gun, giving it a snug, custom fit.
Some of the holster options from the company are rotary and allow for both a vertical and horizontal draw, so if you don't want to flag anybody, that's an option. There are also choices for left- and right-handed users. In fact, there are so many options in terms of holster styles and guns to put into those holsters that we'd be here all day if I were to list them all.
Let's just say that if dual wielding is too impractical for you, you'll have plenty of other options from this company. For example, after communicating with the staff via e-mail, I learned they are currently producing holsters for all models with both lights and red dot sights equipped.
The version that we got was custom-made because of our optic cut slides and suppressor height sights. The normal shoulder holster, which has one side with a handgun and another side with a mag pouch, costs around $199.99. A pistol and loaded magazines balance nicely, but not quite as well as a pair of matched handguns. The dual shoulder holster option costs $225, our optics cut version coming in a little above that. The point still stands that there are enough options on the site to deliver exactly what you want.
Wearing the holster is made easier since it has an adjustable harness. The leather straps work with the metal snaps to adjust the size and let you get a custom fit.
So how did our double shoulder rig perform? Splendidly. If you'd like to see it, be sure to check out the video at the top of the page. Quality and performance were seriously exceptional, and the fun factor was off the charts.
Final Thoughts on the Craft Holsters Shoulder Holster
While not necessarily the most practical option for everyone, you can't help but admit that this kind of holster is nothing but a good time when you take the proper safety precautions. Messing around as if we were movie stars and just having a good time at the range left a huge smile on everyone's faces.
While it's totally true that all steps of caution should be taken when shooting, you can always have a good time when on the range. And isn't that usually the point?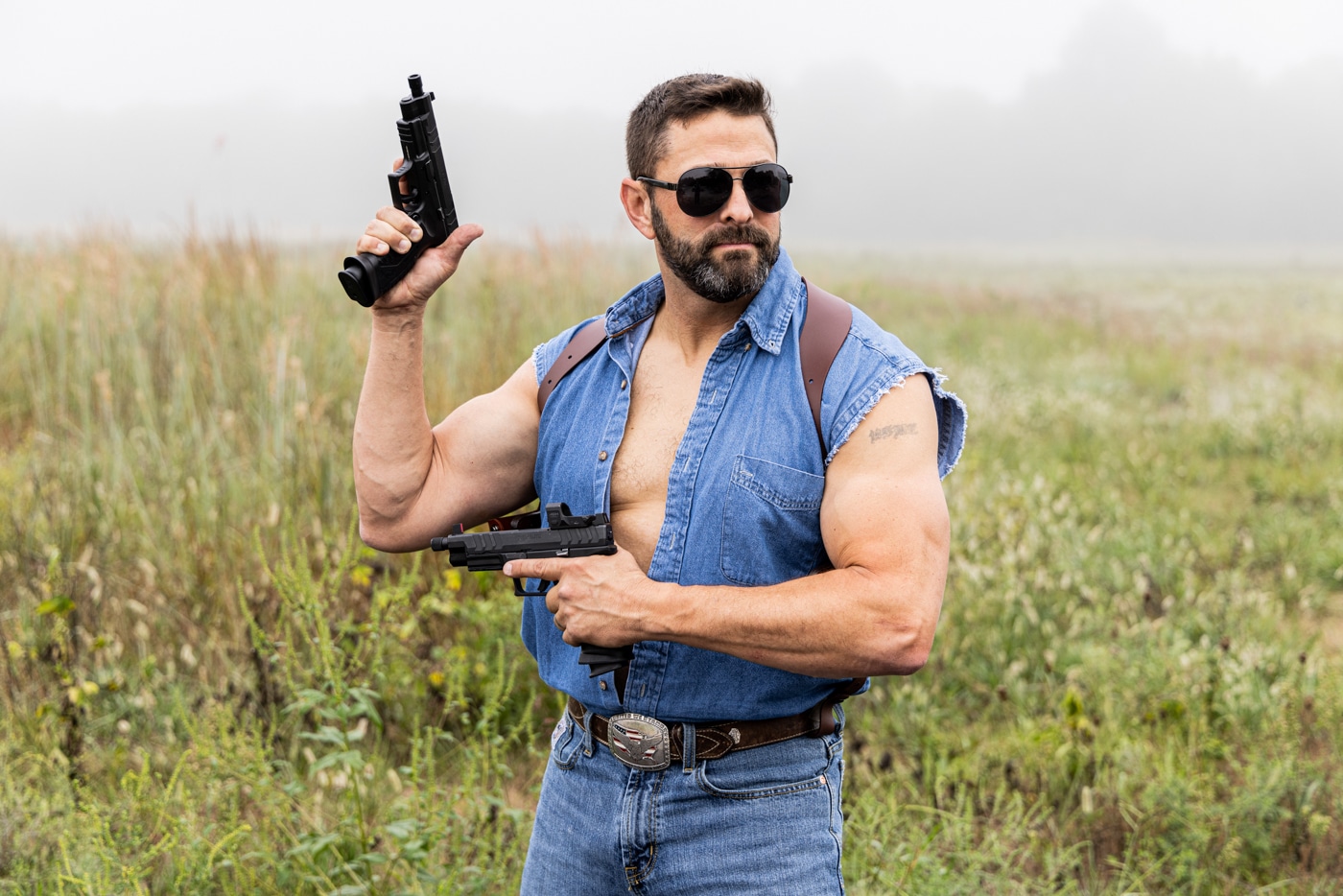 Our experience with Craft Holsters was great and allowed us to get the exact product we wanted. The excellent workmanship and comfortable design of this rig allows us to recommend it. While a bit out of the ordinary, you can carry a pair of pistols holstered in this rig under a jacket.
If a shoulder holster isn't your game, the company offers a range of carry holsters including IWB and outside-the-waistband rigs for the belt. While this good quality holster has practical applications, it didn't stop us from releasing our inner '80s action stars!
Editor's Note: Please be sure to check out The Armory Life Forum, where you can comment about our daily articles, as well as just talk guns and gear. Click the "Go To Forum Thread" link below to jump in!
Join the Discussion
Featured in this video
Continue Reading
Did you enjoy this video?
53