Dealing with the Unseen Threat:
MIRA Safety Tactical Respirators
January 23rd, 2022
5 minute read
Recently I read a book by Navy SEAL Jack Carr called The Devil's Hand, in which the plot has terrorists hell-bent on destroying the United States by releasing a deadly hemorrhagic fever pathogen. With fear spreading through the nation, martial law was instituted.
It's a very good book, and I suggest it and the whole Jack Carr series for that matter. The point is, with what I've seen in the real-world reaction to recent events and that book in particular in mind, I've started to become concerned that the future of terrorism is CBRN warfare.
The Overlooked Threat
CBRN, if you have never heard of it, stands for "chemical, biological, radiological, and nuclear". Yes, it does paint with a very broad brush. Biological is quite a bit different from nuclear, considering nuclear fallout can last for many years after an attack.
I admit I am no expert in virology or biology, and I'm no physicist. I just know I want to be prepared as best I can. I don't have the money to pour a concrete bomb shelter with 6' thick walls to withstand a nuclear blast. Simple things I can do, though, and you can as well. For instance, look at purchasing air filtration devices. In layman's terms, we know them as gasmasks or respirators.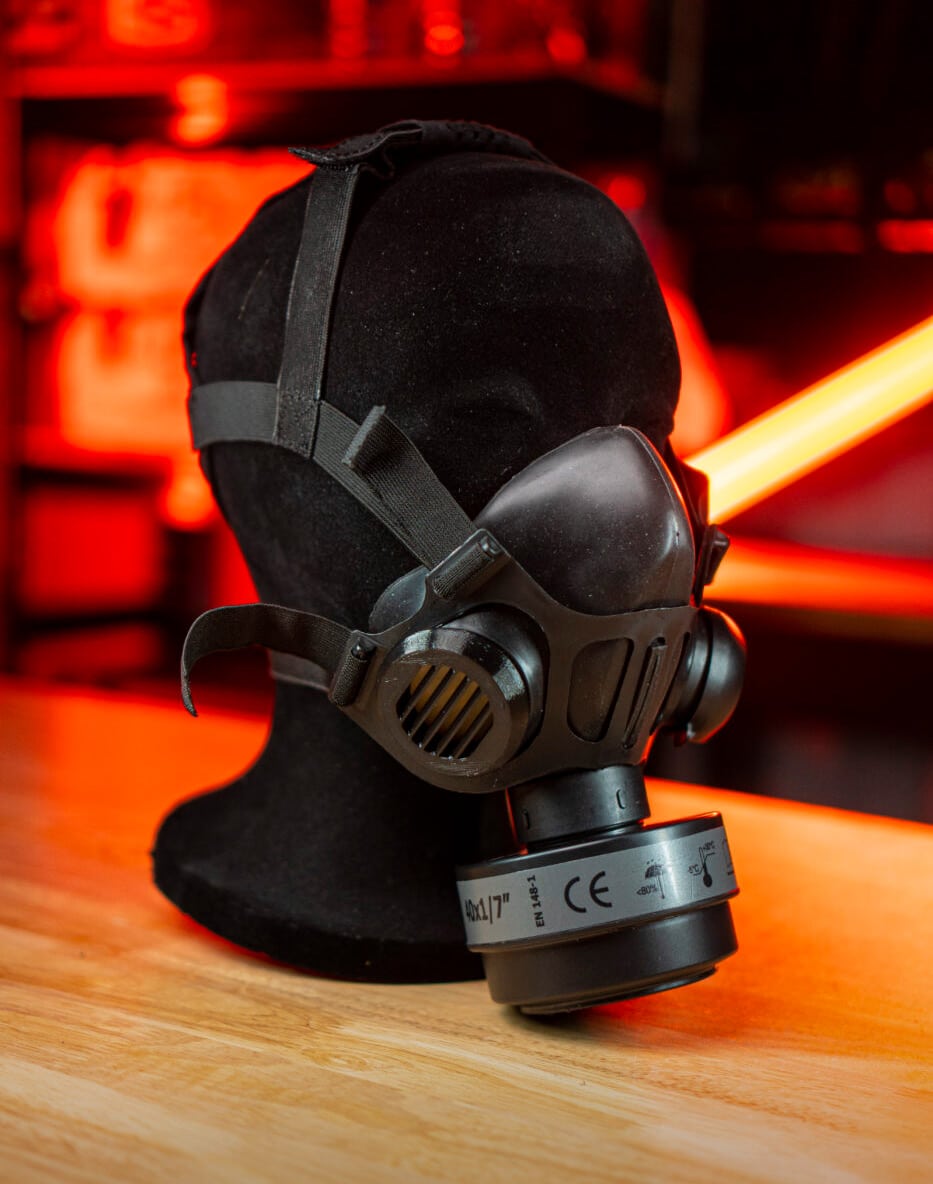 Luckily for me, MIRA Safety reached out around the time I completed reading The Devil's Hand, so my interest was piqued to learn more about their products. First off, they have a line-up that includes tons and tons of products, the breadth of which I won't be going into here. But I do have two particular items on hand that I have gotten the chance to check out — their TAPR (Tactical Air-Purifying Respirator Mask) and PAPR (MB-90 Powered Air Purifying Respirator).
First Line of Defense
The TAPR is what most of us might be drawn to, I would suspect. At first glance, it looks like a respirator you wear when you paint. But I assure you it is much more than that. The TAPR was actually designed for Czech Special Forces to provide flexible, versatile protection for even the most challenging tactical situations.
The TAPR is available for purchase on the MIRA Safety website for around $200 dollars. The TAPR ships with the TAPR body, the mesh harness, the ParticleMax P3 compact filter, P-CAN compact filter, a nylon pouch, a low-profile exhalation cap and a carry case.
The TAPR comes with two filters and will fit many more. The ParticleMax P3 Compact filter provides protection against solid and liquid particles. It is the highest class of filter (P3) and provides reliable protection against solid and liquid aerosols and hazardous microorganisms like bacteria, viruses, spores, etc. The P-CAN Compact filter was engineered specifically for use by law enforcement against riot control agents. This filter provides protection against things like tear gas, especially CS and CR gases and agents.
Together, these filters give you some really good protection options. Of course, there are more filters for sale out there and some on MIRA Safety's own website.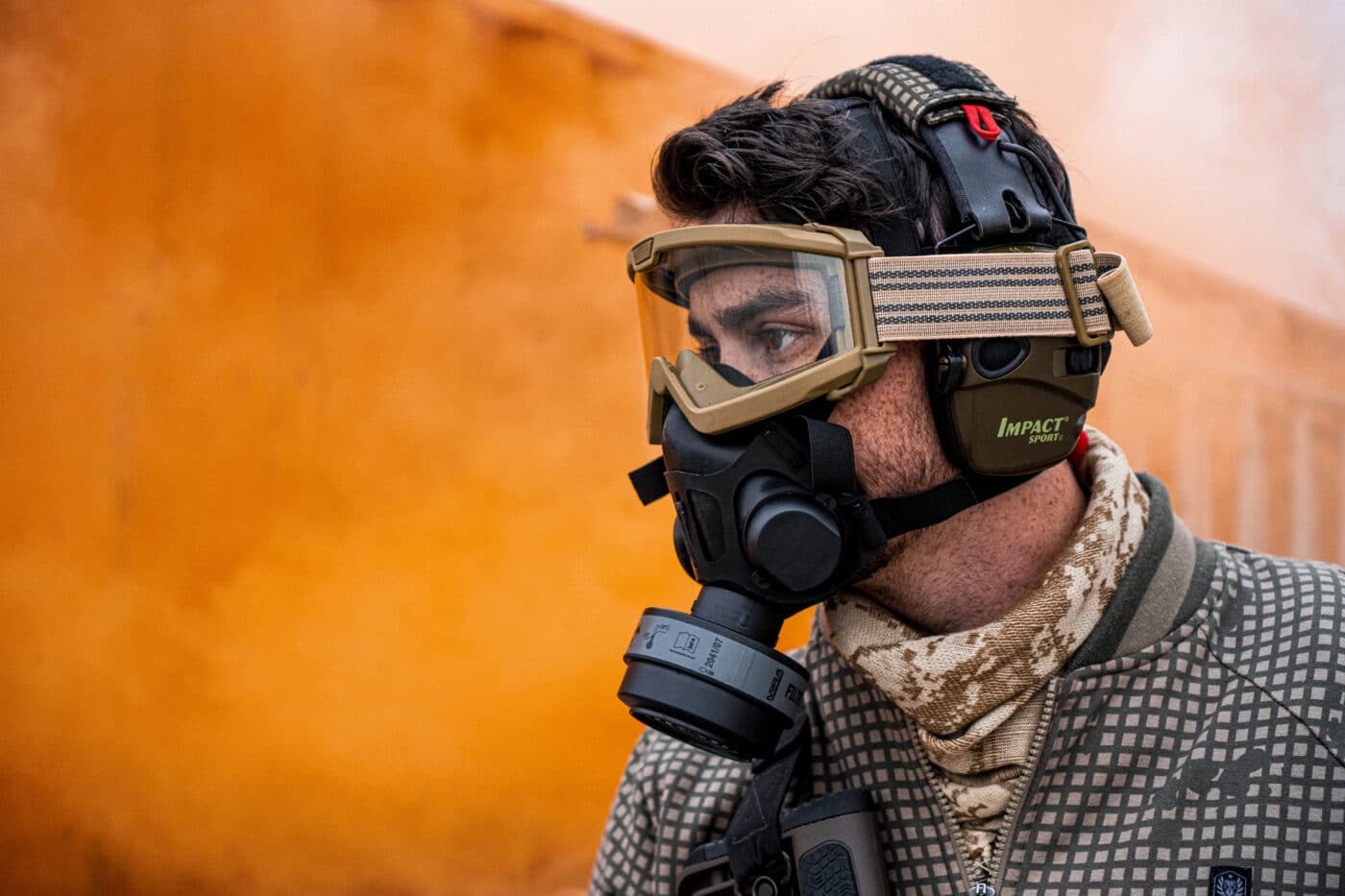 This mask is compatible with a variety of goggles, shields and face masks, and even helmets. With the optional ARC Rail / M-LOK Fidlock Connectors, you can attach the harness directly to a helmet for an easy fit on your kit. There is even the possibility to use the optional MIRA Safety Microphone to allow communication headsets to be integrated into the mask. The mask will also work with the NATO 40mm filter cartridges.
Here is the rest of the technical data on the TAPR:
| | |
| --- | --- |
| Weight | 120 g |
| Size | Universal Fit |
| Filter Connection | EN 148-1, NATO STANAG 4155, 40×1/7" |
| Facepiece Material | Silicone Rubber |
| Color | Black |
A Beneficial Accessory
Breathing through any filter will give you some resistance. To make breathing easier, Mira Safety also has another product called the MB-90 Powered Air Purifying Respirator, or PAPR.
This item uses eight AA batteries that can power the unit for up to 12 hours. The MB-90 makes breathing much easier providing you with fresh air from the filters. The MB-90 comes with a harness so that the pack can be worn on your back. It also has an add-on item that can be additionally purchased to secure the pack to the back of a plate carrier for those in law enforcement or the military.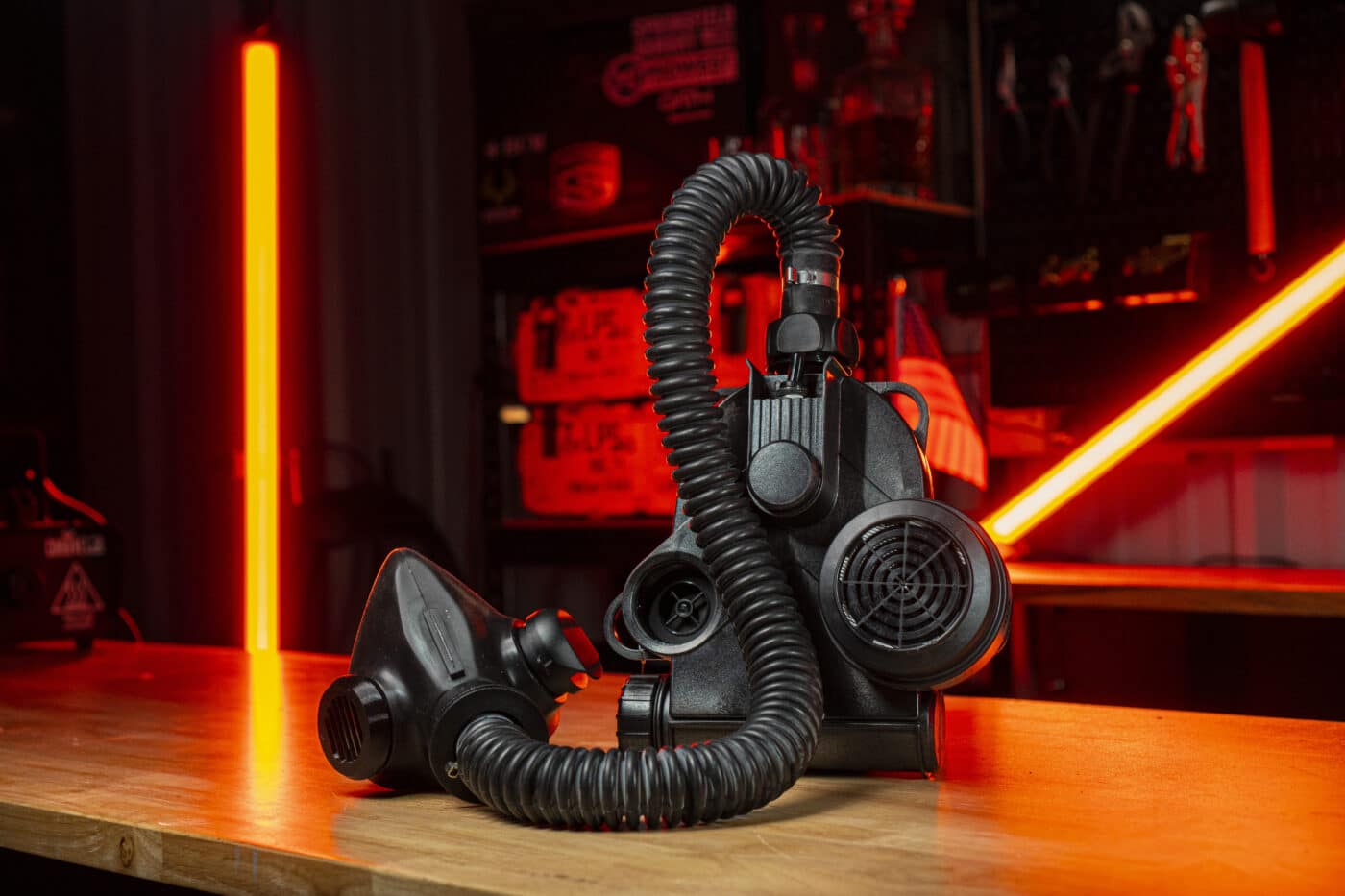 The MB-90 also lets you use two filters at once by screwing them to the unit on your back and not to the mask itself. After using both the TAPR and the PAPR in conjunction with one another, I can tell you that it does make breathing way easier.
The PAPR is for sale at $399.95 and ships with a 40mm NATO threaded hose, a body rig and belt.
Here are the specifications of the MB-90 PAPR:
| | |
| --- | --- |
| Weight with Batteries | 809 g |
| Power Supply | 8x AA (NiMH, LiSO4 compatible) |
| Airflow | 90 L/min at overall resistance of up to 65mm water |
| Operating Time (single set of batteries) | Up to 12 hours |
| Shelf Life | 10 years |
Conclusion
MIRA Safety has a full line-up of gear to protect you from CBRN threats. I'm definitely becoming more concerned about terror threats based on CBRN attacks. Investing in things like CBRN equipment is seeming more and more like a good idea. And MIRA Safety is ready with the products you need whenever you are.
Editor's Note: Please be sure to check out The Armory Life Forum, where you can comment about our daily articles, as well as just talk guns and gear. Click the "Go To Forum Thread" link below to jump in and discuss this article and much more!
Join the Discussion
Featured in this article
Continue Reading
Did you enjoy this article?
130