DeSantis GRD Holster Review — Ayoob's Take
November 23rd, 2022
7 minute read
Kydex appears to dominate the holster market today, but a lot of die-hard pistol-packers still favor leather. It isn't just tradition. Leather holsters break in quickly for comfort on the belt, more so than Kydex, though they take longer as a rule to break in insofar as gun-to-holster fit. They also can allow a more silent draw when a dangerous situation dictates discreetly getting a gun in your hand.
Now comes DeSantis (famous at first for their gunleather, but for some time now offering a thorough line of Kydex rigs) with a unique blend of the two concepts. They call it the Variable GRD, model number 194, and this outside-the-waistband (OWB) holster is loaded with useful features.
The DeSantis catalog entry on this product reads:
The #194, Variable GRD, is built from premium saddle leather and has many unique features. The reinforced mouth (top section), on both sides, allows an easy one-hand return. It's both ambidextrous and adjustable for height and cant with the 1.5″ belt loops. 1 3/4″ belt loops are available separately. The #194 also features the GRD (Gunhide Retaining Device) which not only helps retain the weapon with an AUDIBLE CLICK but helps secure it from a rear takeaway attempt. The #194 is now available for many commonly carried autoloaders in black and saddle tan.

2022 DeSantis Gunhide Catalog
The GRD Element
"GRD" stands for "Gunhide Retaining Device." The main body of the holster is leather — a rich tan color or low-key black, your choice — with a molded piece of rigid synthetic is blended into the interior. The trigger guard of the firearm is held firmly enough that you can do backward somersaults and the gun won't fall out. When you want it to come out, though, its open top design allows a quick draw.
It's not a security holster per se, but the company does promise that it will give some resistance to a snatch attempt from an attacker behind you. Our testing showed that it was indeed the case. However, anyone pulling it straight up and forward along its intended draw path, as the wearer would, could probably get the gun out. Harder for the bad guy, still easy for you. As a weapon retention instructor of long-standing, I see that as a selling point.
The Variable Element
The adjustments built into the #194 allow the user to set it for straight up draw (no cant or neutral cant) if you perform your draw to the shot standing bolt upright and are wide enough front to back that your holstered pistol of choice doesn't cause a tell-tale bulge under your clothing. For better concealment, or if you bring your upper body forward in a draw to your fighting stance, the #194 allows FBI tilt, also known as rearward cant (muzzle) or forward tilt (grip-frame).
The ingenious design also allows the pistol to be switched from right-hand carry to left, and back. This is more useful than a lot of people realize. As a firearms instructor, I often have to lend holsters to this or that student who came to class with an unsuitable scabbard. Some of those folks are going to be southpaw even though I'm not. Even if you don't teach, you might have to lend a holster to someone you care about. And, don't forget, any of us might suffer an injury to our dominant upper limb that requires us to trust non-dominant hand only for gun handling during the healing process. A quickly convertible holster like this one gets another bonus point on that score.
Our Test
Our test sample DeSantis rig is one of several holsters made for the Springfield Armory Hellcat Pro. I wanted to get this article in to the editor expeditiously and was going on the road for a couple of months with only three days home. My friend John Strayer, who EDCs a Springfield Hellcat Pro every day, offered to do the carry portion of the test.
What you need to know about John Strayer is that he was among the first IDPA Five-Gun Masters and competes in other disciplines as well, such as USPSA and ICORE, all of which demand a fast draw if you're going to win. He has won so many state and regional championships that he has lost count. He has carried a gun daily at work and off work for 30-some years. Suffice it to say, when John Strayer talks about this sort of thing, I listen intently.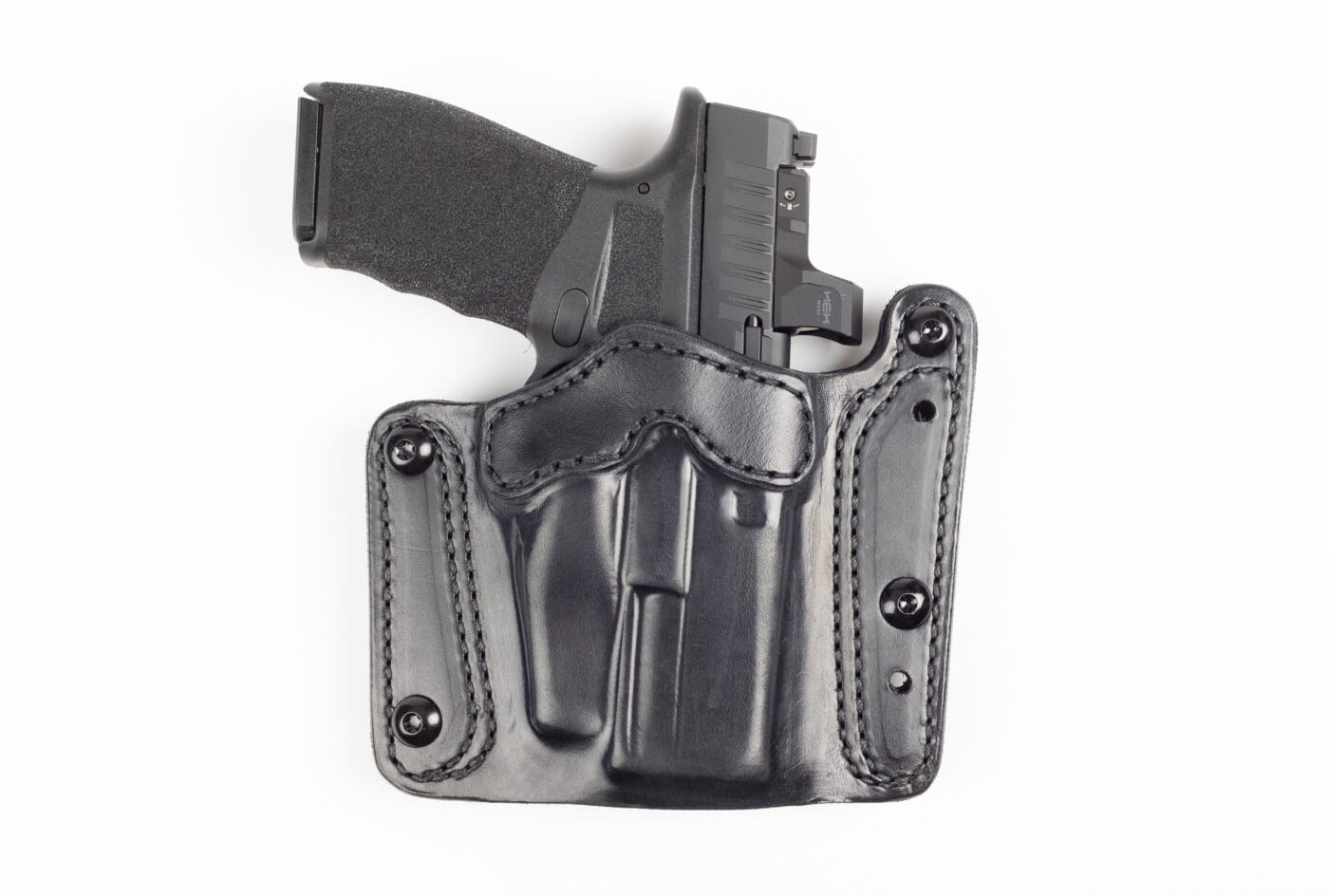 John carried his Hellcat Pro in this holster for two months straight, from work to church and everything in between. A Floridian, he spent many sweaty days at work, 14 days of 14 hours each doing hurricane support during the Hurricane Ian crisis including one 36-hour stretch without sleep.
Here's John's after-action report on the #194.
"Security is excellent," John told me. "Draw is quick. It has two distinct, palpable 'clicks'. As you holster, you feel a tight spot, and then it snaps into its molding."
This DeSantis outside the belt holster held the Hellcat so tightly to his body that it concealed even under untucked t-shirts.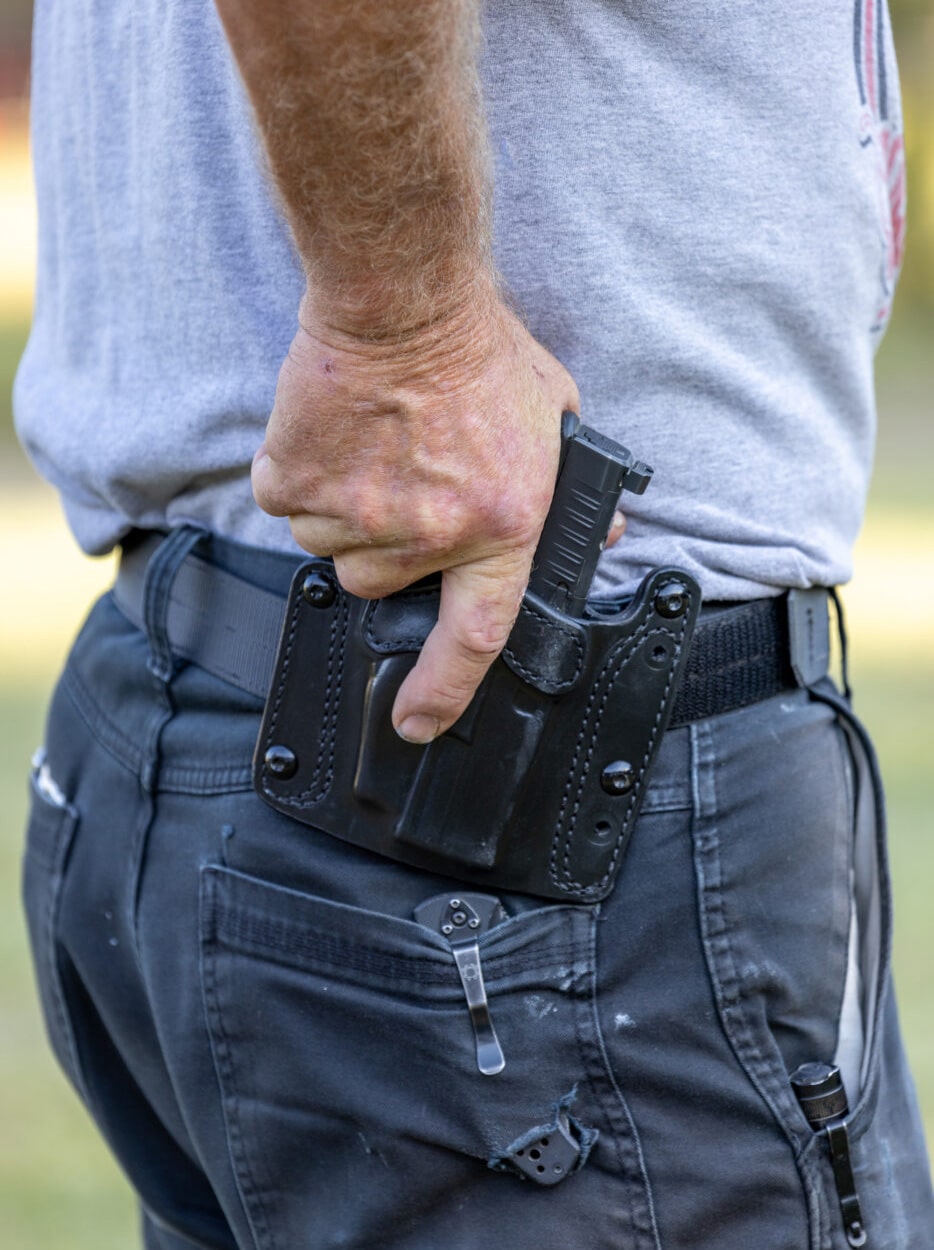 Strayer added, "This holster protected the gun very well. It didn't hold moisture, even though I carried quite a bit under an un-tucked shirt, close to a body that produced a lot of sweat. It simply did not retain moisture; when I took it off at night the holster was dry. I say that because I've had leather holsters in the past that were soaking wet when I took them off. That's one reason I went to Kydex a long time ago."
Nothing is perfect for everyone. John's one complaint with the holster was that when he took a drawing grasp, the high cut of this holster kept his middle finger from getting the high grip he's accustomed to using. He adapted, though. "I just loosened my middle finger at the start of the draw, and once the Hellcat was past the retention point of the first 'click,' the middle finger went into place just fine. That's a problem I have with a lot of holsters, not just this one." It should be noted that John is not a small guy and does not have thin fingers.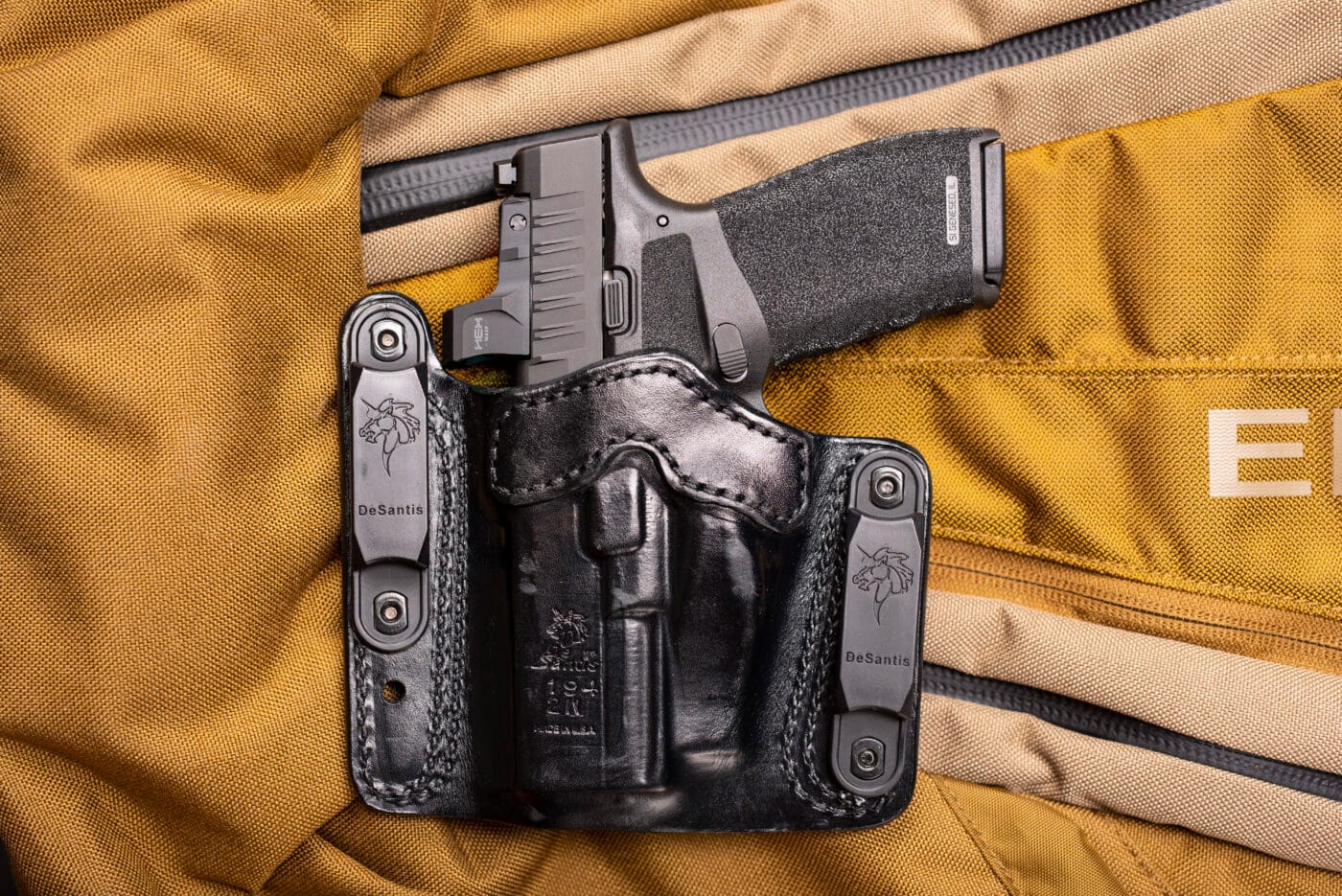 The Master shooter concluded, "I would recommend this holster, especially when you need deep concealment with an OWB holster. There was no protrusion when sitting in the diner and leaning forward talking to friends, for example. I really liked its tight profile to the body for an OWB holster. It did take some breaking in." (As most leather holsters do.)
About the "Click"
You noticed at the beginning of the article that one cardinal advantage of a leather concealment holster is the silent, surreptitious draw. How do we reconcile that with a holster whose own manufacturer speaks proudly of its "click"?
John Strayer explains, "The click is audible going in, but not enough to really notice coming out. If you really listen for it you can hear the rake of the leather, but it's nothing like the loud noise most Kydex holsters make when you draw."
Bottom Line
The DeSantis #194 Variable GRD holster is an extremely versatile piece of concealed carry kit, and a good value at well under $100 retail.
Editor's Note: Please be sure to check out The Armory Life Forum, where you can comment about our daily articles, as well as just talk guns and gear. Click the "Go To Forum Thread" link below to jump in and discuss this article and much more!
Join the Discussion
Featured in this article
Continue Reading
Did you enjoy this article?
89