Once you have your new rifle, have attended some training and are ready to start moving beyond the basics, the real fun begins. Today, we are going to break down three alternate/emergency shooting positions. These are not only a little bit of fun, but are also great for those who are looking to move to the next level or maybe start gearing up for competitions.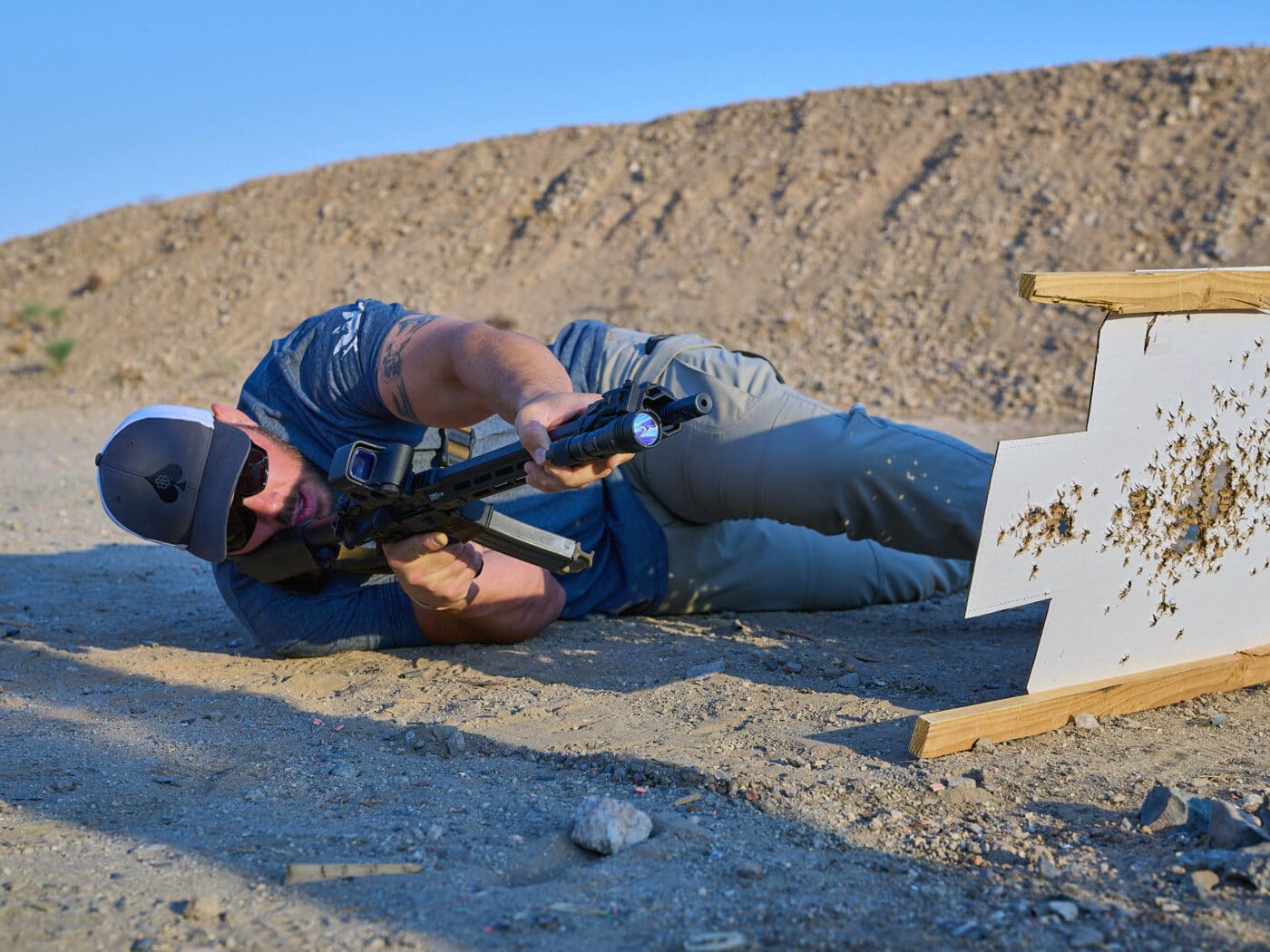 The three positions we will focus on are the off-shoulder transition, kneeling and side prone. Keep in mind, these are not definitive and every situation may be different calling for a different approach.
Shoulder To Shoulder
The ability to operate your rifle from your dominant or non-dominant shoulder is very important for competition, training and real life. A great many times in military operations, law enforcement or defensive scenarios, you do not get to choose what your cover or concealment is.
It is likely that at some point you will have to transition shoulders. This is very easy with a single-point sling, and not much more difficult with a two-point sling. A transition to the non-dominant shoulder is pretty simple at short distances. All you need to do is remove the stock from your normal position, push the stock outward, transition it to the off-shoulder, and use your non-dominant eye to acquire the target.
With a red dot this is simple; with magnified or other glass-etched reticle optics, this can be a bit tricky and will take much more practice. If you are wearing a two-point sling, simply swim out of the sling with your non-dominant arm and complete the transition.
Keep Appendages Hidden
Stability, cover and concealment are three elements we should all understand. Generally, more points of contact are better for control. Just ask yourself, what is more stable — a motorcycle or a car?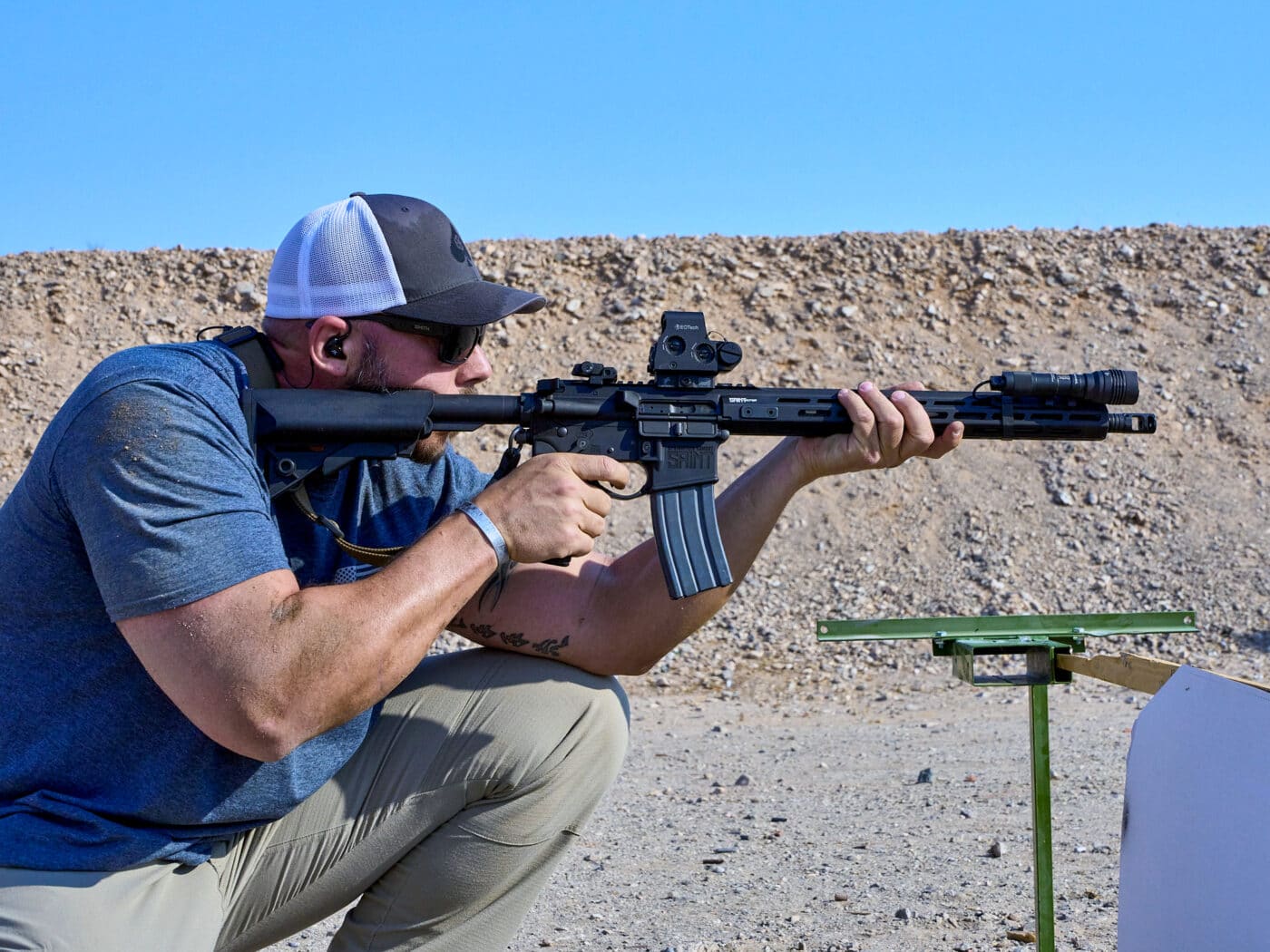 Sometimes we can use kneeling to become more stable; other times, it's a necessity for safety. Any time we are kneeling, we need to think about which knee, how much exposure we will have, and if we can move from side to side. If we think about how we want to move around our cover or concealment first, that will tell us which knee to place on the ground.
If we have a right-side target, we can put our right knee down and so on. The reason we do this is to limit exposure of our femoral artery. If we stay planted on the right foot on a right side engagement, we will have a tendency to lean further out and expose more of our leg than we would like.
Down in the Dirt
Prone shooting is extremely stable, but you gotta get down in the dirt to get it done. A good side prone position offers maximum cover and minimal exposure when your cover or concealment is low to the ground, and a traditional prone may not work.
Much like kneeling, knowing which side you are shooting from will tell you what side to lie on. This is pretty simple to get into position quickly. All you need to do is sit, roll to your side and kick your top leg over in front of you, planting your foot for stability. You can make minor adjustments from the lying position to make better use of your cover.
Conclusion
Remember, with movement and alternate positions during training, your muzzle awareness and firearms safety rules are paramount. So, get out there, start training, and stay safe!
Editor's Note: Please be sure to check out The Armory Life Forum, where you can comment about our daily articles, as well as just talk guns and gear. Click the "Go To Forum Thread" link below to jump in and discuss this article and much more!
Join the Discussion
Featured in this video
Continue Reading
Did you enjoy this video?
41