F-22 Raptor: Was It Too Ahead of Its Time?
April 22nd, 2023
9 minute read
The F-22 Raptor, a fifth-generation fighter jet, stands as an embodiment of cutting-edge aviation technology and air dominance in the modern age. Combining stealth, advanced avionics, and unparalleled maneuverability, the Raptor has revolutionized the way air combat is waged, setting a new benchmark for future military aircraft design. In this article, Peter Suciu explores the development, capabilities, and the strategic importance of the F-22 Raptor, providing an in-depth look at this extraordinary aircraft that continues to shape the future of aerial warfare.
Even before the dissolution of the Soviet Union in late 1991, relations between East and West had warmed significantly — so much so that the United States Department of Defense (DoD) began to reevaluate the need for certain military platforms. Systems that were developed to strike deep in the Soviet Union in the event of a Third World War suddenly didn't have a place in the "New World Order."
Moreover, the Gulf War in 1991 and the Yugoslavian Civil War of the 1990s — where the United States along with NATO played the role of peacekeeper — highlighted that some aircraft in particular weren't exactly the right tools for the job.
Wrong Timing?
The Lockheed Martin F-22 Raptor was certainly an example of being developed at the wrong time, but it was never actually the wrong weapon. Whereas the Imperial Japanese Navy opted to build the largest battleships even as airpower highlighted the vulnerabilities of such warships, and zeppelins were arguably never a good idea, those who suggest the F-22 was the wrong weapon just fail to understand the era in which it arrived.
It was simply ahead of its time, yet arguably a little late for the changing world order. Developed in the 1980s as part of the United States Air Force's Advanced Tactical Fighter (ATF) program, the F-22 won out over a competing design from Northrop and McDonnell Douglas — the YF-23. Even today, more than 25 years after the YF-22 (as it was first designated) took its first flight, the single-seat, twin-engine, all-weather stealth tactical aircraft is widely regarded as the most capable air superiority fighter in service anywhere in the world.
In reality, the Raptor was much more.
It could serve as a multi-role aircraft as well, capable of ground attack, electronic warfare, and even signals intelligence capabilities. It was designed to combine stealth, performance, agility, and integrated avionics in a single airframe. Though it wasn't marketed as such at the time, the F-22 was also the first "fifth-generation" fighter — and the U.S. Air Force has remained its sole operator. Even today, the fighter is a critical component of the service's tactical power.
Numbered Days?
Yet, despite its capabilities, the F-22 Raptor's days are already numbered. The Air Force is currently focused on the Next Generation Air Dominance (NGAD) program, which is reported to be a "systems of systems" that will include an optionally-manned "sixth-generation" aircraft, along with unmanned aerial systems (UAS) that can operate as loyal wingman to support a mission.
Additionally, while the Air Force had originally sought to acquire a total of 750 F-22 Raptors, in 2009, the order was scaled back to just 187 aircraft. A number of factors were cited at the time — including its high costs, and a lack of air-to-air missions due to the U.S. military's involvement in the Global War on Terror and a general focus on counterinsurgency operations. Additionally, the ban on exports to protect its advanced technologies, and also the development of the F-35 Joint Strike Fighter, simply meant an end for the program.
The most capable air superiority fighter wasn't grounded, but it would be apt to suggest it wasn't allowed to soar into the wild blue yonder either. However, it would be wrong to suggest it was ever a mistake.
"It wasn't a mistake to build it, and it wasn't a mistake to cut back on the program," explained Brad Curran, senior analyst for aviation at analytics firm Frost and Sullivan.
"We still have a number in service to address a potential adversary, but at the time (in 2009), the U.S. was focused on the conflicts in Iraq and Afghanistan," Curran noted.
Simply put, the F-22 was an air superiority fighter for an era when there was no such thing as contested skies. The United States had invaded Afghanistan following the 9/11 attacks in the fall of 2001 and met virtually no aerial opposition; while after the March 2003 invasion of Iraq 20 years ago, coalition forces easily achieved air supremacy without the F-22. By the time it entered service, it was a platform ready to take on a threat that didn't exist.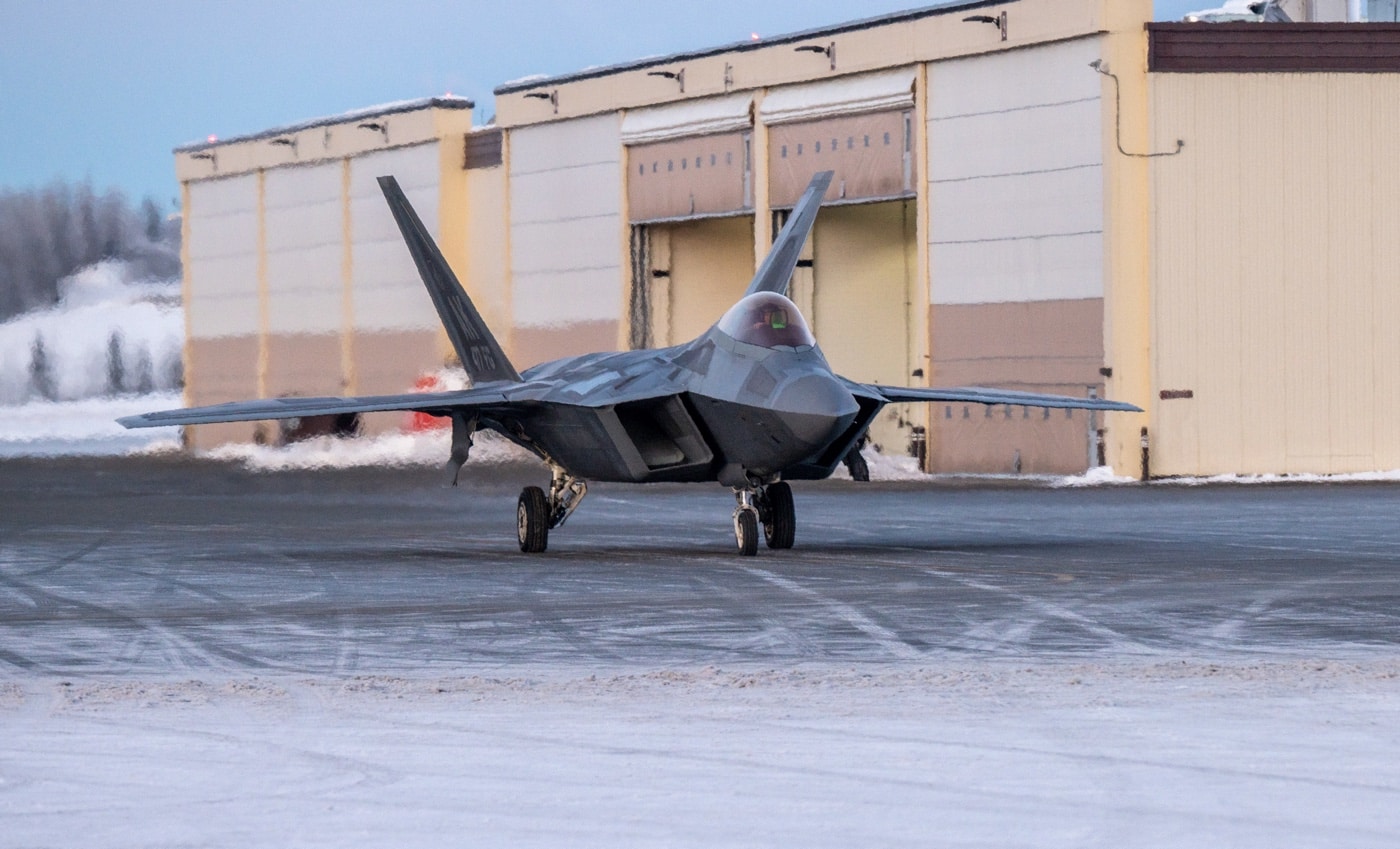 "Another factor is that the F-35 was coming online, and it was designed as a multipurpose aircraft," said Curran. "That aircraft also benefited from the fact that it was adopted by the United States Navy and United States Marine Corps and had support from a number of allied nations, whereas with the F-22, the U.S. Air Force bore all of the expense."
The F-22 will remain in service until the early 2030s, and there are those who have questioned whether it should be retired given its capabilities. However, it is still an aircraft designed back in the Reagan-Bush era and was developed when Bill Clinton was in the White House. Unlike other aircraft — such as the "teen series" fighters like the F-15 Eagle and F-16 Fighting Falcon — that have been updated and improved with subsequent blocks, the F-22 hasn't seen the same level of enhancements. Those in the fleet have been, and will be, upgraded — but as no new F-22s are being built, it is safe to say that the Raptor hasn't really evolved.
It is still very good, but it can't get a whole lot better.
"It will continue to be a great airplane for another 10 years, but in addition to its age, it is still simply too expensive," said Curran.
A Multirole Fighter
Another fact that confused some armchair aviation buffs is how an aircraft that was designed for air superiority could still fill a ground attack role. Yet, this overlooks the fact that it was even briefly designated the F/A-22, which was only officially renamed the F-22 in December 2005, when the aircraft achieved its initial operational capability with the U.S. Air Force's 27th Fighter Squadron.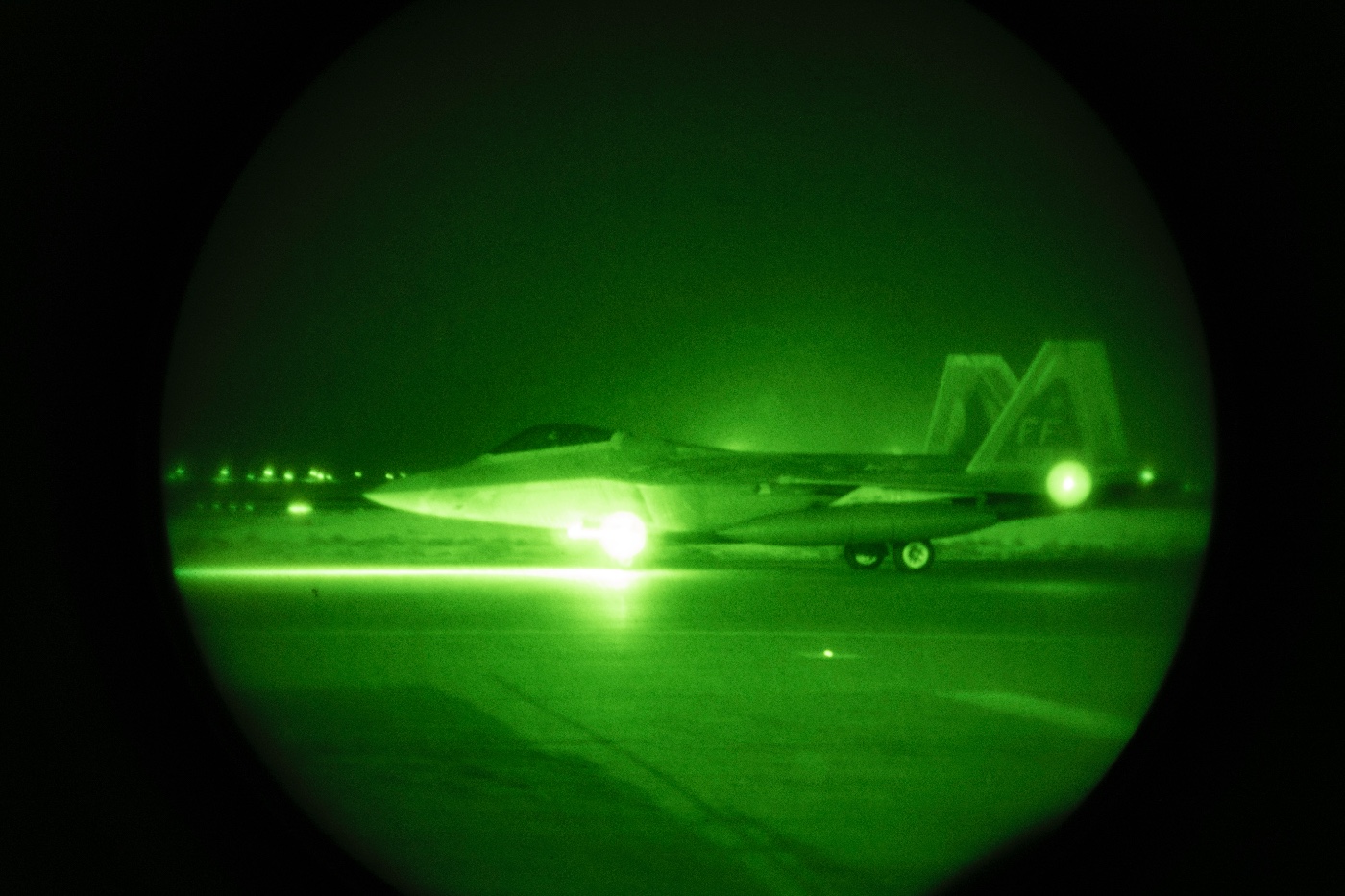 First, let's look at the aircraft's capabilities and attributes.
Exploiting its stealthy characteristics, the F-22 was developed with a "first look, first shot" advantage that included its AN/AGP-77 active electronically scanned array (AESA) radar that could track targets before going electronically silent. In addition, each Raptor pilot could receive information from other F-22s, allowing for a radar-silent attack. Even an aircraft that is outside of its missile envelope could track a target and covertly send target data to a close Raptor to make a silent kill.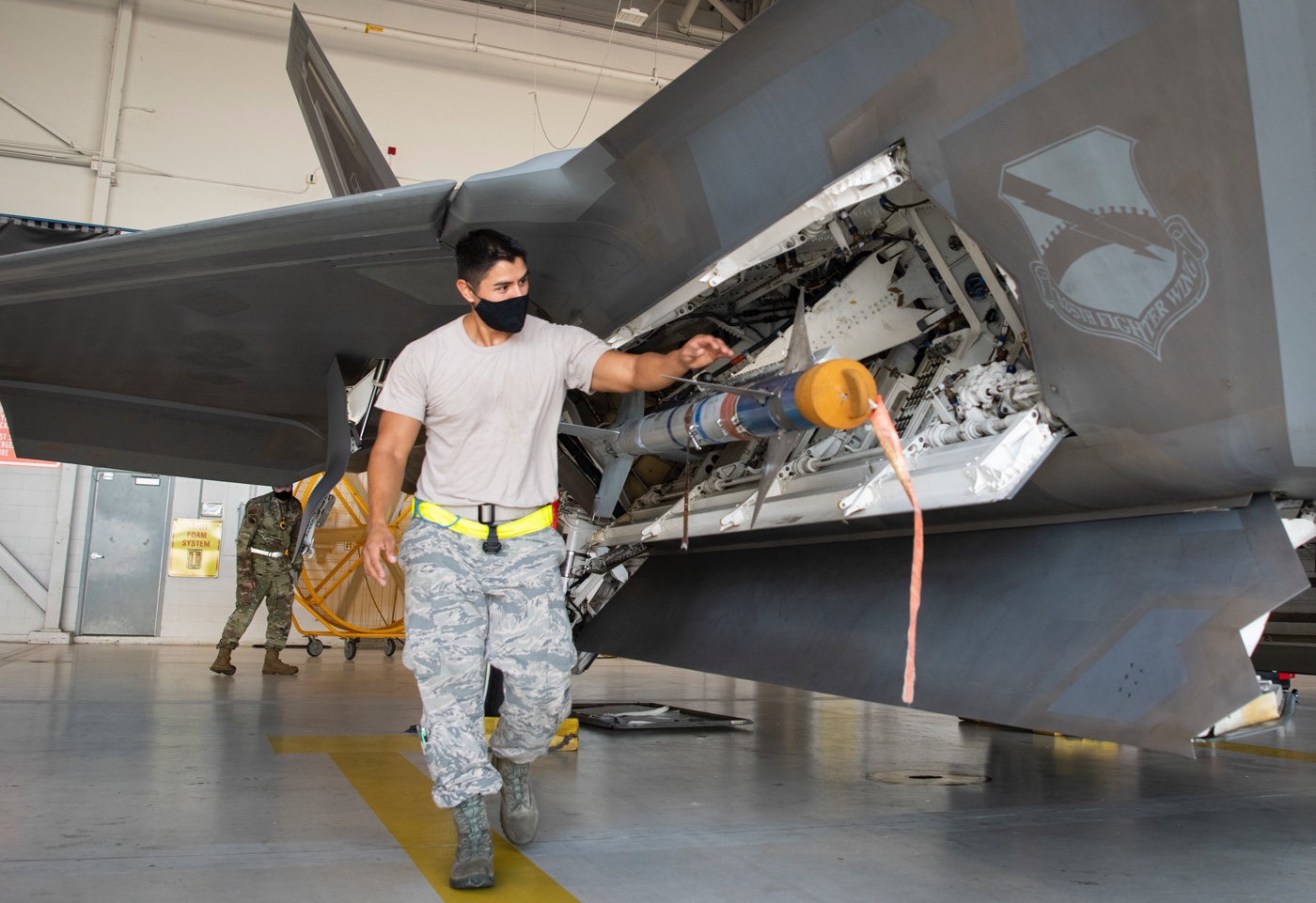 The primary weapons of the Raptor are carried inside its internal weapons bays, which open at the very last second as the fighter essentially "uncloaks." In addition, advanced aerodynamics, combined with thrust vectoring and cutting-edge flight control systems, provide pilots with "super maneuverability."
In a ground attack role, the F-22 would be used alongside other aircraft that would clear the way.
"The suppression of enemy air defenses would be taken with the E-18 Growlers, where they'd slam and jam the sea and land-based air defenses," Curran noted. "Then the F-22 can go in, and strike the targets after the other aircraft pulled the sharpest teeth. It may have stealth and speed, but our adversaries may still continue to try to build better air defenses."
The F-22 has emerged as a powerful attack aircraft, and in its air-to-ground configuration, the aircraft can carry two 907kg (1,000 pounds) GBU-32 Joint Direct Attack Munitions internally, while efforts have been underway to further improve its capabilities.
Combat Proven
Despite all of its capabilities, the F-22 is a warbird that actually hasn't done all that much fighting. The truth is that is probably a good thing, and everyone should hope it stays that way. If the Raptor has to use its claws in a fight, it could mean the U.S. is suddenly in a very real and potentially dangerous conflict.
In fact, the jet fighter may have taken decades and almost $70 billion to develop, and while it has also been considered "combat ready" since 2005, it has never actually been used in air-to-air combat. It missed out on a combat opportunity in June 2017, when F-15 Strike Eagles and F/A-18 Super Hornets engaged adversarial aircraft over Syria. During those encounters U.S. Air Force Strike Eagles reportedly shot down Iranian-made Shaheed drones that were targeting U.S.-backed forces on the ground, while U.S. Navy Super Hornets conducted the U.S. military's first air-to-air kill involving a manned aircraft in nearly two decades when it downed a hostile Su-22 Fitter south of Taqbah.
It was in its ground attack role that the F-22 made its combat debut striking targets in Syria in September 2014. During Operation Inherent Resolve, the American-led intervention in Syria, Raptors dropped 1,000-pound GPS-guided bombs on Islamic State targets near the Tishrin Dam. From September 2014 to July 2015, the F-22 conducted 204 sorties over Syria, dropping 270 bombs at some 60 locations.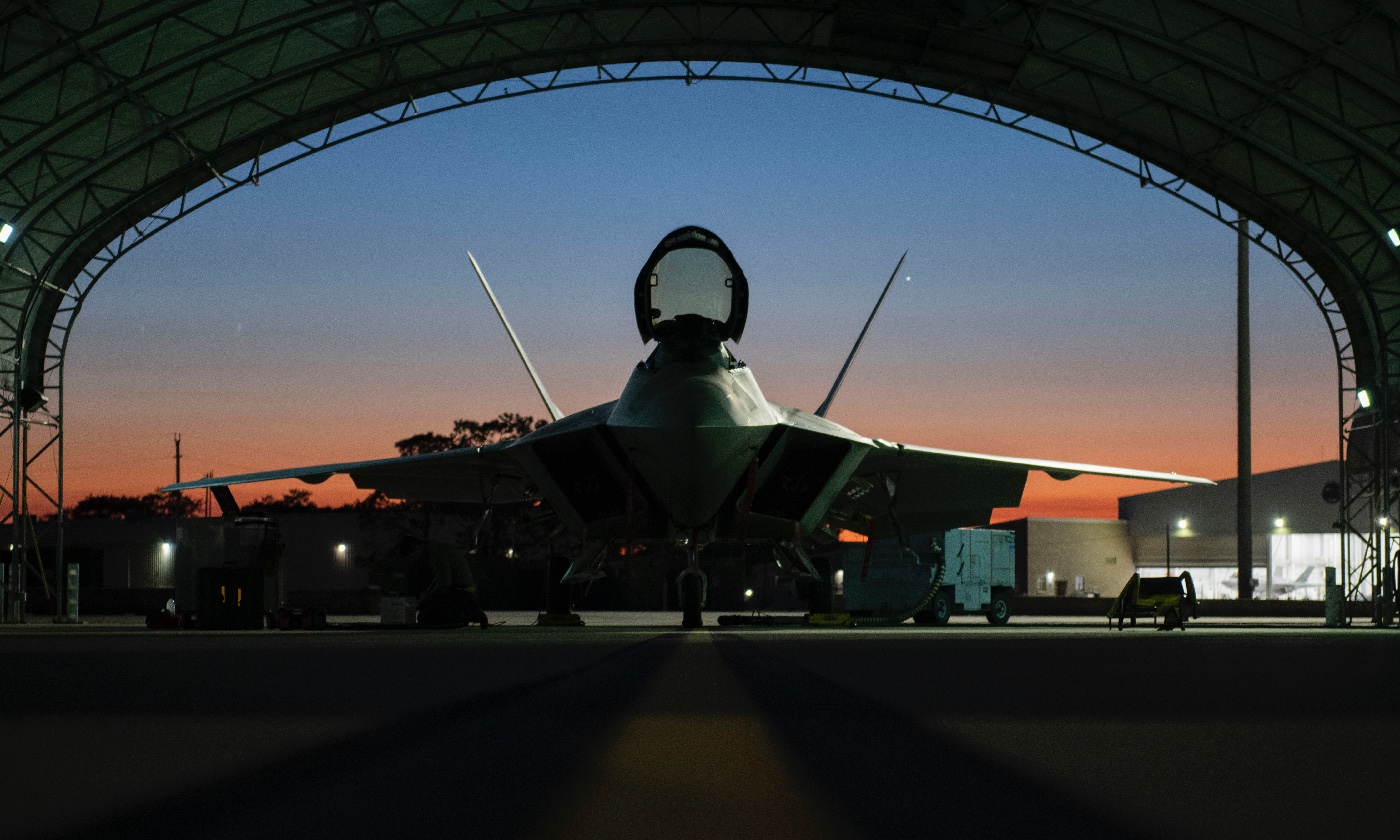 F-22 Raptors then operated alongside U.S. Air Force B-52 Stratofortress bombers, which targeted opium production and storage facilities in Taliban-controlled regions of Afghanistan in November 2017.
The Raptor finally "scored" its first aerial kill on February 4 of this year, when an aircraft from the 1st Fighter Wing shot down an alleged Chinese Spy balloon within visual range off the coast of South Carolina. Later that same month, F-22s shot down additional high-altitude objects over Alaska and the Canadian Yukon. According to reports, the AIM-9X was used in those incidents — the first use of the air-to-air missile.
Still Soaring High
Even as its days may be numbered — a fact true of all military platforms — the Raptor is far from declawed. In fact, in March of this year, a pair of F-22 Raptors were deployed to Clark Air Base in the Philippines in a move signaling increased defense efforts between Washington and Manila to confront aggression from Beijing in the region.
During joint exercises, U.S. pilots from the Alaska-based 525th Fighter Squadron joined aviators from the Philippine Air Force's 5th Fighter Wing for a number of drills including low-altitude flyovers, air combat maneuvering, formation training, and, with help from a KC-135 Stratotanker, air-to-air refueling over the heavily contested South China Sea.
Even more than 25 years since it took its first flight, it would be wrong to count out the Raptor.
Editor's Note: Please be sure to check out The Armory Life Forum, where you can comment about our daily articles, as well as just talk guns and gear. Click the "Go To Forum Thread" link below to jump in!
Join the Discussion
Continue Reading
Did you enjoy this article?
102