Fighting from Prone
July 21st, 2023
5 minute read
When we go to the range, we often practice shooting in various positions, or at least we should. We might practice shooting from cover/concealment and firing at multiple heights and through objects using a nine-hole barricade. But we typically only lie down in the dirt in the prone position to sight in rifles or when trying to shoot longer ranges.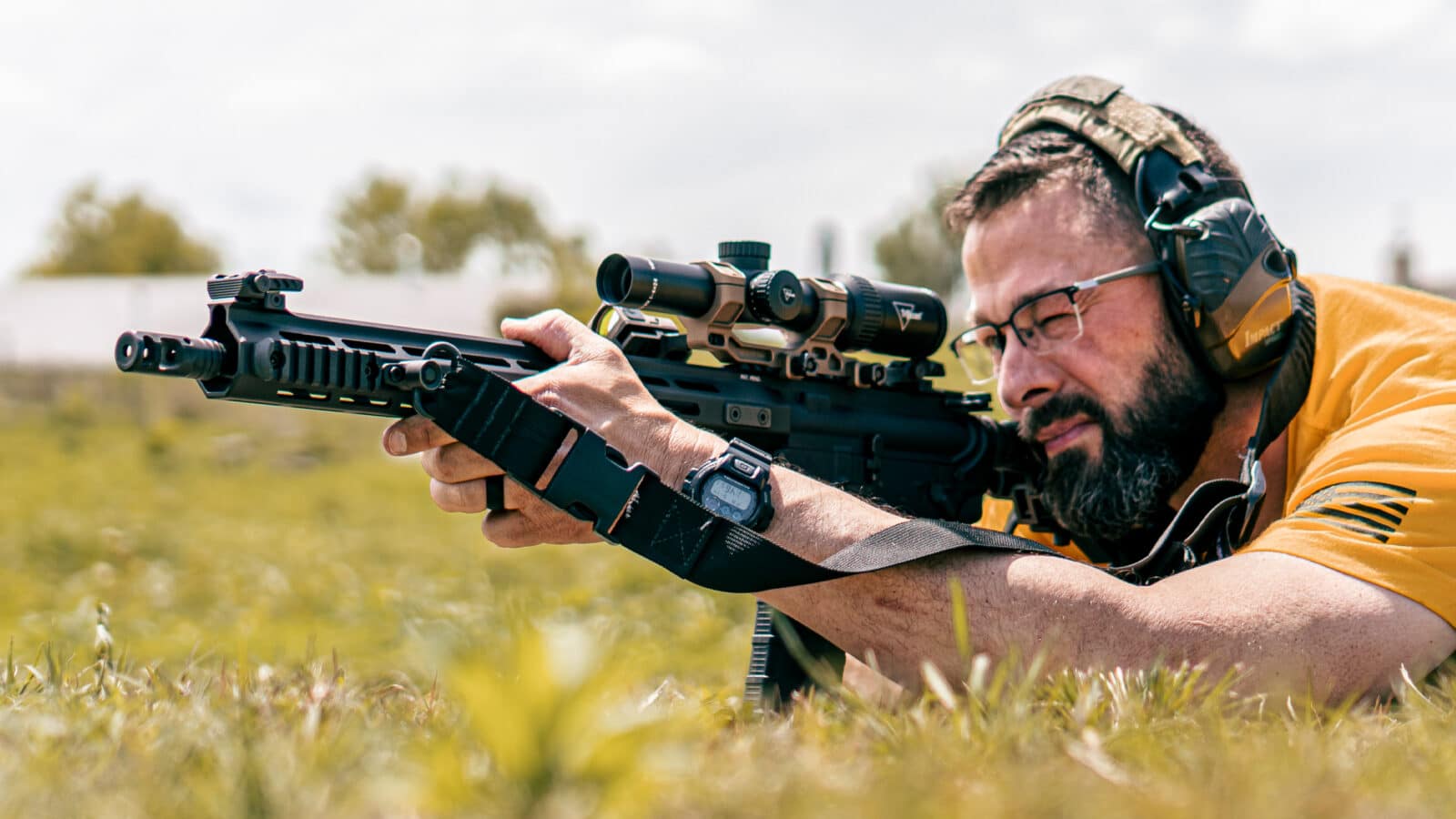 However, practicing fighting from the prone position is a good idea. By that, I mean getting into and out of the position quickly, practicing reloads from prone, and learning to navigate your gear. We asked Grant LaVelle, the Chief Instructor at Maximum Life Expectancy, to help explain the benefits of fighting from the prone position.
The Why
Is it better to fight from behind an actual piece of cover? Yes, it is. That being said, concealment can be good as well. But let's say that you are in a relatively open area and an assailant starts shooting at you. Our instincts might push us to run. But, the right choice could be to drop into the prone position.
When it comes to dropping down into the prone, there are a few things to consider. The first is to get yourself oriented toward the threat. To drop down and then try to orient can be a bit of a challenge, and it slows down how fast you can get rounds onto the target.
Grant suggests getting into prone quickly by dropping down to both knees and then throwing your support hand and kicking your legs back as you fall to your belly on the ground. Some will suggest skipping the part where you drop to your knees.
In this method, you would almost square and lunge out, catching yourself with your one support arm as if in a one-armed push-up position. Then allow that arm to lower you to the ground, in a practical manner, of course, so that you are in the prone position. The faster you can get down, the better, but it's essential to maintain your rifle and keep your muzzle out of the dirt.
Reaching Out
Once you are down, you want to ensure you have the best form possible for prone. Grant suggests getting the gun up, resting on its magazine, and having your feet kicked out in a wide spread with your feet flat against the earth. It's essential to get your legs wide, for sure wider than your shoulders, as this will make for a very firm shooting foundation.
Grant explained the reason for getting into prone when the shooting starts. Long story short, when you are on level ground and drop to your stomach, you instantly become a quarter of the size. The thing that plays into that is also your attacker's ability to know his holdovers. Since you are a shorter target, your opponent must be entirely in tune with his holdovers if he plans to land a shot. A kneeling target or standing target provides a much more significant margin when it comes to holdovers. If you have been shooting on the range at a short object like a soda can you know how difficult it can be to hit the target, especially if it is at any moderate distance.
During his testing, Grant dropped to the prone position at 50 yards and then at 100 yards from the camera. In this demonstration, it's easy to see how much harder a target someone is once they lie flat. If perhaps you are wearing earth-tone clothes, it could actually be hard to even see you.
Now, on the flip side of that. You will be able to aim and control recoil much better from the prone position. When you are lying flat on the ground with an AR platform, you will have at least four points of contact with the earth. The first is more or less the entire ventral side of your body. The next would be two elbows and, more than likely, your magazine resting against the earth. These points of contact will help you to be more accurate and will also help negate recoil for faster follow-up shots. When you are in that stable position, if you have a magnified optic, depending on the terrain, you could very well spot your own misses too.
Conclusion
The next time you are at the range (and if allowed by your range's rules), practice dropping into the prone position. Heck! You can get out your empty rifle, wear your kit and just practice getting into prone in your living room. But on the range, learn to get into it quickly and shoot from it.
While in prone practice, reload your firearm, also. Being flat against the ground will change all your mechanics. You will have to learn how to navigate your sling, load the gun, drop the bolt, and maybe even clear malfunctions while being flat.
It's important to train in more than just a standing position; incorporate some kneeling, squatting, and prone shooting into your range time to break in your gear and increase your skillset.
Editor's Note: Be sure to check out The Armory Life Forum, where you can comment about our daily articles, as well as just talk guns and gear. Click the "Go To Forum Thread" link below to jump in!
Join the Discussion
Featured in this article
Continue Reading
Did you enjoy this article?
61