For me, when you've got a rifle as interesting as the Hellion from Springfield Armory, you can't help but to think about all the awesome parts you could add to it. Selecting the right Hellion accessories can transform this gun from cool, to incredibly awesome.
When I first got my Hellion, I set it up with a few different optics such as an EOTech, Aimpoint and an LPVO (low-powered variable optic). I suppressed it. I added lights. Throughout all these different iterations, I think I've finally landed on my permanent set-up for the Hellion. I want to go over how I kitted out my gun, and maybe give you some ideas for tricking out your own rifle.
Origin Story
Taking a step back, if you are unfamiliar with the Springfield Armory Hellion, it's a bullpup rifle chambered for the 5.56 NATO round. It is based on the internationally proven Croatian HS Produkt VHS-2, but it is far more than a mere semi-auto import of the battle-proven rifle.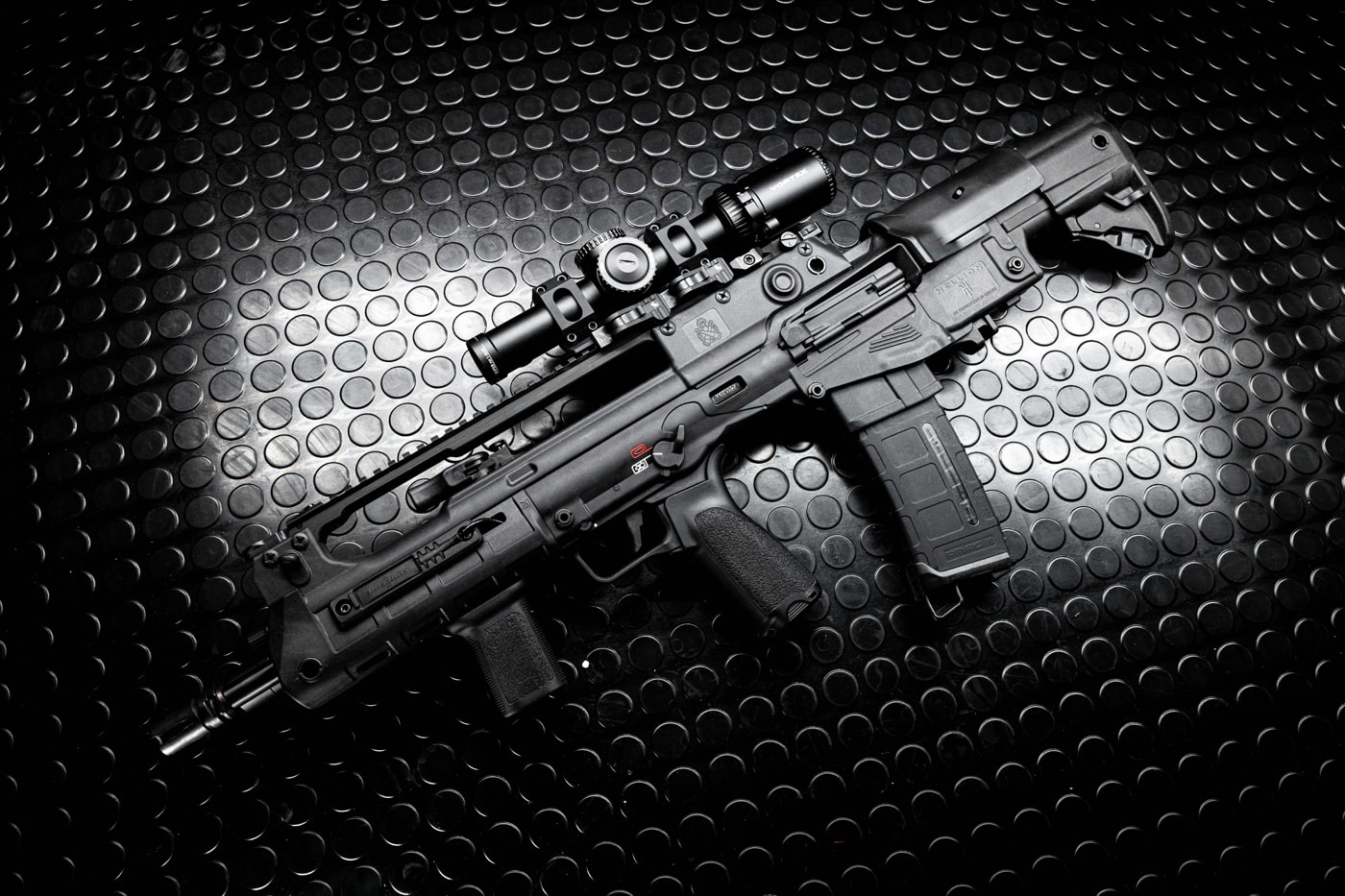 Development of the VHS took place over decades, with thorough testing at each stage. In the 2000s, the Croatian military deployed the rifles to Afghanistan in support of the International Security Assistance Force (ISAF). Croatia's experiences with the rifle were positive, and they made follow-up orders. Currently, HS Produkt has a contract to deliver a large number of rifles to the Croatian army.
In addition to the rifle's durability in the field, it has many forward-thinking features. And the Springfield Armory Hellion takes the VHS a step further, adding many features we Americans are used to and prefer such as STANAG magazine usage, M-Lok on the fore end, interchangeable AR-pattern pistol and more.
My Choices
Now let's get to my build out. Starting at the front, I decided to stick with the factory muzzle device on the Hellion. It's a three-prong flash hider that does a fantastic job of reducing flash — and also looks great!
On some of my other builds I used a suppressor, but I enjoy keeping the Hellion as short as possible, which is after all one of the bullpup design's greatest benefits. If you're interested in suppressors, the rifle is a great suppressor host since it has an adjustable gas system that allows you to tune it for your ammo and suppressor combination. You can tune the gas down so that you get reduced blowback from the back pressure.
Moving rearward, I added a BCM Vertical Grip Mod 3 to the M-Lok handguard to create a natural resting point for my support hand. This is a great way to quickly index your firearm and create pressure into your shoulder to control recoil better. The Mod 3 grip is low profile enough to be more of a hand stop and less of a foregrip. It allows a generous surface to stack a few fingers with ease. It also allows you to find it more quickly with your support hand.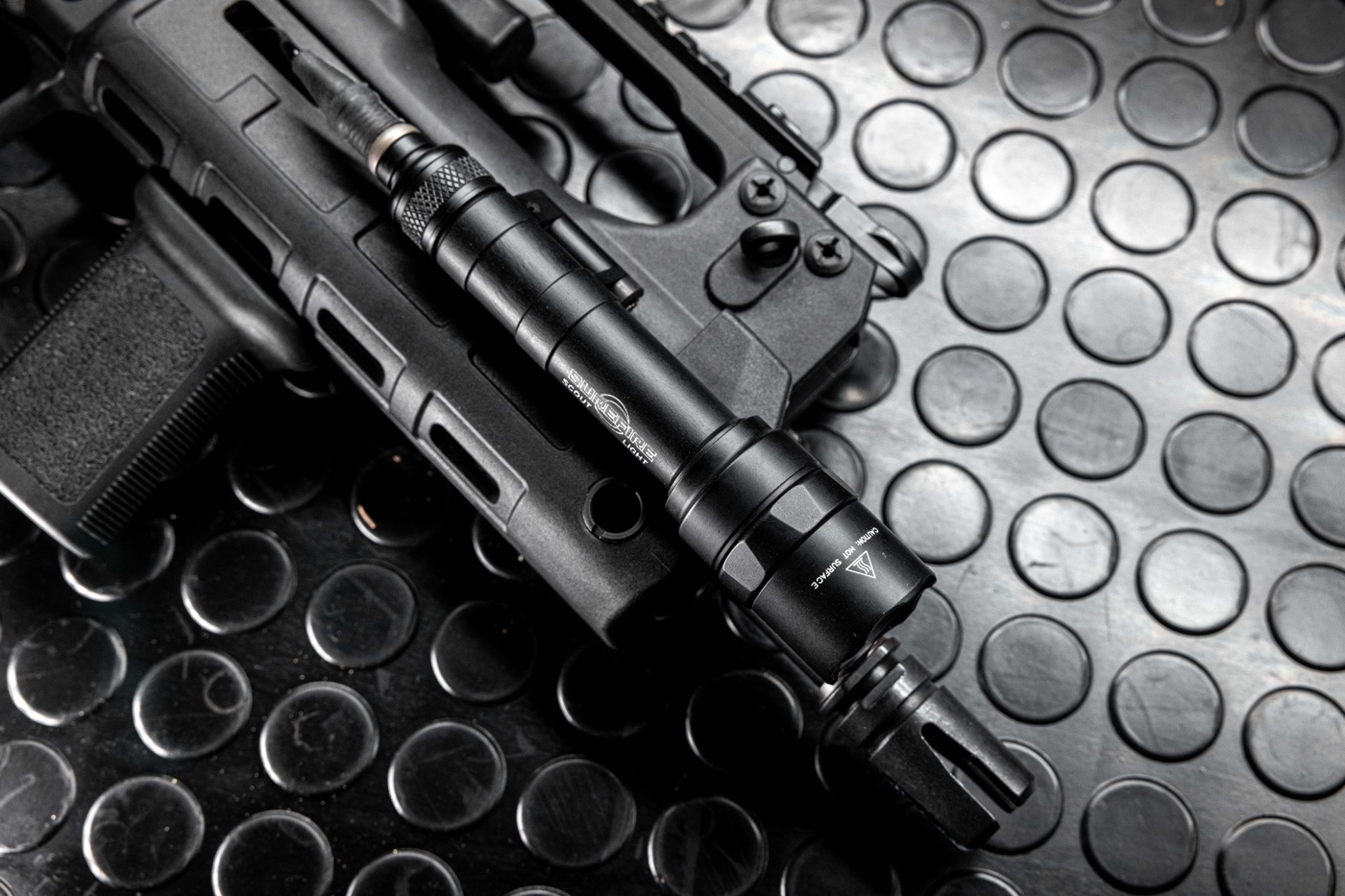 On the handguard, I also added a Surefire Scout Light Pro to the right side, feeding the pressure switch through the M-Lok to the left side. This allows me to actuate the light with my support hand thumb on a pressure switch.
The Scout Light Pro provides 1,000 lumens of white light, which allows you to easily discern targets at medium ranges. Another great aspect of the Scout Light Pro is the mount, which allows you to position the light at any angle you want. This is great for space savings and keeping the light as close to the handguard as possible.
Optics
Now, let's touch on my preferred optic set-up. The Hellion has a very short overall length for a rifle, while also retaining a 16" barrel. This is one of the most notable benefits of the bullpup design. This allows great close quarter maneuverability, as well as also good accuracy and power when shooting out to medium to long ranges. Taking advantage of the best of both worlds, I utilized a Vortex Viper PST Gen2 1-6X LPVO with an offset Vortex Venom red dot at 45 degrees.
The Vortex Viper PST 1-6X is a tried-and-true staple in the LPVO world. It's rugged, crystal clear, lightweight and easy to use. The zoom is super smooth, and the clarity throughout the range is stellar. As much as a 1-10X seems nice, they also have drawbacks. For me and this build, 6X max power seemed perfect.
To mount the LPVO, I used an American Defense Manufacturing Recon SL mount. I then used a Strike Industries Ambush 45 degree offset mount to attach the Venom red dot to the rail. This provides me with the option to utilize up to 6X power as well as a super quick offset 1X red dot with a large window on the fly.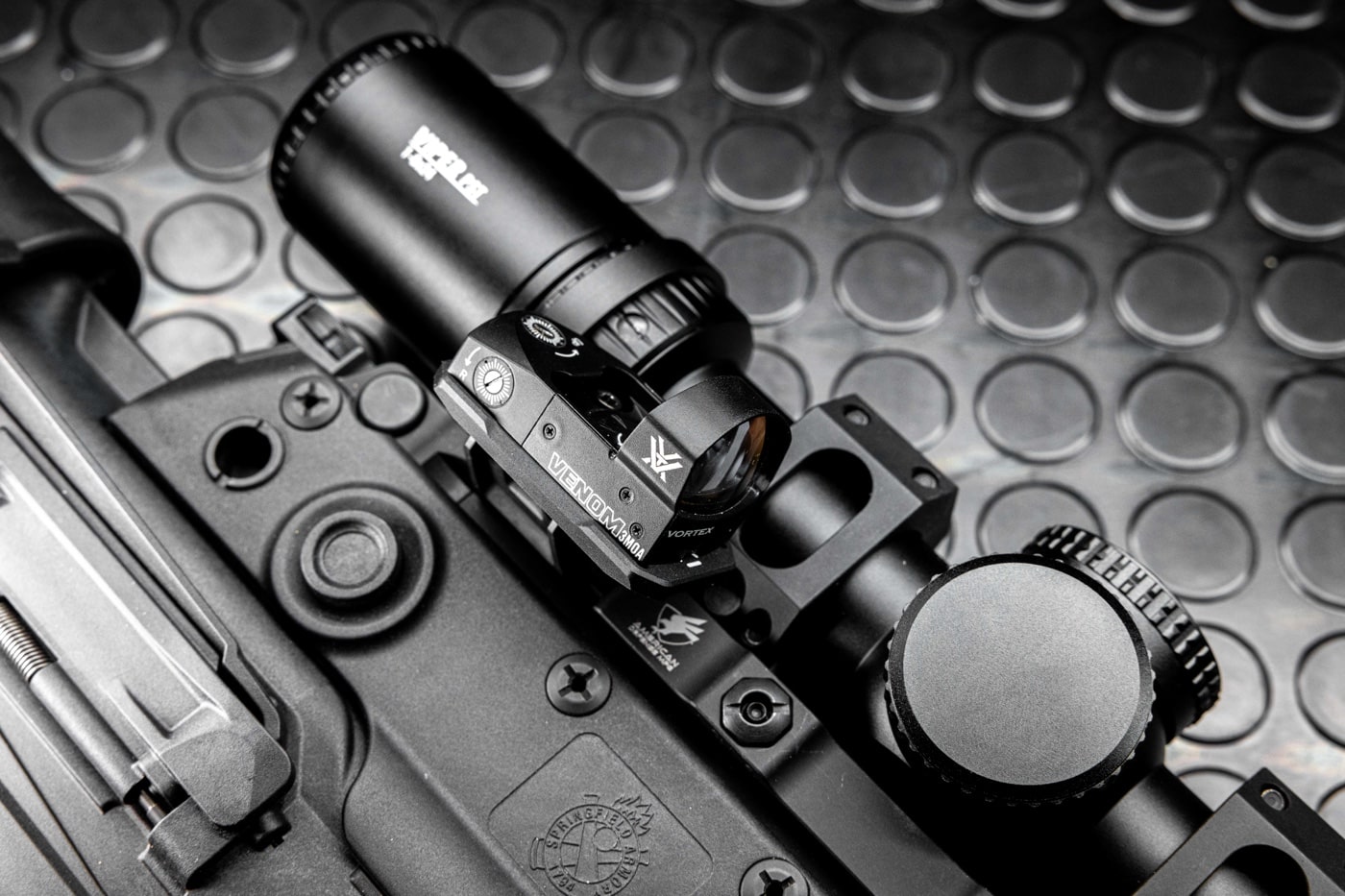 On the range, this set-up is a ton of fun to shoot. It takes a bit of getting used to when flipping the rifle 45 degrees to use the 1X red dot, but after a while it's a quick reflex skill. The LPVO is super stable thanks to the Recon SL mount, keeping it low enough for me to get a solid cheekweld. This combo is super effective at both close and distance shooting.
Final Thoughts
All in all, the Hellion is one of my favorite rifles to shoot. The recoil impulse feels softer than what you would expect from a 5.56 carbine. The rifle is balanced really well, especially when adding a suppressor to the front end.
The biggest difference with the Hellion is the manual of arms compared to an AR-15. For me, it's quite fun since it forces you to learn new muscle memory and it makes what may be a stale range session much more interesting.
If you've been on the fence about the Hellion, see if you can check one out at a local gun shop; it's a unique shooting experience, and the rifle is always sure to turn heads at the range.
Editor's Note: Please be sure to check out The Armory Life Forum, where you can comment about our daily articles, as well as just talk guns and gear. Click the "Go To Forum Thread" link below to jump in!
Join the Discussion
Featured in this video
Continue Reading
Did you enjoy this video?
82