Maven RS.4 5-30X Scope Review: Affordable Performance
March 22nd, 2021
7 minute read
I'll be honest, up until this review was not familiar with the brand Maven, but I am glad now that I am. They seem to be steadily making a name for themselves in the optics community, offering products for hunting and competition.
I received one of their newest scopes for review, the Maven RS.4: a first-focal plane optic geared towards the long-range and competitive shooter. This scope has a lot of features that you'd definitely be paying more for from other companies.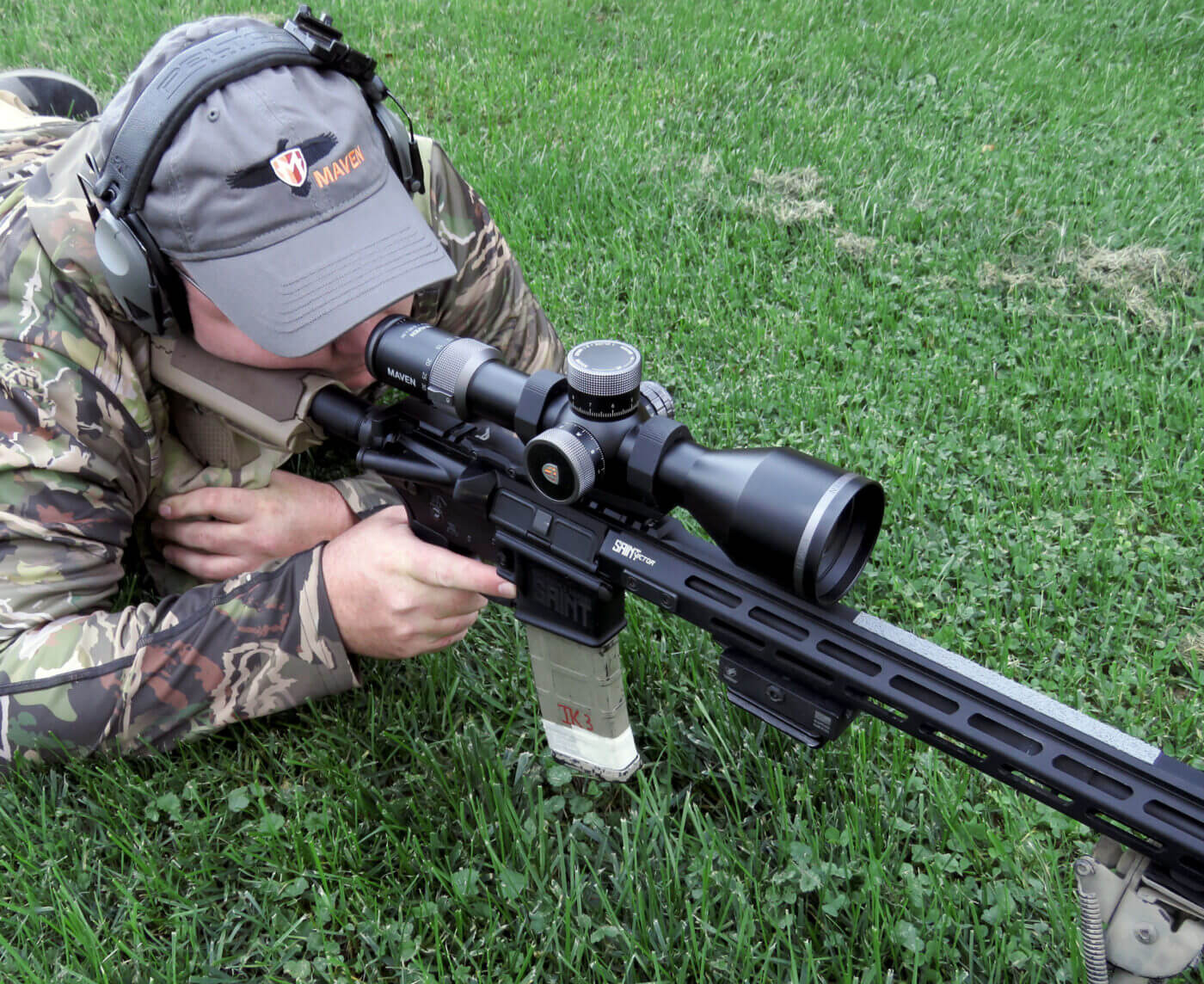 The Company
I think it's worth talking about the company first in case you are like I was and unfamiliar with the brand. Maven Outdoor Equipment Company keeps its prices lower than other companies by selling direct to consumers and cutting out dealers or distributors that would tack on additional costs.
The RS-line of riflescopes are made in Japan from premium Japanese components and tested for quality assurance at Maven's headquarters in Wyoming. If you should ever have a problem with any of their products, Maven has an unconditional lifetime warranty. According to them it doesn't matter when or where you bought it, they'll take care of it.
Overview
The first thing I noticed about the RS.4 when I opened the box was its size. It's less than 13" long, which for a 5-30X optic is very compact. The second thing that I noticed was the weight, at 35.4 oz it's a fair dinkum chonker, too. To put that in perspective though, one of the most popular scopes in the Precision Rifle Series is the Vortex Razor Gen II 4.5-27X56, which is 1.5″ longer and weighs a notable 48.5 oz.
The fit and finish of the 34mm tube diameter scope is very impressive, with smooth satin black anodizing and gunmetal gray accents to give it a nice pop. Of course, you can get the scope in all black anodizing, but several different accent colors are available to give your scope a personal touch as well.
Your Way
The RS.4 comes in either MOA or MIL configurations. The one I tested happens to be the MIL configuration, providing 10 mils per turn on the elevation knob, a zero stop and the choice of two illuminated MIL-based reticles. The windage knob isn't locking or covered, so you'll need to be careful that it doesn't spin inadvertently while you're carrying it or taking it out of a pack or case.
There's a tandem illumination and parallax knob arrangement that has become popular on scopes of this type, which is convenient and efficient. The illumination lights the entire reticle up in either green or red, with a shut off in between settings.
The side focus parallax knob adjusts focus from 15 yards to infinity, making this a great option for not just precision centerfire rifles but those serious about precision rimfire matches, also. The 34mm main tube means there will be a ton of good mounting options and plenty of elevation for just about anything I want to shoot.
Maven RS.4 5-30×56 Specifications
| | |
| --- | --- |
| Magnification Range | 5X-30X |
| Objective Lens Dia. | 56mm |
| Objective Outer Dia. | 65mm |
| Ocular Outer Dia. | 42mm |
| Main Tube Dia. | 34mm |
| Overall Length | 12.79" |
| Field of View @ 100 yards | 23.3 ft – 3.9 ft |
| Total Elevation Travel | 48 mils |
| Total Windage Travel | 20 mils |
| Click Value | 0.1 mils |
| Mils Per Rotation | 10 mils |
| Zero Stop | Yes |
| Parallax Adjustment | 15 yards – Infinity |
| Reticle | CFR-MIL |
| Focal Plane | First Focal Plane |
| Illuminated Reticle | Yes |
| Weight | 35.4 oz |
| MSRP | $1,800.00 |
Optical Performance
Scopes seem to be getting better and better these days, so I was excited to check the glass out on the RS.4. I put it on my SAINT Victor 5.56 rifle and headed out to the range.
Sometimes, short, high magnification optics suffer from image clarity issues as it's part of the give and take when it comes to optical design, but I didn't really find that to be the case here with the optic on the range.
The RS.4 does very well in this arena as even at 30X I didn't notice a severe degradation in the resolution or brightness like I have with optics of similar magnification. On high magnification, I was easily seeing the same details with the equal clarity as I did with a scope that cost much, much more.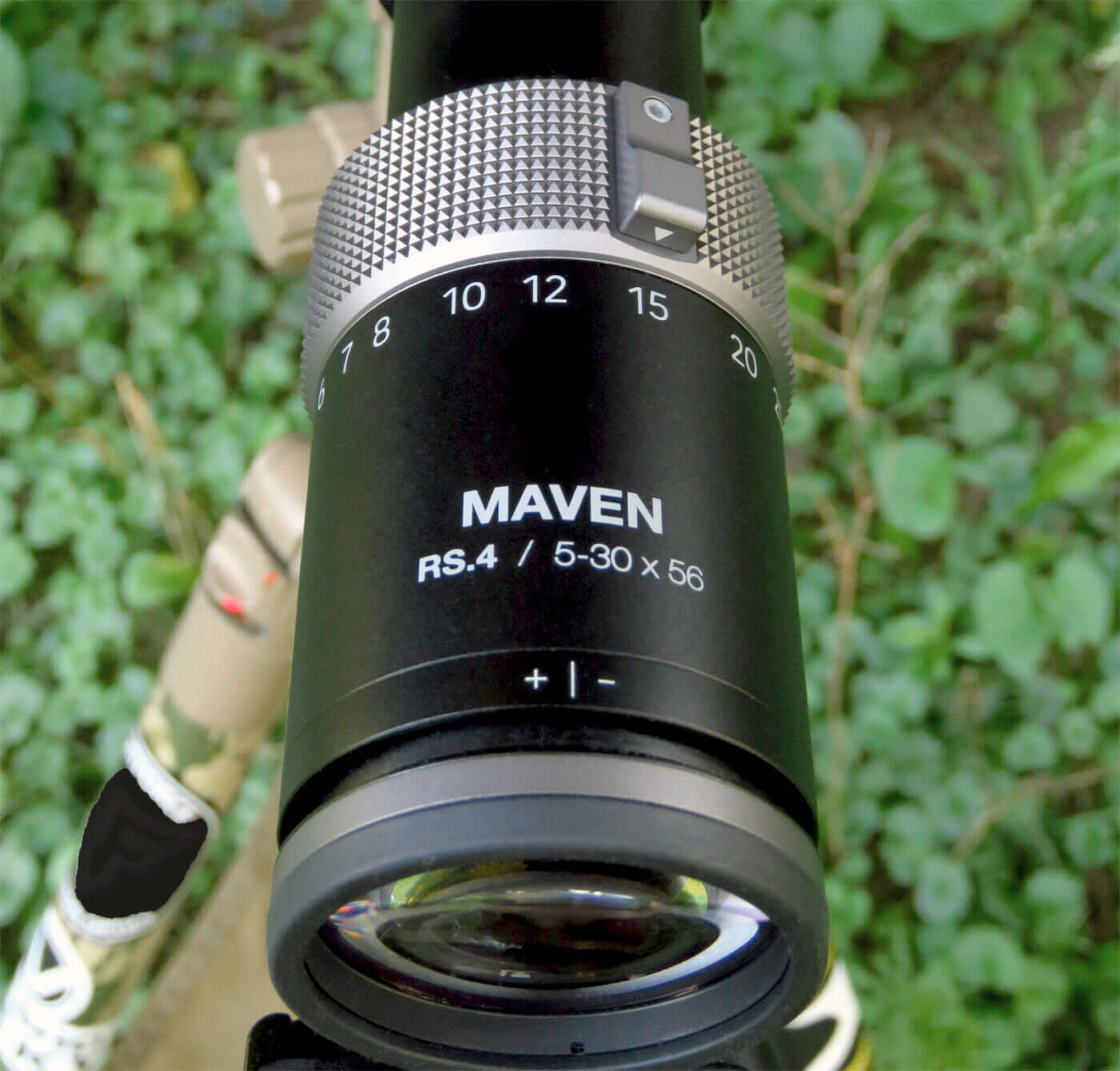 I found the color and contrast to be pretty true to life compared to what I was seeing with the Mk-1 eyeball, with no weird tinting or color shifts.
The scope also did a great job at managing chromatic aberration, the sometimes purple or yellow fringing that can occur around objects of high contrast. Edge to sharpness was good, however, the eye box on 30X is really tight and to keep the image clarity at its best I had to consistently maintain my head position behind the scope. This issue isn't uncommon and at lower magnifications the eye box is perfectly manageable in various shooting positions.
The reticle in the scope is their CFR-MIL, a Christmas tree-type reticle very conducive to modern competition style shooting and probably the more versatile of the two MIL-based options. It doesn't really crowd the field of view below the crosshairs because the "tree" only extends out every 2 mils down instead of every full mil like most manufacturers do.
Being a first focal plane reticle adds a lot of versatility to the optic since the subtensions will be accurate at any magnification. I felt Maven did a good job in balancing the thickness of the reticle so that it is usable throughout a majority of the magnification range. I could use all parts of the reticle from 15X-30X with no issues breaking the reticle down for holds. It got a little harder to see from there down to 10X, but if I took my time it was still good to go, but any lower than that and it's basically a fancy duplex. That's why I'm not sure this would make a good low light hunting scope, but then again the reticle illumination would help with that.
Mechanical Performance
I always say that it doesn't matter how good a scope looks or how great the glass is, if it doesn't track true it's pretty much worthless. I'm happy to report then that the RS.4 tracks as good as it looks. I set up a tall tracking target at 50 yards, with targets going up to 10 mils (18") — plenty of elevation to detect any issues if I was going to dial out to 1,000 yards and beyond.
The tracking was spot on as I dialed up through 2.5, 5, 7.5, and finally 10 mils with a perfect return to zero, keyholing my first shot. To test things a little further, instead of simply going straight up and down I dialed on windage and elevation adjustments to points that I measured with the reticle. Impacts were unsurprisingly dead on, and any off center shots were totally on me.
Turret feel is a subjective matter, but I found the individual clicks audible and tactile, similar to my Nightforce ATACR 5-25, but maybe a little "softer." They were not mushy by any means, though. Some people may gripe because they expect super crisp turrets; however, I found it easy to go right to my adjustment.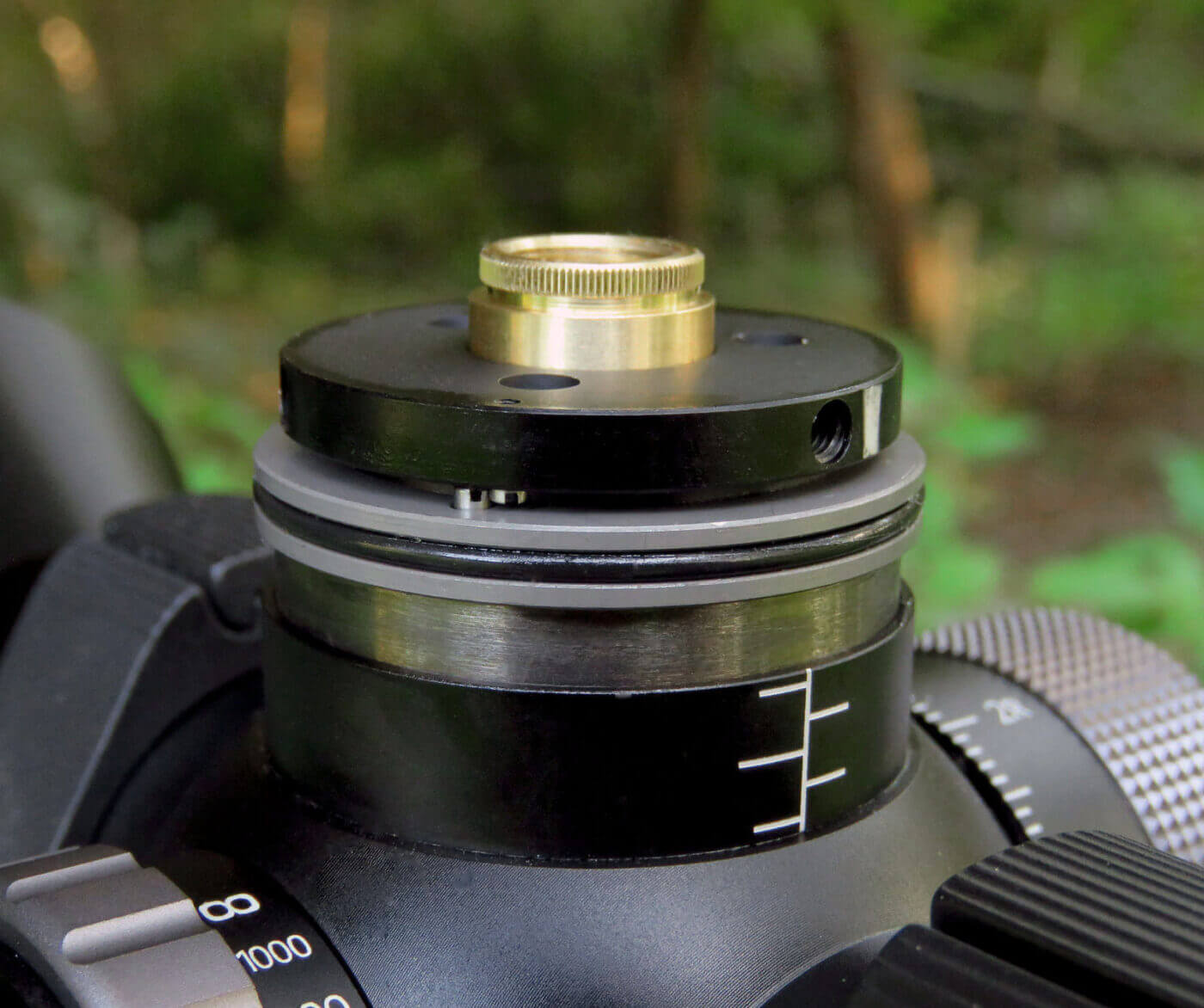 The zero stop mechanism that they used was simple and easy to set once I established my zero. All I had to do was loosen three screws on the clutch plate to let it drop down, rotate it clockwise until the two pins connect, then retighten the screws and replace the elevation knob. That's it.
This design also allows you to set the zero stop wherever you want below zero if you need to make adjustments for different ammunition lots down the road. Mechanically, I can't find any fault with the optic, the tracking is spot on, the turrets feel good and the magnification ring turns smooth. Everything about the scope is smooth.
Closing Thoughts
If the goal for the RS.4 is offer a scope with modern features suitable for PRS-type matches and precision rifle shooting, then the Maven hit the nail on the head. It has everything a competition shooter is looking for with excellent glass, great tracking, and a compact, well thought out design.
I recommend that if you're in the market for a long range scope check Maven out. After spending some time with it, I consider it easily on the same level as some of the big guys in the precision optics realm.
Editor's Note: Please be sure to check out The Armory Life Forum, where you can comment about our daily articles, as well as just talk guns and gear. Click the "Go To Forum Thread" link below to jump in and discuss this article and much more!
Join the Discussion
Featured in this article
Continue Reading
Did you enjoy this article?
30