Mechanical Perfection: Elite Iron Black Reign
September 28th, 2020
6 minute read
The market for sound suppressors in America has veritably exploded in the last decade. Where previously a sound-suppressed weapon was exotic and rare, nowadays you can't sit at the cool kids' table at the neighborhood shooting range unless you have something black and sinister hanging off the snout of your favorite heater. And in today's crowded field of suppressor manufacturers, Elite Iron stands out as a compulsive mob of perfectionists who produce quiet mechanical art.
Elite Iron offers a full spectrum of sound suppressors for both rifles and pistols. They also offer muzzle brakes, suppressor mounts, heat-resistant wraps and the neatest line of multi-function Revolution bipods. The Revolution bipod adjusts more ways than an overtaxed chiropractor. It's worth a surf over to their website to see the remarkable gyrations you can put this thing through.
Suppressor wraps seem superfluous right up until your brush your sensitive anatomy against a hot can. That'll make you get religion. Ask me how I know this.
Compulsion for Quality
The Black Reign suppressor is a top-flight pistol suppressor available in 9mm, .40 SW and .45 ACP versions. The can is offered in both long and short variants as well. Mixing and matching mounting pistons let you use a single can on multiple platforms as well.
I am intimately familiar with what it takes to build suppressors properly. After having pored over the entrails of countless cans over the years, I can tell at a glance what's awesome and what's not. The Elite Iron Black Reign is mechanical perfection.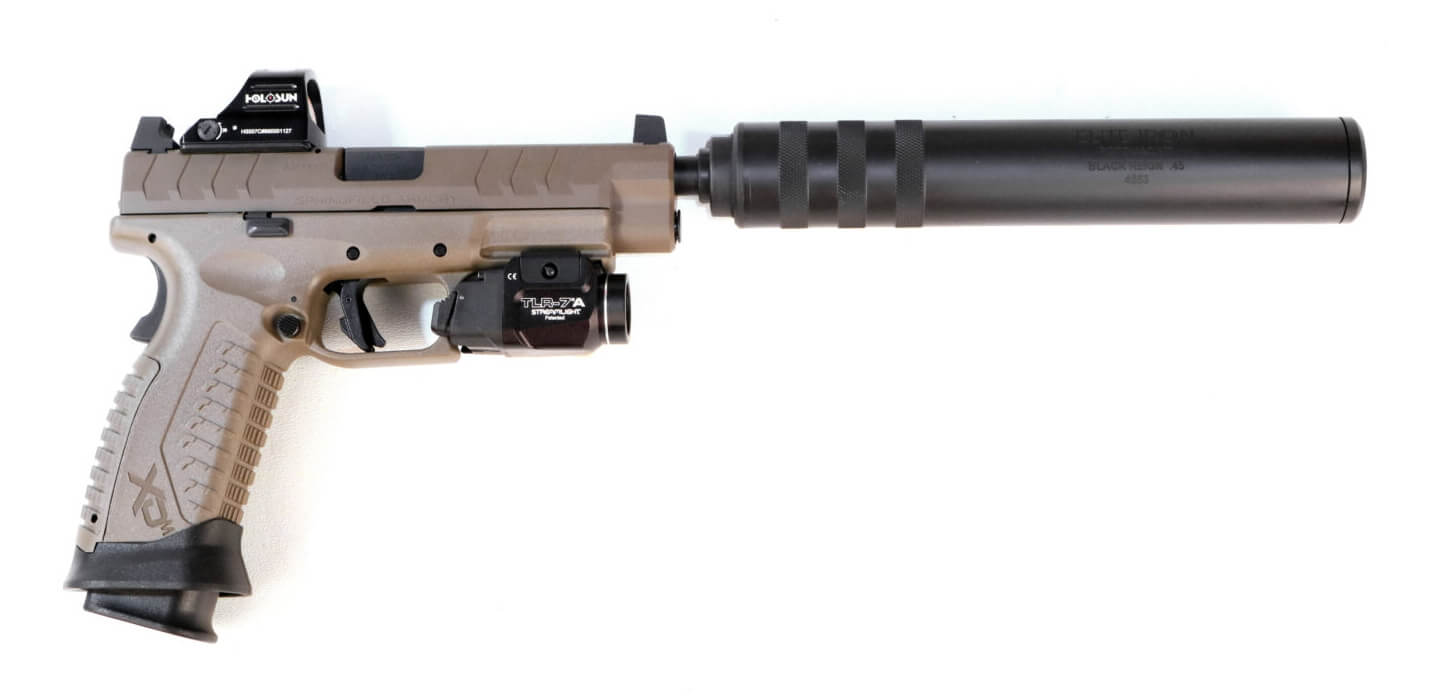 The Black Reign is cut from 7075 aluminum using a highly modified K-baffle design. The suppressor is built to be fully disassembled for easy maintenance and long life. Disassembly of the near end requires a standard crescent wrench. The can comes with a proprietary tool that mates with the end cap for easy removal of the far end.
The fit and finish of every component is perfect. Piston mounts are offered in both English and metric thread pitches. While Elite Iron does offer dedicated cans for all three calibers I mentioned, the larger of the three works great on smaller caliber weapons with the appropriate piston mount.
Ballistic Philosophy
Maybe your money grows on trees. Mine doesn't. Any time I can get more bang for my buck, the better. And you'd be hard pressed to find a better example of ballistic frugality than the Elite Iron Black Reign suppressor.
After launching countless suppressed rounds downrange, I have come to appreciate a few things. All pistol cans are fairly noisy. The Black Reign produces a repeatable 31-decibel sound reduction in its .45 ACP guise. This is as good as the state of the art can currently provide. However, those big fat bullets will still make a little racket no matter what you hang on the end of your gun.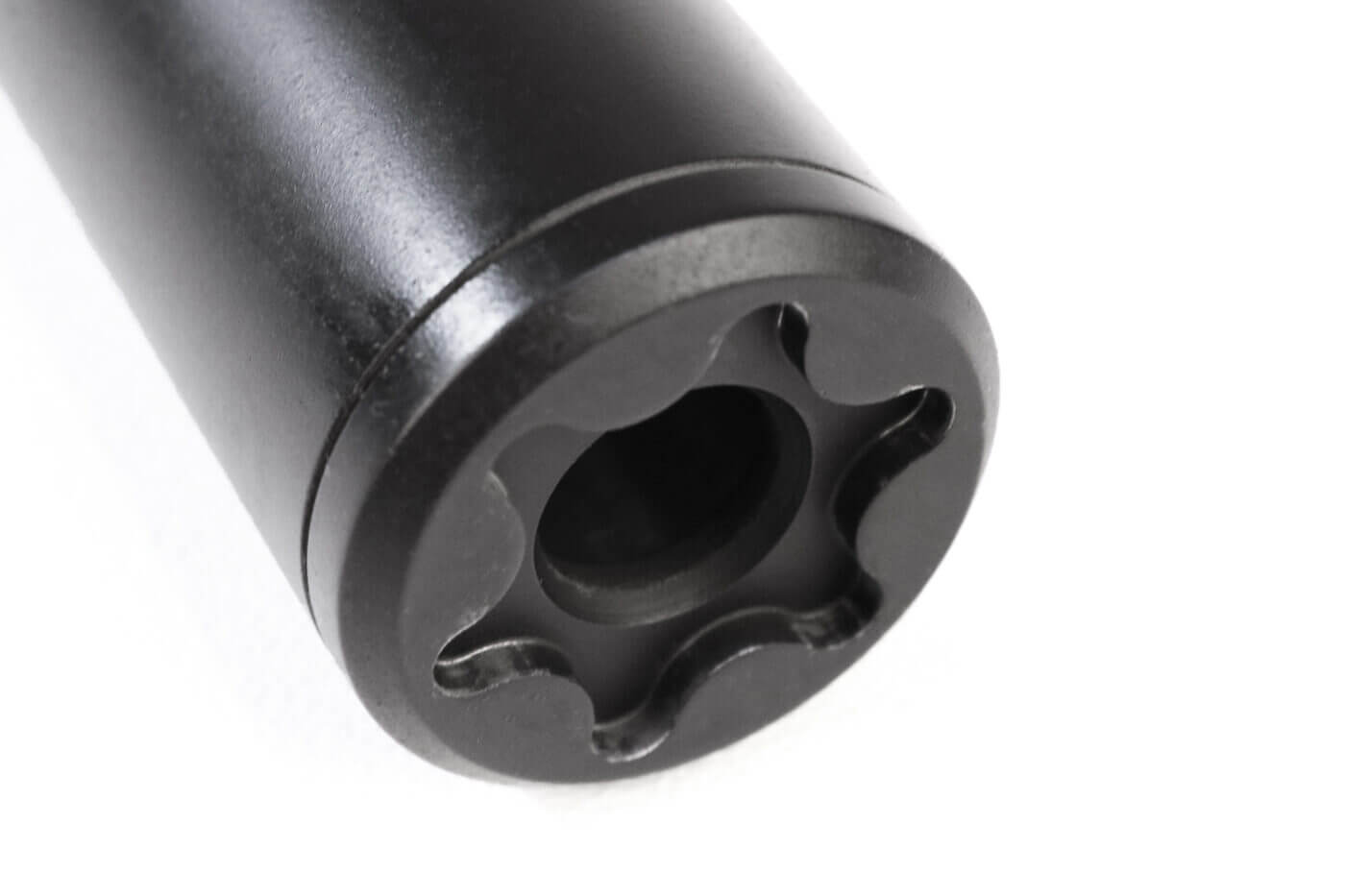 The perceived noise is a function of a lot of different factors, some of which are beyond the capacity of any mechanical contrivance to influence. However, I have found that the exit pupil on a pistol can really doesn't play much of a role in the effectiveness of a sound suppressor. A .45 ACP end cap is, in my experience at least, all but indistinguishable from the 9mm version when firing the smaller caliber. That observation equals opportunities.
You can buy the .45 ACP can along with a 9mm piston and run the same suppressor on most anything you might have in the collection. A Carbine adaptor lets you mount the can on your 9mm AR or similar platform as well. That means a single $200 transfer tax and interminable wait lets you quiet down most any pistol-caliber firearm in the gun safe.
How Does She Run?
In a word, swimmingly. I mounted the Elite Iron Black Reign suppressor up on my Springfield Armory 9mm XD-M Elite OSP pistol, and it ran reliably with everything I fed it. Featuring a whopping 22-round magazine capacity along with the superb Match Enhanced Trigger Assembly (META), the XD-M OSP also includes a slide cut for a red dot. With my favorite Holosun solar-powered pistol sight mounted up, I can even see clearly over the can.
Supersonic rounds will always make a nasty sonic crack. I sucked it up and bought a case of 147-gr. subsonic FMJ rounds right before COVID trashed the ammo market. When fed these heavy slow bullets, the Black Reign is surprisingly effective. Nothing makes that weird mouse fart noise you hear in the movies, but with the can in place you can still communicate while shooting indoors or within a vehicle.
On my threaded 4.5″ .45 ACP XD-M, the Black Reign was also completely reliable. No great shock there. The same attributes apply to the larger caliber, though .45 ACP will always be a bit louder than a comparable subsonic 9mm.
What Sets It Apart?
It's in the little things that the Black Reign truly shines. Elite Iron advertises that their cans make your guns more accurate, and that's true. However, bear in mind that all sound suppressors will change the point of impact slightly over a gun not thusly equipped. Little things become big things when it comes to precision accuracy, and suppressors change the equation ever so slightly. However, Elite Iron planned for this.
Mount the Black Reign up on your favorite tactical handgun and fire a few rounds from a rest. Then tug the can outward from the gun and give it a little twist. The piston mount includes a pair of internal index pins that let you tune the rig to best suit your gun and favorite load. By experimenting with the suppressor orientation using this indexable design, you can find the sweet spot for your particular firearm.
Conclusion
With an MSRP of $840, the Elite Iron Black Reign isn't cheap. However, you're paying for unflinching quality, a pacesetting warranty and truly superlative design. Anybody can file a BATF Form 1 and build a craptastic sound suppressor at home out of a cheap solvent trap kit. The Black Reign is the absolute opposite end of that spectrum. Hearty, effective, versatile and cool, the Black Reign from Elite Iron is as good as it gets.
Editor's Note: Please be sure to check out The Armory Life Forum, where you can comment about our daily articles, as well as just talk guns and gear. Click the "Go To Forum Thread" link below to jump in and discuss this article and much more!
Join the Discussion
Featured in this article
Continue Reading
Did you enjoy this article?
50