When I first saw the Springfield Armory XD-M Elite 4.5" Tactical OSP 9mm pistol, I thought it was just another "tactical" pistol. It's easy to get "tactical overload" these days regarding the 9mm pistol market, and I let that affect my first opinion. However, once I took a closer look and saw all that had been added to the gun, I became intrigued.
What You Get
First, I want to tell you what I love about this pistol. I love that it has the fully ambi set up out of the box without the need to switch something around to make it left-handed. While the XD-M had an ambi mag release, the addition of the ambi slide lock to the XD-M Elite makes it fully ambidextrous now. I like to train both right- and left-handed because it's just smart to be ready for anything, and this makes it so I'm not trying to change my hands to fit the pistol.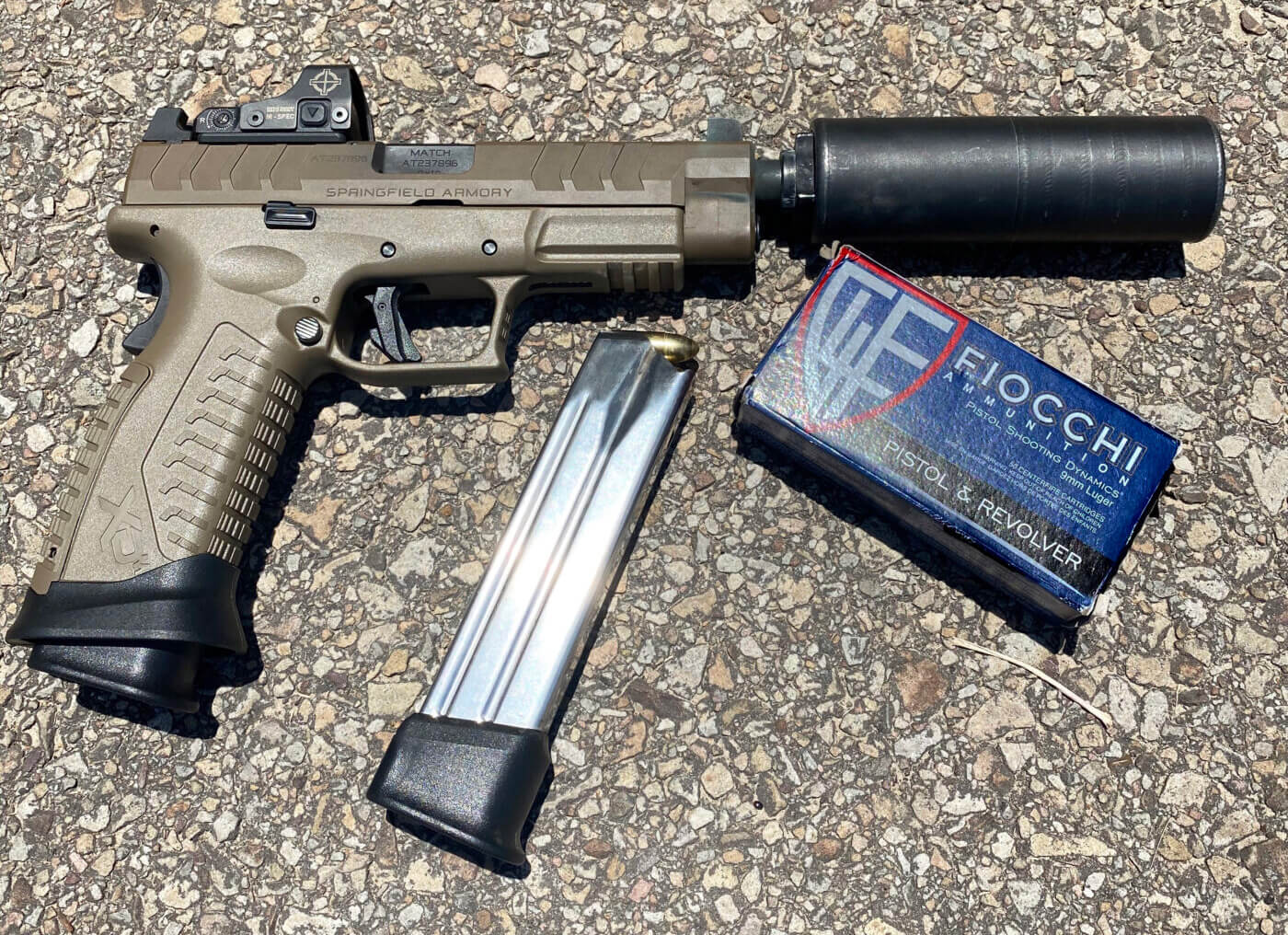 In addition, the Elite features the Match Enhanced Trigger Assembly (META) that is designed to offer the "finest factory trigger available in a polymer-framed pistol." This trigger upgrade gives you a flat-faced trigger with a crisp and clean pull.
And lastly, you have gargantuan magazine capacity as well as an easy way to feed the magazines into the gun. The XD-M Elite Tactical OSP comes standard with two 22-round magazines, and the pistol has a removable enlarged magwell that helps you quickly feed in mags.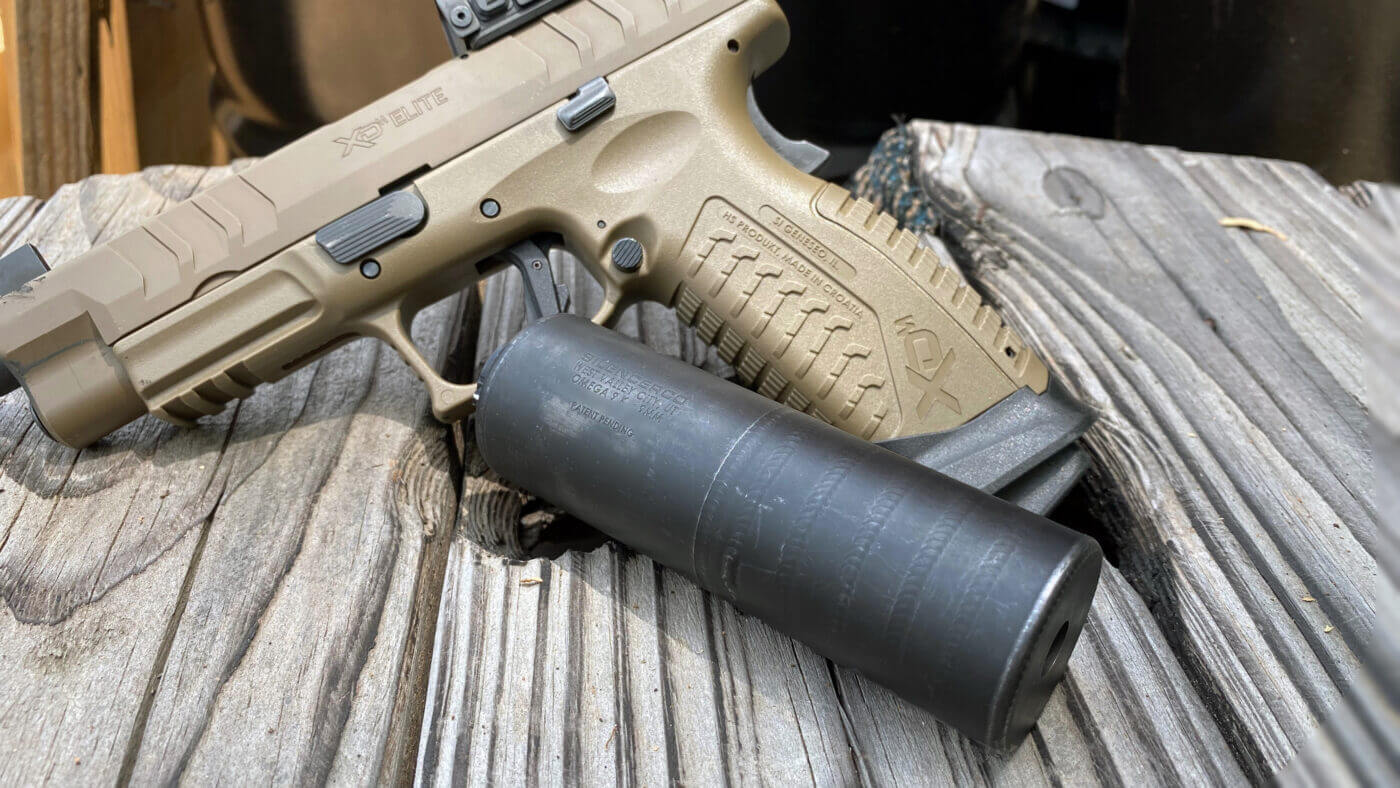 Silencerco Suppressor
If you're like me, you want to read the reviews and know if a brand backs their products. I know that Silencerco is all about making cans that work.
I went with the Silencerco Omega 9K because it is a short, lightweight package that does its job of reducing the decibels. Plain and simple, I know that I can use this can forever and it will continue to do its job. What more can you ask for from a suppressor?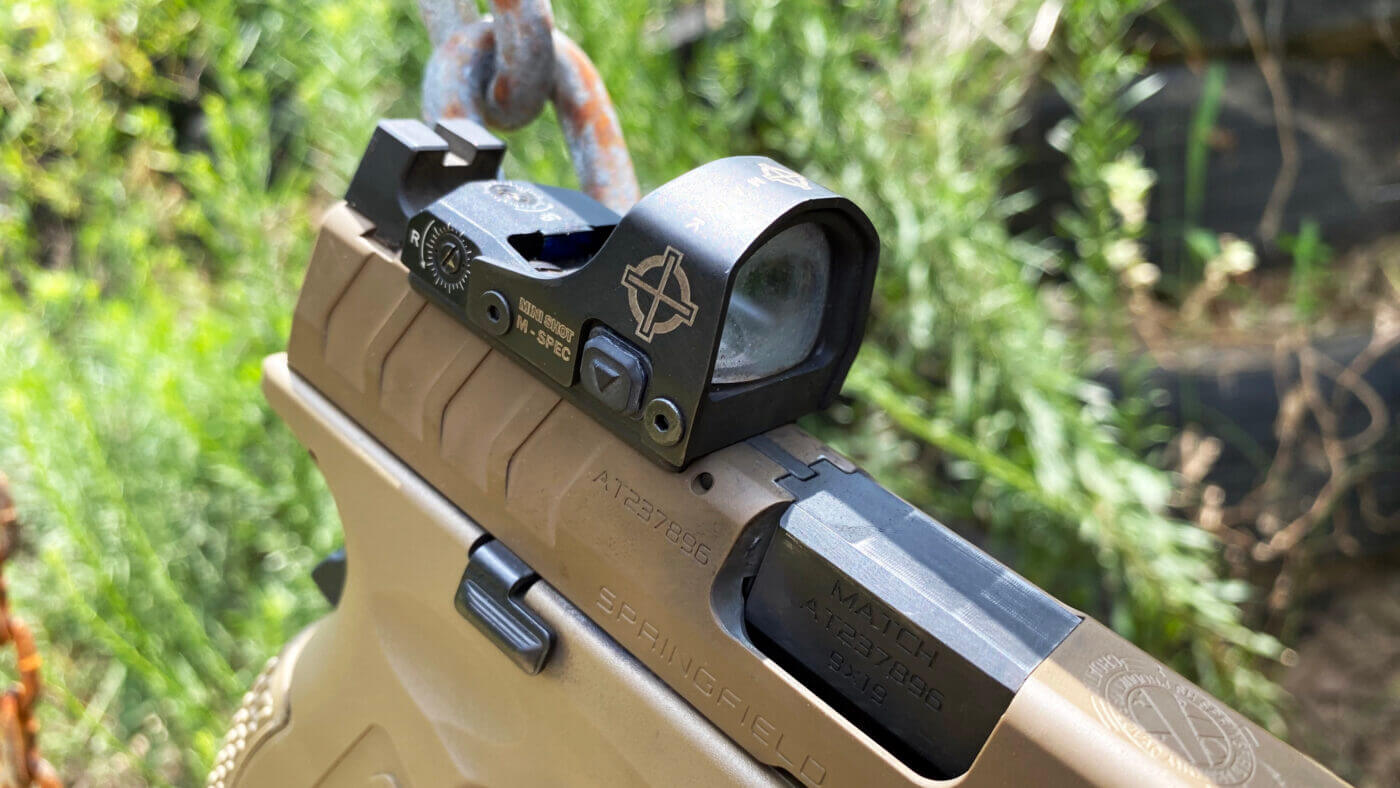 Sightmark Red Dot
Now, if you have seen my last review with the M1A SOCOM 16 CQB, you might notice I also used a Sightmark product in this review. That is because I believe in their products. They are designed just down the street from us in Mansfield, Texas. You know I love repping a Texas company, but more than that, I have used many of their products successfully for years.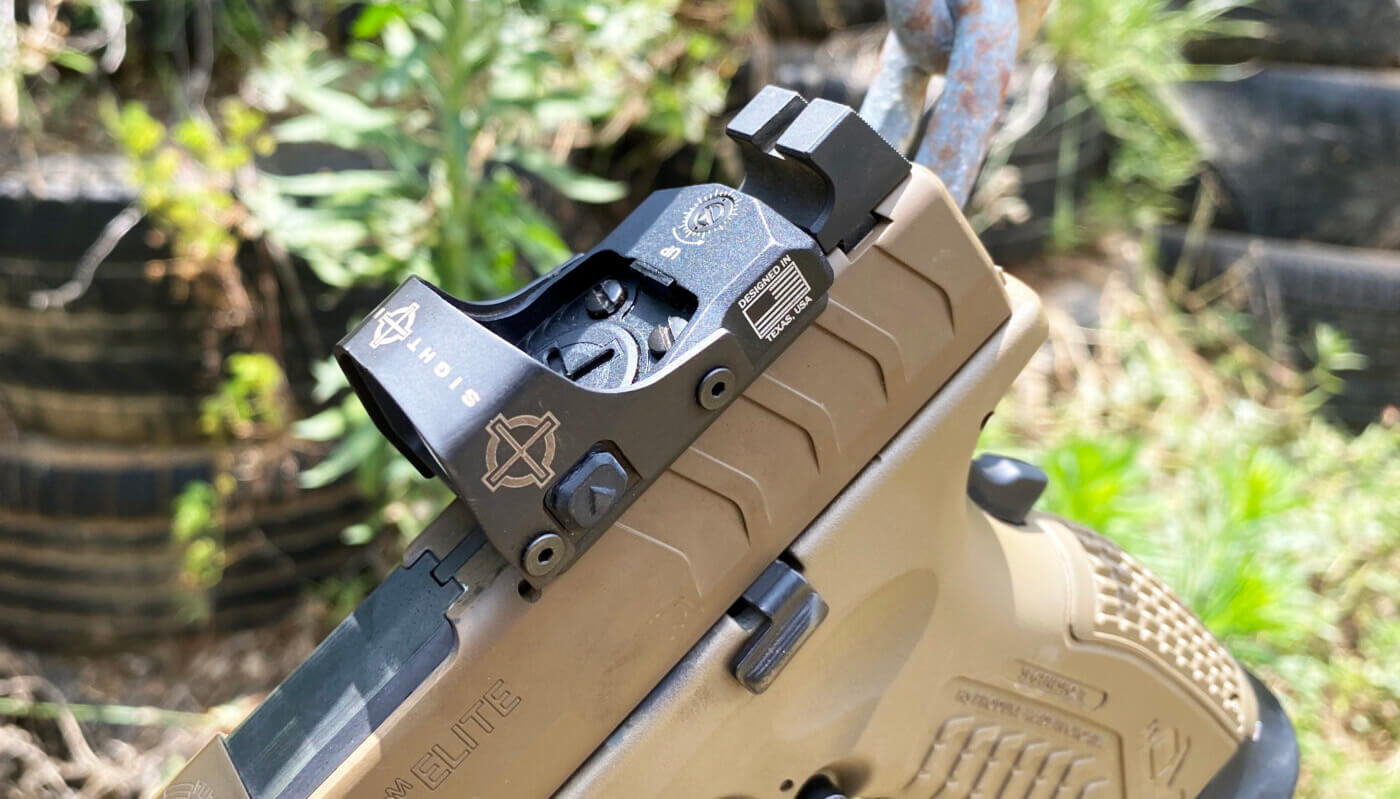 I can tell you that I trust Sightmark because I have so much experience with them. I use them for hunting and sport shooting, and every time I have used this Sightmark Mini Shot Red Dot, it has stayed true to zero. If you are looking for which plate to get for the Sightmark Mini Shot M-Spec, it is plate XD5071.
Final Thoughts
The pistol, the suppressor and the optic all did great during the testing, and I came away very impressed with all of the products.
Building out the Springfield Armory XD-M Elite with the Silencerco Omega 9K and Sightmark Mini Shot Red Dot was a success, and this is easily my new go-to range pistol.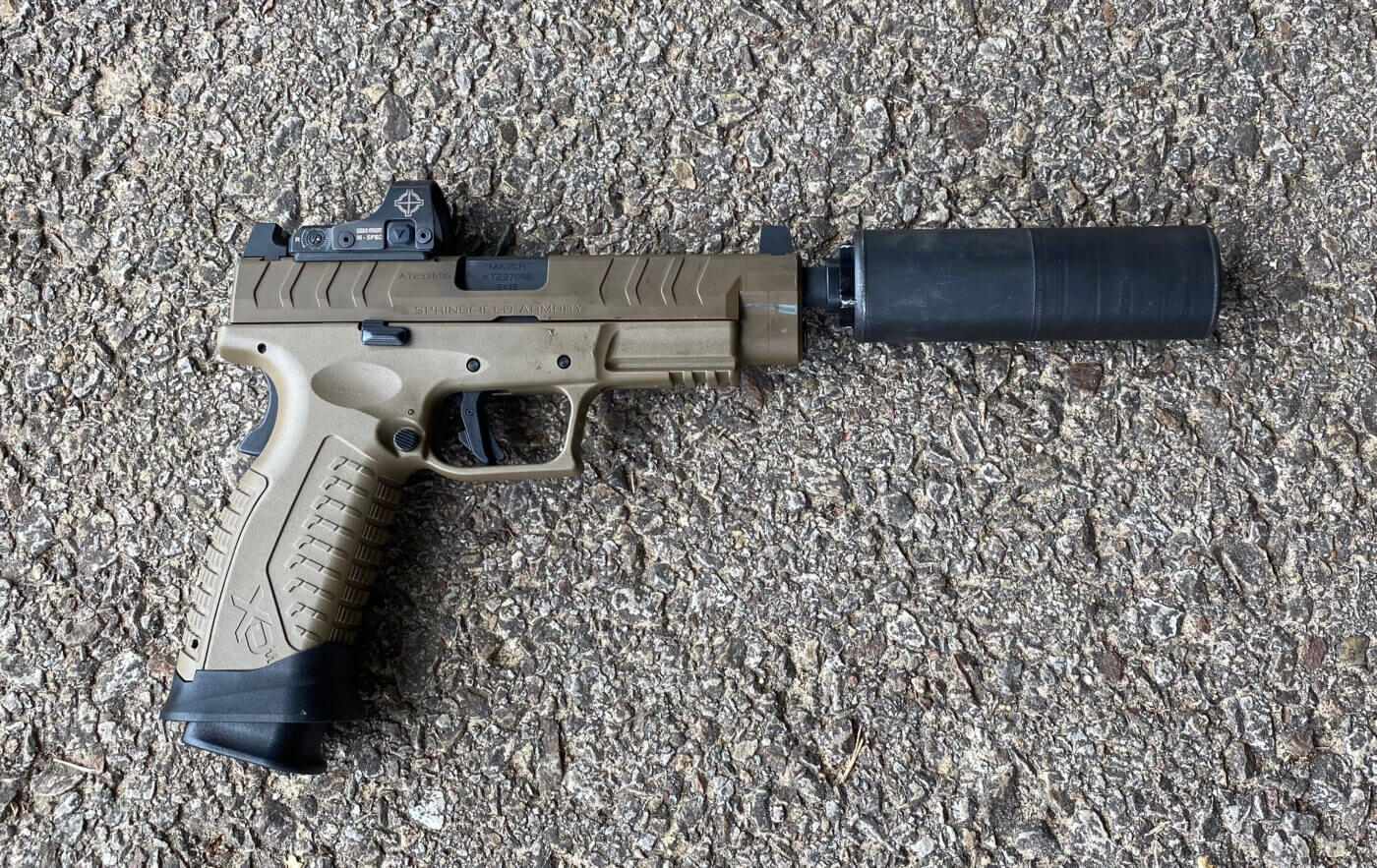 I love that I get almost a full box of 9mm in two mags, and it is quiet enough to shoot without hearing protection. Of course, the 35-round extended magazines for this pistol allow you to squeeze in even more ammo. I can quickly acquire my target with a red dot that isn't over half the price of the pistol itself. Yep, this set-up is a winner for me!
Editor's Note: Please be sure to check out The Armory Life Forum, where you can comment about our daily articles, as well as just talk guns and gear. Click the "Go To Forum Thread" link below to jump in and discuss this article and much more!
Join the Discussion
Featured in this video
Continue Reading
Did you enjoy this video?
100