I once called the XD-M Elite OSP the greedy man's pistol for a reason. With it, Springfield gave us a full-size pistol with all the trimmings. We get the removable extended and flared magwell, the Match Enhanced Trigger Assembly (or "META" as we know it), optics-ready capability, suppressor-height sights and a threaded barrel option. The magazines included hold 22 rounds of 9mm, taking the capacity to 23 once you do the +1 carry style.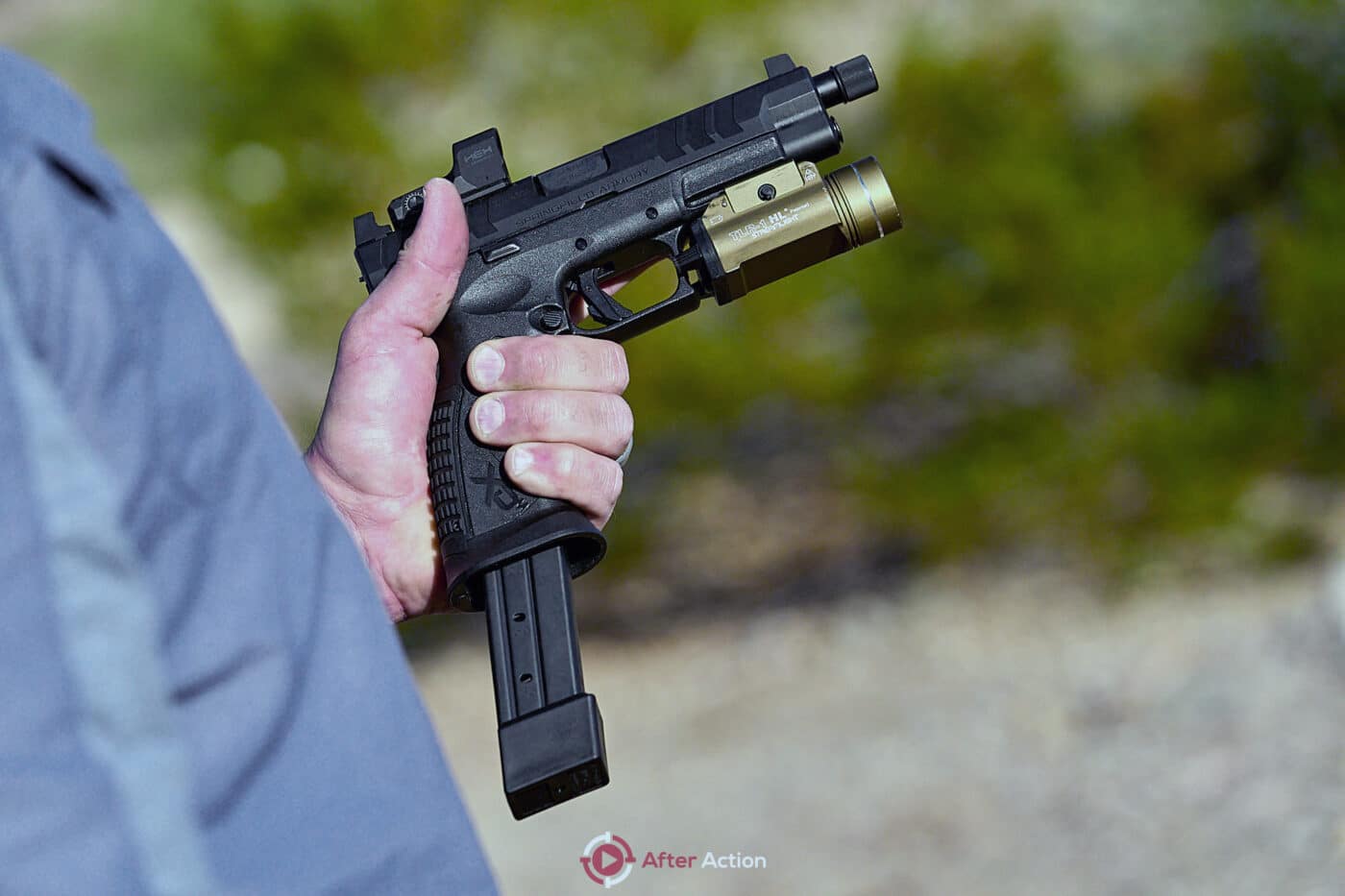 So, with all of these options and great capacity from the factory, what would they think of next? How about a really cool accessory that will work with not only that awesome pistol but all the 9mm XD-M and XD-M Elite pistols?
More Rounds Equals More Fun
We have all seen the growth of enhanced capacity magazine systems, from drum magazines to stick magazines, but most of them come from the aftermarket. Well, not anymore. Springfield has given us a new 35-round extended magazine for the XD-M family of 9mm pistols to use out there on the range.
Now, one might ask themselves, when would I need 35 rounds? Well, one thing you usually don't hear on the range is, I sure wish I had less capacity.
Built Tough
The construction of the new 35-round magazines is similar to the factory XD-M magazines, with a couple of small differences and some internal changes due to its length. Let's talk internally, first. Obviously, we need a longer body and a longer spring for the added capacity. The follower, however, appears to be the same as the regular XD-M pistol magazines.
As for the exterior, one of the changes you will immediately notice is that it's a black magazine. The finish is a durable baked-on black Teflon coating that provides a self-lubricating finish to the interior of the magazine, enhancing reliability and performance. The black finish also lends the magazine a subdued, low-key exterior. I think this was a sound move, as a good portion of this magazine will be exposed when installed in the pistol.
You still have the Springfield Armory logo on the front lower portion of the steel magazine body, but the baseplate is different. Instead of the rounded-off baseplate to follow the contour of the magwell, these are a bit more square. But since your palm and fingers are nowhere near them and they do not need to clear a magwell, it's a non-issue. The large basepad also offers protection from drops against a hard surface.
Factory Functionality
First things first for the function is reliability. I ran ball ammo, as well as Hornady Critical Duty and Hornady Critical Defense ammo through these in testing. Even though these are mostly range magazines for me, I always want to test any magazine I may carry defensively with my carry ammunition.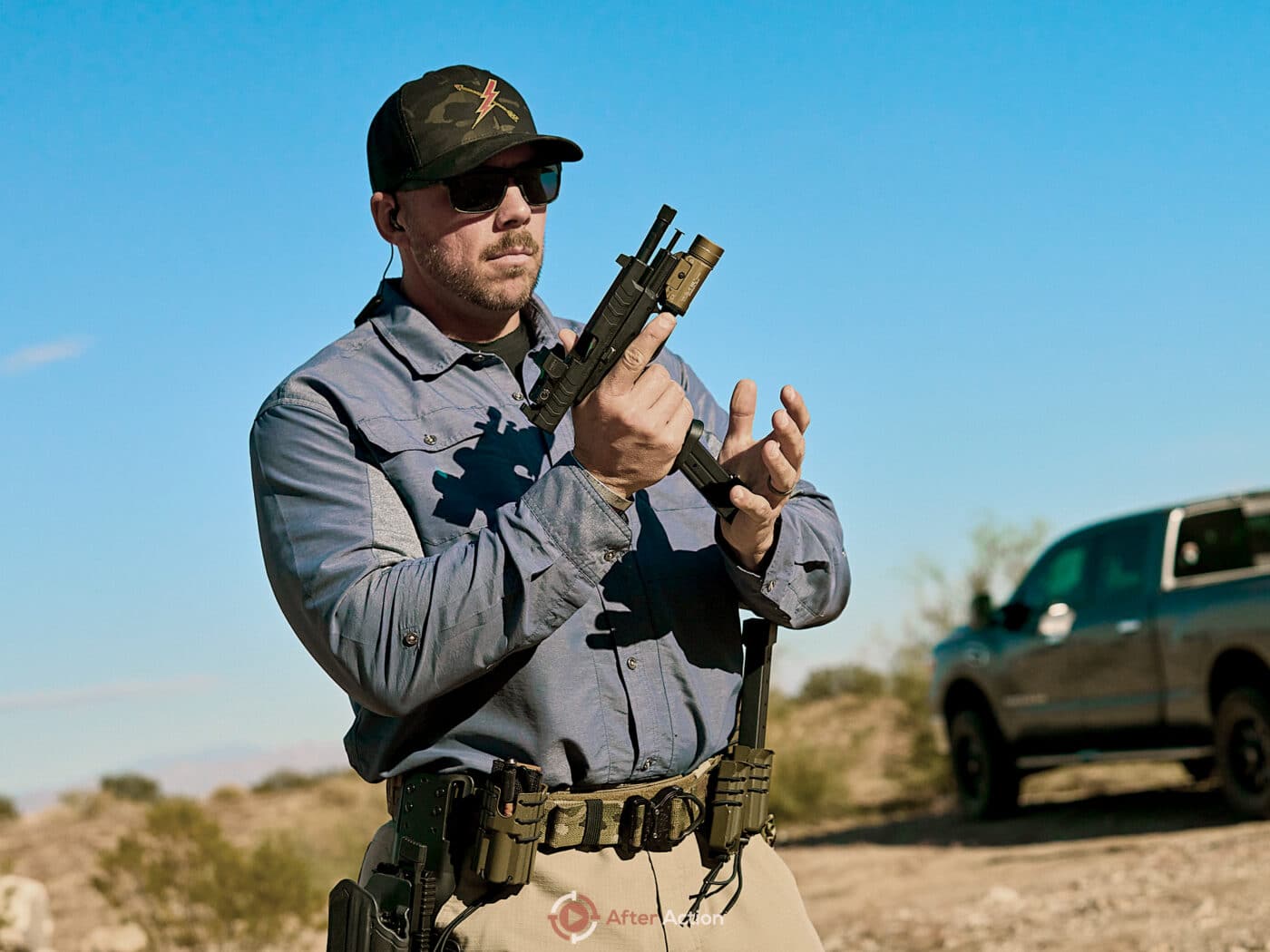 I had zero issues with the magazines from any type of ammunition. This is what a factory component gives you in reliability and durability. The coating showed little signs of wear after plenty of insertion and ejection through the testing of a few hundred rounds in the three magazines I have. Of course, I did a few magazine changes to get a feel for them while conducting emergency reloads and tactical exchanges. It all ran great.
Things to Keep in Mind
Anytime you are going to run new magazines, always test them. And if you ask me, you should always buy factory magazines for your Springfield.
Also, remember, when adding that extra 13 rounds over the factory 22-rounder, it will add some weight to the pistol. This actually made a bit of a difference on the range in the way the pistol recoiled, and for the better. I think most of us know the heavier a pistol is, the more forgiving it can be under recoil.
The XD-M Elite is a big pistol already, which is one of my favorite things about it, but these add extra weight to soak up that recoil until you rapidly diminish that capacity with each trigger press.
I think this is a great addition to your XD-M or XD-M Elite 9mm pistol. Availability of factory-grade, extended magazines that you know will run in your pistol is a really appealing option. MSRP is $49.95. Click the link below to purchase directly from the Springfield Armory Store.
Editor's Note: Please be sure to check out The Armory Life Forum, where you can comment about our daily articles, as well as just talk guns and gear. Click the "Go To Forum Thread" link below to jump in and discuss this article and much more!
Join the Discussion
Featured in this video
Continue Reading
Did you enjoy this video?
162